Best proxy for data centers of 2023
For IP addresses not associated with home-based ISPs
Best proxy for data centers: quick menu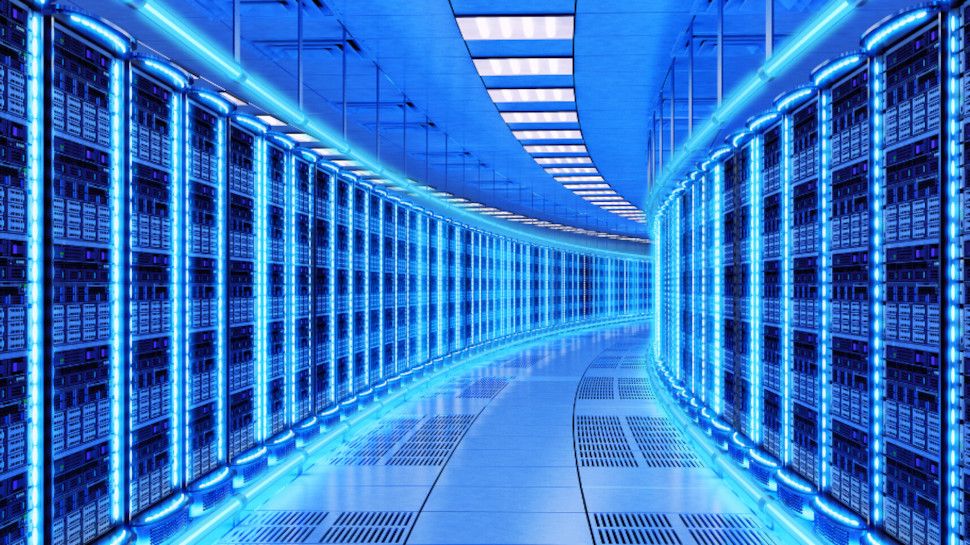 If you're looking for efficient proxies to conduct market research, protect your business emails, and prevent phishing attacks or scrapping, you should consider data center proxies. These proxies refer to IP addresses unassociated with a home-based internet service provider.
When comparing data center proxies with other types, you'll come across two prominent benefits. First, they're way more affordable than residential proxies. Next, you won't have to sacrifice speed and performance for anonymity and protection.
While data center proxies are gradually becoming prevalent, finding an efficient and trusted one is still pretty daunting. This post aims to make the job easier for you. It talks about the five best proxy providers for data centers. Delve deeper and learn everything involved!
We've listed the best proxies.
---

Reader Offer: IPRoyal: Exclusive 30% discount
With a selection of different subscription options, some of the most affordable prices we've seen, and a responsive support team, IPRoyal is a leading proxy service provider. Use coupon TECHRADAR30 and get Royal Residential Proxies for your needs with a stunning 30% discount.
Preferred partner (What does this mean?)
How to pick the best data center proxy
Why you can trust TechRadar We spend hours testing every product or service we review, so you can be sure you're buying the best. Find out more about how we test.
Before walking you through the specifics of the top five data center proxies, let's help you comprehend the critical factors influencing the decision-making process. Here's what you should keep in mind.
Security: One of the most significant factors you should consider is the security the proxy server offers. It should provide robust encryption and security protocols. This will help ensure the utmost safety for your data and online activities.
Speed: Your chosen proxy server should not compromise your internet speed. Generally, high-quality proxies guarantee excellent speed, reliability, and minimal downtime.
Geographical coverage: A wide geographical reach is an essential feature for proxies. It allows you to access content from various countries. This further enables you to bypass regional or national restrictions.
Anonymity: A proxy is not serving its purpose if it fails to maintain your anonymity. It should always protect your IP address from exposure to other internet users and servers.
Compatibility: The proxy server should be compatible with a diverse range of devices and operating systems. This will help ensure maximum accessibility and functionality.
Convenience: Even non-tech-savvy users should find the proxy user-friendly. The setting up and navigation process of your chosen provider should be hassle-free and flawless.
We've also listed the best IP address tools.
---
The best proxies for data centers of 2023 in full:
Best proxy for data centers overall
Guided web scraping solutions with popular programming languages
Reasons to buy
+
Round-the-clock chat and email support
+
Resource-rich blog section with quickstart documents and tutorials
+
Premium HTTP and HTTPS support
+
Distinct anonymity
+
Enhanced account security with two-factor authentication
IPRoyal is a tried-and-tested proxy service provider headquartered in the United Arab Emirates. The provider offers a wealth of proxy solutions for users globally.
IPRoyal features an expansive library of over 8 million IPs. They include residential, data centers, mobile (3G/4G/5G), and specialty sneaker proxies.
The provider has strategically enhanced its platform with handy Chrome and Firefox extensions. With an integrated suite of management tools, these extensions facilitate seamless switching between proxies. In addition, they ensure the convenient configuration of proxy profiles. Besides, you can create specific rules for each proxy usage without altering the operating system.
IPRoyal's geographical coverage is almost universal. Its proxies are available in virtually every country. Therefore, you can consider it a robust solution for bypassing geoblocking and accessing international content. IPRoyal claims to boast 2 million+ ethically sourced proxies across 195 countries. This huge collection is complemented by a further 6 million IPs offered through sneaker and data center proxies. The primary countries include Germany, the UK, the US, France, etc.
IPRoyal's user interface is intuitive and straightforward. Users can conveniently manage their subscriptions, add new proxies, and access necessary information about each proxy type. There's a dedicated setting area that you can use for customizing general settings or adding funds to your account.
However, IPRoyal doesn't offer any dedicated mobile app for proxy management. Instead, it equips its users with the IPRoyal Pawns app — a tool to earn passive income by sharing an internet connection.
IPRoyal's flagship data center proxies feature rational pricing. You can access 5 proxies for $9 per month. This is their starting package, and you can enjoy more savings on bulk purchases.
Read our full IPRoyal review.
Best proxy for data centers for global coverage
Impressive global coverage
Reasons to buy
+
Zero limitations on concurrent sessions
+
Top-notch customer support
+
Delivers value for large-scale projects
+
Comprehensive web dashboard
The next on our list is Oxylabs. The provider is based out of Lithuania and has been operating since 2015. Over time, Oxylabs has established itself as a reliable, transparent, and versatile proxy service provider. While the proxy industry is still a grey area, Oxylabs stands out because it maintains its operations entirely within legal bounds.
Regarding the proxy pool, Oxylabs surpasses IPRoyal with its 100 million diverse proxies. The provider covers 195 countries worldwide. The best part is, according to the provider's claims, their proxies are legitimately collected from trusted suppliers. They inform and obtain consent from end users — this is pretty uncommon in the industry.
Such white practice separates Oxylabs from its peers. However, the provider doesn't limit their ethical efforts only to the sourcing process. Instead, they also make it a point to only use certified data centers, ensuring the highest degree of legitimacy.
Oxylabs' impressive product portfolio includes data centers, rotation ISP, residential, etc. Besides, it provides versatile APIs for search engines and e-commerce scrapers. It also has a unique AI and machine learning-driven Web Unblocker plan.
The said plan aims to mimic human browsing capabilities. In addition, it offers JavaScript rendering to circumnavigate any issues autonomously.
Like IPRoyal, Oxylabs also offers flexible geotargeting with superior customization options. What's more, subnets don't feature any set limit, allowing users to access from 4-1,000 subnets depending on their business requirements.
Unlike IPRoyal, Oxylabs doesn't limit its number of IPs. This ensures a distinctive level of convenience. When it comes to performance, Oxylabs stakes its claim on an impressive 99.95% success rate.
On the other hand, its web scraper IPs, or Web Unblocker, ensure human-like browsing and CAPTCHA bypassing. The SERP Scraper API's extensive data extraction delivers results in CSV or JSON format. Much like IPRoyal, Oxylabs does not offer a free proxy service.
On the pricing front, Oxylabs offers dedicated data center proxies starting at $180/month for 100 US data center IPs or 60 IPs for other countries. The prices decrease with higher-tiered plans, reaching as low as $1.2/IP for 5,000 US IPs or 2,500 IPs in the rest of the world with its top-of-the-line $6,000/month plan.
Read our full Oxylabs review.
Best proxy for data centers for performance
3. RayoByte
Caters to multitasking needs
Reasons to buy
+
Unlimited bandwidth service
+
Provision for concurrent connections
+
Lighting fast, unlimited browsing experience
+
Highly committed to security
If you're looking for an exclusive data center proxy provider, RayoByte may be your go-to alternative. The provider offers three types of data center proxies: rotating, dedicated, and semi-dedicated. Besides, it supports three standard protocols — HTTP, HTTPS, and SOCKS.
RayoByte's diversity extends to its authentication process. You can choose from user/password authentication and IP whitelisting.
Boasting lightning-fast network speeds, RayoByte proxies utilize both IPv4 and IPv6 protocols to ensure optimal performance. The platform offers a secure website and payment gateways, maintaining user data integrity and ensuring a safe, smooth transaction experience.
Moreover, the service is available in 17 countries with 34 data centers. Plus, it aims to expand its global coverage to meet users' requirements in different locations.
The robust security protocols facilitate efficient eCommerce data extraction, SEO monitoring, ad monitoring, sneaker copping, and social media surfing. All of these services are bolstered by a highly responsive and effective customer service team and a comprehensive FAQ section.
Ease of use is central to the RayoByte experience. The provider offers instant activation post-subscription. The registration process is straightforward. Simply visit the RayoByte website and input your personal details. Then, select your desired subscription type and package (IPv4 or IPv6), proxy type (rotating, dedicated, or semi-dedicated), and your location — and you're done.
Numerous user testimonials praise RayoByte's security. However, you should remember that your intentions or actions may not equate to RayoByte's legitimacy. While Oxylabs stands as the top option in white practices, RayoByte is in no way inferior when it comes to legitimacy. Unlike Oxylabs and IPRoyal, RayoByte doesn't support scraping on Google.
RayoByte offers basic usage for free. Premium plans, on the other hand, feature different price tags based on their type. The minimum subscription plan for a data center proxy starts from $1 monthly (IPv6).
Best proxy for data centers for web scraping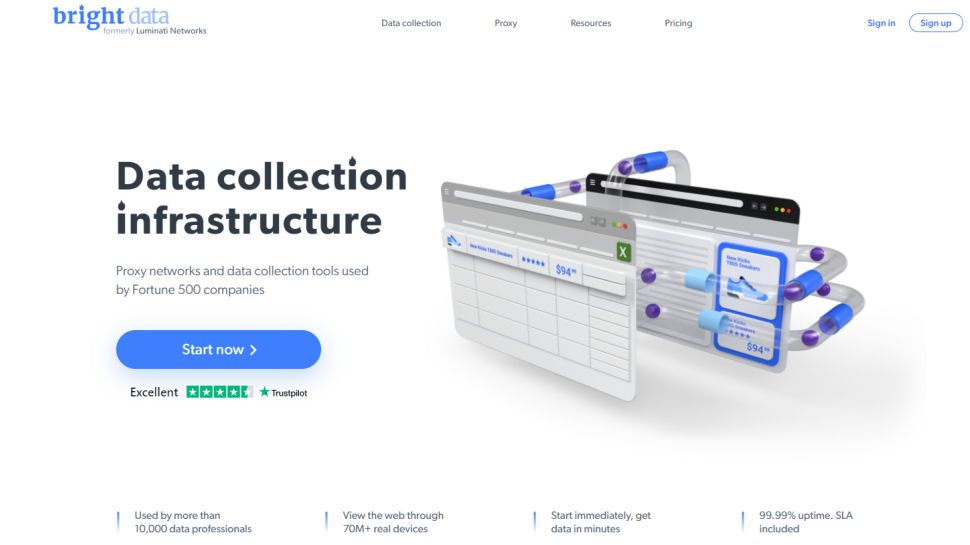 Exclusive data collector and search engine crawler
Reasons to buy
+
Web scraping abilities
+
Unlimited concurrent sessions
+
99.16% uptime guarantee (exclusive to residential proxies)
+
24/7 customer support
Formerly known as Luminati Networks, Bright Data is a colossus in the realm of web data. With an impressive portfolio of over 3,300 patents and more than 15,000 customers worldwide, it offers an extensive range of proxies that span the globe.
Bright Data flaunts a staggering 72 million shared and exclusive IPs spread across 195 countries. Sourced from real user devices, these offer authenticity and a wide geographic reach.
However, for those prioritizing speed and reliability, Bright Data also boasts 700,000 proxies derived directly from ISPs.
An interesting feature in Bright Data's portfolio is its mobile proxies — a rarity in the proxy market. These offer IPs from genuine 3G or 4G mobile devices, and with over 7 million on offer, Bright Data stands as the largest peer mobile network.
For simpler requirements, Bright Data's data center proxies deliver excellent performance at a lower cost. Yet, they still outstrip much of the competition. The provider showcases a pool of over 1.6 million proxies distributed across more than 3,000 subnets with both country and city-level targeting.
Using Bright Data can be as uncomplicated as setting up its Chrome extension. With no coding required, it's as simple to use as a standard VPN. However, it's geared more towards intermediate to advanced users. At least, its Chrome extension rating indicates so. (2.7 out of 5 stars).
The only drawback is Bright Data's daunting web dashboard. It features extensive summary information and various service icons. However, overall it offers a comprehensive overview of your proxy use.
Bright Data's cost is somehow elevated than its peers. Its data center proxies are priced at $0.80/IP and $0.110/GB.
Read our full Bright Data review.
Best proxy for data centers for ease of use
Award-winning performance
Reasons to buy
+
Offers private proxy services with 99.99% up-time
+
User-friendly dashboard
+
Seamless navigation and management
Smartproxy is a versatile provider of various data access services. Since its inception in 2018, the company has maintained consistent growth. Its impressive range of services can easily rival its top-tier competitors like Bright Data, Oxylabs, and RayoByte. In fact, its affordable pricing keeps it way ahead in the race.
Except for data center proxies, Smartproxy deals with residential, shared, and search engine proxies. The latter integrates a proxy network, web scraper, and data parser into a comprehensive scraping API.
Talking about the data center proxies, Smartproxy ensures reliability. Besides, they're adequately agile. Boasting a pool of over 40,000 IP addresses, these proxies are developed within robust data centers. Most importantly, they're not linked to any internet service providers. The only flaw is these locations are exclusively US-based and don't allow state- or city-specific selection.
However, if you're looking for specific functionalities like SOCKS5 or ASN, Smartproxy may disappoint you. They only support HTTP and HTTPS protocols and offer username and password authentication.
Smartproxy's affordability is praiseworthy. The pricing for data center proxies Pricing begins from $30/month. Additional data comes at $0.70/GB. The plan comes with unlimited connections, sticky session support, and 100,000+ rotating IPs.
Read our full Smartproxy review.
---
Best proxy for data centers FAQs
Frequently Asked Questions
1. How can you choose the best data center proxy?
To choose the best data center proxy, you should consider a few factors. They include speed, reliability, and uptime. In addition, you should also check for the number of IPs offered, the geographical locations covered, and the security features.
2. What are the advantages of using data center proxies?
Data center proxies offer high speed and performance. Therefore, you can consider them for big tasks like web scraping, data mining, etc. Furthermore, data center proxies come with a higher degree of anonymity and security. Since they're not associated with an internet service provider, you can use them anywhere.
3. How does a proxy service enhance data center operations?
A proxy service enhances data center operations by providing a layer of security and anonymity. It allows users to mask their IP address, thus protecting against potential cyber threats. Proxy services also help in data mining and web scraping operations by enabling access to geographically restricted data.
4. Are data center proxies legit to use?
Yes, data center proxies are perfectly legal. Like regular proxies, data center proxies work as intermediaries between users and the internet. However, unscrupulous users may use them to carry out illegal activities like hacking or spamming.
5. Can I use data center proxies for my business?
Yes, data center proxies can be used for business. They're invaluable for businesses, especially those relying on data-driven insights. Usually, data center proxies allow you to collect large amounts of data quickly and efficiently, which further helps with market research.
Conclusion
In a nutshell, data center proxies may help you conduct market research efficiently and effortlessly. Besides, they dedicatedly take care of your online security. When choosing the best proxy for a data center, you may consider the factors mentioned in this guide, and you'll certainly find the best one for your needs from our listed options.
Are you a pro? Subscribe to our newsletter
Sign up to the TechRadar Pro newsletter to get all the top news, opinion, features and guidance your business needs to succeed!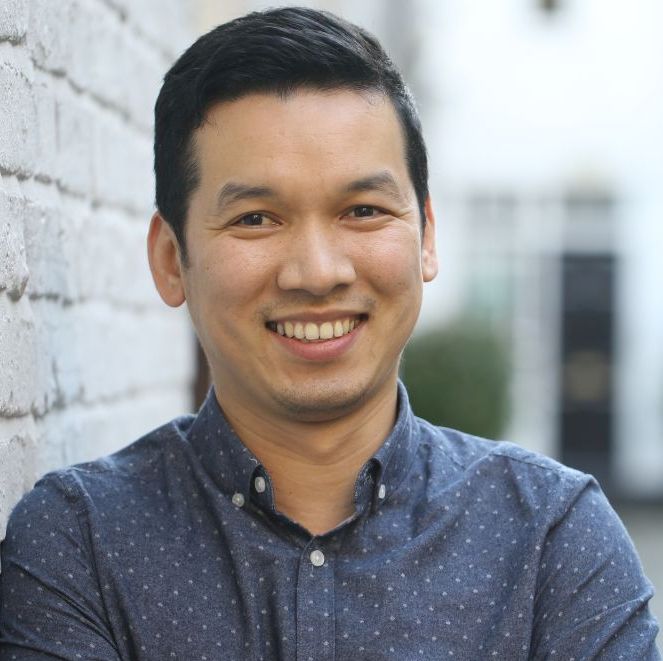 Managing Editor, TechRadar Pro
Désiré has been musing and writing about technology during a career spanning four decades. He dabbled in website builders and web hosting when DHTML and frames were in vogue and started narrating about the impact of technology on society just before the start of the Y2K hysteria at the turn of the last millennium.