As time goes on, and the technology in smartphones continues to evolve daily, features that once we thought mere fantasy are constantly being added. However, no matter how many quality of life improvements get built into our phones, at the end of the day our phones are still, well, phones. And no matter how much we might want it to change, the actual act of making phone calls has changed very little in the last decade or so. Luckily, however, the best Bluetooth headsets go a long way to fix a lot of the ancient issues that plague phone calls, even going as far as saving us from ever even having to reach into our pockets.
Whether you're driving, walking, working, or running around trying to multitask like the world is ending – no matter what task you have at hand, there is a Bluetooth headset that make talking on the phone easier and less of a hassle. And, even if you don't want one of those funny shaped headsets, there are some bluetooth headphones that can function in much the same manner. These options are great, especially if you like to listen to music in between phone calls. However, the best Bluetooth headsets are still one of the best ways to multitask and save a lot of time while talking on the phone.
While the best Bluetooth headsets can go a long way to simplifying phone calls, finding a truly great headset might be a little harder than you think. There are tons of headsets on the market – a bunch of which even look very similar to each other – and the features and functionality can vary wildly between different devices. And, while you'll have trouble finding a headset that doesn't work with modern phones, it can be hard to decipher just how the experience will be.
Don't worry, though, here at TechRadar we are here to save you time, money, and the risk of buing a useless ear accessory. Here's our list of the nine best Bluetooth headsets on the market right now.
(Editor's note: If you're looking for a hands-free solution AND want better audio clarity from your mobile device, check out our list of the Best Bluetooth earbuds, many of which offer a built-in microphone for phone calls on top of higher-quality audio components.)
1. Jabra Motion
Weight: 1.75kg | Battery life: 7 hours | Wireless range: 100m | NFC: Yes | Bluetooth version: Bluetooth 4.0
Nice design
Good battery life
Expensive
Not the best sound quality
The Jabra Motion has phenomenal call quality, which is definitely the most important thing that a Bluetooth headset can be good at. The sound quality isn't perfect but with motion and environment-sensitive noise-cancelling it performs well even in loud environments. It's also easy to sync, set up and use. It also has a battery that will last you 7 hours of continuous calls, so even during a busy day of work, it won't let you down. The Jabra Motion might come with a pretty high asking price, but it's a small price to pay for all of these great features. Just make sure to try it on before you buy, as despite being adjustable for size and wearable on either ear it won't be a perfect fit for everyone.

2. Plantronics Voyager Legend
Weight: 1.8kg | Battery life: 7 hours | NFC: No | Bluetooth version: Bluetooth 3.0
Comfortable to wear
Caller ID
Showing its age
The Plantronics Voyager Legend is getting on a bit but it's still one of the very best Bluetooth headsets around. It's designed with comfort in mind, so you can wear it for extended periods without it bothering you and it sits securely in place too, so it won't fall off. It's also completely hands free, as caller ID will announce the name of whoever is calling you and you can simply say "answer" to take the call. Its noise-cancelling is effective even in busy environments and multiple microphones ensure strong voice quality, for a great all-round Bluetooth headset.

3. Plantronics Voyager Edge
Weight: 9.07g | Battery life: 6 hours | Wireless range: 10m | NFC: Yes | Bluetooth version: Bluetooth 4.0
Very light
Voice commands
Not the best battery life
Short distance
Plantronics simply makes phenomenal Bluetooth headsets, which is why it should come as no surprise that this isn't the first Plantronics headset to make it on the list of the best Bluetooth headsets, and it certainly won't be the last. The Plantronics Voyager Edge is built to be compact and discreet, but there is a huge amount of tech built into this tiny package, including three microphones and a boom arm for stellar voice quality. Like the Voyager Legend the Edge also supports voice commands (with multiple language support) and it's smart enough to know when you're wearing it, so if you put it on when you get a call it will automatically come through on it. NFC makes for quick and simple pairing and it does a great job of cancelling out background noise. Its small size does mean its battery life isn't exactly on the same level as some competitors, but at six hours of talk time it's still very passable.

4. Jawbone Era
Weight: 10.3g | Battery life: 5.5 hours | Wireless range: 10m | NFC: No | Bluetooth version: Bluetooth 2.1
Incredibly small
Very light
Battery life is short
Showing its age
The Plantronics Voyager Edge may be small, but the Jawbone Era is tiny, so if you really don't want it to be obvious that you're wearing a Bluetooth headset this is the one to go for. Not only is it small, but it also fits snugly in your ear and is in no danger of falling out. You could even wear it while jogging. Then there's NoiseAssassin, which cleverly detects vibrations in your skin, so it can tell the difference between you talking and the background noise, enabling it to completely mute everything around you. It's clever stuff, though it occasionally has issues staying in contact with your skin, and like the Voyager Edge the battery life isn't the best.

5. Plantronics Marque 2
A great budget Bluetooth headset
Weight: 7.08g | Battery life: 7 hours | Wireless range: 10m | NFC: No | Bluetooth version: Bluetooth 3.0
Great price
Good feature set
Sound quality not the best
Struggles with noise cancellation
The Plantronics Marque 2 isn't as feature packed as some headsets on our best Bluetooth headset list, but it gets the basics right and does a bit more besides. It's small, comfortable to wear and can last for up to seven hours of calls, which is a great start. It can also be used to deliver voice prompts from GPS apps, can be connected to two devices simultaneously and features noise-cancelling technology, though it's not quite as good at this as some rivals. It's not overly stylish and sound quality is good but not great, but with such an affordable price tag it's a very solid buy.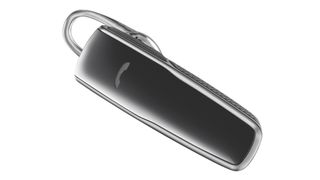 6. Plantronics M55
Small price, big features
Weight: 8g | Battery life: 11 hours | Wireless range: 10m | NFC: No | Bluetooth version: Bluetooth 3.0
Low price
Long battery life
Not the most stylish design
Some social media features only work in the US
The Plantronics M55 is a truly budget headset, but you get a lot for your money. While it doesn't have a premium build it's perfectly comfortable to wear, it supports voice commands for truly hands-free use and the sound quality is good, especially when aided by the built in noise-cancelling tech. The M55 also has a DeepSleep mode which activates when it's separated from a paired smartphone for 90 minutes and leaves it with up to five months of battery life, but simply bring your phone within range and it will quickly wake up again.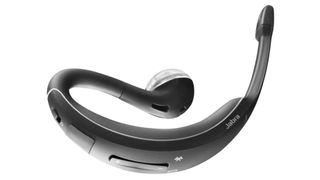 7. Jabra Wave
A great Bluetooth headset for chatterboxes
Weight: 13.3g | Battery life: 8 hours | Wireless range: 10m | NFC: No | Bluetooth version: Bluetooth 3.0
Good battery life
Comfortable
Large
Showing its age
With a talk time of over eight hours the Jabra Wave is a Bluetooth headset which just keeps going and going, making it a great choice if you're going to be away from a charger for an extended period. Its fairly large size means it's not the most discreet of headsets, but it's a worthwhile trade-off for all that battery life. It also features strong audio quality and is good at suppressing noise, especially wind. Add to that easy pairing and the ability to connect it to two devices at once and the Jabra Wave is a good option.

8. Jabra Supreme UC
A dual-purpose Bluetooth headset
Weight: 18g | Battery life: 6 hours | Wireless range: 10m | NFC: No | Bluetooth version: Bluetooth 3.0
Excellent call quality
Versatile
Not great for music
Pricey
With excellent call quality and the ability to pair it with both a smartphone and a PC simultaneously the Jabra Supreme UC is an effective and versatile headset. You can switch between sources by holding the end call button for two seconds and that allows you to almost seamlessly switch between using it for a phone call or other services like Skype and Google Hangouts. The faux-leather ear pad makes it comfortable to wear, though isn't quite as secure as in-ear headsets and it features great call quality and effective noise-cancelling, along with voice controls for just about everything, so it really is the complete package.