Update: All three of the first round of Threadripper CPUs have now been released.
Earlier this year, AMD launched its highly successful Ryzen line of processors, and it's not stopping there. As of August 10, the Red Team has since come out with its top-end brand of processors, namely Threadripper "X"-branded chips.
But AMD isn't stopping with the . For more frugal spenders, suggests there are cheaper alternatives just around the corner. Like the X series, these will boast numerous cores and threads, only without AMD's XFR tech.
So without further ado, here's everything we know about the AMD Ryzen Threadripper line, including release date, price evaluation and other bits of info.
Cut to the chase
What is it? AMD's uber-powerful 8-, 12- and 16-core processors
When is it out? Available as of August 10, 2017
What will it cost? Starts at $549 (about £420, AU$690)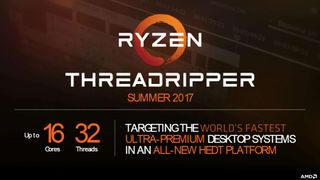 AMD Ryzen Threadripper release date
AMD Ryzen Threadripper first two processors the and 1920X arrived on August 10. Meanwhile, the company's entry level Ryzen Threadripper 1900X processor has now been released, on August 31.
The AMD Ryzen Threadripper 1900, 1920 and 1950 will touch down at a later, undisclosed date. Given their status as merely leaked through various motherboard manufacturers, concrete information on these chips is scarce as of this writing.
AMD Ryzen 9 Threadripper price
At long last, we now have firm details on what price the AMD Ryzen 9 Threadrippers will release at. They're not cheap, but you can than you would get with a comparable Intel chip.
Whereas the 16-core Ryzen Threadripper 1950X retails at $999 (around £770, AU$1,295), the Threadripper 1920X will boast 12 cores and sells for $799 (around £615, AU$1,035). Lastly, the Threadripper 1900X comes with a $549 (about £420, AU$690) price.
Meanwhile Intel's , the Core i9-7960X, sets users back a whole $1,699 (around £1,315, AU$2,200) while the 12-core i9-7920X is $1,189 (around £920, AU$1,500). The Threadripper 1900X's closes octa-core competitor from Intel is the Core i7-7820X that retails for $599 (£529, AU$869).
AMD Ryzen Threadripper specs and power
We officially know the AMD Ryzen 9 Threadripper series features "up to 16 cores and 32 threads", with the Ryzen Threadripper 1950X serving as the posterchild for these specs. The 1920X, on the other hand, is limited to 12 cores and 24 threads. Lastly, the 1900X serves up 8 cores and 16 threads.
As for how fast those cores will run, the Ryzen Threadripper 1950X can be found running at a base clock of 3.4GHz and a boost clock of 4.0GHz. At the same time, the Threadripper 1920X runs at a base/boost clock of 3.5/4.0GHz. Finally, the 1900X runs at a base/boost clock of 3.8/4.0GHz.
To put this into perspective, the Intel Core i9-7960X has packs the same 32 threads and 16 cores as the Threadripper 1950X and so on and so forth with the Intel Core i9-7920X vs Threadripper 1920X and Intel Core i7-7820X vs Threadripper 1900X we've setup.
Then there are the XFR-less AMD Ryzen Threadripper 1900, 1920 and 1950. First up, the 1900 will run at 3.1/3.7GHz base/boost clock speeds while the 1920 will operate at 3.2/3.8GHz. Though the 1950's boost speeds have yet to surface, this chip will run at a base clock speed of 3.2GHz. All of these contain the same amount of cores as the 1900X, 1920X and 1950X.
The Threadripper series will use AMD's SMT (Simultaneous Multi-Threading) technology found in other Ryzen chips. Finally, the Ryzen Threadripper series processors will use a TP3 socket, which is a modified variant of the SP3 socket originally designed for AMD's beefy server chips that .