DriverFix is a driver monitoring and driver update software package for Windows. It scans all your device drivers and searches the web for the most recent updates. Where applicable, it lets you update them right away, or download the missing ones.
DriverFix, Inc is the eponymous company behind the DriverFix software program. We'll review the program based on specific criteria, including plans and pricing, features, customer support, user interface, and so on.
Plans and pricing
DriverFix is available through a monthly or annual subscription. You either pay month-to-month or pay for a yearly subscription that's significantly discounted compared to the monthly option. There's also a free trial version available but of limited functionality.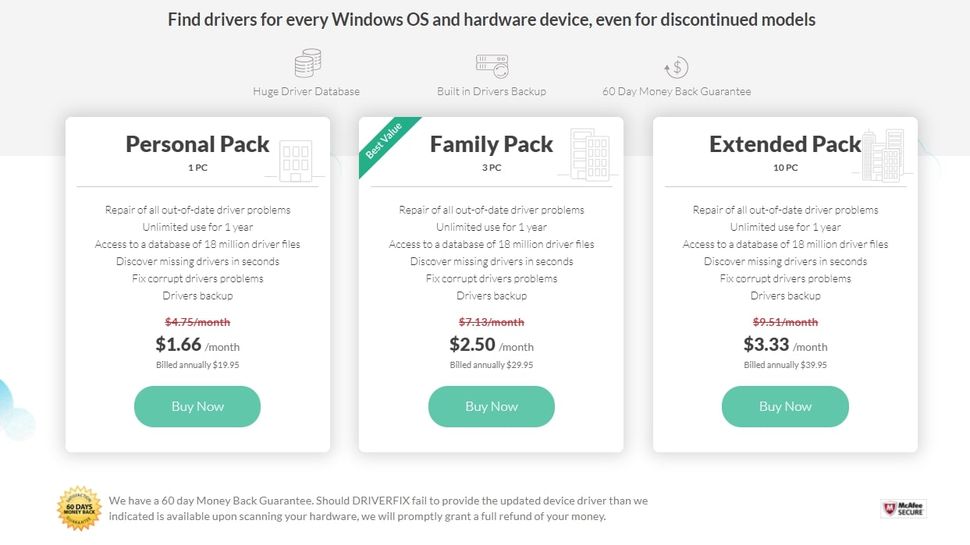 DriverFix has three distinct plans and you can purchase the Personal Pack for $19.95 annually or $4.75 per month, the Family Pack for $29.95 annually or $7.13 per month or the Extended Pack for $39.95 annually or $9.51 per month.
Given the significant discounts applied to the yearly payment, it's wise to pick it over the monthly option.
There's a 60-day money-back guarantee. However, to get a refund, you must show that you've removed the software from your computer and returned the PC to its previous state, which could be very difficult to do.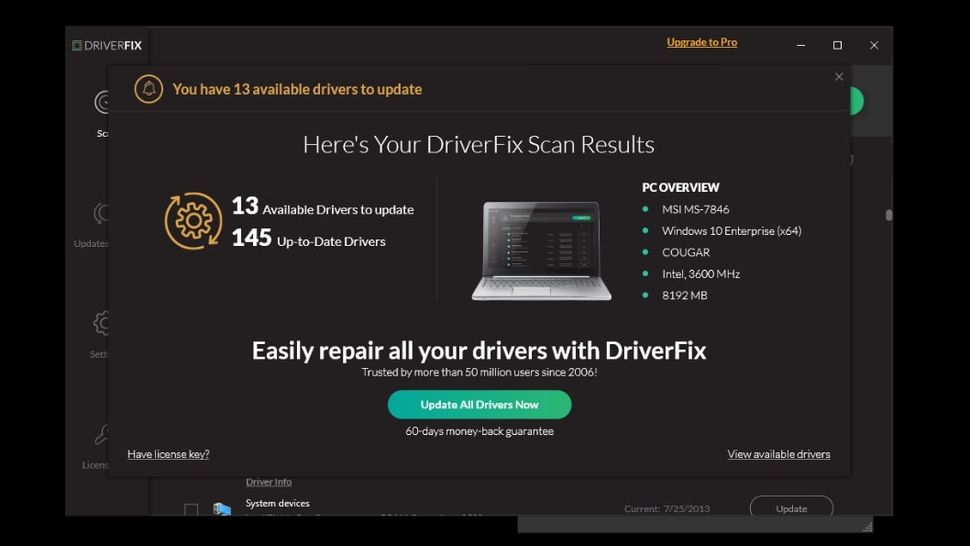 Features
Automatic scans and updates
DriverFix lets you scan your entire PC for missing or outdated drivers at any time. Afterward, you can update the outdated ones or download the missing ones afresh.
DriverFix scans your drivers against a vast database of over 18 million driver files. Hence, you're always likely to find the correct drivers on that database.
Driver Backup and Restore
DriverFix lets you back up and save your PC drivers into a compressed zip file. This feature is necessary because a driver update can sometimes cause malfunctions. Hence, if you have the previous backup of whichever driver is malfunctioning, you can just restore it and move on.
Schedule Manager
With DriverFix, you can set schedules to scan your PC drivers and ensure they're always in check. For example, you could set DriverFix to run automatic scans whenever your PC boots afresh. This way, you'll make sure that your drivers are up-to-date and complete at all times.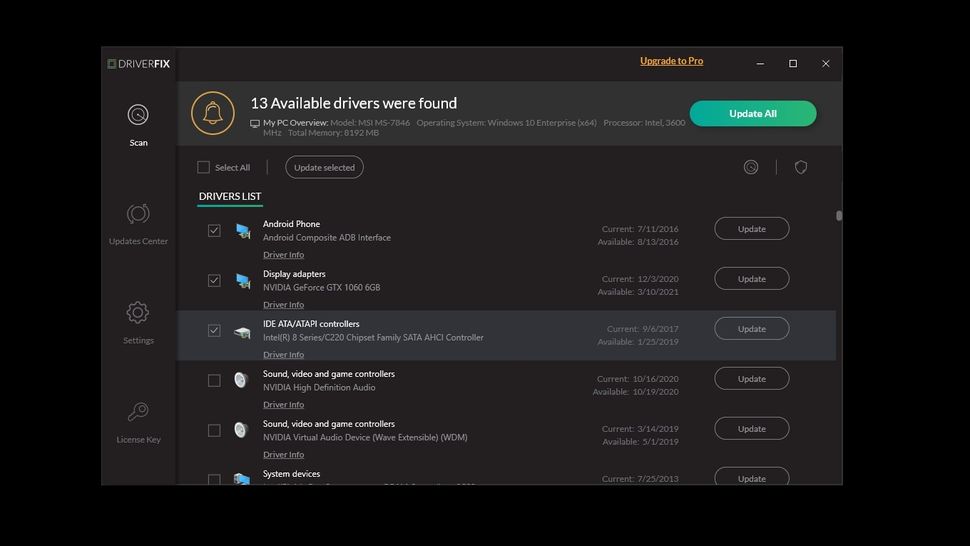 One-click Update
Suppose you run a DriverFix scan and see that over a dozen drivers need updating on your PC. You don't have to take your valuable time to update them individually. DriverFix lets you update all outdated drivers by clicking a single button.
Interface and in use
To get DriverFix, you first need to download the installation file from the official website. You can download the file for the free or paid version, depending on your choice. For the paid version, you first need to make the required payment. DriverFix accepts several payment methods, including credit and debit cards, PayPal, WebMoney, and wire transfer.
If you use uBlock Origin or any other content filtering service, you may see that it blocks the DriverFix download for supposedly being malware. This block is likely a false positive.
After downloading, you'll see that DriverFix has a user-friendly interface. Once the program starts up, it scans your PC for outdated and missing drivers and gives you immediate results. Missing our outdated drivers are shown in a list. Afterward, you can update the drivers individually if you're on the free version or update all of them with one click on the paid tier.
One drawback about using DriverFix's free version is the popups you get in the middle of your screen urging you to update your drivers. These pop ups are usually annoying and feel intrusive. However, getting the paid version removes them.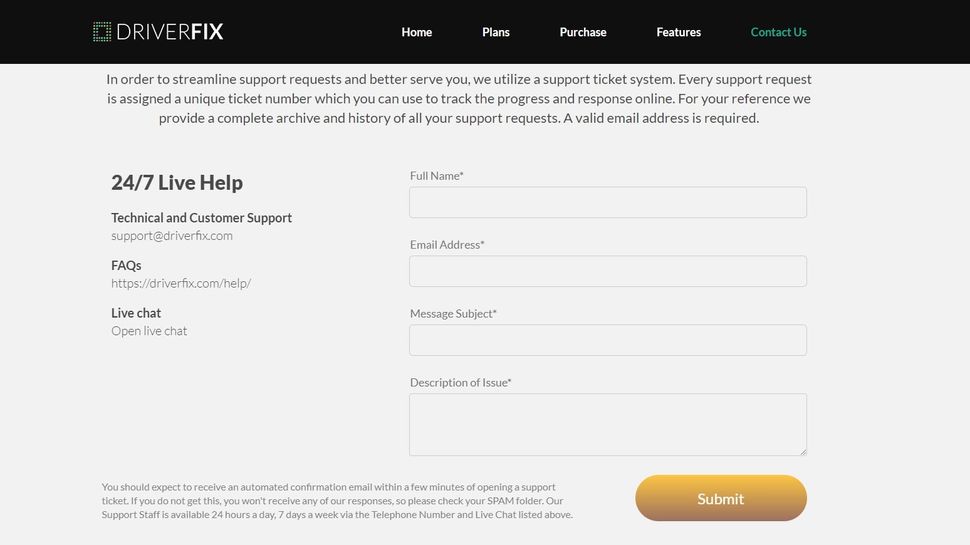 Support
DriverFix offers technical and customer support through email and live chat. There's meant to be a FAQ page but clicking the link takes you to a contact form for some reason. Also, the company claims to have telephone support but has no contact number listed on its website.
The competition
DriverFix is one of many driver update tools available on the market. Some notable competitors include AVG Driver Updater and Auslogics Driver Updater. DriverFix has similar functionalities to Auslogics but is considerably more expensive. However, it's significantly cheaper than AVG.
Final verdict
When it comes to keeping your drivers in check, DriverFix is the perfect tool. It may lack extra features of rival driver updaters, but it performs its primary task excellently. It's also a good bang for the buck because an annual license supports use on multiple PCs.
We've also highlighted the best driver updater software