A complete disk recovery solution presented with a clear, intuitive UI. Disk Drill's PRO option might seem expensive, but the 2-for-1 deal on the macOS version and various discounts make up for this.
Pros
+

Easy to use

+

Support for a wide selection of media types and files
Cons
-

PRO option is expensive

-

Recovery vault folder names are meaningless
Why you can trust TechRadar We spend hours testing every product or service we review, so you can be sure you're buying the best. Find out more about how we test.
One of the most popular data recovery tools on macOS, Disk Drill is now available for Windows.
With a range of features and a choice of free and premium versions, Disk Drill is designed to recover data from hard disk drives, solid-state drives, USB flash drives, SD/CF cards, digital cameras, and even smartphones.
Disk Drill's website boasts that any lost data file type can be recovered, from almost any data loss scenario you can think of. But does Disk Drill rediscover the deleted data you're expecting?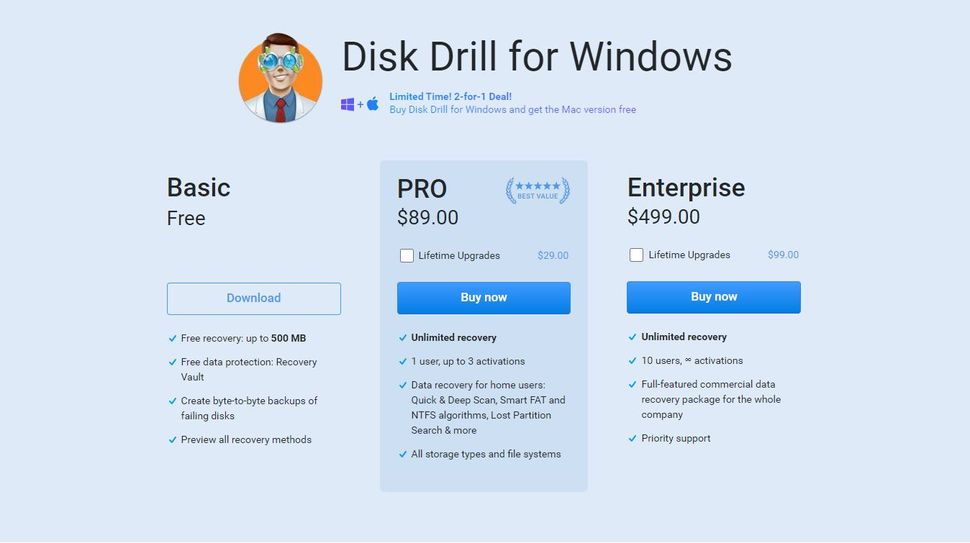 Disk Drill: Plans and pricing
Three versions of Disk Drill are available. The free option gives you file recovery of up to 500 MB. Beyond this, the software cannot work without being upgraded. Recovered data is stored in a Recovery Vault, with disks backed up with "byte-to-byte" recovery. All recovery methods can be used.
For the PRO version, you'll need to pay either $89.99 (£78.35) or $118 (£103.88) with lifetime upgrades and for the price you'll get unlimited recovery for one user with activation on up to three devices. Aimed at home users with high data recovery requirements, PRO features include Quick & Deep Scan, Smart FAT and NTFS algorithms, and Lost Partition Search. All storage types and file systems are supported.
Enterprise users can enjoy all the above, licenses for 10 users and infinite activations, and priority support for $499 (£439.28) or $598 (£526.44) with lifetime upgrades.
Minor upgrades within major versions e.g. version 5.2 to 5.5 are free.
At the time of writing, there's a limited two-for-one deal, which gives you a copy of the Mac version of Disk Drill free with the Windows PRO version.
The developers also offer a 50% discount to anyone upgrading from a past version of Disk Drill or a competing Windows/macOS product bought within the last year, provided you can present a valid proof of purchase. Education/Non-Profits also benefit from a 20% discount.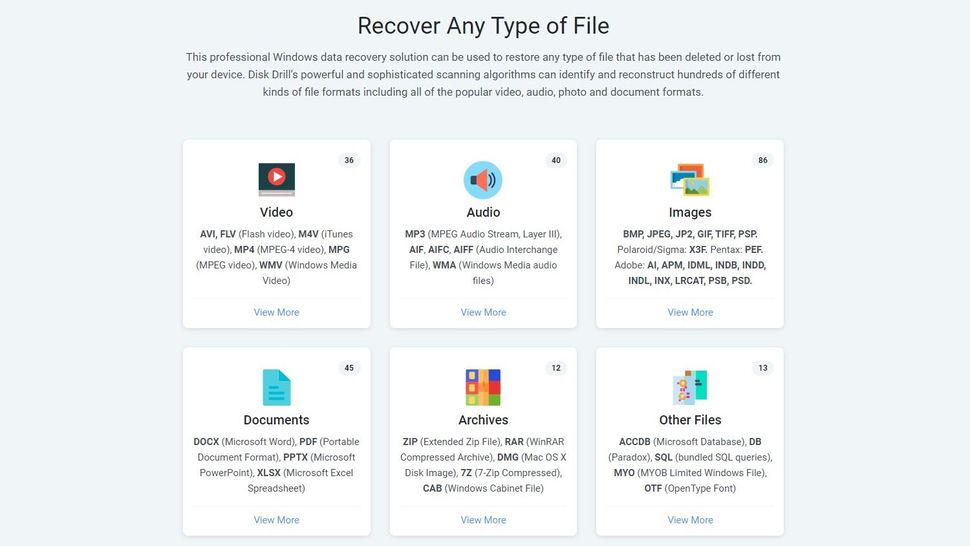 Disk Drill: Features
A vast collection of file formats can be recovered with Disk Drill, including (but not limited to) AVI, FLV, and MP4 videos, MP3 and AIFF audio, and BMP, JPEG, JP2, GIF, and PSD images. Further, DOCX, PDF, and XLSX document formats can be recovered, along with ZIP, RAR, and DMG archives and image formats.
At the time of writing Disk Drill supports 363 different file types in total. You can visit the developer's website to see a full list and request support for other file formats.
Disk Drill will work with Windows systems with internal or attached HDDs manufactured by HP, Samsung, Seagate, Toshiba, WD, LaCie, Intel, and others. USB drives from SanDisk, Samsung, Kingston, Corsair, and others are also supported, and you should even be able to recover data from SD/CF cards from SanDisk, Transcend, Toshiba, PNY, Kingston, and others. Disk Drill also claims to be able to recover data from digital cameras, iPhones, and Android phones.
Whatever media you're recovering, Disk Drill gives you the tools to find them. As well as detecting internal devices and USB drives, Disk Drill lets you attach disk images in a range of formats, including IMG, ISO, and even VMDK disks from VMware virtual PCs. It detects drives that won't otherwise mount, with options to scan quickly, deep, uncover lost partitions, and even undelete protected data.
We were very impressed by the level of detail available on the website and how upfront Cleverfiles were about the different types of issues that can affect drives.
They also clearly state that not all files are recoverable and list reasons why this might be the case including unsupported formats, fragmented or overwritten data and physical damage to the drive.
They also recommend using Windows own built-in CHKDSK and File Recovery or macOS' Disk Utility to scan and repair drives, as well as their own product.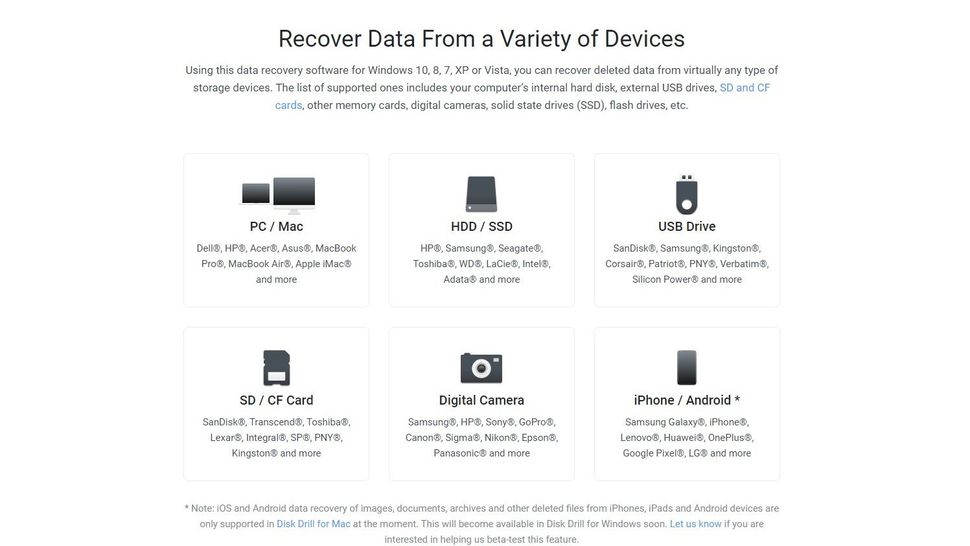 Disk Drill: How we tested
For our data recovery tests we used a virtual machine with a clean install of Windows 11.
Data Files
Our tests were done using the 'Free' version of Disk Drill. The files we chose for recovery were an album of Mozart's Music available from the Internet Archive.
We did this as we wanted to see how the utility performed with a wide variety of files.The album included 4 music files (2 in Mp3 and 2 in FLAC) format, 6 JPG image files of album covers (with thumbnails) and 2 PNG image files. The files also included 2 XML files, a torrent file and an 'SQLite' file containing details of the album. There were 25 files in total.
We copied the files in the music album to a 512MB virtual hard drive, which was then attached to the Windows 11 virtual machine. For all intents and purposes it acts as a second hard drive, attached to the main virtual machine.
Data Tests
The tests were performed one after the other on three separate virtual drives:
1. File deletion : the album files were simply deleted from the drive and the Recyle Bin emptied. No other data was copied to the drive. We then tried to recover the files.
2. Delete & Format : The files were deleted as outlined above and we also performed a 'Quick Format' using the 'Disk Management' utility built into Windows 11. We then tried to recover the files from the formatted partition.
3. Recover files from a corrupted drive: We used the freeware program 'Victoria' to overwrite the volume header of tjhe drive containing the files with zeroes. The drive didn't mount automatically in File Explorer and showed as being unpartitioned in Windows "Disk Management" utility. We then checked if the utility could see it and if so, tried to recover the files.
We do not believe that running data recovery tools in a virtual environment has a significant effect on how they function. Still, if you're considering buying software we encourage you to read all reviews thoroughly and make sure that the developer offers a refund policy.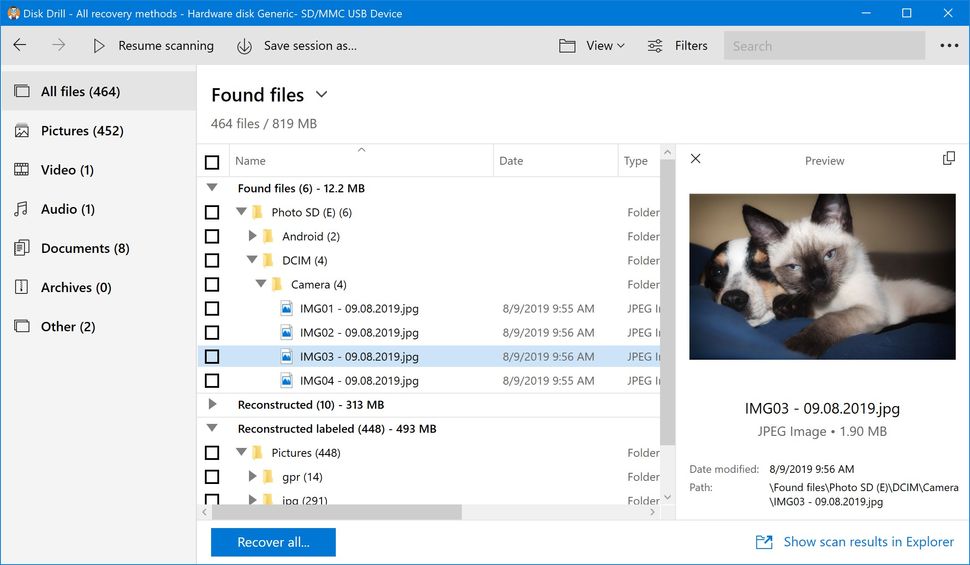 Finding files with Disk Drill
Disk Drill's main screen lists attached devices. You'll see all internal storage, along with any attached devices such as USB devices and SD/CF cards. The option to attach a disk image is also here – useful if you have an image of an old disk drive that might have some vital documents stored on it.
Recovery with Disk Drill is incredibly simple. Select the drive or partition to be recovered, click the recovery type drop-down menu on the right, choose the recovery type, then click the Search for lost data button.
Disk Drill gives the option of individual or all recovery methods. A quick scan obviously completes faster than a deep scan, but whichever option you choose, Disk Drill displays a status page to show the progress so far. Once complete, you simply select the files you wish to recover – using the filter on the left pane to find specific file types - click Recover, then select where to save them.
Disk Drill: Recovery performance
Various factors impact performance when using recovery software. The size of the disk, its condition, the connection type, and the type of recovery chosen all contribute to the length of time required. Unsurprisingly a 250GB SATA disk can be scanned and data recovered quicker than a 1TB HDD.
In testing, Disk Drill repeatedly returned the contents of the 512MB virtual drive within a few seconds. That's a good result, and indicative of similar performance on larger devices – assuming optimum conditions.
We especially enjoyed the "preview" feature, which allows users to examine files before copying them to a new location. This is important as the "Recovery Vault" doesn't always give files their original file name. Sometimes fragments of the same file are recovered and listed as multiple files.
Users' lives are made easier by the fact that detected files are categorized into types i.e. Pictures, Video, Audio, Documents, Archives and other. If Disk Drill detects a missing partition (as was the case during our tests), it will list this too.
If you do choose to recover files, Disk Drill's simple wizard asks you the location to copy them and even lets you create a brand new folder for the purpose.
Disk Drill: Test results
Disk Drill's website cautions that the software can't recovery all types of files under all circumstances. The version we used also doesn't have advanced recovery tools such as specialist algorithms. Still we were eager to see what the 'Free' version could do for us:
Test Round # 1 (Recover deleted files)
At first launch, Disk Drill detected our virtual drive whose files had recently been deleted. When we chose to try data recovery, it found 82 files in total. The helpful Recovery Wizard categorised these into files recovered from the partition and the drive itself.
When we restored the files to a folder on the C drive we found that all of the 25 original files were intact and opened without issue. The remaining files were either duplicates or system files.
Test Round # 2 (Recover deleted files from a formatted drive)
When we tried to recover files from a drive that had been deleted and formatted, Disk Drill listed 32 as recoverable, these included the original 25 and some system files. The filenames of the audio FLAC files were missing but they played straight away in VLC.
Test Round # 3 (Recover files from a corrupted drive)
Although Windows didn't mount the damaged partition of the virtual drive, when we launched Disk Drill it automatically detected it and even showed a message proudly proclaiming, "Woohoo! Lost partitions found."
Upon clicking on the lost partition, we were able to recover 82 files. Just as for the drive where the data had been deleted from the Recycle Bin, these were a mixture of the original data, duplicates and system files.
For the final round of tests we ran up against the 500MB limit for data recovery, so made use of Disk Drill's handy preview feature to see the files instead. Preview not only supports viewing images and playing back audio : you can also view the hex code for recovered files to check if they're worth saving.
Disk Drill: Support
Disk Drill is easy to use and it's fast. But what happens when you run into problems?
To help you out, a comprehensive selection of tutorials is provided on the website, covering everything from recovering data from specific device types, platforms, and file types. If these documents don't solve your problem, the detailed Lost file recovery university (Disk Drill's knowledge base) almost certainly will.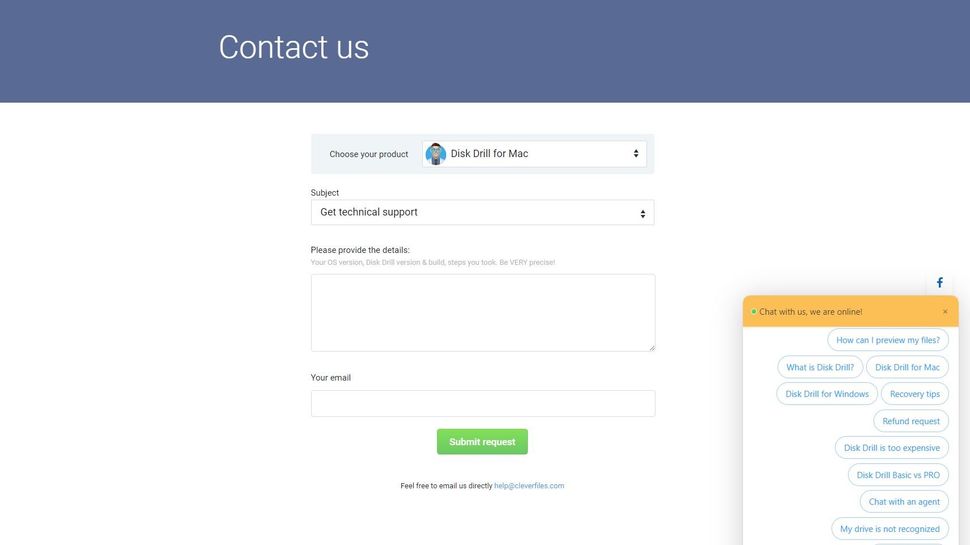 As readers have seen, we were particularly impressed by the knowledge base suggesting that users try to use their own OS built-in utilities to recover data before buying Disk Drill. The support section also provides balanced reviews of other data recovery tools. We particularly recommend the 'Understanding' section of the Knowledge Base, which contains some tutorials on basic subjects like how to recover just one lost file, as well as providing an overview of all Disk Drill features.
Failing that, a live chat service is available, and you can also get in touch with Disk Drill on Facebook, Twitter, Reddit, and LinkedIn.
Disk Drill: Final verdict
Disk Drill for Windows has lived under the shadow of the macOS "original" for quite some time. Based on what we've seen in testing, this seems unfair. Disk Drill's complete collection of features for every imaginable platform and scenario are impressive enough.
Its ability to effortlessly mount and read a previously unmountable virtual hard drive and to recover at least some data from it within a comparatively small timeframe proves that Disk Drill is a recovery tool that you should be considering. Disk Drill spotted all the deleted test files and recovered them in record time.
Pricing for the PRO version isn't ideal for home users, sadly, but there are generous discounts for users of existing tools who aren't satisfied with their experience. Students and charities can also benefit from lower prices.
Pricing aside, Disk Drill is an excellent recovery option for both Windows and macOS.
Christian Cawley is the editor responsible for Linux, Security, Programming, and DIY content at MakeUseOf.com, where he also regularly contribute articles and video reviews. With over 10 years' experience writing in the consumer electronics, IT and entertainment media, Christian has been fortunate to work with some of the best websites and print publications in these fields.