BuyDomains (opens in new tab) is an American domain registrar (opens in new tab) based in Burlington, Massachusetts. An entrepreneur named Mike Mann started BuyDomains in 1999 to provide an easy way for people to purchase domain names. The company has been very successful, now having over 1.5 million registered domains in its portfolio. It specializes in premium, costly domains.
BuyDomains is a subsidiary of Newfold Digital (formerly Endurance International Group), which bought it for $77 million in 2014. Newfold is a roll-up of various domain name registrars and web hosting (opens in new tab) companies. It's one of the biggest companies in its industry.
We tested BuyDomains extensively to give you a detailed, impartial review. We assessed the domain name registrar based on specific factors, including pricing, ease of use, customer support, etc.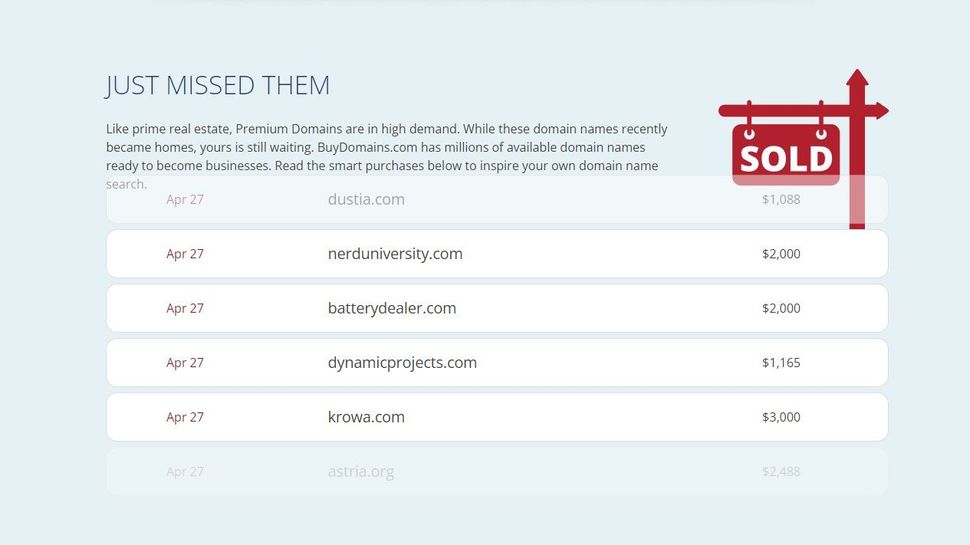 Plans and pricing
BuyDomains isn't your average domain name registrar and doesn't charge like one. It specializes in premium, high-value domains which cost anywhere from a few hundred to thousands of dollars. The specialty limits the reach of domain names BuyDomains can sell, but the company has fine-tuned that strategy.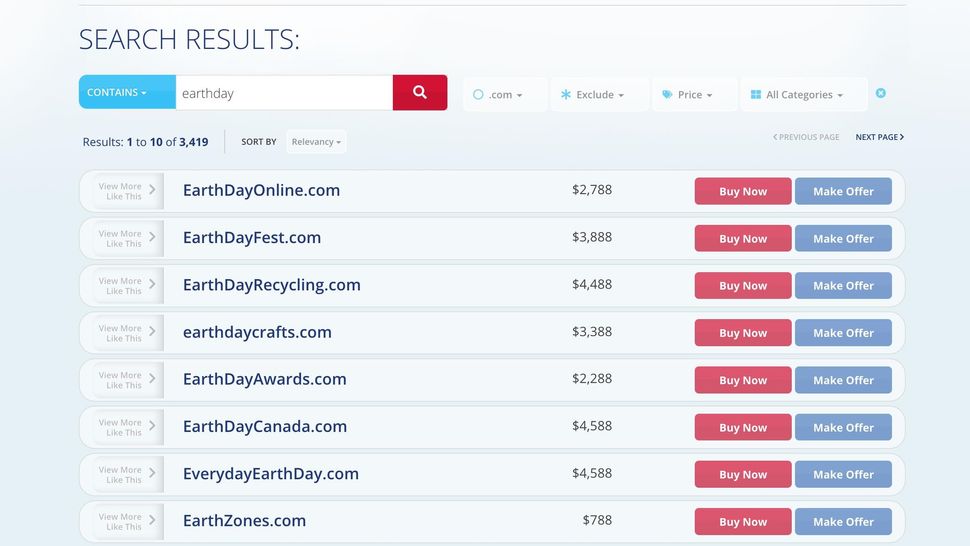 The amount BuyDomains charges depends on customers' demand for the domain name. A domain name from BuyDomains would cost $500 to $1000 on the low end and $1000 to $10,000 on the high end. Interestingly, BuyDomains' sticker prices aren't final. There's an option to make your offer and bargain with the company. If you play your cards well, you can get a domain name substantially lower than the listed price.
BuyDomains offers no refund after purchase, a disadvantage compared to competitors.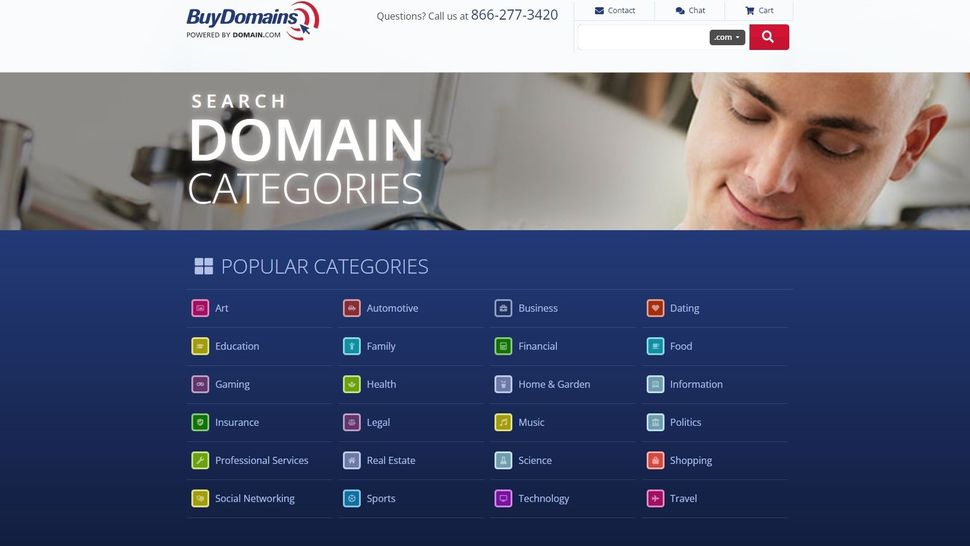 Features
BuyDomains' primary feature is domain registration. The company specializes in premium domains you'll hardly find elsewhere. You can search for any available domain name and buy it straight away or make a counteroffer. The allowance to negotiate is an excellent benefit, given the high prices BuyDomains often charges. You can bargain directly with the company's representatives before final purchase terms.
BuyDomains supports just 21 domain name extensions; .COM, .NET, .ORG, .INFO, .BIZ, .US, .ME, .CO, .DE, .TV, .LIVE, .CLUB, .ONLINE, .STORE, .DESIGN, .SPACE, .TECH, .TEL, .WORLD, and .WS. It's limited by design, as BuyDomains focuses on big-ticket domain names. Other domain registrars without that focus support hundreds of extensions.
BuyDomains also lets you transfer domain names you own elsewhere to its partner registrar, Domain.com. The transfer process is quick and straightforward. Any domain you want to transfer must be at least 60 days past its initial registration. BuyDomains charges a one-time fee of at least $10 for domain transfers.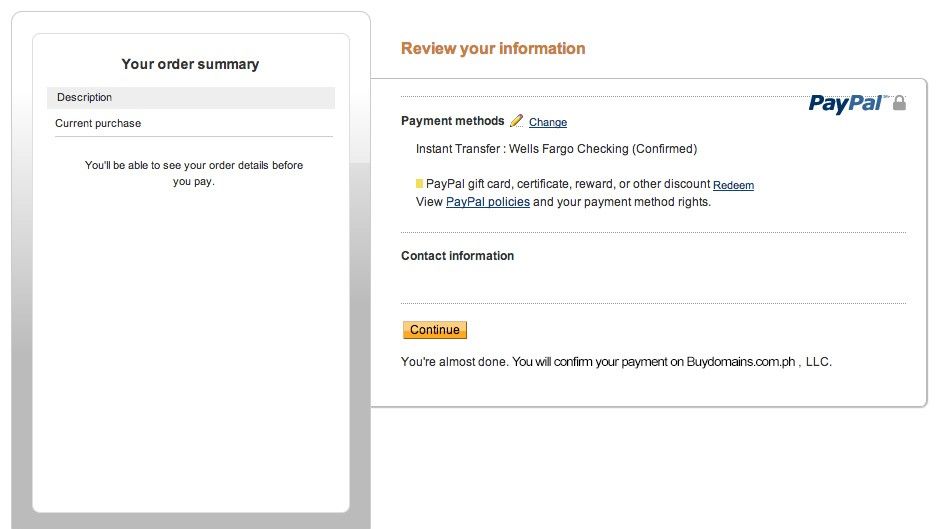 BuyDomains accepts all major credit cards for payment, including Visa, MasterCard, AMEX, and Discover. It also accepts wire transfers or PayPal. BuyDomains doesn't provide additional web hosting services, but you can access that through its partner platform, Domain.com.
Interface and in use
BuyDomains has a pretty good and clear-cut user interface. Buying a domain name through the registrar is a simple process. Just search for your desired domain name to check for its availability. You can buy it for the listed price right away or make a counteroffer if it's available. You can buy it for the listed price straight away, but making a counter offer takes time because you'll have to bargain with the company's reps.
We advise you to make a counteroffer if the domain name isn't needed urgently because BuyDomains quotes pretty high prices at first. If the domain name you pick isn't available, BuyDomains would suggest similar domains you can buy. It's up to you to choose.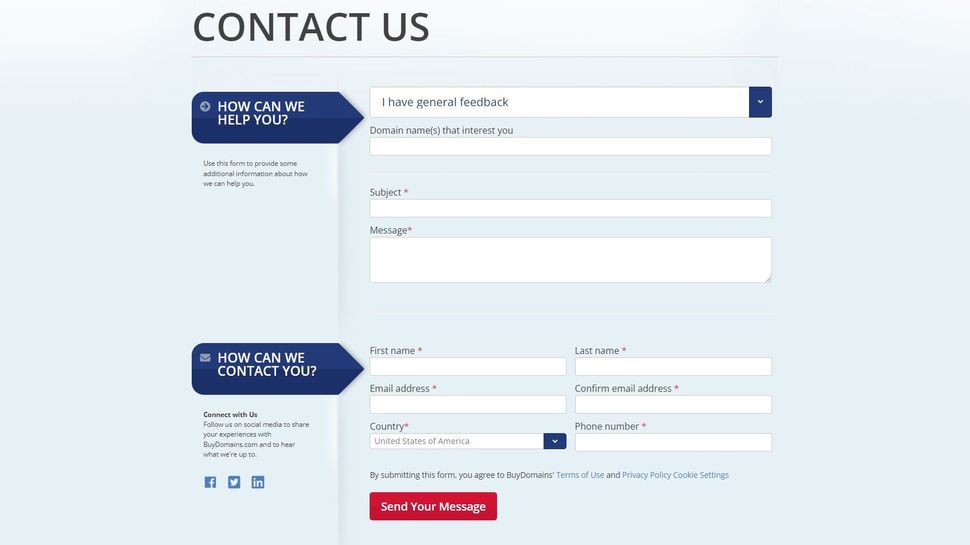 Customer support
BuyDomains offers customer support through email, live chat (opens in new tab), and telephone. Its support is limited to business hours (9am-6pm EST) from Monday to Friday. The company's support staff are reliable and helpful, but occasionally slow.
BuyDomains also provides articles, webinars, and video tutorials to familiarize customers with its platform.
The competition
BuyDomains' main competitors include Google Domains (opens in new tab), 101domain, and Hover. BuyDomains differentiates itself from the competition by focusing on premium, high-priced domains. Because of its relatively high price quotes, BuyDomains lets customers place counter offers and bargain before a final deal. Most domain name registrars don't let you do that.
Final verdict
BuyDomains is a practical register for premium, high-value domain names. The platform is simple to use and secure. Its domain name prices are significantly high, but it allows prospective customers to negotiate for lower rates.
However, many customers accuse BuyDomains of dodgy practices like domain name "front-running" and domain name squatting, even though the company frequently denies such accusations. BuyDomains also offers no refunds after purchasing, which is a drawback compared to rivals.