The evolving role of the data and analytics leader
Driving value and empowering organizations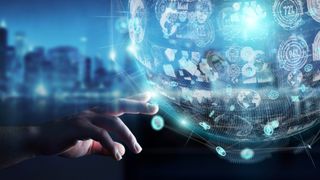 (Image credit: Shutterstock)
The role of data and analytics leaders (DAL) is evolving as organizations increasingly value data-driven results. No longer limited to managing infrastructure and tools, DALs now shape business improvements by leveraging data trends that bring operational enhancement and superior customer experiences in the digital age.
From technical expertise to strategic partners
Traditionally, DALs were focused on managing data infrastructure and analytics tools. However, as organisations increasingly prioritise data-driven decision making, the role of DALs has evolved into that of a "data investigator". DALs have become a strategic partner, coupling technical expertise with strong business acumen, capable of dissecting data into actionable insights that facilitate strategic initiatives and drive business growth.
Brad Magnani is VP of Technical Operations at Alcatel-Lucent Enterprise.
Harnessing data for strategic advantage
Successful DALs today require a diverse skill set. They must be passionate in leveraging data to drive business outcomes and possess a curious, yet skeptical mindset to identify and extract value from various datasets. Experienced DALs will segregate useless or low-quality data improving data quality to facilitate reliable and impactful insights. Once data has been analyzed, DALs must then possess effective communication skills to convey a hypothesis of the data extract and facilitate a result-oriented, data-driven culture.
Delivering measurable value to the business
Using established key performance indicators (KPIs) DALs can begin the process to drive measurable value for the business stakeholders by designing use cases that represent the biggest pain points within the organization.
Whether it's preventing churn, making smarter decisions through real-time data and simulations, or saving time by proactively delivering relevant information, the value of data-driven insights can be measured in several ways. For example, establishing metrics that measure the impact of data-driven initiatives on business growth, decision-making, and time saving.
Contributing to digital transformation
DALs play a key role in driving digital transformation across the enterprise. First, by ensuring an efficient pipeline of data into the analytics infrastructure, which requires the digital transformation of data sources and systems. Second, by effectively processing and managing the ever-increasing volumes of data. Finally, by enabling user-friendly ways to access and consume data, aligning with user preferences and habits. Transformations can occur when a virtuous circle of "user" investigative curiosity leads to value exchange among groups of stakeholders. These collaborative sessions can lead to adapting data inputs, making new data relationships and improving data quality.
Top priorities and challenges for data and analytics leaders in 2023
DALs today face numerous priorities and challenges.
1. Recruiting DALs that have the right balance of experience, programming skills, data analytic and mathematical background is often challenging. DALs must foster a data quality/cost culture, where all levels of the organization embrace accountability and awareness of data quality, and cost.
2. Capturing data has a cost that most users overlook.
3. DAL managers can be challenged in the acquisition of the right people and their retention. Retention requires empowerment, training, and career development for skilled professionals, which is often overlooked. Staying updated with emerging technologies is also essential for efficient data management and user-friendly access.
Powering a data-driven enterprise: characteristics of a successful data and analytics strategy
A successful DA strategy has several key characteristics. It adopts a use case-driven approach, aligning strategies with measurable outcomes and positive impacts on operational performance. It focuses on increasing user adoption and fostering a data-driven culture throughout the organization. It integrates data into projects and decision-making processes, driving innovation, efficiency, and business growth.
Cultivating an organizational culture that maximizes data value
To maximize the value of data, DALs must do several things. They enable easy data access and comprehension, empowering users to make data-driven decisions. User-driven innovation is encouraged through active involvement, identifying valuable insights and improvement opportunities. Collaboration is fostered, promoting data sharing and cross-functional understanding. Adoption is driven and regularly followed up, ensuring accessible and continuously improved data-driven solutions.
Democratizing data access for empowerment
To empower users and decision-makers through democratized data access, organizations can take specific actions. First, they can invest in user-friendly applications that provide easy and intuitive access to data tailored to users' privileges, responsibilities, and roles.
Second, organisations can explore continuous value creation by actively seeking new use cases derived from data and analytics capabilities. By continuously exploring and expanding the benefits of data access, organisations unlock untapped potential and drive innovation.
Conclusion
DALs hold the key to unlocking the full potential of data and driving organizational success. By honing their skills, fostering a data-driven culture, and leveraging technology effectively, these leaders can shape the future of business and enable transformative outcomes through data and analytics.
By rising to the challenge of modernisation, DALs who empower users with timely data access will improve decision-making and achieve better outcomes. Through the leverage of innovative tools, they will improve collaboration, real-time information sharing, supporting organisational growth in the digital age.
Are you a pro? Subscribe to our newsletter
Sign up to the TechRadar Pro newsletter to get all the top news, opinion, features and guidance your business needs to succeed!
Brad Magnani is VP of Technical Operations at Alcatel-Lucent Enterprise.