It is relatively expensive and heavy, but the R7 Titan does have some unique features that will be a deal-maker for some customers. The cameras are excellent, the support foot is strongly constructed, and the battery capacity is exceptional.
Pros
+

Tough and made to last

+

32000 mAh battery

+

Great camera selection

+

5G comms
Cons
-

Heavy

-

Screen isn't bright enough for outdoors

-

Battery use needs optimising
Why you can trust TechRadar We spend hours testing every product or service we review, so you can be sure you're buying the best. Find out more about how we test.
30-second review
We've seen many recent tablet launches based around the MediaTek Helio G99 SoC, but the Oukitel R7 Titan 5G is doing its own thing with the Dimensity 720 from the same chip maker.
The Dimensity 720 SoC is a mixed blessing since it has slower RAM and is made using an older 7nm fabrication than the G99. But the Dimensity 720 does offer 5G comms, so there is a trade-off here.
However, the big difference between this tablet and many other rugged designs is that this one is hefty (over 1200g), and that's because it has an enormous 32,000 mAh battery.
That's almost 50% more battery than the Blackview Active 8 Pro and triple the amount in the Doogee R10. According to Oukitel, that battery capacity translates into 2,500 hours on standby (with a SIM installed) or more than 100 days. It also has a talk time of 220 hours, or over nine days.
What we also liked was that it ignored the typical tablet deal of only having one rear camera. The R7 Titan 5G is much more like a phone in having a high-quality 48MP Sony IMX582 primary sensor, a Sony IMX350 Night Vision sensor and a 2MP BYD sensor for macro photography. The front camera is a decent 32MP Samsung S5KGD1 sensor, completing the four-camera set.
The problem for those with a tight budget is that this tablet costs double what some of the other options cost, though for that, you do get 5G and some neat features, like the metal stand.
If your wallet can take the hit, the Oukitel R7 Titan 5G might be the rugged tablet to own. Unless you intend to hike, it's another heavy item to carry.
Oukitel R7 Titan 5G: price and availability
How much does it cost? $500/£410/€475
When is it out? Available now
Where can you get it? You can get it in most regions directly from Oukitel.
Oukitel sells the R7 Titan 5G directly from the official website for $500, with free global shipping. It can be found on some online retail sites, but not all, and it typically isn't cheaper.
In the UK, through Amazon.co.uk the tablet costs £460, but they do offer a £30 voucher currently, making it only a £20 premium for a next-day delivery.
At the time of writing this review, the tablet is not in stock on Amazon.com nor on NewEgg.com.
Compared to other rugged tablet designs, this is one of the more expensive Android options and is as expensive as some of the cheaper Windows tablets. But considering the spec, it might be worth what Oukitel is asking.
Oukitel R7 Titan 5G:Specs
Swipe to scroll horizontally
| Feature | Spec |
| --- | --- |
| CPU: | MediaTek Dimensity 720(MT6853) |
| GPU: | ARM Mali-G57 MC 3 |
| RAM: | 12GB LPDDR4X (+12GB RAM Expansion) |
| Storage: | 256GB UFS 2.2 |
| Screen: | 10.1-inch IPS LCD 400 nits |
| Resolution: | 1200x1920 |
| SIM: | Dual Nano SIM + MicroSD option |
| Weight: | 1212g (official) |
| Dimensions: | 249.1*167.8*19.8mm |
| Rugged Spec: | IP68, IP69K and MIL-STD-810H |
| Rear cameras: | 48MP Sony IMX582, 20MP Sony IMX350, 2MP BYD BF2253 |
| Front camera: | 32MP Samsung S5KGD1 |
| Networking: | WiFi 6, Bluetooth 5.1 |
| OS: | Android 13 |
| Battery: | 32000mAh (Max charge 33W - 12V 2.75A) |
Oukitel R7 Titan 5G: design
Heavy and sturdy
Plenty of accessories
Screen isn't bright enough
Rugged tablet makers tend to head in one of two design directions. One way leads to lightweight cases and smaller batteries that reduce the damaging forces if the machine is dropped. The other is epitomised by the Oukitel RT7, where the robustness quota has been elevated to cope with the increased mass of the device.
At a quoted weight of 1212g for the tablet alone, this is a hefty item you couldn't easily sneak into another's backpack without them noticing quickly.
Except it's heavier than Oukitel says, with our review machine weighing 1247g and with the stand connected that grew to a portly 1382g. Adding the strap and wrist support adds even more.
That said, the texturing on the sides and back makes the tablet remarkably secure in the hands, and the thickness of the chassis makes for a generally comfortable experience. Or rather, it is if holding 1.4 kg for any time doesn't take a toll on your wrists.
In an effort to mitigate the users' strain, Oukitel includes a metal handle, a fabric wrist support and a shoulder strap.
Other than how thick and heavy this device is, the rest of the design is relatively generic. With the volume rocker and power button on the right, the USB charging port on the left and the SIM card slot on the top edge.
It's slightly disappointing that there are no pogo pins for a cradle charge, but we did appreciate that the camera cluster is central, making for easier picture-taking.
The handle is secured to the tablet using screws, and the same mounting points are used to attach the wrist support.
As a design study into how to make electronics that are unlikely to break, almost irrespective of how they are treated, the Oukitel R7 Titan 5G is a fine example and is built to handle plenty of inadvertent adventures.
If there is a reservation, that would be the screen, or more specifically, how bright it is. For indoor use, the IPS panel on the R7 works well, and the brightness of 400 nits is decent. However, the very nature of this device means it will be used outside, where the picture isn't bright enough to make it easily viewable on a sunny or even partly cloudy day.
If the display were brighter, this would be a good solution for drone pilots, but the limits on brightness undermine that use case.
Design score: 4/5
Oukitel R7 Titan 5G: hardware
Effective platform
5G and 4G Comms
Punching above its weight
The MediaTek Dimensity 720 isn't a commonly used SoC, so it was fascinating to see why Oukitel chose it for this tablet.
Compared to the popular Helio G99 used in many tablets, the Dimensity 720 appears less impressive, at least on paper. They are both octo-core designs, and the 720 has four performance and four efficiency cores, whereas the G99 has two higher-clocked performance and six efficiency cores.
And while the G99 looks the better deal overall, having twice the memory bandwidth, a faster clocked GPU, that's only part of this story. As is covered in more detail in the performance section, these advantages appear to not matter as much as you might think.
Some minor technical details impact greatly on the user experience, and the Dimensity 720 has a few tricks to level the playing field.
One of these is the GPU, which is the same ARM Mali-G57 as the G99, but the G99 uses the MC2 variant, and this SoC has the MC3. The MC3 is clocked lower, 850MHz over 1000MHz on the MC2. But it has three execution units over two on the MC2 and 48 shaders versus 32. That makes the MC3 perform better than the MC2, even if it is clocked slower.
It's daunting how little impact the limited memory bandwidth makes on the Dimensity 720, and that, in many tests, this slower and older fabricated chip can edge the G99, especially if the challenge involves graphics.
The other big selling point here is 5G support, and it's of a flavour that will work in most countries. But even if you don't have access to 5G, the 4G on this SoC supports LTE Cat. 18 and not the Cat. 13 that the G99 has. That translates into faster download speeds and better connectivity.
To help the flow of data, Oukitel gave the R7 12GB of RAM as standard, and using storage trickery, this can be expanded to 24GB of effective memory for those who like to have lots of apps open at once.
Oukitel R7 Titan 5G: cameras
48MP sensor on the rear
32MP on the front
Four cameras in total
The Oukitel R7 Titan 5G has four cameras:
Rear cameras: 48MP Sony IMX582, 20MP Sony IMX350, 2MP BYD BF2253
Front camera: 32MP Samsung S5KGD1
Where the R7 differs from most of the current batch of rugged Android tablets is that it has a camera arrangement that is much closer to that of a premium phone. Many designs have a single front and rear sensor, but this one has a single front sensor but three on the back.
The primary tool for capturing pictures is undoubtedly the 48MP Sony IMX582, a sensor with an excellent reputation for delivering well-saturated and crisp results using a Quad Bayer colour filter array to capture high-quality images.
Still image capture is available up to 48MP, but our best results were achieved using the 12MP mode, where the sensor captures more data than it uses.
The strength of this sensor is that the filter significantly reduces the grain impact of low light conditions, making for markedly better results when conditions aren't ideal.
It's capable of 4K video capture at 30fps. While it can capture at 4K or lower resolutions on the R7, the camera app doesn't provide any frame rate control to take advantage of doing that. The sensor should allow 720p at 480 fps, but the camera app provided cannot use that mode or any other with greater than 30fps.
Greatness, as they say, is just a software patch away.
The other notable rear sensor is the 20MP Sony IMX350, a night vision sensor that utilises an infrared light mounted next to the camera cluster. This camera produces remarkably sharp monochrome pictures in complete darkness, and could be highly useful for navigating the wilderness in the dark.
What could have been better here was the macro camera, a BYD BF2253 that is only 2MP. What's odd about this sensor is that the optics on the 48MP Sony IMX582 allow it to get relatively close to objects, only engaging the BYD BF2253 at a remarkably short range. The results aren't great, and in many circumstances, you'd be better capturing a 48MP image with the primary camera and then cropping it.
The face-time front camera is an impressive 32MP Samsung S5KGD1, and it can take 32MP selfies but is locked to 1080p and 30fps for video. This tells much the same story as the primary sensor, in that this camera should be capable of 120fps at 1080p, but this isn't a feature included in the camera app.
At this price point, the camera app should have been tweaked to get more out of the camera sensors. And, one of our pet hates, for this money, we'd expect it to have Widevine L1 encryption, where it only has L3, reducing the best video streaming quality down to 480p from most streaming content services.
Oukitel R7 Titan 5G Camera samples
Image 1 of 14
Oukitel R7 Titan 5G: performance
Dimensity 720
Plenty of RAM
Good performance
Swipe to scroll horizontally
| Benchmark | Test | Score |
| --- | --- | --- |
| Geekbench: | Single core | 500 |
| | Multi core | 1710 |
| | OpenCL | 1590 |
| PCMark: | Score | 8261 |
| | Battery | 35 hours 8 minutes |
| Passmark: | Overall Score | 8653 |
| | CPU Score | 4203 |
| 3DMark: | Slingshot OpenGL | 3662 |
| | Slingshot Extr. Open GL | 2719 |
| | Slingshot Extr. Vulkan | 2501 |
| | Wild Life | 1346 |
Given that the Dimensity 720 has half the memory bandwidth of the Helio G99, the results we expected were to see the R7 trailing tablets like the Doogee R10 and Blackview Active Pro by some notable margin. But curiously, that's not what was observed.
In many tests, like Geekbench, the Dimensity 720 traded blows with the G99 and managed a few wins over the Doogee R10 in particular.
It was overtaken in the Passmark tests, but not by a huge margin. It was strongest in those benchmarks that use the GPU, as the MC3 in this SoC had a notable edge over the MC2 on G99-powered tablets. It beat all the G99 tablets we've recently reviewed in the 3DMark tests, results that seem counterintuitive. The extra execution units and shaders available to the MC3 dramatically impact performance, even with the memory bandwidth limitations of the Dimensity 720.
Overall, the R7 proved a competitive performer, though it wouldn't impress as much if it was put up against any of the recent Snapdragon 7 or 8 SoCs.
Oukitel R7 Titan 5G: battery
Massive battery
33W Fast charging
7 hours to full charge
Undoubtedly, the biggest selling point of the R7 is the battery, or rather, its size.
But, and this slightly shocked your reviewer, the 32,000 mAh battery doesn't deliver as much power as you might think, or rather, the tablet doesn't use it as efficiently as it might.
The previous leader in battery capacity was the Blackview Active 8 Pro, a platform that comes with a 22,000 mAh battery. With almost a third more batter, did the R7 last 50% longer? No, it didn't.
In our PCMark battery test, the Active 8 Pro achieved a total run time from 100% charge of 31 hours and 29 minutes, whereas the R7 operated for 35 hours and 8 minutes.
That's about 12% longer, at best. And, if you set the tablet to maximum brightness and run videos, it can exhaust in under thirteen hours.
We expected more, and these results hint that either the 7nm fabrication of the Dimensity 720 makes for less power efficiency than the 6nm of the G99, or the Android 13 implementation on this tablet needs some tweaking to make it more power frugal. Or a combination of those two possibilities.
Whatever the reason, the R7 has plenty of battery but fails to use it as effectively as it might have.
Also, being such a large battery, the 33W fast charging on offer might not be fast enough. From completely depleted, it can take more than seven hours to fully recharge the battery, and that's using the fast charge feature. Forgetting to take the provided charger and only having half that charge could result in a charging time that is closer to a day, concerningly.
That there wasn't wireless charging with such a battery capacity isn't a big surprise, even if some chargers now offer 33W over wireless.
To conclude, the battery is big, but how much better it is than a 22,000 mAh battery in a lighter and cheaper design is debatable.
It's good news that not every tablet maker is using the G99 SoC, and the R7 demonstrates that Oukitel can make sturdy hardware that includes some desirable features.
For those who want to use 5G services, there aren't many choices in the rugged tablet sector, and the R7 provides that functionality.
It also comes with well-specified camera sensors, even if the camera app wasn't adjusted to make full use of the abilities on offer.
The two disappointments are the screen, which isn't bright enough for prolonged outdoor use, and the battery. The screen needs to be brighter, and an anti-reflection coating needs to be applied if this tablet is to be more useful outdoors.
The battery issue is a more complex problem, and only Oukitel understands why 32,000 mAh doesn't take this machine further than it does.
Had those issues been addressed in development, the Oukitel R7 Titan 5G would undoubtedly be worth the asking price. But for what the experience is at this time, it seems marginally overpriced.
Should I buy a Oukitel R7 Titan 5G?
Swipe to scroll horizontally
Oukitel R7 Titan 5G Score Card

| Attributes | Notes | Rating |
| --- | --- | --- |
| Value | It is expensive compared to others, but the build quality might justify it. | 4/5 |
| Design | It is impressively built and rated to spend up to 30 minutes submerged. But it's also heavy. | 4/5 |
| Hardware | Good SoC with plenty of memory and 5G comms. | 4/5 |
| Camera | A top-notch selection of camera sensors that can take some impressive images. Video is 4K, but the camera app doesn't support framerate control. | 4/5 |
| Performance | Faster than expected, and a match for G99 designs. | 4/5 |
| Battery | As big as the battery is, this tablet doesn't use that capacity as effectively as it might. | 4/5 |
| Overall | Some excellent features and built for the great outdoors, but a few minor problems stop this tablet from being the best value for money. | 4/5 |
Buy it if...
You need a tablet for outdoors
The Oukitel R7 Titan 5G is built for physical abuse and can cope with being dropped and even completely submerged. That makes it highly suitable for adventure holidays, though the person charged with carrying this on a hike won't thank you.
Battery power is critical
While the battery won't take the R7 as far as it should, it takes it further than any other rugged tablet we've tested recently. The only caveat is that it also takes a long time to recharge, even with 33W fast charging.
Don't buy it if...
You're travelling light
At close to 1.5 kg with accessories, this is a heavy tablet to include in a backpack. This weight might not seem like much at the bottom of the mountain, but it will appear much more at the top.
You work in bright sunlight
Without a screen filter, the R7 is challenging to read in direct sunlight, and the maximum 400 nit brightness of the screen isn't ideal. In comparison, some dedicated drone screens are 1000 nits to be useable outdoors.
Also consider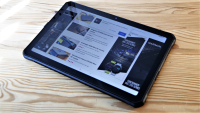 Doogee R10
One of the many tablets using the Helio G99 SoC, this one is a much cheaper option at close to just $200.
The R10 is a much lighter device with a smaller battery life and less impressive camera sensors, but you can also buy two of these for every R7.
It's a highly affordable option for those less interested in photography and battery life.
Read our Doogee R10 rugged Android tablet review for more information.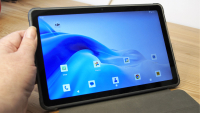 AGM PAD P1
Another inexpensive, rugged tablet using the ever-popular Helio G99 processor.
Like the R10 at roughly $200, this is a cheaper option where you might be less concerned about what ultimately happens to it.
The weaknesses of this design are that the battery isn't much bigger than a rugged phone battery at just 7,000mAh, and the camera sensors aren't as good as we might expect from a $200 phone.
The main camera can take reasonable pictures, but only in good lighting conditions, and those looking for a tablet with photo abilities should look elsewhere.
The real selling point is the price, but other tablets with better specs aren't much more.
Read our AGM PAD P1 review for more information.
We've rated the best rugged tablets.