If you have a simple job that doesn't require much CPU or GPU power, then the AK2 Plus will suffice. But it isn't ideal for more demanding tasks, as its ports aren't the best type, and the M.2 slot is inaccessible.
Pros
+

Lightweight

+

SATA upgrade available
Cons
-

Website pricing

-

SSD performance

-

M.2 slot access
Why you can trust TechRadar We spend hours testing every product or service we review, so you can be sure you're buying the best. Find out more about how we test.
NiPoGi AK2 Plus: 30-second review
Not everyone is looking for the fastest NUC Mini PC ever made, and the NiPoGi AK2 Plus certainly doesn't fit into the high-performance category.
Built around a modest four-core Intel Alder Lake N100 processor with a base power draw of only 6W, the AK2 Plus is well-suited to simple office tasks and web-based applications.
But while the processor is decidedly low-end, it does come with 16GB of DDR4 memory, 512GB of SSD storage, and Windows 11 Pro pre-installed.
However, the enclosure here is entirely plastic, and it only has four USB ports, with only two being USB 3.2 Gen 1 and two being USB 2.0. There are no USB-C ports or USB 3.2 Gen 2, although the two HDMI monitor connections are the 2.0 spec.
Equally low spec, the LAN port is 1GbE, the WiFi is type 5, and the Bluetooth is version 4.2.
This Mini PC could score higher as getting inside is relatively easy, and there is some limited upgrade potential. But while the memory is socketed, the maximum capacity is 16GB, and a free position is available for a 2.5-inch HDD or SSD. But the M.2 slot isn't accessible, and we suspect it won't take NVMe drives since the installed storage was a SATA M.2 SSD.
Leaving inaccessible storage to one side, the biggest issue with this machine is the price. NiPoGi has supposedly reduced the price from 499 Euros to 349 on its site, which we'd contest is at least 200 Euros too much. You can get it much cheaper online, but several better alternatives are available for a similar price.
Geekom Mini IT13: Price and availability
How much does it cost? $170
When is it out? Available now
Where can you get it? You can get it directly from NiPoGi
Bought directly from the NiPoGi website, the one SKU of this machine costs an incredible €349 (reduced from €499, no less), a remarkably high price for such a low-specification machine.
We'd quote you the dollar pricing from NiPoGi, but the webpage that enables you to select your location is Error 404 and missing in action.
Oddly enough, the same machine, pitched for educational use, costs only £169.80 directly from Amazon in the UK.
American customers can't buy the NiPoGi version of this machine, but an identical-looking and specified machine under the branding "Kamrui" can be purchased from Amazon.com for only $169.95.
Compared to the NiPoGi website, these prices are more realistic, but other better-known brands, like Beelink, make very similar spec machines in the same price range.
The AK2 Plus has all the hallmarks of a mass-produced Mini PC sold under a wide range of brand names, few of which will be familiar to the purchasing public.
An equivalent machine can be found on AliExpress for as little as $120.
NiPoGi AK2 Plus: Specifications
Swipe to scroll horizontally
| | |
| --- | --- |
| CPU: | Intel Core N100 (4 cores, 4 threads) |
| GPU: | Intel UHD Graphics (24 EU) |
| RAM: | 16GB DDR4 (16GB is maximum memory) |
| Storage: | 512GB NS512GSSD340 M.2 2280 SATA, unused 2.5-inch SATA slot |
| Ports: | 2x USB 3.2 Gen1 Type-A, 2x USB 2.0, 2x HDMI 2.0, 1x universal audio jack |
| Networking: | 1GbE LAN, WiFi 5, Bluetooth 4.2 |
| OS: | Windows 11 Pro (pre-installed) |
| PSU: | 12V 2.5A 30W |
| Dimensions: | ?14 x 14 x 4.7 cm |
| Weight: | 370g |
NiPoGi AK2 Plus: Design
Plastic
Odd layout
Access of limited value
Picking it up for the first time revealed how amazingly light this machine is. This is made possible by using a NUC-sized enclosure made entirely of plastic. Some parts are chrome painted to look metal, but they're certainly not.
In the box with the machine is a wall socket PSU rated at 30W, a tiny metal (yes, actual metal) plate for VESA mounting the AK2 Plus to the rear of a monitor, some screws and a small paper manual. The paperwork provided is incredibly disappointing since it only offers three pages for each language, and these instructions don't even cover how to get inside the machine.
The external layout of this machine is best described as idiosyncratic since it's the first NUC we've seen with no ports at all on the front, no power button and only an activity LED.
The power button is on the left-hand side with three of the four USB ports, with the LAN, dual HDMI, Audio jack and the last USB port on the rear. There is nothing on the right side, not even air vents.
This odd layout suggests that this machine was made almost exclusively for monitor mounting because, placed on a desktop, it's not obvious which way to orientate it.
Internal access is via an undocumented spring-loaded switch on the rear that releases the top, and inside is a 2.5-inch SATA tray ready to accept an HDD or SSD.
Removal of the tray reveals a single SODIMM slot with a DDR4 module in place. That you can access this memory slot is mainly moot because the maximum amount of RAM this platform can address is 16GB, and that's how much is installed by default.
What you can't get to from this direction is the M.2 slot, frustratingly. On the NiPoGi website is a graphic that shows the SATA drive and M.2 slot on the top, but the reality is that the M.2 slot is on the underside of the motherboard and, therefore, not directly accessible.
In our efforts to explore further, after removing more screws, we eventually decided it wasn't worth the trouble to entirely dismantle this machine since it might not go back together.
Overall, this is a cheap machine that doesn't offer much to those wanting to expand its capabilities other than to add a SATA drive.
NiPoGi AK2 Plus: Features
12th Gen N100
Limited PCIe Lanes
USB ports
Intel 12th generation mobile chips were generally well received when they appeared, mostly because of how abysmal some of its 11th and 10th generation CPUs were.
The N100 is a middle-order chip in the Alder Lake-N series that is better than the Atom-branded designs beneath it but not on par with the eight-core i3 chips above it.
Its critical feature is the low TPD of just 6W, making this an ideal computer for those who leave systems powered 24/7 or throughout a working day. However, most monitors will use considerably more power than 6W, so the power consumption of the AK2 Plus might not be a critical factor in power saving.
It lacks many cores, with only four, and none of these has hyperthreading. Given such a low core count and with only single-channel DDR4 memory, this specification is on the edge of what is useable on Windows 11. Although the makers did at least give it 16GB of memory to help smooth it along. Given its limited capabilities, we'd contest that this hardware would run Linux or ChromeOS Flex much better than it does Windows.
But the processing power and cores are only part of the story here, as the N100 only has 9 PCIe lanes to spread between all its I/O and storage.
This NUC doesn't have many ports, but those soon get used up when considering the internal M.2, SATA port, Gigabit LAN and USB ports. However, there should have been enough to make the M.2 port NVMe spec, and that never happened.
That limits the speed of the storage to around 500MB/s, which isn't especially quick by current standards.
But of all the features here, the most disappointing are those associated with the USB ports. How few in number, that the best ones are only USB 3.2 Gen1 and that there are no USB-C ports. That's not good enough in the current market, as USB-C is slowly becoming the de facto standard, and USB 3.2 Gen2 is also considered an important option.
That they included dual HDMI ports is illogical since the integrated GPU doesn't have the power to drive one 4K screen smoothly in rendered graphics, so giving it two outputs seems mildly crazy.
To summarise, this machine doesn't have fantastic specifications, and the makers didn't make the most of its technology.
NiPoGi AK2 Plus: Performance
Swipe to scroll horizontally
| Benchmark | Test | Score |
| --- | --- | --- |
| 3DMark: | WildLife: | 2,618 |
| | Fire Strike: | 998 |
| | Time Spy: | 331 |
| Cinebench R23: | Single core: | 706 |
| | Multi core: | 1,682 |
| | Ratio: | 2.38 |
| GeekBench 5: | Single core: | 854 |
| | Multi core: | 1,755 |
| | OpenCL: | 3,819 |
| CrystalDiskMark: | Sequential Read: | 560MB/s |
| | Sequential Write: | 492MB/s |
| PC Mark 10: | Office Test: | 2,715 |
| WHEY: | Score: | 6.9 |
Limited performance
SATA M.2
For simple office tasks, web surfing and making notes, the AK2 Plus is fine, and it also might be useful as a hardware firewall with a USB to Ethernet adapter. But it's unsuitable for applications that need graphics processing or number crunching.
Those buying a machine for its performance should accept from the outset that this platform isn't for you.
The only hardware we've seen that is roughly comparable with the AK2 Plus is the GMKtec NucBox G1, which uses the Intel N95 CPU and comes with only 8GB of memory. However, the AK2 Plus fails to reach even the level of the G1, being especially poor at anything that involves processing or graphics.
The UHD Graphics with only 24 Execution Units is very poor at just 750MHz, and many of the more challenging tests resulted in slideshows where the PC would take longer than a second to render a single frame.
The PCMark10 Office test score is about 60% of what we'd typically expect from an NUC, and much of that comes down to the NS512GSSD340 M.2 drive. We've no idea who makes this drive, but based purely on our benchmark results, it has a SATA interface, and it peaks at about 550MB/s. That would be good for SATA, but our expectations for NVMe M.2 drives are at least six times quicker than that.
The only positive aspect of this drive's performance is that everything here is well balanced when seen in the context of the SATA bay expansion, and the best USB ports are only 3.2 Gen1, with roughly 500MB/s transfer speeds.
NiPoGi AK2 Plus: Verdict
We see many compelling Mini PC designs that can make desktop systems blush with their performance levels, but not everyone wants to pay for one of those.
The NiPoGi AK2 Plus takes the opposite approach of making a simple general-purpose solution that would be fine for basic computing tasks that don't need high performance or rapid storage.
With this design circulating in various guises, would we recommend this one? Possibly not, since the price on the website is highly speculative, and the site was put together with the same lack of detail that pervaded the manual and the internal layout of the AK2 Plus.
You might pay slightly more, but we'd recommend a Beelink, Geekom or GMKtec alternative, as at least these offer a more prominent brand with some credentials for support and documentation.
Should you buy a NiPoGi AK2 Plus?
Swipe to scroll horizontally
| | | |
| --- | --- | --- |
| Value | Don't buy from the website at double the going rate | 3 / 5 |
| Design | A wholly plastic design that didn't consider upgrades or even what sides of the machine should have ports. | 2 / 5 |
| Features | You can upgrade the storage with a SATA drive, but you can't access the M.2 slot, and the port selection is poor. | 3 / 5 |
| Performance | Slow at most things, not ideal for anything but the most basic tasks. | 2.5 / 5 |
| Total | Cheaply made, a poorly conceived design sold under numerous brand names. Not a recommendation here. | 3 / 5 |
Buy it if...
You have an undemanding task
Occasionally, people have simple tasks, like a firewall or a machine to show slides on a reception TV, and the AK2 Plus is adequate for those tasks. Just don't expect to repurpose it for something more challenging should it not be needed for that in the future.
You travel light
If you need a Mini PC that you can take to a hotel room and plug into the TV, then this might work well, being so light. It's not especially durable, but at least you won't be paying baggage excess for carrying it.
Don't buy it if...
You want something flexible
Better NUC designs offer many upgrade paths, but this one only lets you add a SATA drive. That severely limits how flexible this machine can be and what it can be used for. There are more flexible designs at the same price or cheaper than this one.
You use USB-C or USB 3.2 Gen2
The lack of USB-C ports or any USB 3.2 Gen2 spec USB-A is a big problem for the AK2 Plus. If you use either of those, then this isn't the machine for you.
Also consider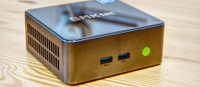 GMKtec NucBox G1
Built around the Intel N95 CPU, the G1 offers a metal enclosure, accessible NVMe drive and a 2.5GbE LAN port. It isn't much quicker than the AK2 Plus, but it is superior from a build quality and upgrade path potential.
Check out our GMKtec NucBox G1 review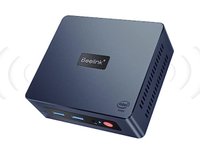 Beelink U59 Mini PC
Another low-powered NUC design, but with the easy ability to upgrade the memory and M.2 storage. But the bonus here is more USB 3.2 Gen1 ports, and a USB-C port (Gen1) included. Another selling point to anyone wanting a dedicated Firewall is that the U59 has two Ethernet ports.
Check out our Beelink U59 Mini PC review
If this Mini PC doesn't fit your requirement, check out our selection of the Best Mini PCs
Mark is an expert on 3D printers, drones and phones. He also covers storage, including SSDs, NAS drives and portable hard drives. He started writing in 1986 and has contributed to MicroMart, PC Format, 3D World, among others.