The XS1000 doesn't stand out as anything new, and its lack of hardware encryption or USB-A cable undermines the business user premise. It performs well enough and has a 5-year warranty, which might be ideal for those dumping their SanDisk drives.
Pros
+

Transportable

+

1050MB/s read speeds

+

5-year warranty

+

Affordable
Cons
-

No 4TB option

-

Lacks hardware encryption

-

No software bundle
Why you can trust TechRadar We spend hours testing every product or service we review, so you can be sure you're buying the best. Find out more about how we test.
One-minute review
In early 2022 Kingston launched the XS2000, a tiny external USB SSD that supported the USB 3.2 Gen 2x2 protocol and could read at speeds of up to 2,000MB/s.
What was missing then was a more affordable Gen 2 drive option with 1,000MB/s transfers, and logically the name for that would be the XS1000.
When that product turns up 18 months later, then there is invariably a story that only those inside Kingston will ever hear, but at least the XS1000 is here now.
What the delay has given us is what looks like exactly the same enclosure, but this time in black, and inside is a Gen 2 specification drive in either 1TB or 2TB capacities that comes with the same 5-year warranty.
Being only 7cm long and 28.7g in weight makes the XS1000 remarkably easy to pocket, and the drive that will work with any computer or mobile device with a USB Type-A port. You can also plug into USB-C ports if you own a spare cable with that receptacle at both ends.
What's missing from this package which previously came with the XS2000, is the rubber sleeve and any mention of the IP55 rating that the previous design was certified.
There are two disappointments with this design, the first being that it doesn't support hardware encryption. That's something SanDisk and Crucial both offer in their latest external SSDs, and for Business users, the lack of it might be a deal-breaker. Another issue is that most competitors now offer 4TB as their biggest capacity, whereas the XS1000 only comes in 1TB or 2TB sizes.
Those points aside, this is a serviceable design that costs less than the XS2000 at the same capacities, and Kingston has a good track record of producing high-quality parts.
Kingston XS1000: Pricing and availability
Kingston XS1000: Pricing and availability
How much does it cost? $73.16-$116.34/£58.08-£96.12/€78.55-€119.34
When is it out? It is starting to be available now
Where can you get it? Direct from Kingston or through online retailers like Amazon.
Kingston XS1000 Specs
Here is the Kingston XS1000 configuration sent to Tech Radar Pro for review:
Interface: USB 3.2 Gen 2
Speed: 1,050MB/s read, 1,000MB/s write
Capacities: 1TB, 2TB
Dimensions: 69.54 x 32.58 x 13.5mm
Weight: 28.7g
Casing material: metal + plastic
Operating temperature: 0°C~40°C
Storage temperature: -20°C~85°C
Warranty/support: limited 5-year warranty with free technical support
Compatible OS: Windows® 11, 10, macOS (v.10.15.x +), Linux (v. 4.4.x +), Chrome OS™
What we don't see from Kingston in the pricing of the XS1000 is the vast disparity between the US and European costs that we've seen from Crucial and Western Digital recently.
Wherever you buy the XS100, taking exchange rates into perspective, it is roughly the same cost.
However, that doesn't make it the cheapest 1TB or 2TB drive with a similar performance available. Corsair makes the much cheaper EX100U, but the serious competitor here is the Crucial X8, where the 1TB model is only $69.99.
That drive comes with both USB-A and USB-C support, and its metal construction makes it even more robust, even if it only comes with a 3-year warranty.
Crucial's newer X9 Pro is more expensive, as is the Sandisk Extreme Pro.
Therefore the XS1000 isn't the cheapest way to get a 1TB or 2TB of fast storage, but it's far from the most expensive.
A more significant issue for the Kingston XS1000 is that all of the Crucial drives (X6, X6, X9 Pro and X10 Pro) all come with a 4TB capacity. As does the WD My Passport, Samsung T7 Shield, SanDisk Extreme and Sabrent External SSD.
For those unsure of the options we recommend you take a look at our best portable SSD buying guide.
Kingston XS1000: Design
There isn't much to say about the XS1000 on the outside that hasn't been said about the XS2000, as they're physically twins.
Other than the colour, as the XS2000 was silver, the shape and physical arrangement appear completely unchanged. This drive comprises of a plastic rectangle of approximately 7 cm long, 3cm wide and 1.5 cm deep with a single USB-C port on one end which is also where an activity LED is also positioned.
In the simple packaging is the XS1000, a USB-C to USB-A cable 29 cm long. There isn't any provision for USB-C to USB-C in the form of a cable or adapter, and what notes are provided are printed on the exterior and interior of the box rather than on a paper slip.
Being so small and under 30g in weight, the XS1000 is very pocketable, almost irrespective of what pockets you possess.
In short, if you've seen the XS2000, then you've seen the XS1000 but in silver.
Kingston XS1000: Benchmark
Kingston XS1000: Benchmark
The maximum speed of any USB 3.2 Gen 2 drive is limited by the bandwidth of that interface, which is typically 1050MB/s in both reading and writing.
Kingston managed to get the full read performance at around 1054MB/s, but the write speed is slightly below that at 970MB/s, using the CrystalDiskMark 8.0.4 default profile.
The real-world numbers, as supported by AS SSD, AJA and ATTO, show closer to 900MB/s reads and 820MB/s writes, which is respectable.
Where this drive works well is when it is subjected to an extended write session, as under the AJA System Test, is managed to maintain 871MB/s over the writing of a 64GB file without any drop-off.
If this drive is used to back up files from a computer, the XS1000 will work with the majority of systems and deliver good speeds for those with Gen 2 ports. It will work on Gen 1 ports, but the performance is likely to be much neared to 500MB/s as a result.
There are two main weaknesses to this design, and the first is the lack of hardware encryption. While it is possible to use the XS1000 with software encryption, like that offered by Microsoft BitLocker, using it assumes that software will be installed on all the machines it is to be used for the encrypted volume to be unlocked when required.
Crucial just launched the X9 Pro and X10 Pro, and they both offer hardware encryption, as does the SanDisk Extreme Pro line.
The other issue when compared to what other brands are doing with these types of devices, is the lack of supporting software.
Kingston offers only one tool associated with this drive, and that's the Kingston SSD Manager, a tool designed to show the wear and error level of the drive and also install any firmware patches that are made available.
Those expecting live backup tools to dump files to the drive as they work will be disappointed, and it doesn't have anything like that at all.
Considering what Crucial and WD offer with their external SSDs, the lack of any backup tools from Kingston is disappointing.
Swipe to scroll horizontally
Kingston XS1000: Benchmark

| Header Cell - Column 0 | Read (MBps) | Write (MBps) |
| --- | --- | --- |
| AJA | 945 | 855 |
| CrystalDiskMark Default | 1054 | 971 |
| CrystalDiskMark Real World | 892 | 821 |
| ATTO | 1006 | 929 |
| AS SSD | 956 | 882 |
It still seems odd that the XS1000 has turned up so long since the XS2000, but it is effectively the same drive with USB 3.2 Gen 2x2 mode disabled.
We've no idea what happened in the 18 months since the XS2000 appeared or why it took so long for the XS1000 to come to market.
Recently, the fall in NAND flash spot prices has created a feeding frenzy amongst buyers as 1TB and 2TB drives are now highly affordable, and most brands have stopped making smaller capacities.
At the bottom end of the market are Corsair and some lesser know brands offering cheap options with limited warranties. And at the higher end are those, Kingston included, that are trying to make USB 3.2 Gen 2x2 a thing before USB 4.0 drives become the new premium space.
With that backdrop, the XS1000 seems slightly out of step with the other external SSD makers' products, competing with products like the Crucial X8 that first appeared in 2019. And, critically, the 1TB X8 is $15 cheaper than the XS1000 and comes with an adapter that allows it to connect to both USB-A and USB-C.
With this becoming an increasingly price-driven market and the XS1000 lacking hardware encryption or any value-adding software, Kingston might have an issue getting business people to pick this product over alternative options.
Should I buy the Kingston XS1000
Buy it if...
You like to travel light
The tiny size and weight of the XS1000 make it a perfect companion for those on the move that don't want the weight of equipment to become an issue.
You need reliability
Being relatively simple and able to be used by most systems, the XS1000 should be suitable for connecting to other systems and gaining access to the contents stored on it.
The five-year warranty hints that the SSD inside should be reliable, although recent events at SanDisk teach us that there are no guarantees with storage technology.
Don't buy it if...
You need hardware encryption
The contents of this drive can be software-protected but not hardware encrypted. Those wanting that feature in a similar form factor should look at the new Crucial X9 Pro.
You need 4TB
Almost all the big external SSD makers are now offering 4TB as their biggest capacity, and some will be launching 8TB shortly. The maximum capacity of 2TB on the XS1000 is a limitation Kingston needs to address for those that need more than this capacity.
Also consider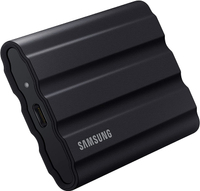 Samsung T7 Shield
A physically larger but much more robust external drive from Samsung, this is a good choice for those that want much the same performance as the XS1000 but greater protection.
What the T7 Shield isn't is cheaper, but the IP65 rating and overall build quality may make it worth it for those that travel often.
Check out our Samsung T7 Shield review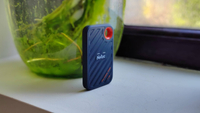 Netac ZX20 review
A more expensive option for the same amount of capacity, the beauty of this drive is that it works with USB Gen 2x2 and offers much greater performance to those that have that port.
The downsides are that it only comes in 512GB and 1TB capacities, has a 3-year warranty, and it costs more than the XS1000 for the 1TB capacity.
But for those with a Gen 2x2 port, it might be worth the extra $10 or more for the 1TB model.
Check out our Netac ZX20 review
Mark is an expert on 3D printers, drones and phones. He also covers storage, including SSDs, NAS drives and portable hard drives. He started writing in 1986 and has contributed to MicroMart, PC Format, 3D World, among others.