It's time to bust four HPC storage management myths
Manageability misconceptions in HPC storage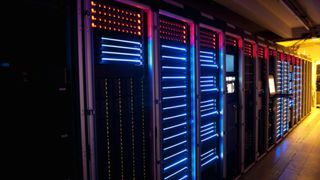 (Image credit: Future)
There's no question of the value high-performance computing (HPC) environments provide in supporting bandwidth-intensive applications. Across academia, government, life sciences, and energy sectors, HPC infrastructures are the bedrock supporting the rise of AI/ML workloads that promise to transform our global landscape.
However, with all the benefits HPC provides, IT teams across these verticals face significant challenges when it comes to managing their HPC storage. This includes uneven performance for mixed workloads, security concerns, administrative difficulties, and lack of specialty knowledge and staff resources.
Let's take a closer look at some of the misconceptions that prevent the increased adoption of HPC and explore four myths surrounding it that need busting:
Jeff Whitaker is VP of Product Strategy and Marketing at Panasas.
1. It takes a village to manage
It's far more difficult to deploy and manage a roll-your-own HPC storage solution based on an open source parallel file system. These typically require a dedicated team of technology specialists to manage it daily, which can prove very costly to your business annually.
A turnkey storage solution based on a pre-configured parallel file system does not require a full team for ongoing maintenance. A single IT admin can easily roll out the storage component within a single day or two and oversee the entire environment. This, coupled with easy access to 24/7 support services, saves your organization time while improving productivity at a lower TCO long term.
2. You need a specialty skillset
It's true that inconsistent GUIs for monitoring the HPC storage environment that come with open-source solutions make it difficult for IT admins to manage the storage for their multiple application environment and know where to allocate storage resources appropriately to ensure reliable data. In this case, additional specialty training is required so IT admins know how to manually tune and re-tune systems for optimal performance. System failures and the resultant data loss not only prove incredibly costly for your business, but can also severely impact your team's momentum.
Find a solution that has built-in automation features, one that does the workload allocation for you by seamlessly managing and distributing the placement of data appropriately across the storage environment. No specialty knowledge is required, and your IT admin can now focus on other strategic areas of the business as the tuning, re-tuning, and error recovery is done through software automation. Additionally, a single-management console makes it simple to perform all management tasks, easily monitor workload performance, and make necessary storage allocation adjustments with just a few clicks.
3. These environments take a long time to recover after a crash
Unfortunately, crashes can happen in almost any high-performance environment. The question is: Do you have the right tools in place to quickly recover from a crash with minimal to no business impact? When it comes to managing an HPC storage infrastructure, most solutions are built on architecture with slow rebuild rates, if protected at all. This not only increases the chance of data loss, particularly as the total capacity of the system grows, but it also means that total rebuilds can take weeks.
There are innovative solutions available today built on a modern data reliability architecture that can confidently protect HPC data across storage nodes and adjust to workload needs appropriately as your business grows. Patented per-file erasure coding provides continuous data integrity checks on a file by file basis offering customizable safeguards depending on the importance of each file. And rebuilds, in this case, can now take mere hours vs. multiple days.
4. It can't keep pace with your business goals
An HPC storage system failure can happen regularly with a multi-tier system. Your organization should never have to be faced with a trade-off between high performance and reliability, which equates to lower uptime and slowed business objectives. Some storage systems are much more susceptible than others to system failures, silent corruption, and long unplanned downtimes.
Find HPC storage solutions that have built-in prevention and automated rapid failure recovery capabilities. This will ensure optimal uptime for all your workloads, since background data scrubbing, capacity balancing, snapshots, and quad-replicated directories are all done for you. A single-tier architecture will give you the power to easily manage storage consolidation projects and multipurpose usage – supporting your mixed workload environment today with the peace of mind it can easily scale to support emerging workloads.
Agile is a buzzword right now for good reason. To remain competitive and meet business goals, organizations must be able to regularly expand and grow–and your HPC infrastructure should make this easier rather than more complicated.
It's time to ditch these misconceptions surrounding manageability, reliability, and complexity in HPC storage. Today, you can take an agile approach to HPC data storage and management and deploy solutions that help your organization easily support a broad range of high-performance workloads that will drive your business forward.
Are you a pro? Subscribe to our newsletter
Sign up to the TechRadar Pro newsletter to get all the top news, opinion, features and guidance your business needs to succeed!
Jeff Whitaker is VP of Product Strategy and Marketing at Panasas.