A great deal delivers lots of power for a modest outlay. The M2 can fulfil many roles because of its processing power, ports, and remarkably small footprint. Other than GMKtec ignoring convention on USB port colours and not correctly labelling Gen 1 and Gen 2 ports, this system should handle any office computing task with ease.
Pros
+

Metal case

+

Highly affordable

+

Punchy processor
Cons
-

USB port type confusion

-

Only a PCIe 3.0 drive installed
Why you can trust TechRadar We spend hours testing every product or service we review, so you can be sure you're buying the best. Find out more about how we test.
GMKtec NucBox M2: 30-second review
With Intel no longer providing leadership in the NUC space, many of the more notable makers of mini-PCs have been taking an opportunity to deliver systems that exploit mobile CPU technology to a whole new level.
GMKtec has a reputation for producing high-quality devices at modest prices, and the new NucBox M2 fits both those criteria admirably.
This classically sized NUC system uses the Intel Core i7-11390H, comes with 16GB or 32GB of DDR4 memory and between 512GB and 2TB of NVMe storage, with a starting price of just $369.59. There isn't a barebones option on this machine, so the first tier is 16GB and 512GB of storage.
When you realise that the official Intel price for the processor alone is $469, it reinforces how good this deal the M2 is, even if it isn't the latest technology.
As with many NUC systems, access to the inside is relatively easy, and the machine can have both memory and storage upgraded with space for up to 64GB of RAM and dual NVMe M.2 slots (one 2280 and another 2242).
Port highlights include triple monitor connections via dual HDMI 2.0 and USB Type-C, four USB-A ports and a 2.5GbE LAN. The only disappointments are that none of the USB ports are Gen 2, and Thunderbolt is not part of this system.
Overall, the M2 is a powerful and highly flexible solution that would typically cost much more than GMKtec is asking.
GMKtec NucBox M2: Price and availability
How much does it cost? Starting from $369.59
When is it out? Available now
GMKtec sells the M2 directly from its website and offers free delivery worldwide, and it is also available through Amazon in most regions.
The entry-level version of this machine comes with 16GB of DDR4 and 512GB of NVMe storage for just $369.59, but there are three other SKUs that increase the amount of RAM and storage. The top system is $619.99. And for that money, you get 2GB of DDR4 and 2TB of storage, but the review hardware had 32GB RAM and 1TB of storage, and it sells for $565.59.
When the 11th Gen Core i7 processor, the minimum RAM and storage, is factored in, the M2 looks like a bargain.
GMKtec NucBox M2: Specifications
Swipe to scroll horizontally
| | |
| --- | --- |
| CPU: | Intel Core i7-11390H (4 cores 8 threads) |
| GPU: | Intel Iris Xe (96 EU) |
| RAM: | 32GB LPDDR4X (expandable to 64GB) |
| Storage: | 1TB NVMe M.2 2280, unused M.2 2242 |
| Ports | 2x USB 3.2 Gen2 Type-A, 1x USB 3.2 Gen 1 Type-C, 1x USB 3.2 Gen 1 Type-A, 1x USB 2.0, 2x HDMI 2.0, 1x universal audio jack |
| Networking: | 2.5GbE LAN, WiFi 6, Bluetooth 5.2 |
| OS: | Windows 11 Pro (pre-installed) |
| PSU: | 20V 5A |
| Dimensions: | 105*105*45mm |
GMKtec NucBox M2: Design
By-the-numbers enclosure
PCIe 3.0 NVMe pre-installed
USB port confusion
If you asked someone to describe a classic NUC system, then the M2 is that system. It is a 105mm square box with rounded corners that is 45mm high, with an on/off button and two USB Type-A ports on the front and all the other ports on the rear. The sides are exclusively for allowing air to be pulled in by an internal fan, and vents above the rear I/O area are where the warmed air exits stage left.
There is very little that is special or unique about this design, but the main body is made from metal, not plastic, even if the top and bottom are made from less durable materials. As in many deployments, the M2 is likely to be attached to the rear of a monitor. Therefore, it won't be in view, making how it looks largely irrelevant, but its fit and finish is business-like.
In the box, along with the M2, GMKtec provides some basic documentation, a 20V/5A PSU and region-appropriate power cable, a small bracket for VESA mounting, and a HDMI cable. That should be sufficient to make the machine operational, assuming you already have a screen, mouse and keyboard handy.
As many NUC systems get tweaked over their lifespan, we're always keen to get inside and see what upgrades can be performed. Access to the interior is by removing the four screws that hold the rubber feet in place underneath, but be careful doing this as the screws are small and not retained by the undertray.
Once inside, the SODIMM slots are accessible, as is the NVMe M.2 drive, allowing for memory upgrades and storage replacement. In addition to the one M.2 2280 slot that comes pre-occupied, another M.2 slot for a 2242-sized drive is also available. That's not a common form factor for NVMe drives, but it might be possible to put a 2230 drive in this slot for a second storage device.
According to GMKtec notes, the M.2 2280 slot is PCIe 4.0, although the review machine came with a Lexar 610 Pro drive pre-installed, and that's a PCIe 3.0 specification drive. We didn't have time to clone this to a PCIe 4.0 drive to test the hypothesis that it is the faster port, but with the pre-installed drives, you won't notice the difference.
One curiosity is that the bottom cover looks like it was designed to hold a 2.5-inch SATA HDD or SSD, but there is no SATA header or power connector. Clearly, that idea was abandoned, possibly because of heat issues.
The only other point about the design that we're not so keen on is that the USB ports on the rear of the M2 use blue ports, usually visual shorthand for USB 3.0 (aka USB 3.2 Gen 1). But one of these blue ports is USB 2.0, which is confusing. I'm not sure why GMKtec did this, and the markings on the machine aren't helpful.
For those curious, repeated experiments revealed that both the Type-A ports on the front are full USB 3.2 Gen 2, whereas on the rear, one port is USB 2.0 and the other USB 3.2 Gen 1, but they look identical.
The single USB-C port is also Gen 1 when it would have been much more useful to have been Gen 2.
GMKtec NucBox M2: Features
11th Gen Core i7
PCIe 4.0
USB-C isn't Gen 2 spec
Intel hit a rocky patch with the 10th and 11th-generation mobile processors. These performance and and power efficiency issues eventually got addressed with 12th and 13th-generation designs.
Despite not being from the best generation, the Intel Core i7-11390H is impressive on paper, even if it only sports four cores and eight threads via hyperthreading.
With a maximum turbo frequency of 5GHz and PCIe 4.0 on the processor, this is a CPU that can deliver performance that would be in line with desktop parts even within its 35W TDP. It betters some 11th-generation parts in having the Iris Xe GPU and not the abysmal UHD graphics engine.
As we've already mentioned, this machine is supposedly capable of using PCIe 4.0 NVMe drives, even if that isn't what GMKtec installs in its machines by default.
But the hardware mistake that is a real head-scratcher has to do with the USB ports, and specifically the single USB-C port.
It supports both DisplayPort mode and data transfers, and USB-C is typically used to connect a USB hub or dock.
If this had been a USB 3.2 Gen 2 port and not a Gen 1, that would have doubled the bandwidth to any USB Dock/Hub and made it much easier to use as a monitor connection. But, for whatever reason, the Gen 2 ports it does have are on the front of the NUC, and they are both Type-A.
These points aside, this is a well-specified machine that can be used in a wide range of contexts, and it can be enhanced with external storage and even 10GbE or 5GbE USB LAN adapters.
Overall, while it doesn't offer the power efficiency or PCIe lane advantages of its predecessors, the Core i7-11390H is still a decent platform, and when not hampered by the need to closely manage battery power as it was in a laptop, it can perform exceptionally well.
GMKtec NucBox M2: Performance
Effective CPU and GPU combo
Poor hyperthreading
Plenty of power
Swipe to scroll horizontally
GMKtec M2 Benchmarks

| | | |
| --- | --- | --- |
| 3DMark: | WildLife: | 12954 |
| | Fire Strike: | 4745 |
| | Time Spy: | 1786 |
| Cinebench R23 CPU: | Single core: | 1632 |
| | Multi core: | 6136 |
| | Ratio: | 3.76 |
| GeekBench 5: | Single core: | 1696 |
| | Multi core: | 5682 |
| | OpenCL: | 18294 |
| CrystalDiskMark: | Sequential Read: | 3536 MB/s |
| | Sequential Write: | 2624MB/s |
| PC Mark 10: | Office Test: | 5531 |
| Windows Experience Index: | Score: | 8.2 |
When looking at these numbers, it is important to realise that the Core i7 processor in this machine isn't a desktop part. It is a Tiger Lake-H core based on the Willow Cove Core microarchitecture built specifically for ultraportable laptops. As such, it only has a TDP (thermal design power) of 28-35W, compared with 65W or more on a desktop processor. But that limitation works well in a system that is inherently small and can only eject a limited amount of heat without the fans becoming excessively noisy.
What we've learned about the Tiger Lake-H series is that they have good single-thread performance, with the ability to clock two cores to 5GHz and that the Iris Xe GPU makes this machine much better at graphics than any of the alternative chips with UHD Graphics.
If it has a weakness, it's the multithreading, as under Cinebench, it displays only a ratio of 3.76 when it supposedly has four cores that can each handle two threads.
That said, the PCMark 10 Office test is a good result, and it would be even better if a PCIe 4.0 class NVMe drive was installed.
In short, if you want to go faster than this system, you need either a 13th Gen part like the Core i7-1360P that uses DDR5 memory to enhance the Irix Xe or an AMD Ryzen 7 and its Radeon 680M GPU.
For the cost, this is a decent platform and can easily outperform Tiger Lake chips, like the Core i9-11900H.
GMKtec NucBox M2: Verdict
For the low cost, the Nucbox M2 is a solid piece of equipment that could have a very wide range of uses. It is ideal for a conferencing room, but it could also be used as a desktop PC replacement, a media server, or a firewall, to mention just a few.
It does have a few obvious flaws, mostly in the way the USB was allocated that could have been better, but at least it has a couple of Gen 2 class ports.
The number of mini systems we see that use 11th Gen (circa 2020) would strongly suggest that Intel still has plenty of stock of these processors and now wishes to divest themselves before they become worthless. The result is affordable machines with Core i7 class mobile CPUs, and even i9 are becoming commonplace.
The M2 is an excellent example of the processors now on offer with reliable chips that pre-date the move to performance and efficiency core designs. These higher-end processors proved challenging to use in laptops bound by the limitations of battery life, but in Mini systems, they can provide plenty of performance within a compact package.
With 14th Gen parts on the horizon, should a buyer be concerned that this unit will become redundant? Not really. If you buy one for a specific role, and the M2 performs that well, then the fact that it uses slightly old technology shouldn't be an issue.
Should you buy a GMKtec NucBox M2?
Swipe to scroll horizontally
| | | |
| --- | --- | --- |
| Value | Very affordable considering the specificatione | 4 / 5 |
| Design | Metal enclosure and minimalist styling make for an alluring combination. | 4 / 5 |
| Features | Lots of USB, dual HDMI, and a spare M.2 slot make this a very flexible system. | 4 / 5 |
| Performance | Good performance at most tasks, only outperformed by more recent Intel silicon or AMD Ryzen 7. | 4 / 5 |
| Total | A punchy little system for a relatively low price could have a million uses. | 4 / 5 |
Buy it if...
You insist on Intel
While for most users, the whole Intel/AMD debate died some years ago, but some still insist that they will only use one of these brands. This might be Intel, but it's not the latest CPU generation or even the one before that.
Flexibility is critical
With room inside for some expansion and plenty of external USB ports, this machine can easily be repurposed should its purchase mission end. While it doesn't offer Thunderbolt or the ability to take a SATA drive, it is highly flexible in other respects.
Don't buy it if...
You need more graphics power
Compared with GPUs that came before it, the Iris Xe GPU on the M2 is decent and can handle some gaming and modelling in 3D. However, it doesn't offer discrete GPU-level performance, and it's outmatched by the same GPU on DDR5 systems and AMD's integrated Radeon 680M.
If you need video performance, then this isn't an alternative to a proper video card on a desktop PC.
You need Thunderbolt
USB 3.2 Gen 2 is the best external drive technology available in this system, as it doesn't come with Thunderbolt. That isn't a technology you can add to a system that doesn't inherently have some of the support chips that the interface needs. While you could use a USB dock to provide additional ports not included on the M2, the bandwidth of those isn't comparable with Thunderbolt.
Also consider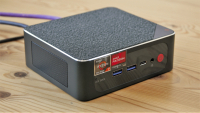 Beelink SER6 Pro 7735HS
The current darling of the NUC community, the SER6 Pro also uses the latest AMD Ryzen 7000 mobile technology and delivers equally impressive performance.
It comes with Crucial branded memory but an OEM NVMe drive. Getting access to the memory and storage is a little more convoluted in this machine, but this isn't anything that most users will be doing daily.
Check out our Beelink SER6 Pro 7735HS review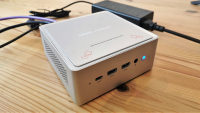 Minisforum Venus NPB7
The NPB7 is the flagship of the Venus series and features the incredible Intel Core i7-13700H (14 cores, 20 threads) mobile CPU and up to 32GB of DDR5 RAM. It can be bought barebones with only the processor installed, RAM and M.2 NVMe storage to be provided by the customer. If you want a high-quality NUC with bags of performance and Thunderbolt baked in, the NPB7 is worth the investment.
Check out our Minisforum Venus NPB7 review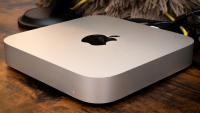 Apple Mac Mini (2023)
Recently revamped, the Mini now comes with either the M2 or M2 Pro chip, and it experienced a small price reduction from the M1 2020 model.
However, this machine can't be upgraded, so you need to buy the model that you will ever need from the outset. For the M2 Pro version with only 16GB of RAM and 512GB of RAM, it will cost you $1,299. Or, twice the price of the AS 5 and more, and with other options, one can approach $5000 of spend. Not for the economically challenged.
Check out our Apple Mac Mini (2023) review
Mark is an expert on 3D printers, drones and phones. He also covers storage, including SSDs, NAS drives and portable hard drives. He started writing in 1986 and has contributed to MicroMart, PC Format, 3D World, among others.