It's easy to be onboard with the features and functionality of the BR1402F right up to the point where computing power is required. While educational machines don't need the highest specifications, this CPU and GPU might not make the cut for future versions of Windows.
Pros
+

2-in-1

+

Great port selection

+

Inexpensive

+

Durable
Cons
-

Core i3-N305 processor

-

Heavy
Why you can trust TechRadar We spend hours testing every product or service we review, so you can be sure you're buying the best. Find out more about how we test.
Asus BR1402F: 30-second review
Built ostensibly for the educational market, the Asus BR1402F is a curious combination of a large 14-inch tablet and a rugged splash-resistant laptop.
While 2-in-1 designs have proved popular for some creative jobs, the hardware's applicability for educational use depends on the software being run and whether it works with a stylus or fingers. If that isn't the case, then the tablet mode of the BR1402F is a little redundant.
Where this machine shines is the ports that Asus gave it, with Ethernet, HDMI out, USB 3.2 Gen 1 (Type-A and Type-C), Audio jack and a Kensington lock slot. It can optionally have fingerprint reading, and all machines come with a stylus in a spring-loaded garage.
Internally, this machine is a modular design that should be relatively straightforward to repair if it suffers panel, I/O or battery damage.
At a list price of around $600, the Asus BR1402F might seem to be a bargain. However, the issue with the machine is that it has what we'd consider to be the bare minimum processing power for a Windows 11 system.
It uses the Core i3-N305 processor, a 1.8GHz CPU with eight cores but no hyperthreading. Combined with the UHD Graphics (32 EU) graphics, this is an underwhelming combination. The upside of the N305 is that it has a maximum power consumption of 15W, allowing the 3-cell 50WHrs Li-ion battery to keep this machine alive for a full working day if that lasts ten hours or less.
The other issue with this design is that it is on the heavy side. At 1.56 kg (3.44 lbs), this can be challenging for an adult to hold when it is made flat, but for a child, that might be unrealistic to maintain control of.
Given its relatively modest performance, the Asus BR1402F could quickly become a machine bought for a purpose that won't offer alternative possibilities when the landscape changes. However, given the typical lifespan of machines used for education, perhaps being repurposed isn't something many of them will survive to experience.
Asus BR1402F: Price and availability
How much does it cost? Starting from £439.99
When is it out? Available now
Where can you get it? You can get it directly from Asus or other online resellers.
From the official UK Asus store, the BR1402F starts at £439.99, but that's for a slightly different model with only 128GB of storage. The review hardware model is an i3S15XAS SKU, and the closest option we could find was a BR1402C-i381XA-3Y that is only £412.88 from Ballcom. It has less storage than our review machine but the same processor and memory configuration.
While this machine is listed on the American and Global Asus sites, there currently isn't any pricing for this product, and it's not available through Amazon or the normal online resellers. We'd contact Asus locally to get availability and pricing.
It should be noted that for those who want an ordinary laptop with this specification, Asus also makes the BR1402C in a traditional clamshell form.
Asus BR1402F: Specifications
Swipe to scroll horizontally
| | |
| --- | --- |
| Model: | ASUS BR1402F |
| CPU: | Core i3-N305 processor (8 cores, 8 threads) |
| GPU: | Intel UHD Graphics |
| RAM: | 16GB DDR4 (maximum) |
| Storage: | 512GB NVMe M.2 2280 (Gen3) |
| Screen: | Touch screen, 14.0-inch, FHD (1920 x 1080) |
| Ports: | 1x USB 3.2 Gen 1 Type-C supports display and power delivery 1x USB 2.0 Type-C 2x USB 3.2 Gen 1 Type-A 1x HDMI 1.4 1x 3.5mm Combo Audio Jack 1x RJ45 Gigabit Ethernet |
| Networking: | WiFi 6E, Bluetooth 5.3 |
| Camera: | 720p HD (no Windows Hello) |
| OS: | Windows 11 Pro Education (pre-installed) |
| Biometrics: | Fingerprint reader on power button |
| PSU: | Type-C 60W (20V 3A) |
| Dimensions: | 33.29 x 22.89 x 2.1mm |
| TPD Limit: | 15W |
| Battery: | 50WHrs, 3S1P, 3-cell Li-ion |
| Weight: | 1.56 kg (3.44 lbs) |
Asus BR1402F: Design
Robust
Heavy
2-in-1 capability
The design brief that Asus gave its engineers was undoubtedly that the BR1402F should be able to withstand children. Making it that robust isn't a realistic proposition, but they did deliver a sturdy 2-in-1 design where the screen doesn't overbalance the base.
Finished in a dark plastic that Asus calls 'Mineral Grey', the top surfaces have a smooth wipe-clean finish, and the underside has an easy-to-grip texture.
Getting a full-sized Ethernet port into this base requires making it at least 1.5cm, and when the laptop is closed, it's a chunky 2.1cm thick across its entire depth.
While ticking plenty of boxes for resilience, including a Corning Gorilla Glass protected panel, the downside of this over-engineering is the dry weight of 1.56 kg (3.44 lbs). That's not anything you'd want to carry all day, and enough weight that handing it to someone with arms fully extended might provide difficulty for those who don't have high wrist strength.
The 2-in-1 functionality allows the BR1402F to operate as either a laptop or a tablet and also enables some other popular modes such as 'tent' for presentations.
What it doesn't do is retract the keyboard when in tablet mode, though it does at least deactivate it.
A 13cm long stylus is housed in its garage down the left side edge, and it can be quickly deployed with a spring-loaded click. This is an active stylus and is recharged back in its home when not in use. That there is no lanyard to keep it with the machine, an oversight that might concern some teachers.
Because of the 360-degree hinge, all the ports are down either side, and there are no ports or slots on the front edge or rear spine.
A definite plus of this design is the trackpad and keyboard, both of a good size. The trackpad doesn't have explicit mouse buttons, opting for a flexible front edge that proved remarkably easy to use for drag operations.
This might be a Chiclet keyboard design, but it has enough travel for some quick typing, and, critically, it's spill-resistant. There is space on either side that could have added a numeric pad to the keyboard, and the function keys are annoyingly small, but the positive action of the keys makes up a little for these shortcomings.
Asus BR1402F: Features
Intel Core-i3
Only 9 PCIe lanes
No Windows Hello
Maybe we've seen too many Core-i7 or Ryzen 7 systems, but the performance of Core-i3 seems to be getting worse, not better.
This lack of power is especially striking when you first use the system since that's when Microsoft's wall of updates falls on every unsuspecting customer.
The process of getting up to date isn't instant on powerful machines, but here, it can easily take five or six hours to complete, depending on your Internet speeds.
But it isn't just downloading the updates; installation also seemingly takes forever on this system.
When looking at the port layout, there are some things about it that don't seem entirely logical. For example, the charging port is USB-C but only has a USB 2.0 specification. And none of the USB ports are Gen2 (10Gbps); they are all only Gen1 (5Gbps).
Looking back at the underlying platform provides some answers. This chip only supports nine PCI Express 3.0 lanes, and four of these will be used by the NVMe M.2 storage slot. That leaves just five lanes split between four USB ports, a 1GbE Ethernet port, the Wi-Fi 6 Dual-band adapter, and a 720p HD camera.
That there wasn't bandwidth for Gen2 ports is therefore understandable, but it's also one of the downsides of such a low-performance platform.
Coming back to the camera, it does at least have a privacy cover, but it isn't Windows Hello. That leaves the optional fingerprint reader on the power button as the only biometric confirmation that this laptop offers.
Asus BR1402F: Performance
Swipe to scroll horizontally
Asus BR1402F Benchmarks

| | | |
| --- | --- | --- |
| 3DMark: | Wild Life: | 4,934 |
| Row 1 - Cell 0 | Fire Strike: | 859 |
| Row 2 - Cell 0 | Time Spy: | 657 |
| Cinebench R23 CPU: | Single core: | 957 |
| Row 4 - Cell 0 | Multi-core: | 5,069 |
| Row 5 - Cell 0 | Ratio: | 5.3 |
| GeekBench 5: | Single core: | 1,072 |
| Row 7 - Cell 0 | Multi-core: | 5,069 |
| Row 8 - Cell 0 | OpenCL: | 6,970 |
| CrystalDiskMark: | Sequential Read: | 1,780 MB/s |
| Row 10 - Cell 0 | Sequential Write: | 3.884 MB/s |
| PC Mark 10: | Office Test: | 3,628 |
| Row 12 - Cell 0 | Battery Test: | 9hrs 55m |
| Windows Experience Index: | Score: | 8.0 |
Compared to an older Core-i5 or Ryzen 5, the Core i3-N305 doesn't deliver much performance, irrespective of its given challenges.
The result that utterly perplexes us is that it managed a Windows Experience Index of 8.0. When the processor is slow, the graphics are slower, and the disk speed is a travesty for an NVMe drive. Perhaps a bonus exists in this test for being an Intel processor?
This CPU shows its true colours in multi-processing tests, which, given it has eight cores, should be good at. In the tests that involved multiple cores, it performed a little better than a quad-core, disappointingly.
In short, this isn't a great platform for processing data or anything graphical, and it's certainly not suitable for playing games.
But the worst result here is the CrystalDiskMark scores since we know how the Micron 2400 NVMe installed in this system should run. It's a PCIe Gen4 design, a fact that makes little sense considering it is in a Gen3 slot. Micron rates it at 4,200MB/s reads, and 1,800MB/s writes, which isn't wonderful.
Ignoring that this is in the wrong slot specification, the read speed of 1,780MB/s is way below where it should be. It may be that the M.2 slot is using only two PCIe lanes, and not four, to allow those lanes to service other demands. Whatever the truth, this isn't a good performance for any NVMe drive, even if the Micron 2400 isn't anything special.
In conclusion, if you are looking for sparkling performance, then don't look here.
Asus BR1402F: Verdict
We could debate about Windows as a tablet OS and its failure to compete with the Apple iPad or Android tablets in that role, but let's not.
The BR1402F is a 2-in-1 design that can be used as a conventional laptop or a Windows tablet if you use a limited selection of touch-capable apps.
In either of those modes, it performs acceptably with basic applications and tasks while being sufficiently robust to handle the abuse it is likely to receive in the educational setting.
It doesn't provide enough processing power for heavy computational tasks or graphically intensive design work, limiting how it might be repurposed over time.
But the best news about this machine is the low asking price, which would be great for a vanilla laptop but is remarkable for a 2-in-1 machine.
Should you buy a Asus BR1402F?
Swipe to scroll horizontally
| | | |
| --- | --- | --- |
| Value | Inexpensive for such a well-built machine | 4 / 5 |
| Design | On the heavy side, but it is strong, and the modular design was made for easy repair | 4 / 5 |
| Features | A lacklustre CPU with limited PCI lanes has coloured the port selection on this system. | 3.5 / 5 |
| Performance | Slow at most things, but it is useable. | 3 / 5 |
| Overall | Chunky and heavy it's a 2-in-1 that lasts 10 hours on battery | 4 / 5 |
Buy it if...
You like sturdy computers
Asus promotes this machine as being of "US MIL-STD 810H military-grade standard", like 810H is an actual standard administered by anyone, which it isn't. However, this machine is well-built and can handle knocks, bumps and even the occasional spillage.
Repair is something you would consider
The modularity of this design allows critical components to be swapped out if they become inoperable. If this is something you might consider doing, then it might be the right machine for your establishment.
Don't buy it if...
Need raw performance
Compared to a Core-5 or Ryzen 5 system, this is about half the performance across the board. Extra time is required for automatically installed upgrades, and it is not ideal for intense computational tasks.
You need more graphics power
Without a discrete GPU, the graphics capabilities of this machine are limited. The integrated GPU used in this machine isn't great, although it can play video smoothly on the 1080p display.
Also consider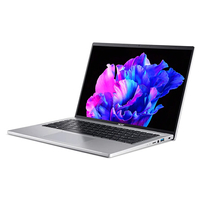 Acer Swift Go 14
Acer makes the Swift Go in both Intel and AMD-powered versions, but the best value model is the SFG14-41, which uses a Ryzen 5 processor. It's not a 2-in-1, but it's a lightweight laptop with a 14-inch display, 8GB of RAM, and 512GB of RAM for almost the same price as the BR1402F.
While it won't work as a tablet, the power in the Swift Go 14 is significantly greater than that offered by the Asus BR1402F.
Read our Acer Swift Go 14 review for more information.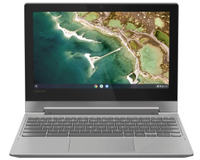 Lenovo IdeaPad Flex 3 Chromebook
This is an even less powerful platform than the BR1402F, using the MediaTek MT8183 or Intel N100 Processors. But it only costs around £310 for a 2-in-1 design. This design can get away with even lower processing power by using ChromeOS and not Windows, but that limits it to web-based applications.
This is a highly affordable option for those who don't need to use Windows apps.
Check out our Lenovo IdeaPad Flex 3 Chromebook review.
For more educational laptop options check out our Best Student Laptops selection.
Mark is an expert on 3D printers, drones and phones. He also covers storage, including SSDs, NAS drives and portable hard drives. He started writing in 1986 and has contributed to MicroMart, PC Format, 3D World, among others.