AI has helped read a 2000-year-old scroll consumed by volcanic ash — and this could help rewrite what we know of antiquity
Scroll from the ancient Roman city Herculaneum, contained Greek letters on several lines of the papyrus
(Image credit: Vesuvian Challenge)
When Mount Vesuvius erupted in Italy in 79AD, it buried the ancient Roman city of Herculaneum – and hundreds of scrolls – in volcanic ash. Now, thanks to one student's machine learning model, we may soon have a way of reading them.
21-year-old computer scientist Luke Farritor built an algorithm that detected Greek letters on one of the papyrus scrolls, with the first word it successfully translated being 'purple'.
This technologically-induced leap comes after centuries of attempts to understand what was contained in the scrolls, which has culminated in recent years in the Vesuvian Challenge.
How AI is helping us understand the past
As a result of his efforts, Farritor was awarded $40,000 for reading more than ten characters in a small area. There's also a grand prize of $700,000 available for reading four or more passages from a rolled-up scroll – which the organizers of the Vesuvius Challenge now think is "definitely achievable".
Efforts to use AI to understand what the scrolls contain hark back to 2019, and the work of Stephen Parsons to detect ink from CT scans using machine learning models. This inspired Nat Friedman and Daniel Gross to start the challenge.
Earlier in 2023, one contestant, Casey Handmer, found a pattern that may look like ink in an unopened scroll – in the form of a 'crackle' pattern. This was a huge breakthrough, given they were the first person in nearly 2,000 to see ink in the scroll.
Farritor then began training a machine learning model on the crackle pattern and, with each new crackle, the model became more sophisticated and able to reveal more crackles – evidence of ink, and actual letters.
The model then began detecting crackles the naked eye couldn't spot, and they began to form more letters and whole words. His machine learning model eventually found enough evidence to find the word porphyras, which means purple.
Another contestant, Youssef Nader, also discovered the same word in the same area and was awarded a second-place prize of $10,000. The organizers are keen to combine the different efforts to generate an even more effective discovery and translation machine to uncover the secrets of the scrolls and shed more light on this fascinating era of history.
More from TechRadar Pro
Are you a pro? Subscribe to our newsletter
Sign up to the TechRadar Pro newsletter to get all the top news, opinion, features and guidance your business needs to succeed!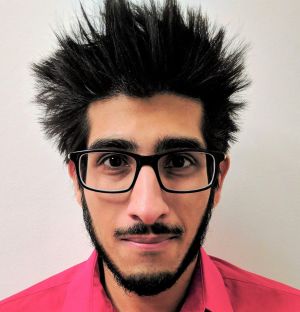 Keumars Afifi-Sabet is the Features Editor for ITPro, CloudPro and ChannelPro. He oversees the commissioning and publication of in-depth and long-form features, including case studies and op-eds, across a breadth of topics in the B2B technology space. He also contributes to a vareity of other publications including The Week Digital and TechRadar Pro. Keumars joined ITPro as a staff writer in 2018, and has expertise in a variety of areas including AI, cyber security, cloud computing and digital transformation, as well as public policy and legislation.