Delivering total experience with a composable enterprise
Organizations need to focus on improving the Total Experience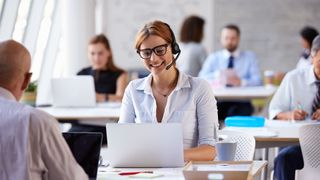 (Image credit: Shutterstock)
The past two years witnessed a huge acceleration in digital transformation projects across the globe. Many of these initiatives were focused on enhancing customer experience (CX) via cloud- and app-based experiences designed to engage and build loyalty at a time when in-person interaction was limited.
About the author
Jeroen Reizevoort is the Field CTO for EMEA at MuleSoft.
As customers have grown used to engaging with brands through these innovative channels, the ability to deliver seamlessly connected experiences has become table stakes. PwC claims that a third of consumers will now walk away from a brand they love after just one bad experience.
Everyone is a first class citizen
However, as macroeconomic headwinds continue to rise and organisations head from one crisis to another, they need to broaden these efforts to enhance digital experience for employees as well as customers. Employee experience (EX) is arguably just as important as CX. In fact, almost as many IT leaders today are measured on EX (46%) as they are on CX (48%).
Adding to the pressure, employees are also consumers in their own time. They will therefore have increasingly heightened expectations of their digital experiences, whether they're shopping online or logging on for work. Providing these employees with the digital capabilities and connected experiences they need to do their jobs more effectively is therefore high on the priority list for digital leaders.
The need to enhance EX has been given extra urgency by the impact of the Great Resignation over the past two years, which has hit customer service teams particularly hard. According to Gartner, only one in three customer service reps are engaged. Disengaged employees are five times more likely to exhibit attrition behaviours like applying for other jobs. Reduced headcount in customer support teams can mean longer wait times and reduced service levels, which is disastrous at a time when their loyalty is more fleeting than ever.
IT departments play a crucial role in enhancing both CX and EX, but they too are being hit by the effects of the Great Resignation. The impact of skilled development and operations experts leaving the business in search of better opportunities elsewhere is exacerbating the already painful challenges of a decades-long talent shortage. To avoid being drawn into a negative spiral, organizations therefore also need to focus on enhancing the EX for their IT personnel.
Experiences can't survive in a vacuum
Research shows that 86% of IT leaders now consider the experience the organization creates for its employees and customers to be just as important as its products and services. However, despite their efforts to prioritize EX alongside CX, many organizations struggle to maximise the impact of their investments. This is because these experiences are often developed in a vacuum, so employee and customer data is usually created and stored in silos.
For example, on the front-end, customers may be given access to a chatbot that can answer basic queries or divert them to the appropriate customer support member to resolve their problem. If these capabilities aren't seamlessly integrated with the CRM software that service agents use on the back-end, the employee is likely unable to access the information that was provided by the customer. This causes frustration for both parties, as the employee is forced to ask the customer to explain their problem once again. Since customer and employee journeys often intersect at moments such as these service interactions or at the point of sale, a siloed approach to CX and EX makes it more challenging to deliver seamless connected experiences.
To overcome this, organizations are increasingly adopting Total Experience (TX) strategies, bringing CX and EX improvement initiatives together to drive consistency and agility. The idea is to use the same underlying experience technologies to deliver a set of mutually beneficial multi-experience (MX) applications that support both customers and employees across the devices and channels where they interact. If they implement this strategy effectively, organizations can put themselves on a path to drive revenues, increase business agility, and improve both customer and employee loyalty. As early as 2024, Gartner says organizations adhering to a TX strategy will outperform their competitors by 25% in satisfaction metrics for CX and EX.
Composing a Total Experience
The most effective way to deliver a TX strategy is to focus on enterprise composability, underpinned by API-led integration and automation capabilities. By exposing all of their digital experience assets as a series of composable building blocks, organizations can extract enterprise data from disparate silos and unify it to power a more seamlessly connected TX. Deploying automation as part of this strategy further enhances TX by delivering faster experiences for customers and reducing toil for employees. This in turn drives greater satisfaction and loyalty amongst both customers and employees.
These capabilities create even greater impact when they're driven from a single, unified platform for API management, integration, and automation and enhanced with low- and no-code approaches. This enables organizations to bypass IT bottlenecks and empower non-technical business users to create their own TX solutions. When doing so, however, it's crucial that security and governance guardrails are built into the platforms that organizations are using, so IT can retain central control to properly manage cyber and business risk.
A foundation for the future
Employees, customers and even external users like partners and suppliers are increasingly reliant on the same technology platforms for their digital experiences. That makes it more important than ever for organizations to ensure they can unify their data to deliver the seamless journeys that their users demand. With the focus for most enterprises now on riding out the current economic storm, a TX strategy will become increasingly critical, helping them to drive cost-efficiency, improve customer loyalty and staff retention, and deliver superior revenue generating opportunities.
Are you a pro? Subscribe to our newsletter
Sign up to the TechRadar Pro newsletter to get all the top news, opinion, features and guidance your business needs to succeed!
Jeroen Reizevoort is the Field CTO for EMEA at MuleSoft.