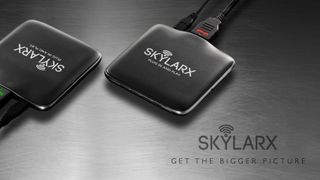 (Image credit: Skylarx)
Whether you've been streaming, AirPlaying, casting or mirroring, you're probably used to sharing content between different devices at home or at work.
And that means you're probably used to all the pain points that come with sharing and mirroring too: the Wi-Fi that barely works, or whose password is so secret that nobody knows it; the connection that requires you to conquer the nest of cables that lurks underneath it; the cable that's just short enough that it can't connect your thing to their thing; the beach ball that spins just as you're about to find out whodunnit.
Wouldn't it be great if you could just share your video in high quality without Wi-Fi and without wires?
That's what Skylarx offers, and it's brilliant.
Spend more time streaming and less time setting up
Skylarx offers you a completely clean setup. There's no Wi-Fi connection, no complicated syncing to perform, no software to sign up and nothing to sign into.
Simply put your Skylarx transmitter in the device you want to stream from and the receiver in the device you want to stream to. Skylarx handles the rest.
Skylarx uses a technology you're very familiar with in a version you might not be aware of: it transmits via the high speed 60GHz radio frequency using a technology called Wireless HD 1.1.
That delivers your audio in uncompressed 4K and your 7.1 surround sound in uncompressed quality. The connection is smooth and virtually lag-free, and it has a 30 metre range for cable-free convenience so you can stream almost anywhere.
Depending on your source it's capable of frame rates of up to 120FPS for PCs and games and 30FPS in full 4K Ultra HD for magical movies.
Because it's so simple, Skylarx doesn't need the receiving device to be a smart TV or projector. If it's got an HDMI input, Skylarx can stream to it – and if it has an HDMI out, Skylarx can stream from it.
That means you can stream from a console or a laptop, a Blu-Ray player or a phone or tablet with an HDMI adapter. It even supports HDMI CEC commands to remotely control the display.
More than just mirroring
The problem with many streaming options is that they're not universal – so you can't AirPlay to a device that's expecting ChromeCast, or mirror your display to a TV that doesn't know what Wi-Fi even is.
Skylarx solves that problem because all the technology is built into the transmitter and the receiver. Simply plug it into the source and the receiver will show it on the destination device.
The transmitter and receiver are colour-coded so you can immediately see which is which, and their tiny size means they're incredibly portable: the Skylarx is just 88 x 90 x 15mm, so it's easy to take anywhere and everywhere.
Cut the cable clutter and feel the calm
What Skylarx is offering here isn't really video and audio, as impressive as that is. It's time, and it's calm. If you're delivering a presentation or a demo, you're not spending your valuable preparation time trying to find the Wi-Fi password or wrestling with mysterious cable clumps.
If you're gaming, you're not coming late to the lobby because you couldn't persuade the screen to share. And when you want to binge a box-set, there's no buffering before the open credits roll.
No matter what kind of video you need to share or what you need to share it from, Skylarx makes it effortless. It's life, shared.
Skylarx is just £199 including free next day delivery for UK customers, and you're guaranteed to get yours before Christmas if you order it before the 22nd of December.
Sign up to receive daily breaking news, reviews, opinion, analysis, deals and more from the world of tech.