Oracle Cloud World 2022: Everything from the keynotes, news and more
Oracle Cloud World is done and dusted - here's what you may have missed...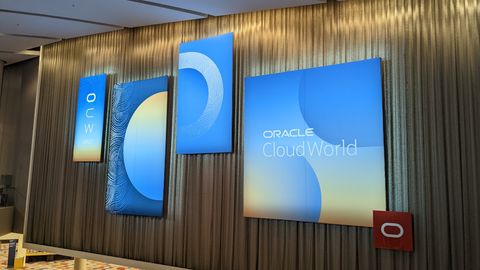 (Image: © Future)
Oracle Cloud World in Las Vegas is wrapped up, and what a jam-packed few days it has been.
Day one saw keynotes from CEO Safra Catz, who was joined by an all-star customer line-up including the likes of Nvidia CEO Jensen Huang and Red Bull Racing's Christian Horner. She was followed by Oracle CTO and founder Larry Ellison, who laid out his view of the future of cloud and healthcare.
The second day had more of a focus on products, with Oracle Cloud Infrastructure (OCI) taking the limelight in the morning keynote from OCI Executive Vice President Clay Magouyrk, and Steve Miranda, Executive Vice President of Oracle Applications product development, closing out by focusing on Oracle Fusion Cloud Applications.
A lot was revealed and discussed - but we got most of it, so read on for all the news and updates from the show.
Refresh
We're gearing up for this morning's keynote with some much-needed coffee and pastries, before the action starts soon.
This is our first time at OCW, so we're keen to hear from the company on all its latest news.
However this morning's keynote will focus on Oracle's customer successes, with the likes of Nvidia, DeutscheBank and Red Bull Racing taking to the stage.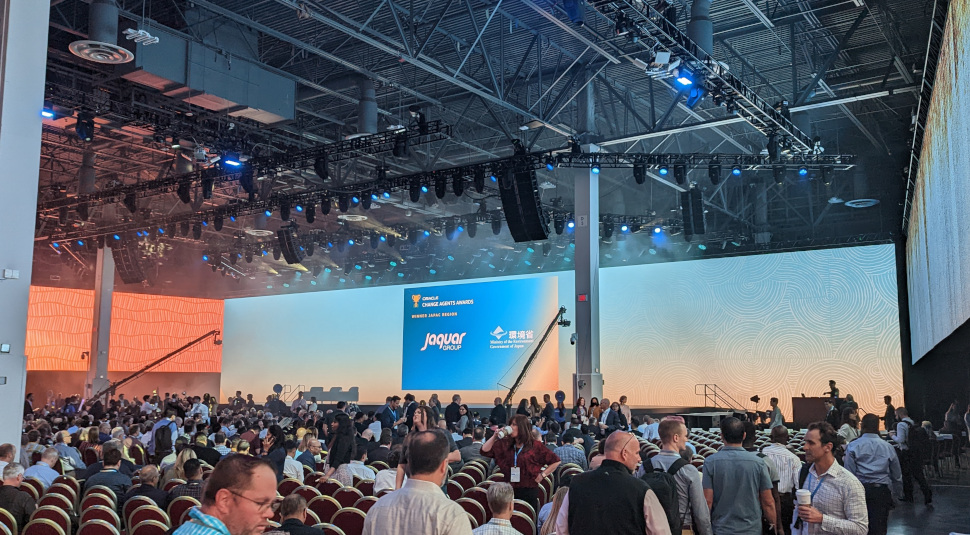 And we're in! This is a tech conference in Vegas, so there's bass-heavy remixes of The Weeknd and more...Safra Catz incoming soon.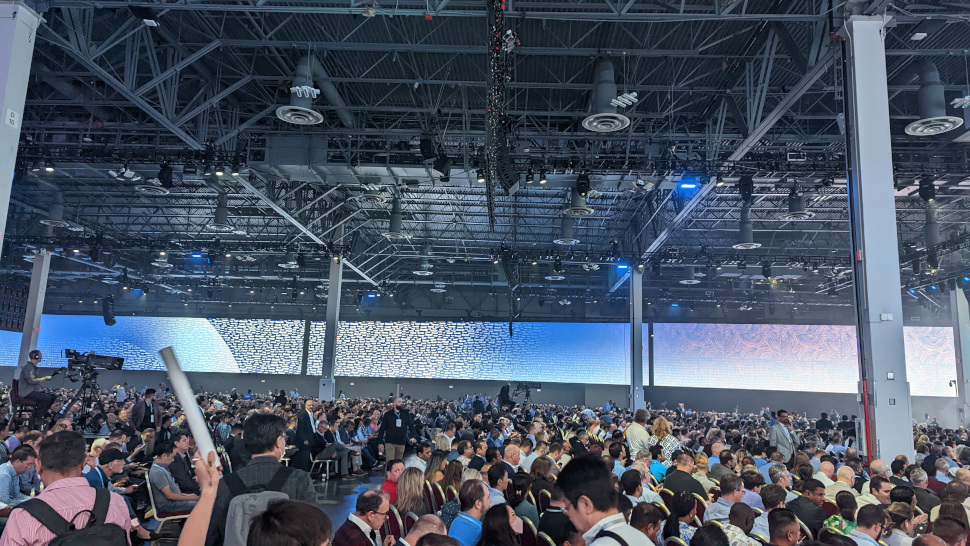 We're running a little late here - the hall is at full capacity though, so hopefully we'll be underway soon!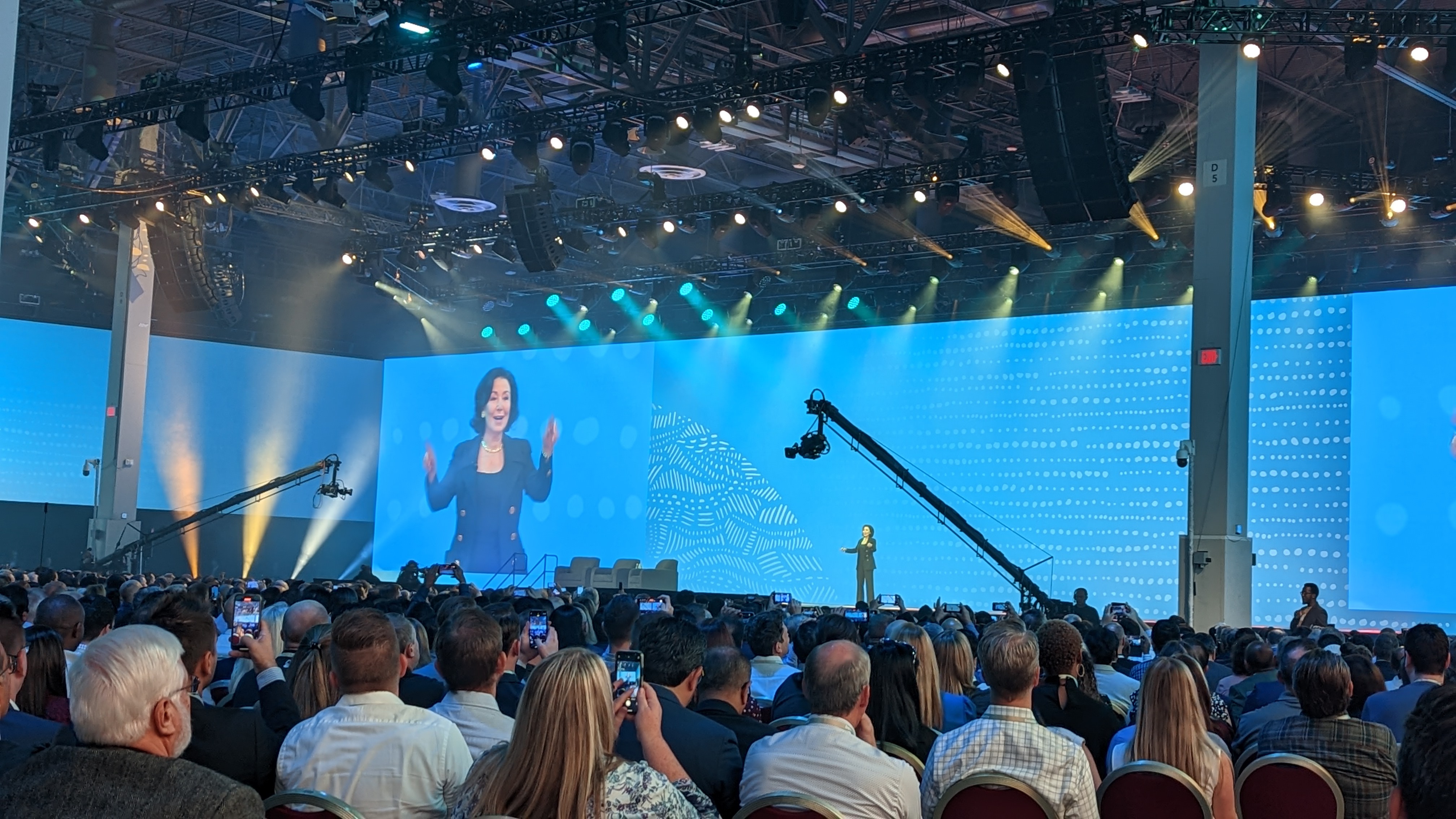 Here she is! Oracle CEO Safra Catz takes to the stage at Oracle Cloud World 2022.
"We're finally here in real life - we're no longer little squares on screen!" she declares.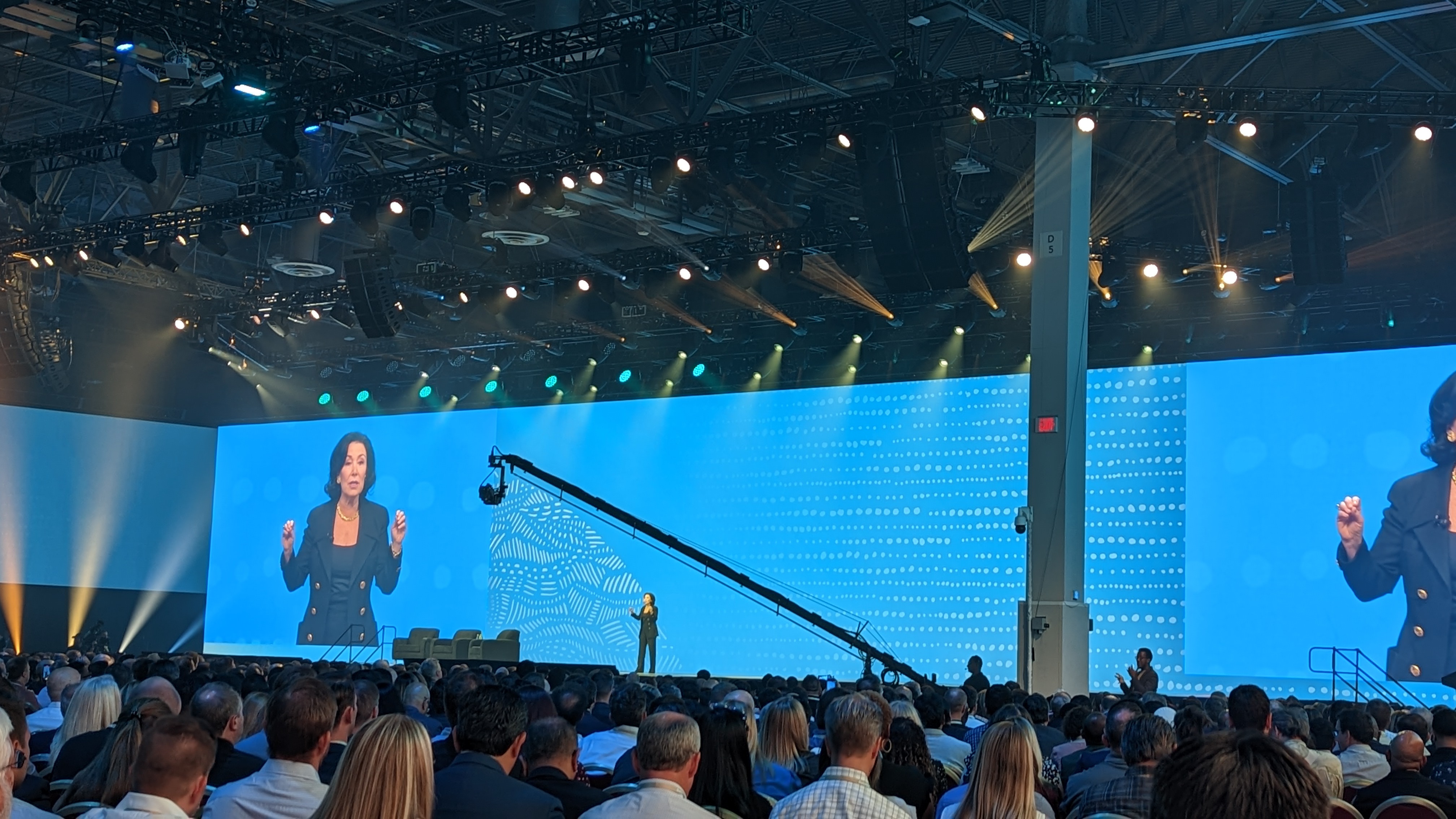 "What we learned during the pandemic is that it is absolutely critical to have a digital conenction with your employees, your customers, your partners," Catz adds.
"Being bold is the way to win - being timid could wipe you out."
"We have built a platform that is the most secure, the most powerful, the most performant," she notes.
"Our focus over the past few years has been to listen more closely to you, to make a prodct and a serivce we can deploy in multiple ways to make you successful."
"We understand now that it's not like the old days...now your success is absolutely central to everything we do."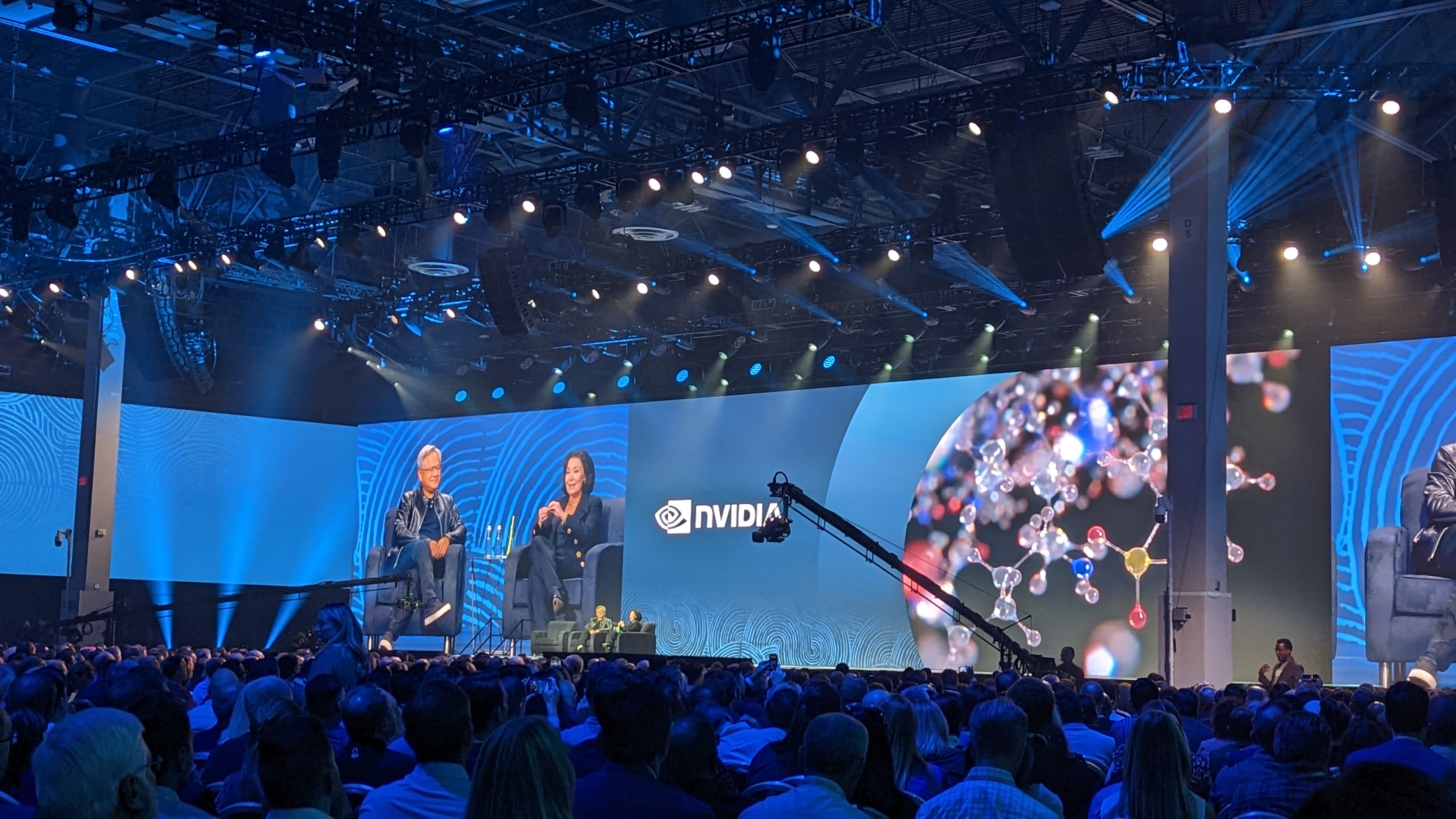 Our first guest for today is a big one - Jensen Huang, Nvidia CEO and leather jacket aficianado.
Oracle and Nvidia have today refreshed their long-standing partnership, and will continue working together to accelerate development and improve workloads across a number of industries.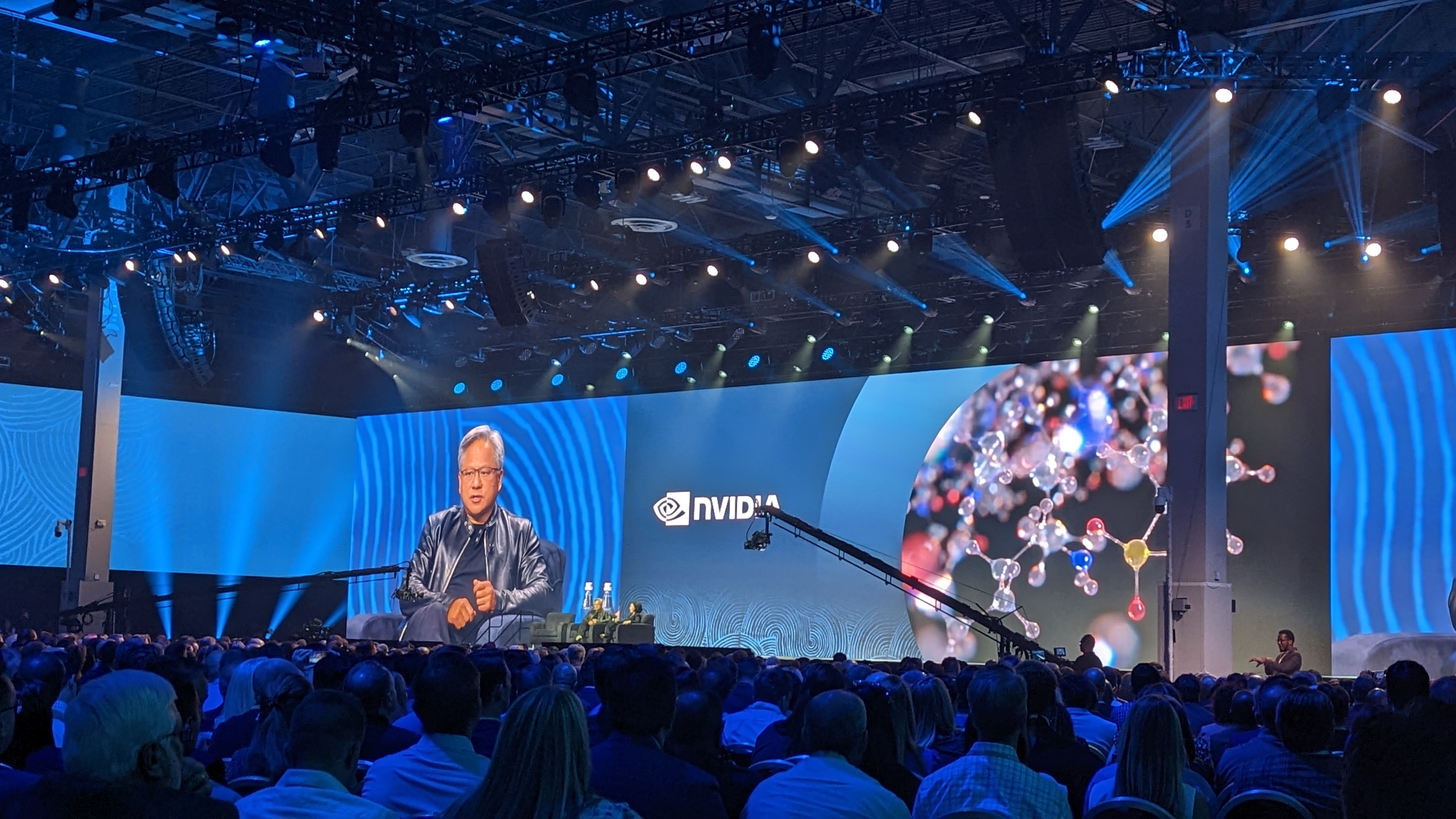 "These are incredible times," Huang notes, "on one hand, we're seeing the slowdown of traditional compute...making it harder for us to do our computing at an ever-decreasing cost, so we can do more."
He adds that AI emergence is pushing demand, and all these new workloads will soon be accelerated. This will drive down costs and produce better efficiency - and increased capacity that can be used more for AI expansion and development.
Huang also notes how healthcare could see huge improvements and advances thanks to AI, with new treatments, cures and analysis soon available.
And with that, he's off - with a hopeful message about how Nvidia and Oracle can work effectively together in the future - so here's hoping it all comes off!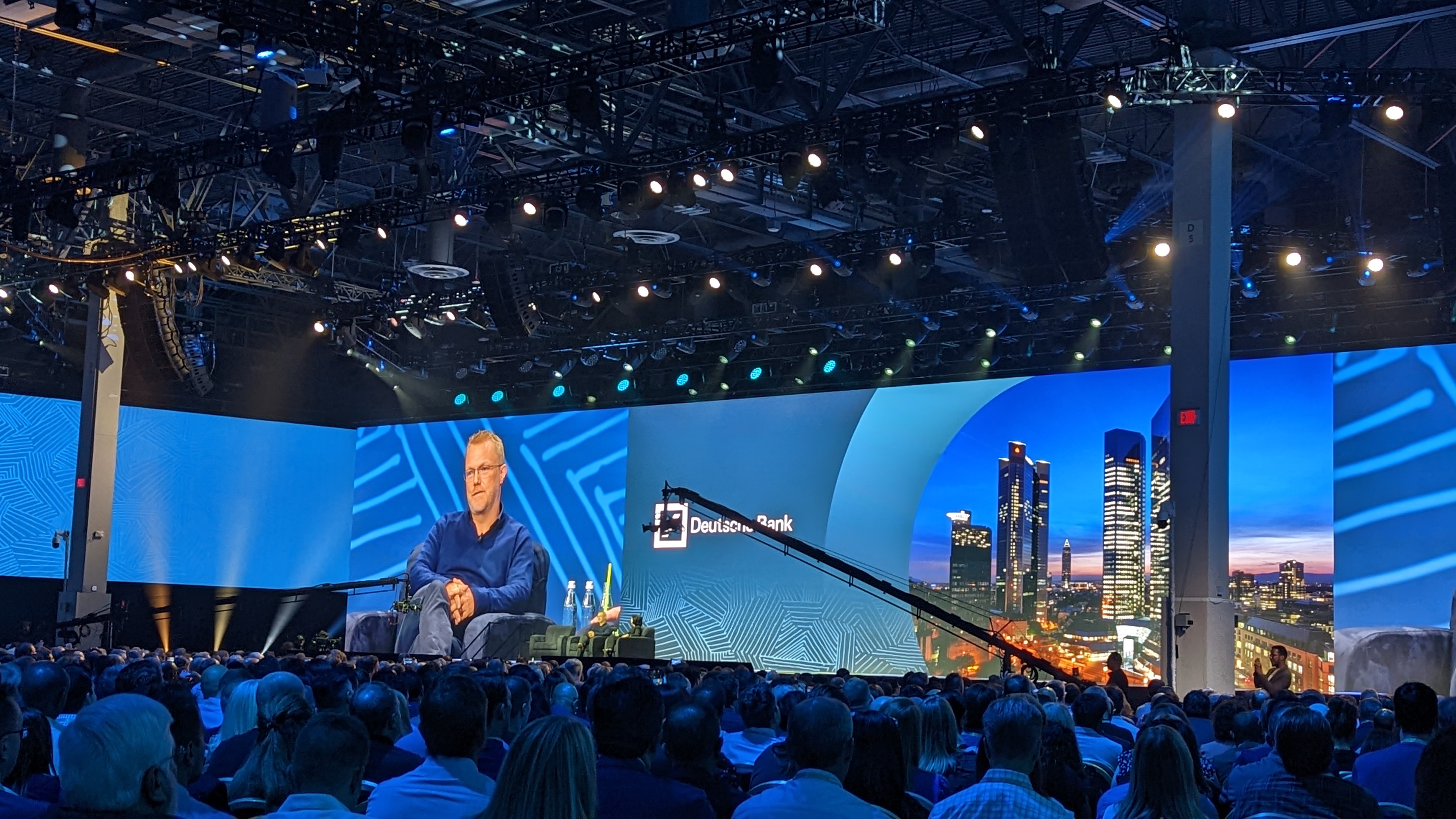 Next up is Gordon Mackechenie, CEO of Deutsche Bank, to talk about the challenges his company has faced during the pandemic and
"Demand for technology is always increasing in banking," he notes, as more digital transactions take place, and new systems are required to faciliate this, driving demand for compute and storage.
Catz asks Mackechenie if he thinks the risk-averse nature of banking affects innovation, particularly in technology.
"A huge amount of innovation in banking today is data-driven," he says, "it's really important that we innovate to move forward."
"This is an unbelievably exciting time...we've built an unbelievable partnership," Catz says.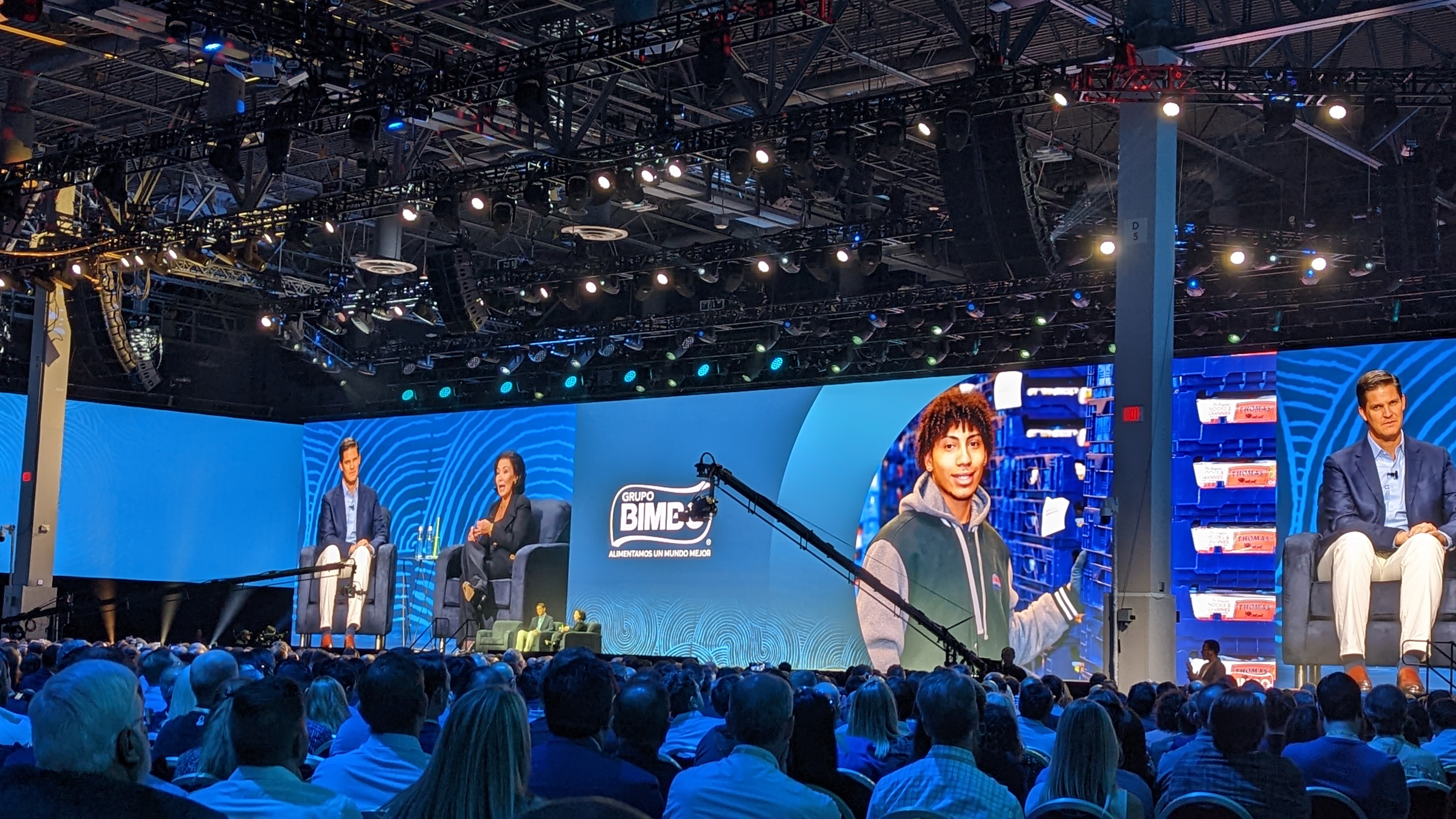 And now for something tastier - our next guest is Groupo Bimbo CTO Raul Obregon Servitje, talking about the company's "total digital transformation" using Oracle services.
"We've stayed the course," he notes, saying the company is committed to chasing growth, investing in brands, and using the data it generates to examine new opportunities.
Our next guest is Diane Scharwz, CEO of Johnson Controls, to talk about how her company became a "truly digital enterprise" over the last few years.
It has pivoted from being just a pure manufacturing company to becoming a truly "digital managed services" company, offering a full range of heating, cooling, fire and security systems.
It's been an "inside-out" transformation, she notes - taking complexity and making it simple using a range of tech solutions.
And now another major gear change, as Safra Catz introduces from the Melissa & Doug toy company, CIO Mike Macrie, and Lee Tsukroff, CTO.
Designed to inspire real creativity without the need for screens, the company still needs technology systems to get its toys out to customers.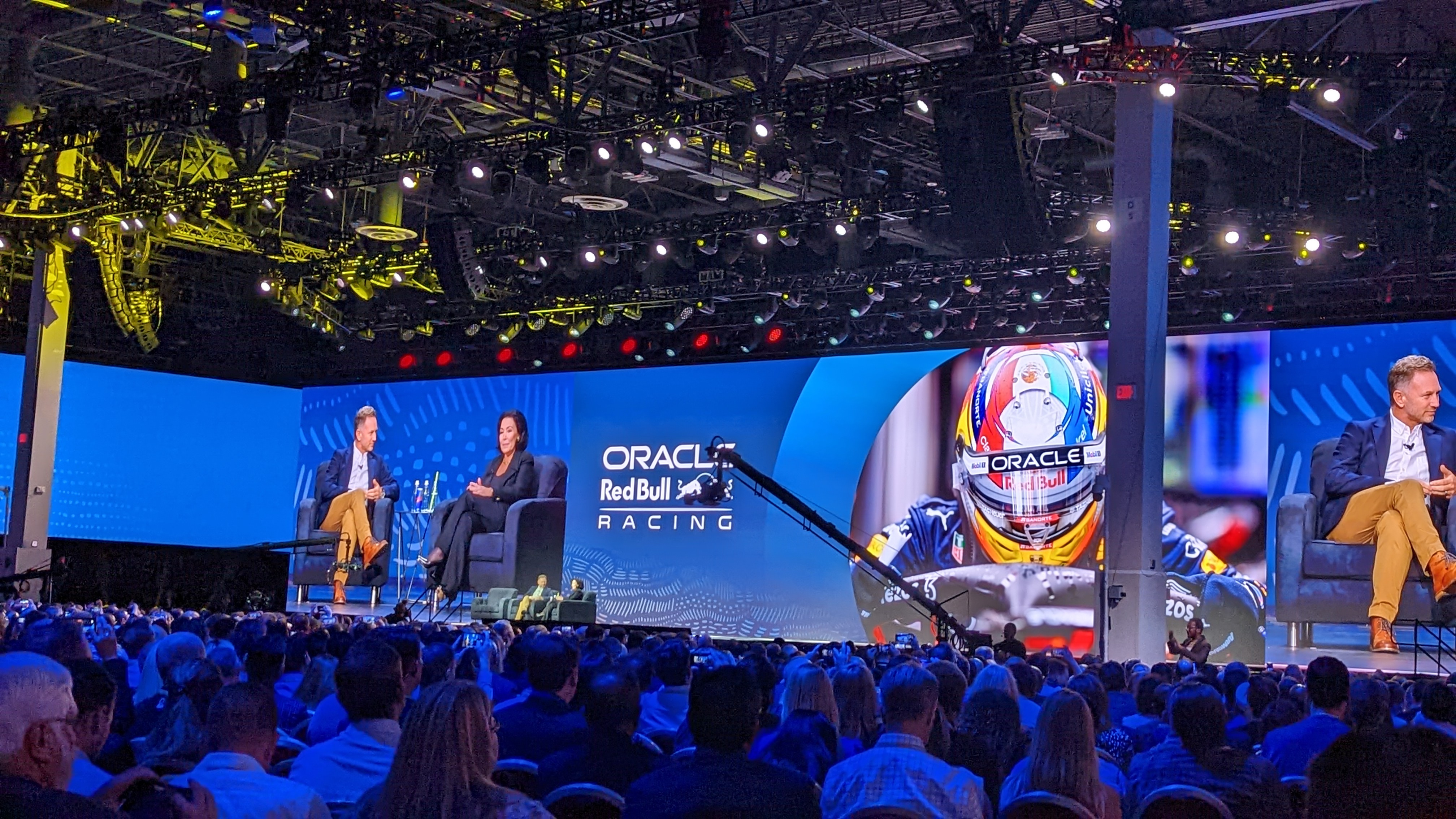 Next, it's time to hear from one of the company's biggest and most well-known partners, Red Bull Racing Formula 1 team principal Christian Horner
Since becoming the title sponsor of the team, Red Bull Racing has celebrated back-to-back driver championships in F1.
"As soon as we put the logo on the car, we started winning!" he notes. "We're really pushing the boundaries - it's been a great partnership so far."
Red Bull Racing is using Oracle technology to help design and build its own engine in the world's most demanding sport, having done that already with its own chassis design.
But the company is also using Oracle to help connect and engage with its fans as Formula 1 becomes ever more popular across the world.
"We want to interact and understand our fans to provide a better service and better interaction with them," Horner notes.
Catz notes that she wants to take "at least some of the credit" for Red Bull Racing's success though. "We're never happy when we're not number one," she says.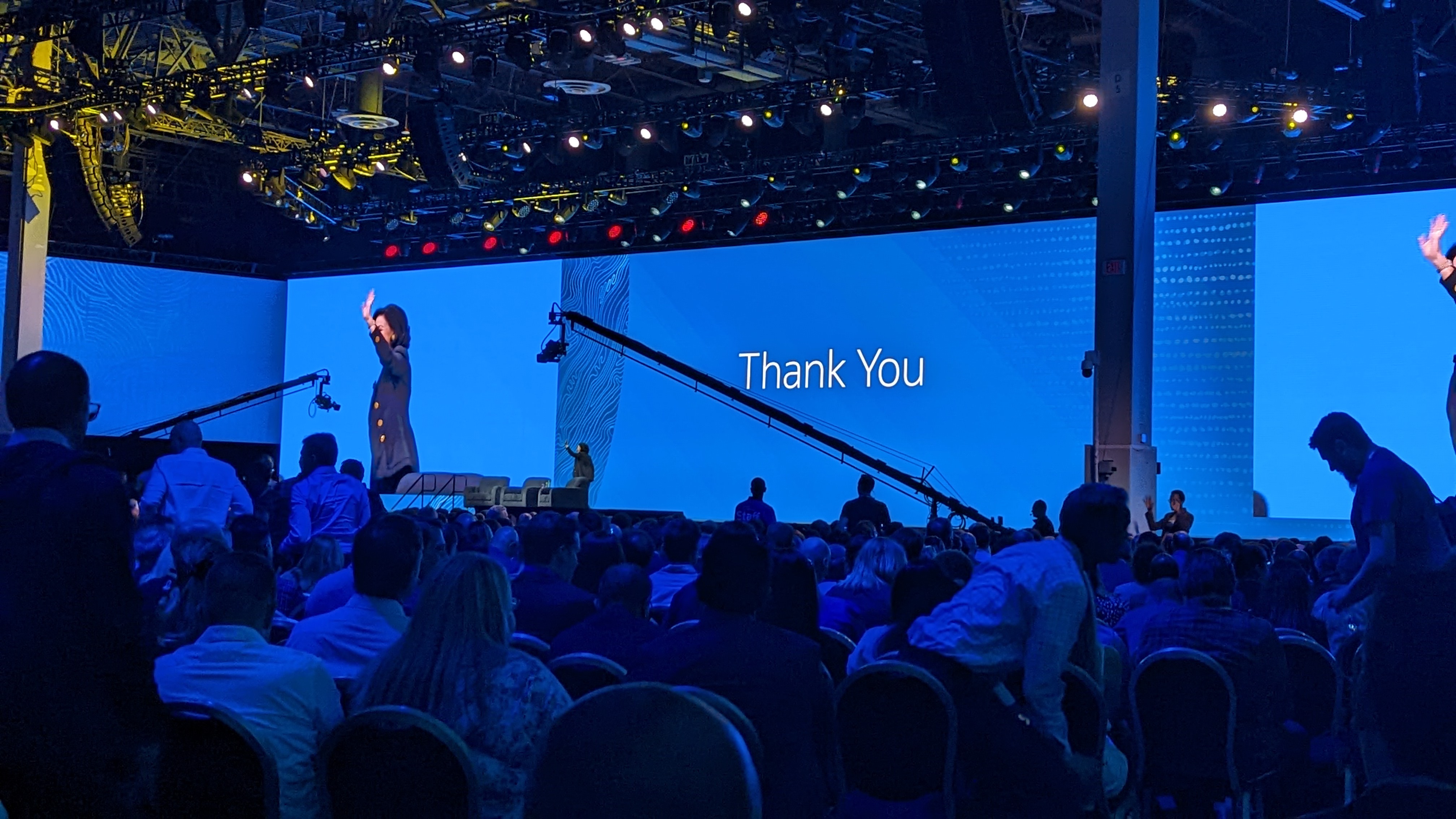 And with that, it's a wrap on this morning's keynote. Catz thanks everyone for coming, and urges us to stick around for Larry Ellison's session later today - that's definitely not one to be missed, so stay tuned for more here on TechRadar Pro in a few hours' time.
And we're back! After a hearty lunch and some more caffeine, we're ready for the afternoon keynote at Oracle Cloud World, hosted by none other than Larry Ellison himself.
Excitement (and crowds) are already building around the keynote theatre, so we'll be sure to get there nice and early to see what the company's founder has to say.
We're running late here once again - seems Larry Ellison is the big draw this afternoon, with crowds still streaming in to the keynote hall.
We're expecting to hear more about Oracle's forward-looking strategy, outlook, and almost certainly a few curveballs as always.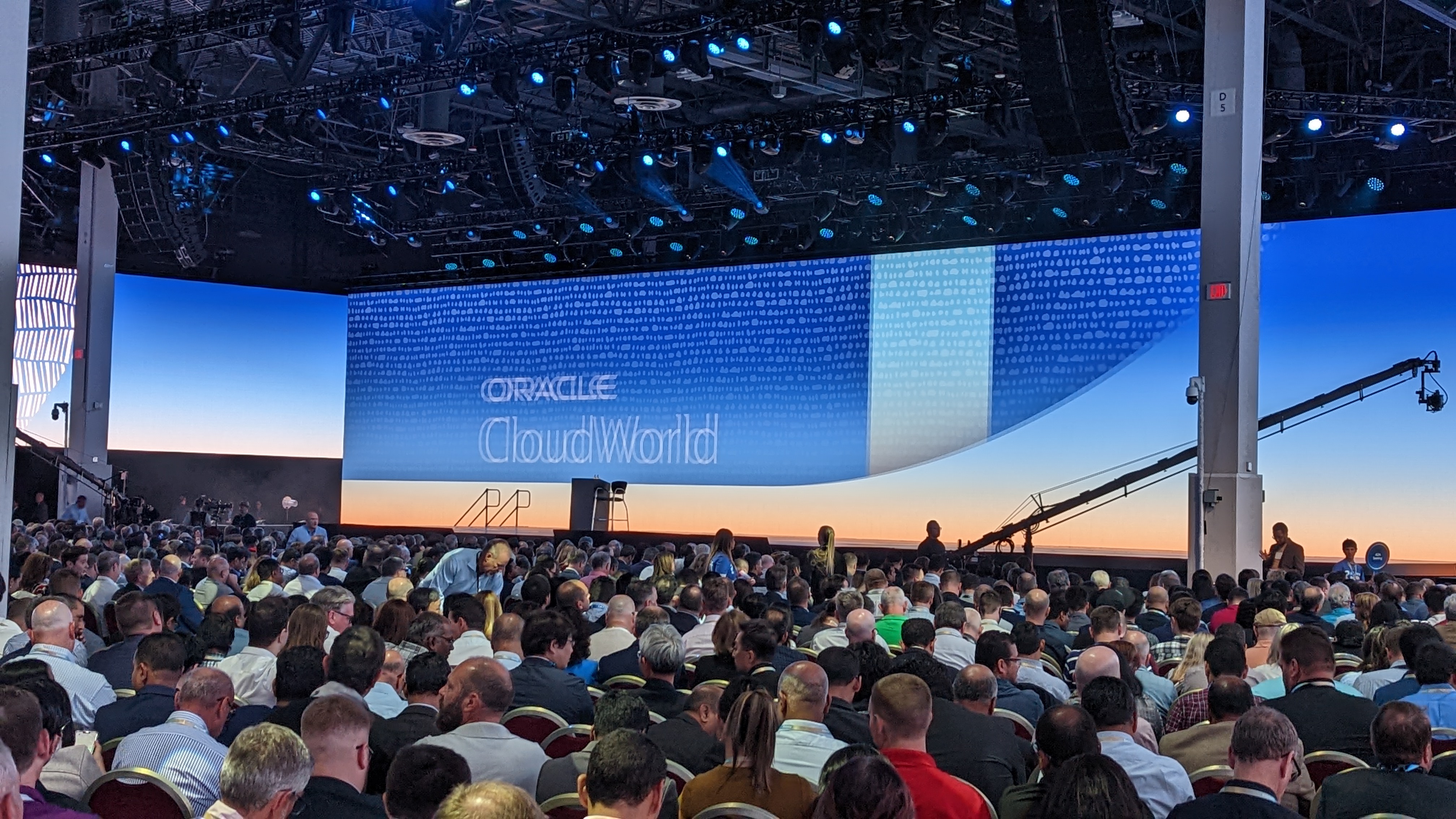 There's a mysterious single chair on the stage - what could it be for? Our money is on a ventriloquist's act...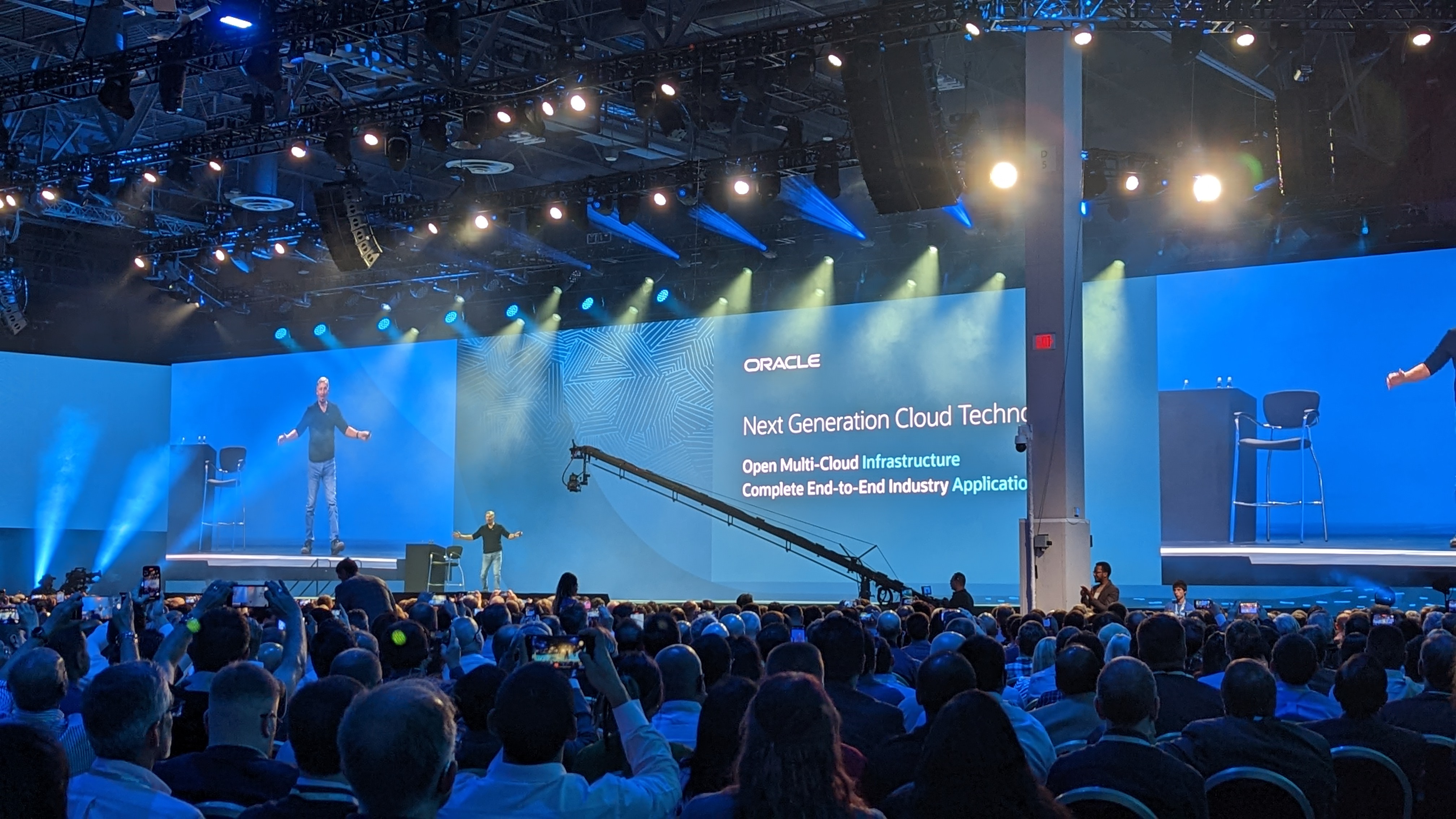 Well, we're about to find out - the lights go down and the music goes up as we welcome Larry Ellison to the stage.
"It's been a long time since I've done this" he says, in a similar note to CEO Safra Catz in this morning's keynote.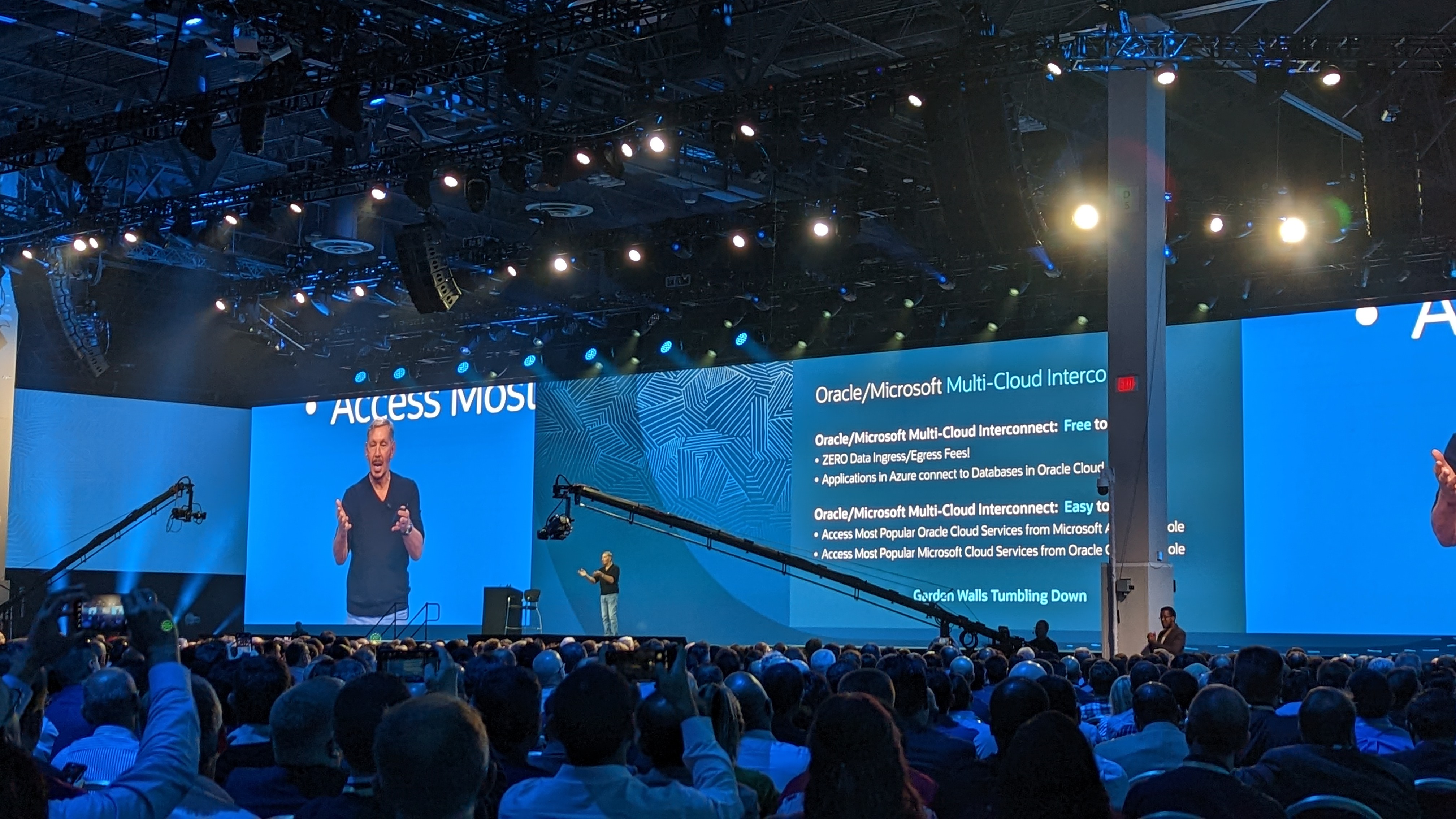 Ellison says he's here to talk about two main things - open multi-cloud infrastructure, and complete end-to-end industry applications.
"Companies are already dealing with multiple providers and applications when buying infrastructure in the cloud," he says. "The fact that this is happening is changing the behavior of technology providers."
Service providers are now deploying new infrastructure services on multiple clouds, he notes - including Oracle MySQL Heatwave database, which now runs in AWS, Oracle and Azure.
But a better idea is connecting all the main clouds, so that customers have choices, Ellison notes - creating an "internet of clouds" or multicloud. Oracle working with Microsoft helped kick this off, he notes.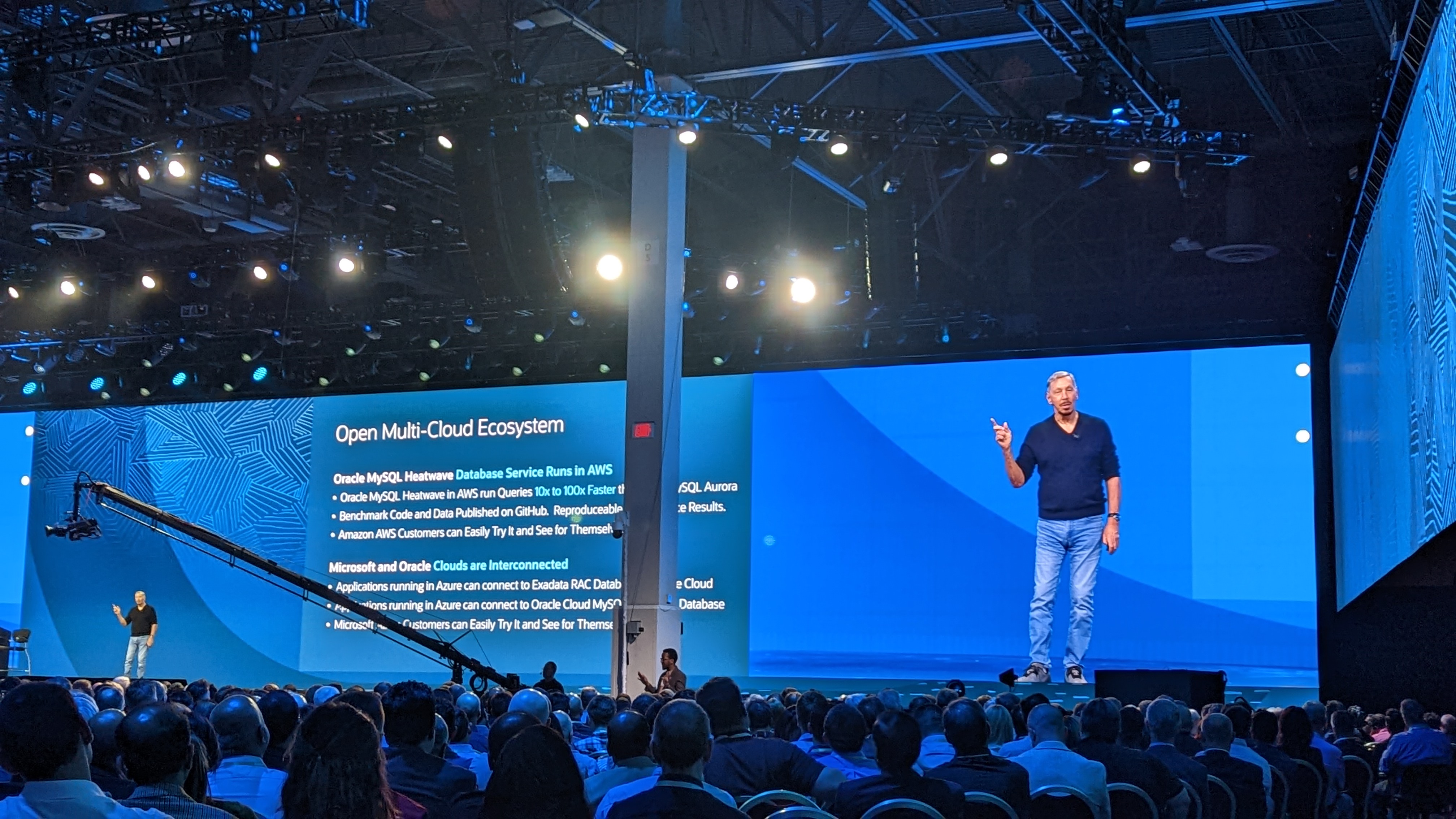 Ellison is making a big pitch for multicloud services here - or as he charmingly calls it, "an internet of clouds".
"There should be an internet of clouds, the clouds should be interconnected, and you should mix and match between multiple clouds," he says, "the garden walls come tumbling down."
"The idea again, is providing customers with choices"
After a quick drink of water, Ellison moves on to next-generation applications - primarily in healthcare.
"What do I mean by next-generation?" he says, "We're going to automate everything, end-to-end."
Ellison outlines how currently there are "provider-centric healthcare services" - each hospital builds and operates its own information system - so it stays in their database.
"Sharing those records are very difficult - your health records are scattered across different databases, everyone you've visited in your entire life," he says.
Providers, not patients, are being put at the center of the system he says - and that's "a fundamental problem."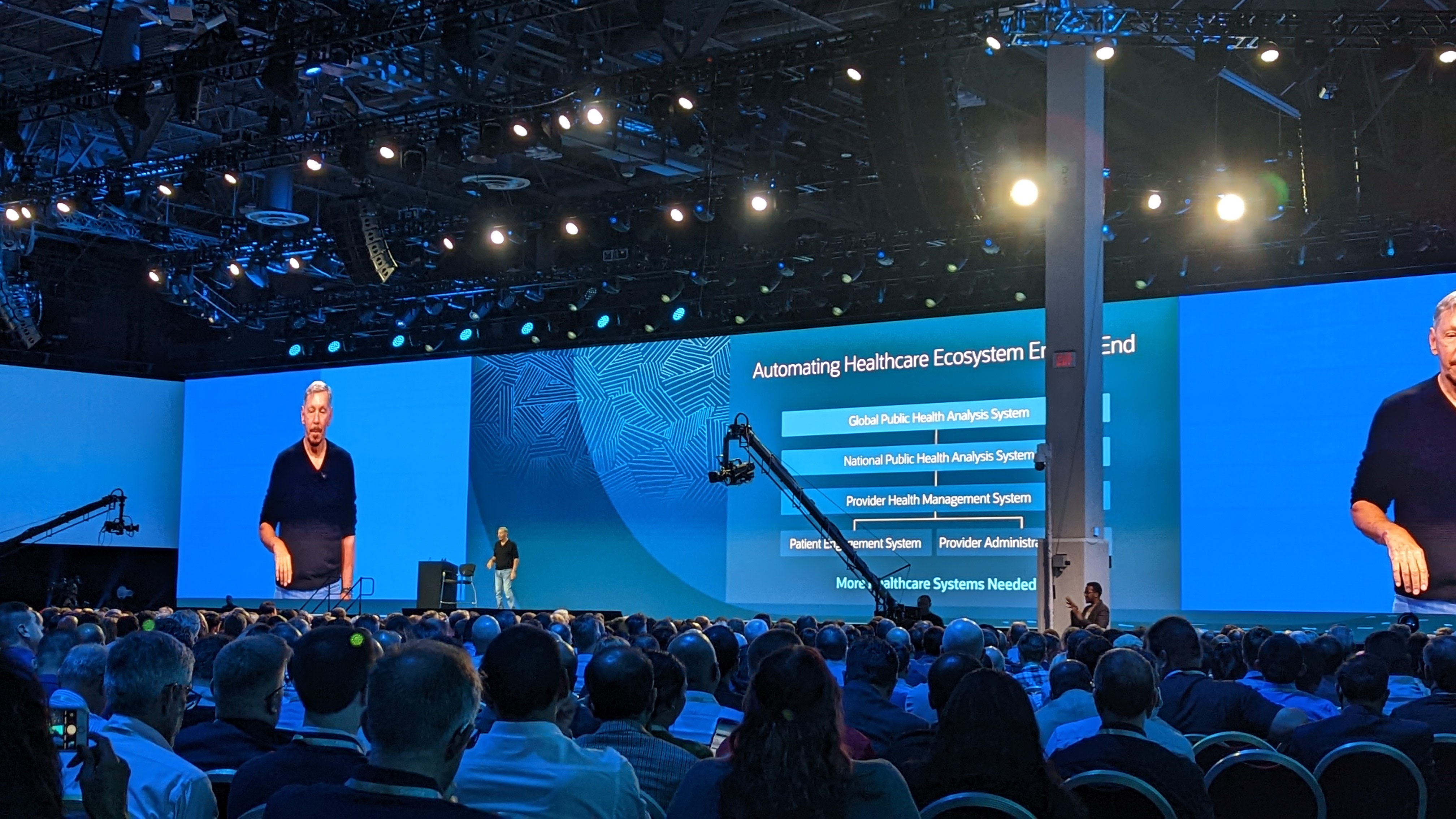 Ellison and Oracle have a big goal - no less than a global public health analysis system - as well as a national (for the US) system.
"There'll soon be a single place where you go to find out your healthcare records," he says.
He also wants to build an engagement system to make it easier for patients, doctors and providers to communicate - no small task, but if anyone can, it could be Oracle.
Ellison admits that this is a hugely ambitious goal - "what we are trying to be done has never been tried before - so can it be done?"
"We know we can't use the same set of tools to build these applications," he says - it's just too costly and time-consuming, plus the services need to be secure, resilient and easy to use.
"We need a completely new set of tools...we have to develop 10 times faster," he adds, noting that Oracle did just that during the pandemic, building new tools for the CEC. But it will need partners, including the University of Oxford, CEC and a number of independent software companies.
Merging to make the new Oracle Cerner platform gives all the resources, experience and vision you need, Ellison says.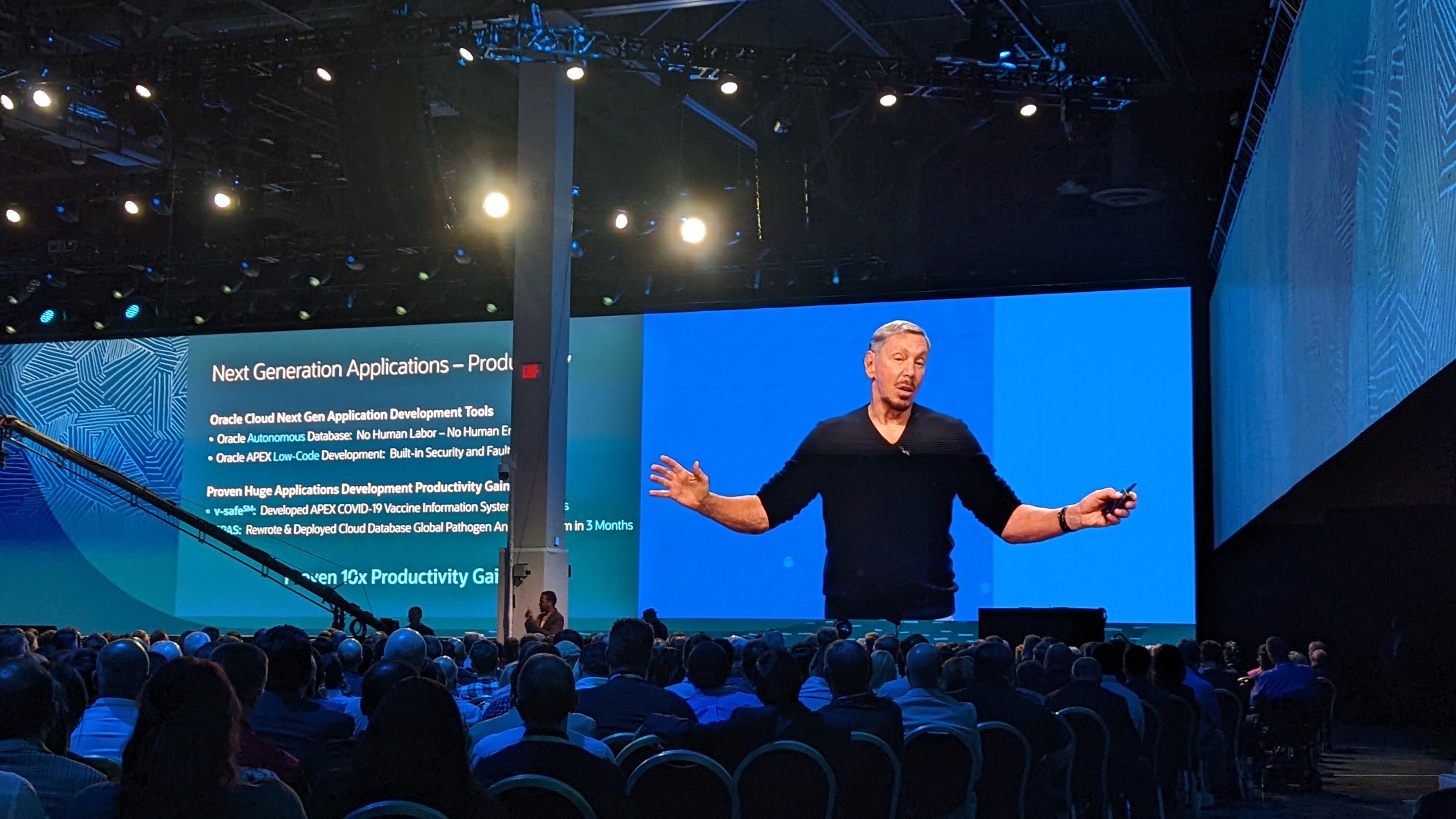 The Cerner deal wasn't the catalyst, though - Ellison notes that the work was already underway.
Oracle worked with the CEC to build a vaccine management system at breakneck speed, using the latest versions of its platforms to ensure maximum efficiency and resiliency.
These helped provide a proven 10x productivity gain, Ellison says, and helped the company build its system in weeks, not the expected months.
Ellison is now outlining the next-generation apps that Oracle has already built with its partners, including the University of Oxford and AMD.
The company also helped spur on research to find a Covid vaccine, running over a hundred clinical trials, and signing up hundreds of thousands of participants.
Oracle already had a good track record with managing vaccines, rolling out yellow fever vaccines campaigns in Ghana.
The company also worked with the University of Oxford to build the Global Pathogen Analysis System (GPAS). Designed originally for tuberculosis, this was quickly adapted for Covid-19 to monitor genetic mutations, and deployed gloally to help governments across the world track the spread of the disease.
This change is vital, Ellison says, warning, "we're going to bankrupt western civilziation" unless we can find a way to make healthcare cheaper.
"We've got to do a better job," he declares.
Why is there a global financial database, but not a global healthcare one, Ellison asks.
If you have an accident abroad, the hospital will know your financial records, how much you make, but not if you're allergic to penicillin.
This is the issue he, and Oracle, want to solve.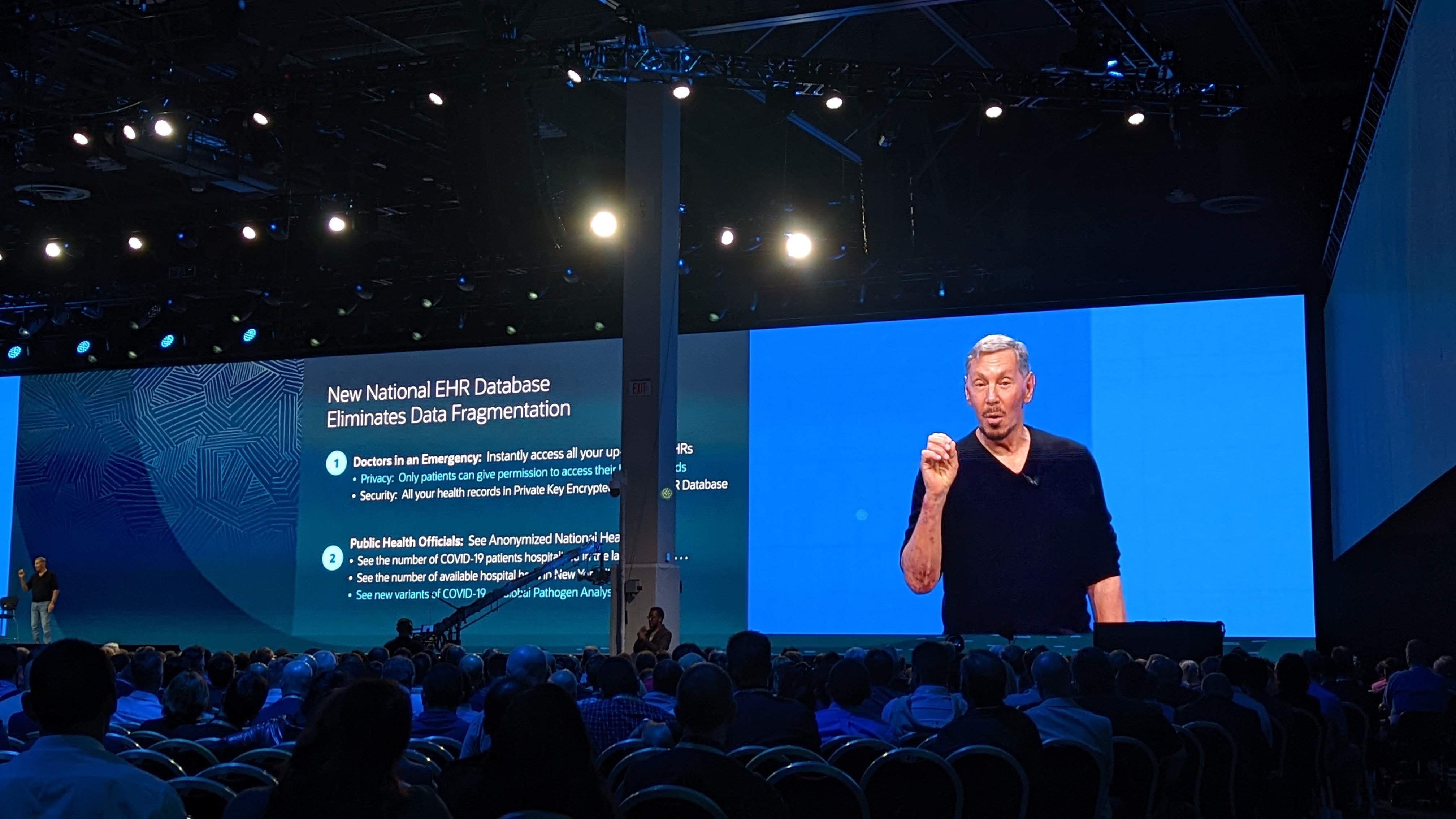 This is clearly an issue close to Ellison's heart - we're being walked through his exact motivations behind building a new national EHR database, and why this matters so much.
"We have to catch the next pandemic earlier," he says.
Making it easier for patients to engage with their healthcare providers, carers and even governments is another area ripe for improvement, Ellison says.
The US Government v-safe platform, which used Oracle Autonomous Database, showed users are happy to voluntarily share some health data, and showed that it is safe to vaccinate groups of people such as pregnant women and younger children.
Now, we can use data from wearables and home diagnostic devices alongside information taken during check-ups, treatments, post-ops and more to boost such services even further.
Now on to Cerner.
Oracle acquired the company earlier this year, and it looks like it will play a huge role in its healthcare-focused future.
"We're working with Cerner to take your existing medical interface and update it," Ellison says.
"It seems like magic - but that's just how things will be."
"It's not magic, it's how all of our applications work," Ellison concludes. "We're absolutely committed to this mission."
And with that - he's off! A rather abrupt end to what was clearly a deeply personal topic for the Oracle founder, and certainly a keynote that was anything like what we expected.
So that's it for day one of Oracle Open World, with two jam-packed keynotes wowing the crowds.
Thanks for staying with us today - join us tomorrow when there are two more keynotes, focusing more on the company's product offerings, and hopefully several more surprises as well!
Good morning and welcome to day two of Oracle Cloud World!
After day one's excitement and keynotes, we're getting technical here this morning. First up is a keynote from Executive Vice President Clay Magouyrk focusing on Oracle Cloud Infrastructure (OCI).
Later, we'll hear from Steve Miranda, Executive Vice President of Oracle Applications product development, who'll talk us through Oracle Fusion Cloud Applications.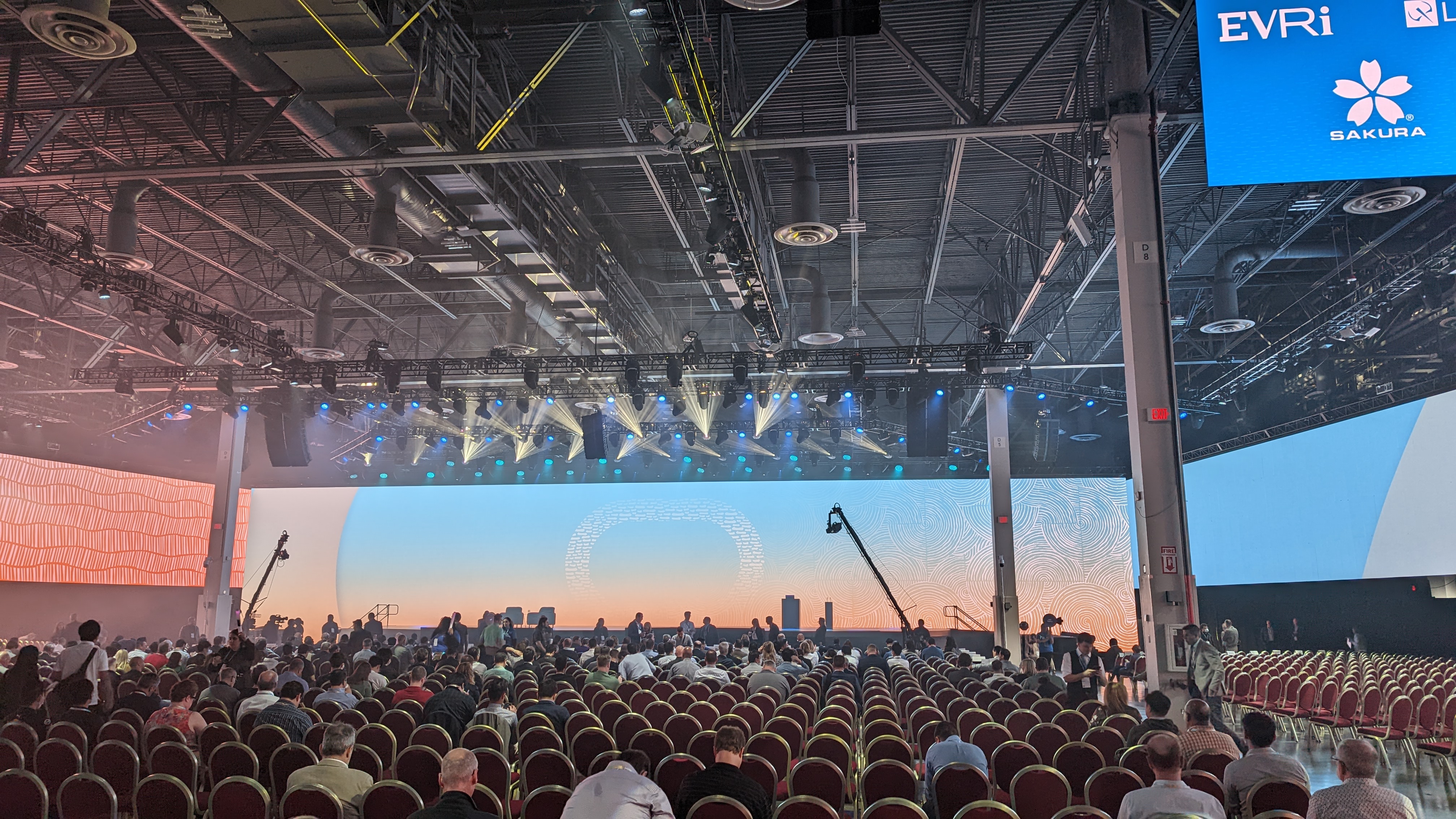 Probably the most exciting news (from the media desks at least) is that we've been upgraded into a new seating area that is far more central than where we were yesterday....and should mean we can actually take nicer pictures of this morning's keynote!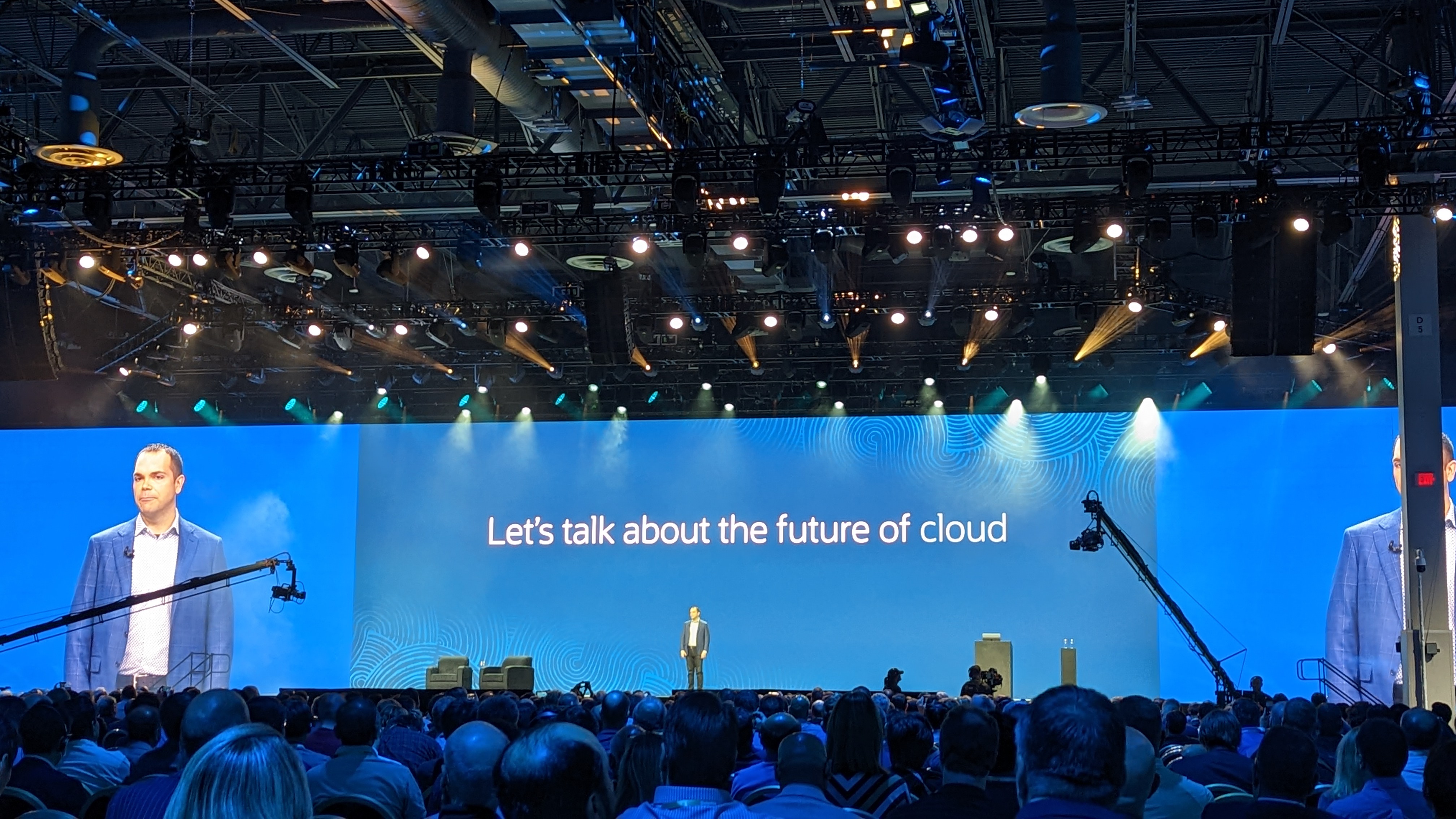 We're underway here as Clay Magouyrk (whose name I will doubtless misspell several times this morning) takes to the stage.
Clay is here to talk about the future of cloud, and welcomes the crowd to what he says will be a content-filled session
"If you're not interested in cloud infrastructure, you're going to have a bad time," he jokes.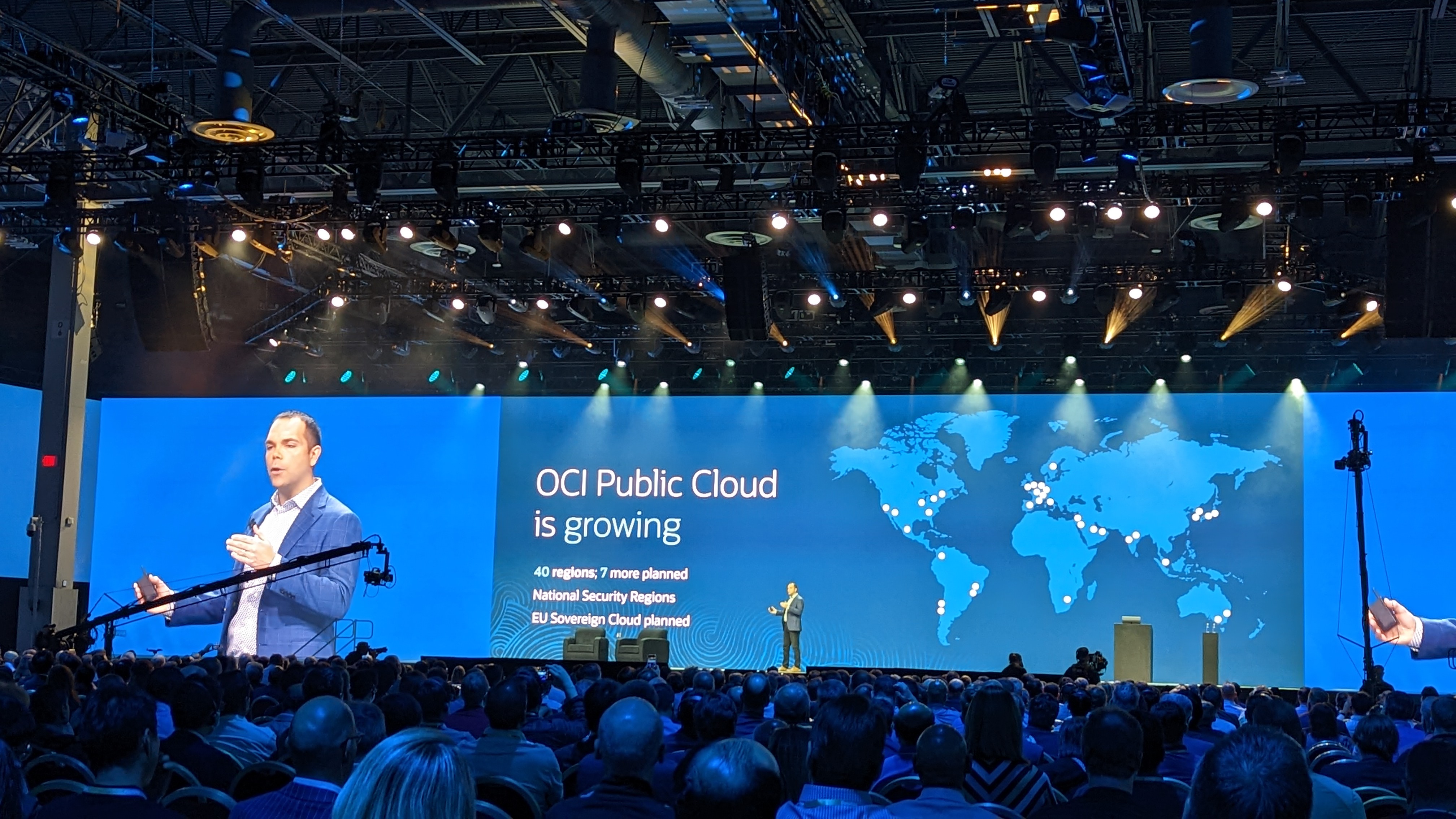 OCI is growing, Magouyrk notes, with 40 regions live and 7 more planned. This includes specially-designed regions to handle particularly sensitive workloads, as well as those to deal with stringent EU data requirements.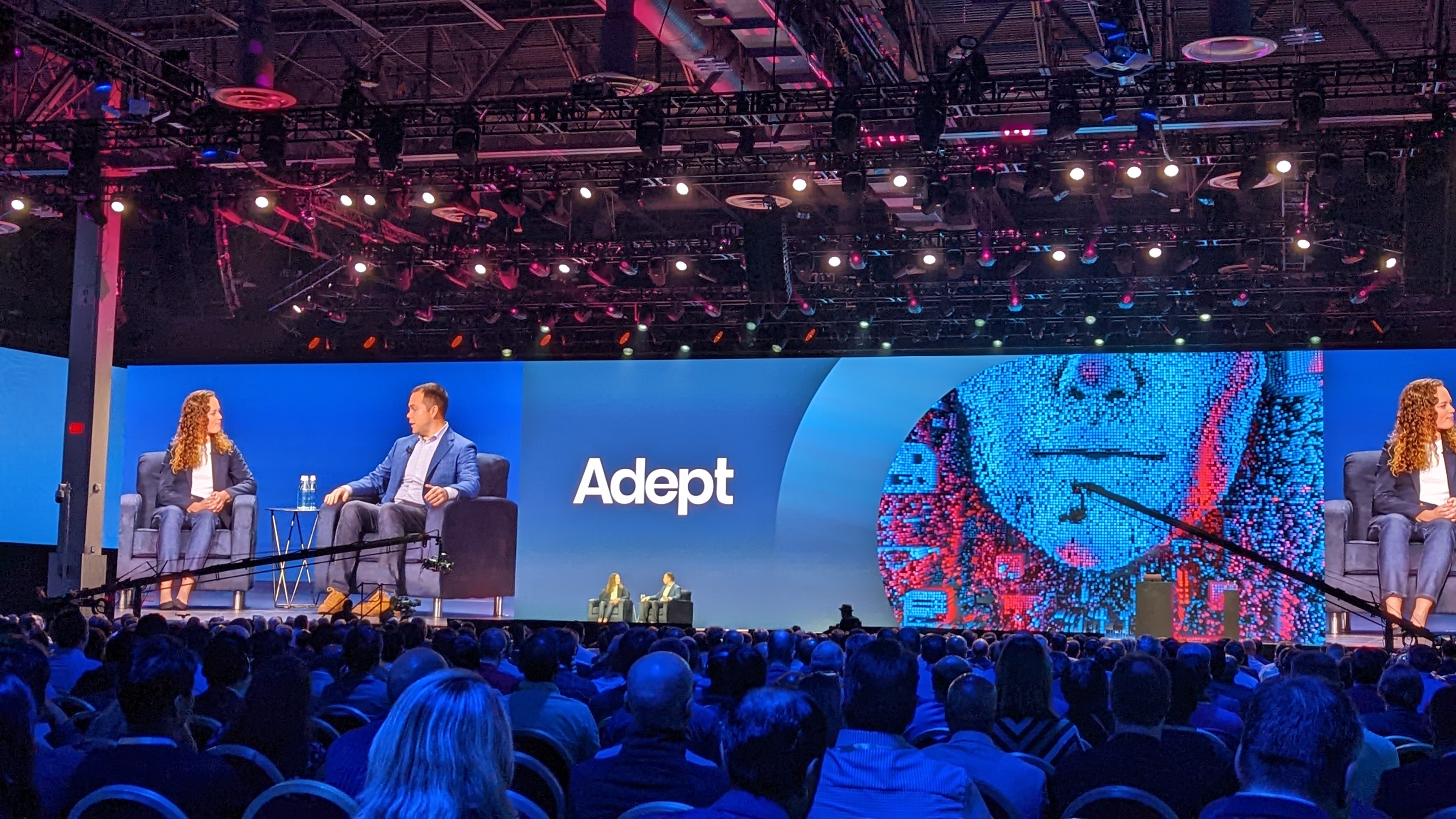 After a few customer examples showing how customers are using OCI for use cases from earthquake monitoring to sports tracking to boat racing, it's time to welcome Kelsey Szot, co-founder and project lead at AI company Adept.
The company uses OCI to tackle the huge amounts of data it generates and analyzes to build its models and much more, Szot explains.
Next, Magouyrk wants to look at the innovation that's coming up across OCI, focusing on some particularly exciting new announcements.
First, its containers - OCI is launching Serverless Kubernetes, but also Container Instances, so you no longer need to worry about an operating system or patches.
The company is also launching GPU Super Clusters, with more power than ever, making them "the most powerful supercomputers available on the planet," says Magouyrk.
There's also MongoDB compatibility, bringing together OCI and the leading document database service around today.
Next up is MySQL HeatWave LakeHouse, which lets users build data lakes using data from different clouds, with improved search and manageability too.
Magouyrk also announces Privacy Assurance, a collection of upgrades for its security, compliance and privacy offerings, assuring trusted data never leaves the audit boundary, and also automates compliance.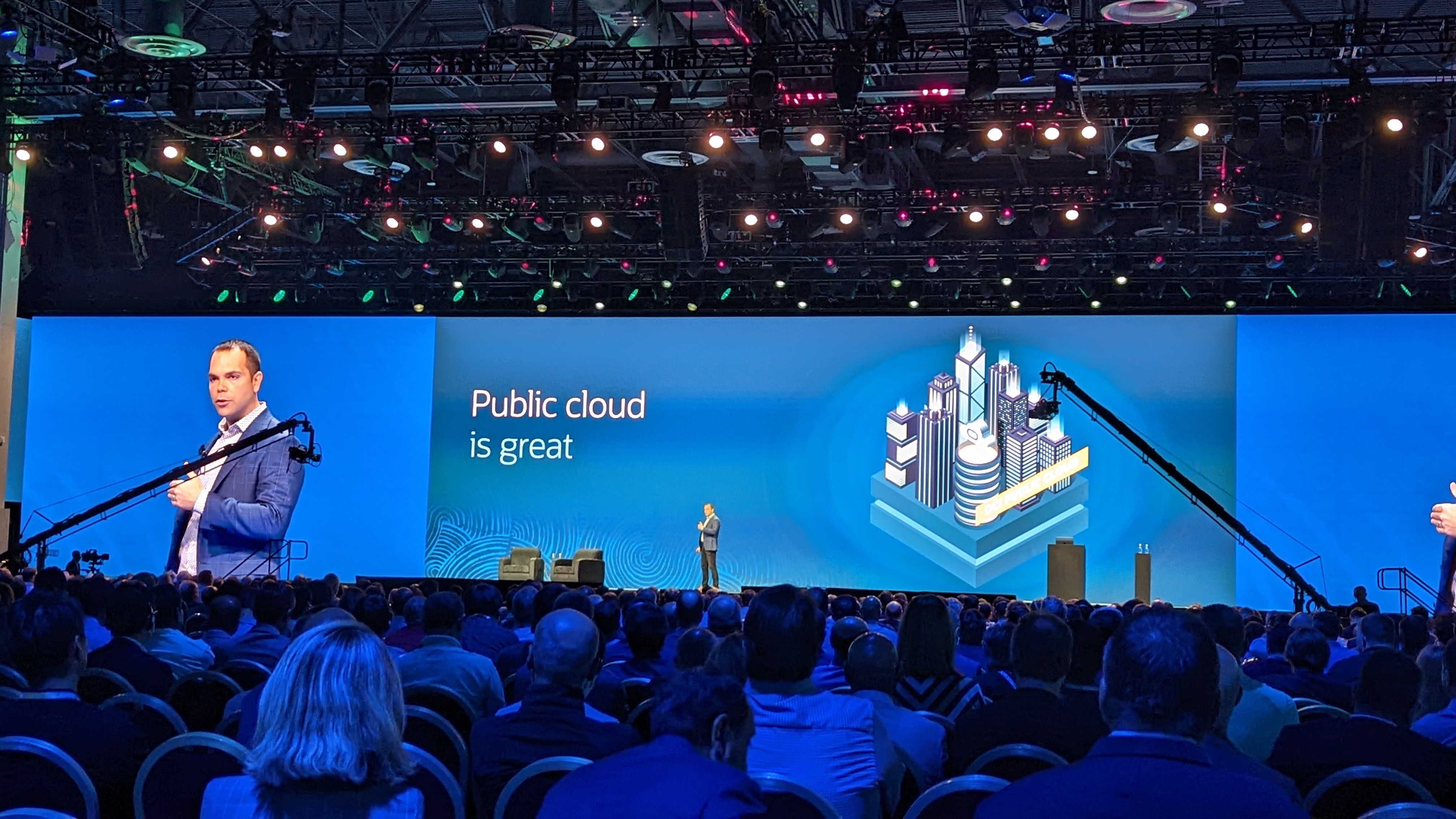 Just in case we were in doubt...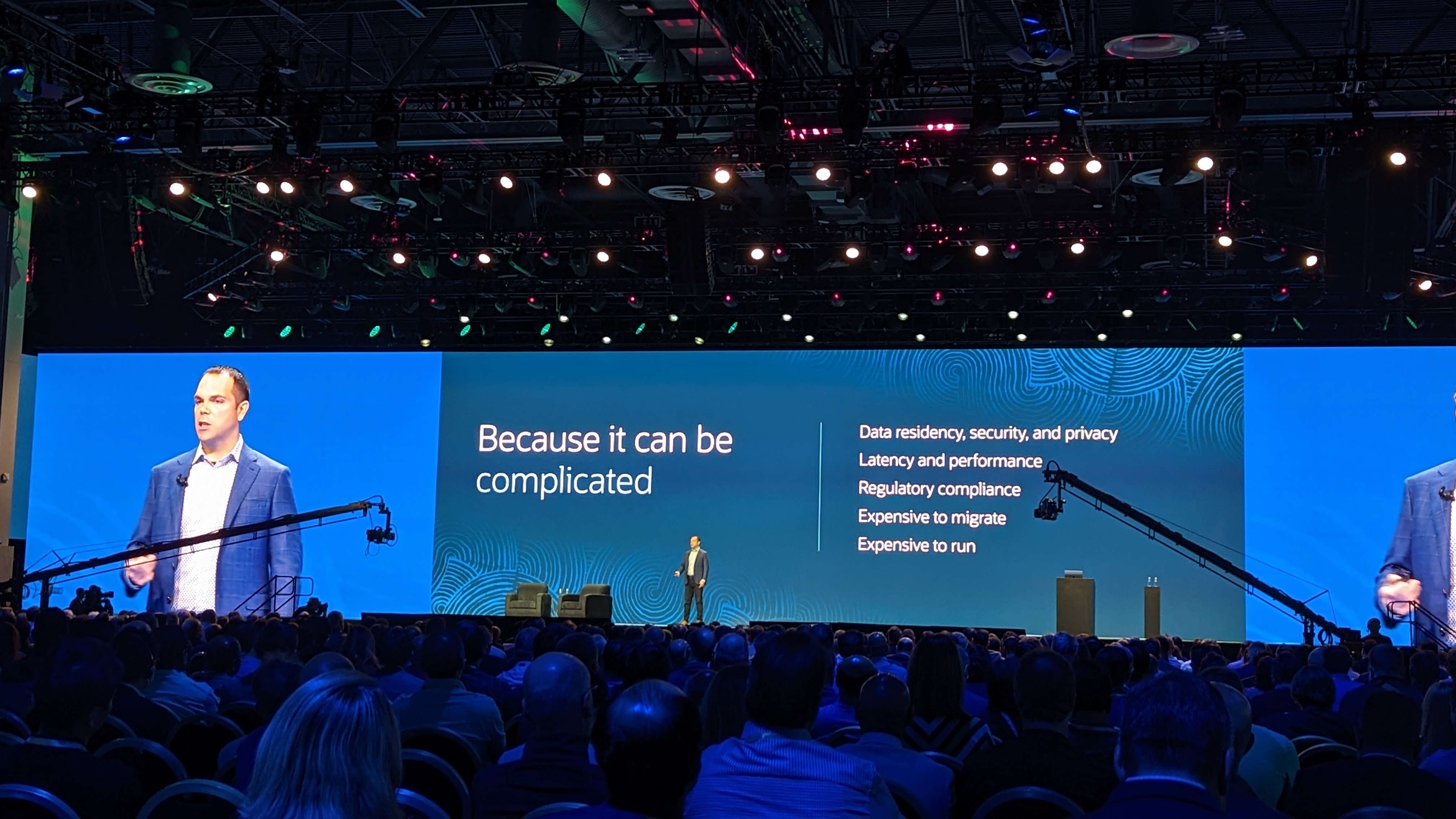 Despite all its advantages, public cloud adoption is still only at 32%, compared to 91% with smartphones, says Magouyrk - but why is that?
OCI wants to build "the new distributed cloud", Magouyrk says, including the ability to bring in data from other clouds, and having predictable and controlled running costs.
OCI Dedicated Region is a big part of this, allowing your business to have control and operate all of the systems you need.
"You've got public cloud right where you want it," says Magouyrk.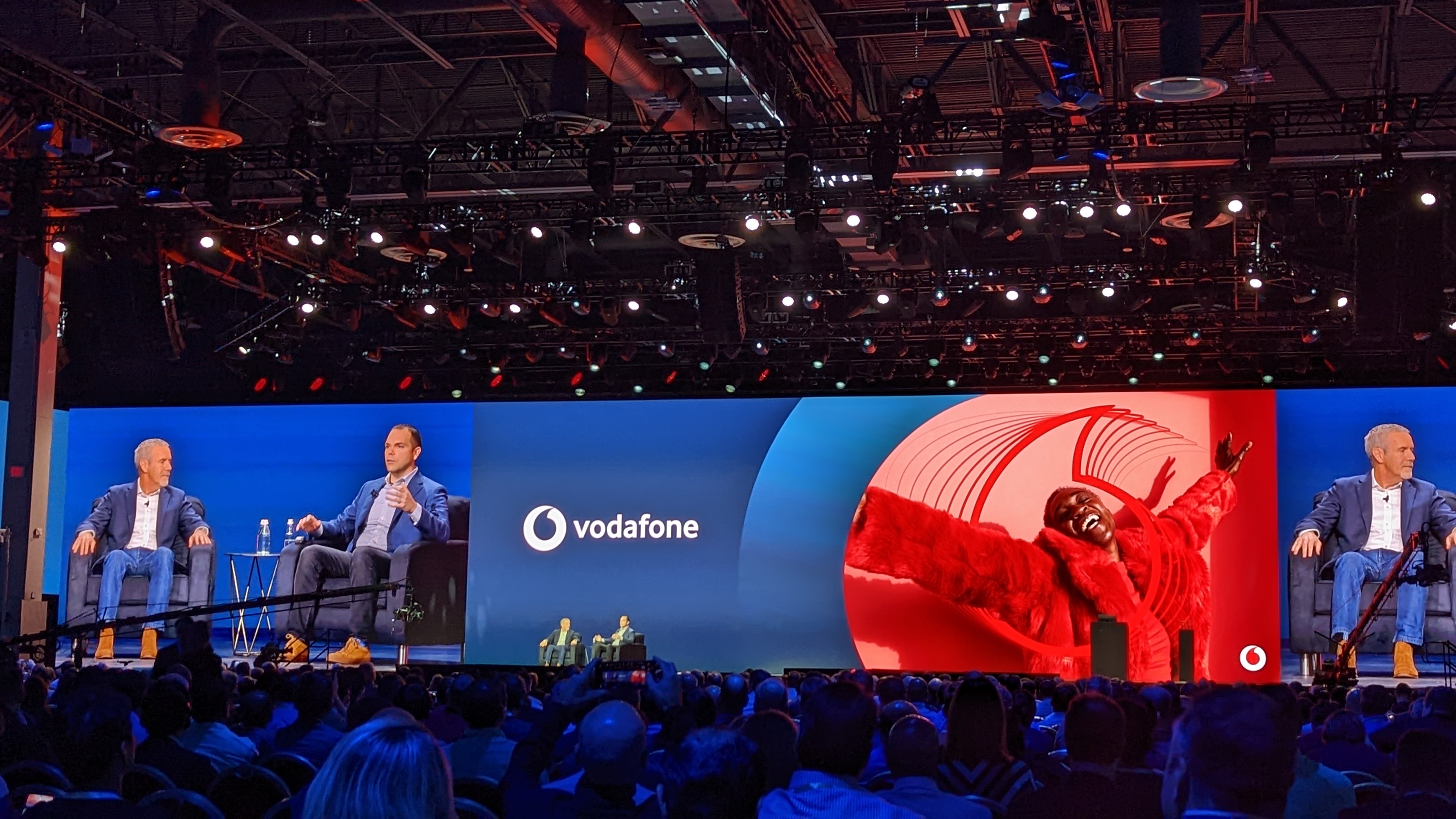 Here to talk about just how this all works is Scott Petty, CIO at telecoms giant Vodafone.
"The secret to success for us is really around our digital transformation," he says.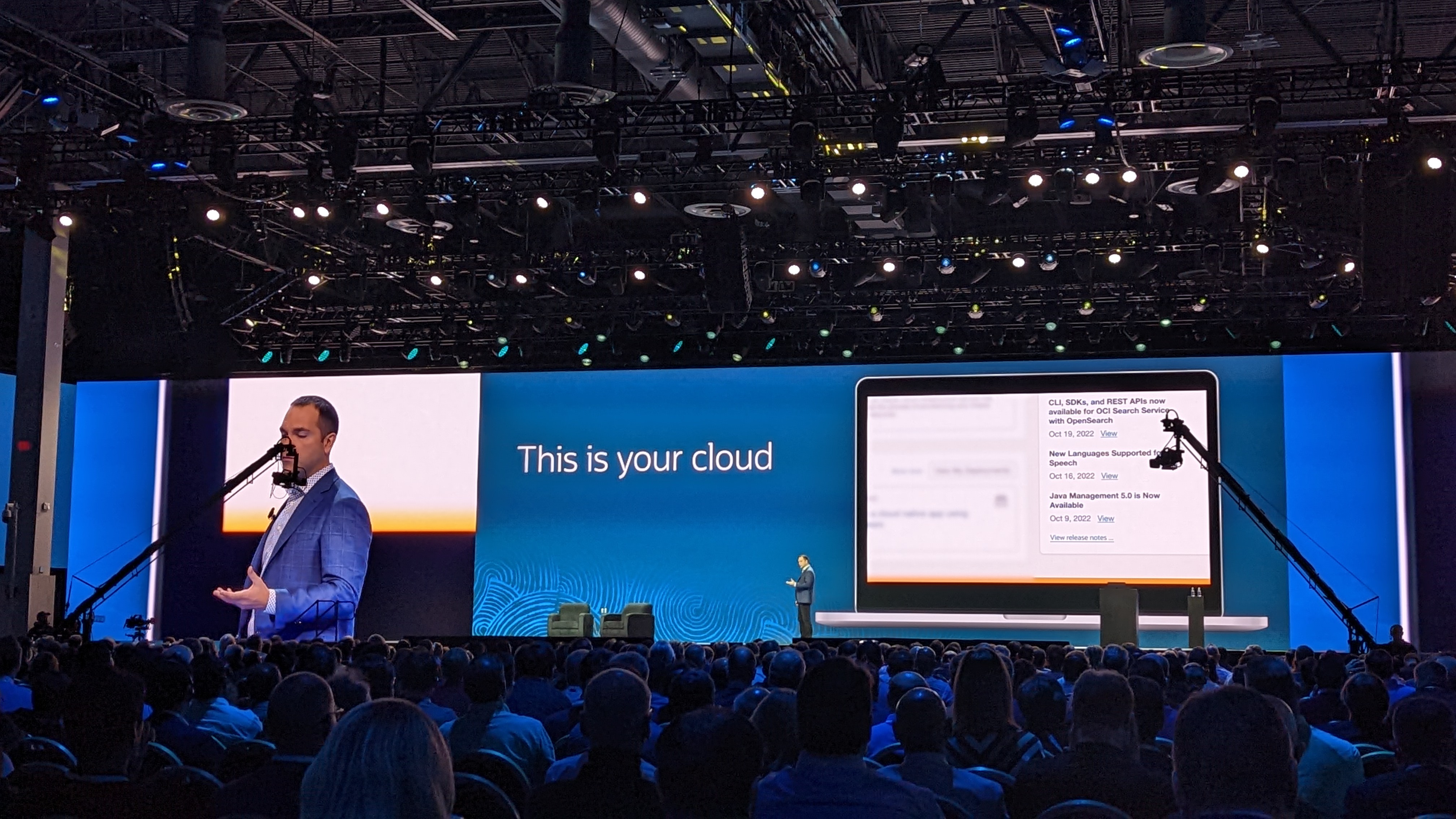 "We're not stopping here," Magouyrk says, noting how Oracle is looking to bring "everything available in our public cloud and bring it into a single rack."
This brings us to Oracle Alloy, the company's latest release to help with infrastructure control.
Magouyrk explains it as "bringing the best we have at Oracle with the best our local operators will have, in order to combine our strengths."
Oracle Alloy provides the same tools Oracle uses, so customers can build and create their own new services.
But it isn't just software, the platform will also allow you to bring your own hardware to address your particular needs
But what if you don't want to be a cloud provider? Magouyrk says that it does matter, as everyone wants better products at lower prices, and infrastructure control allows for this, meaning the power of the cloud can be realized by more people than ever.
82% of large enterprises use multiple clouds, Magouyrk says - a 27% increase from last year, showing that there is still no one perfect offering around today.
Oracle wants to help connect its services with other clouds, with services such as OCI Azure Interconnect bringing more tools to hundreds of customers around the world.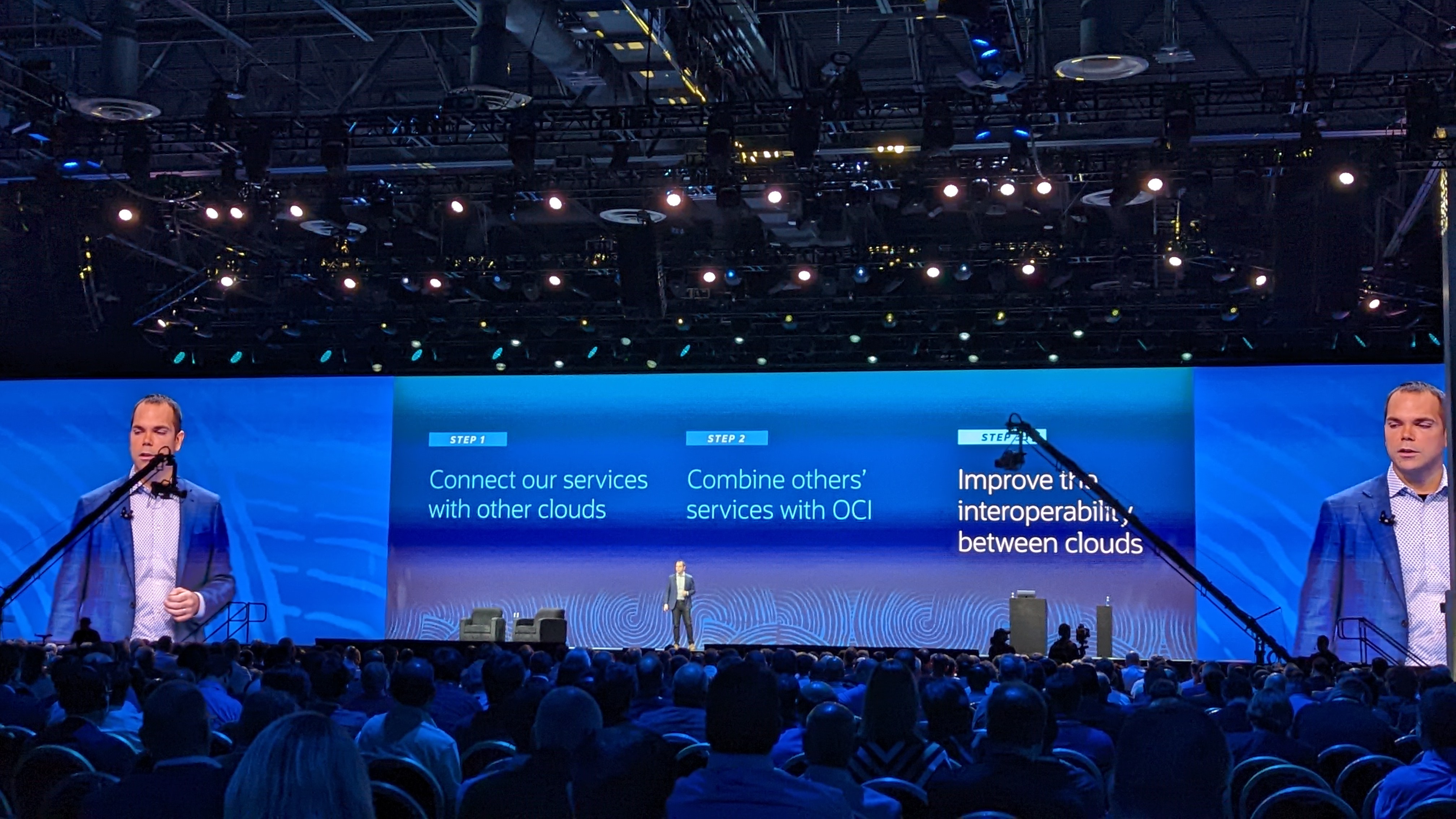 But Oracle is also happy to combine other' services with OCI, Magouryk says, as well as improving the interoperability between clouds.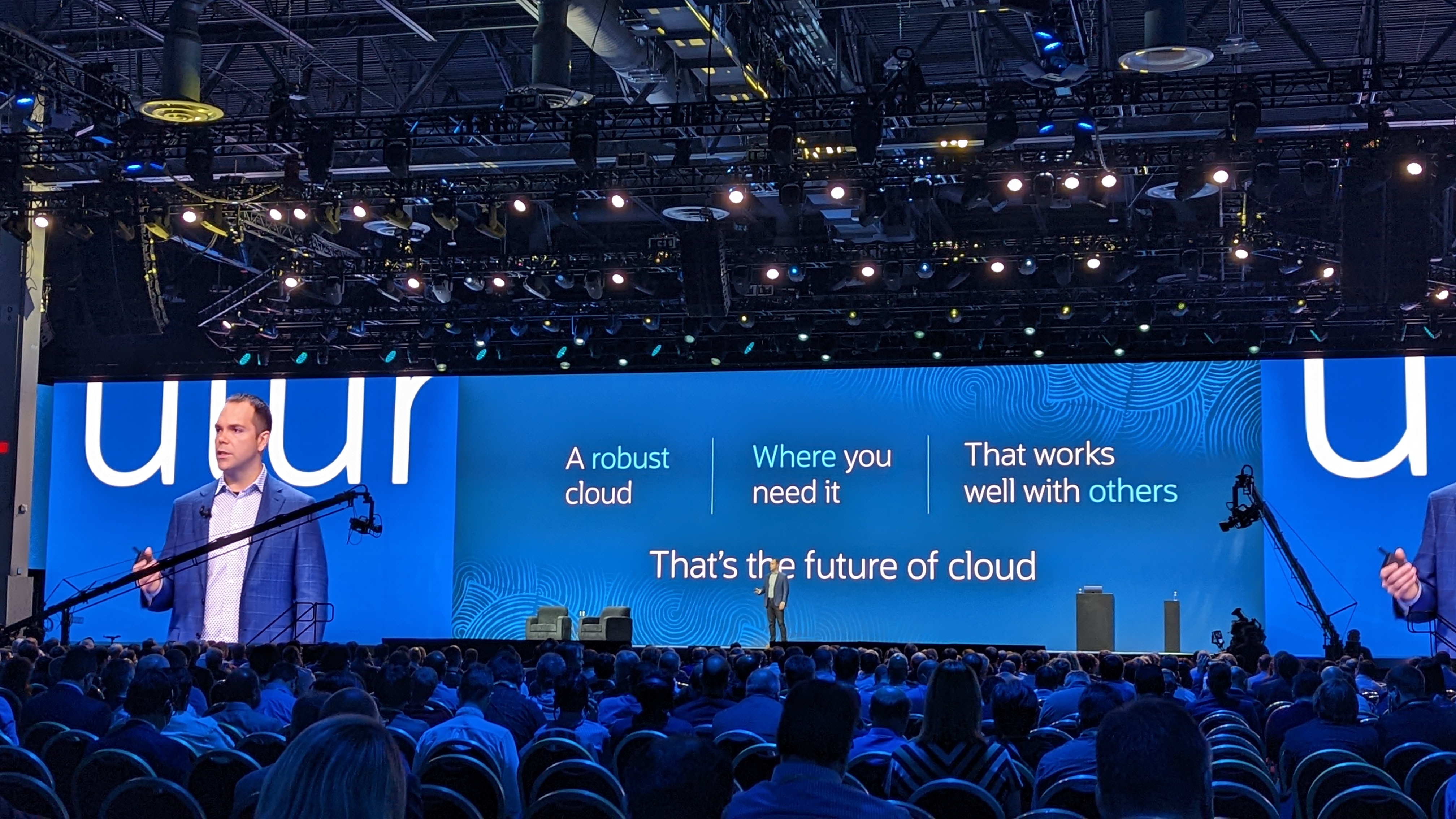 After a quick demo, Magouyrk now moves on to the "future of cloud" to wrap up.
The reason he works with OCI is to help companies of all sizes excel and be productive.
"I genuinely believe it's the highest productivity tool we have at Oracle," he says.
And with that, it's a wrap here on this morning's session!
We're off to go check out the show floor and get some coffee, and we'll be back with this afternoon's keynote in a few hours.
We're back, and seated for the final keynote from Steve Miranda, Executive Vice President of Oracle Applications product development.
Set to focus on Oracle Fusion Cloud Applications, we're expecting to hear more on what the company sees as its role in helping users across several different industries, as well as the usuall mix of customer stories and product announcements.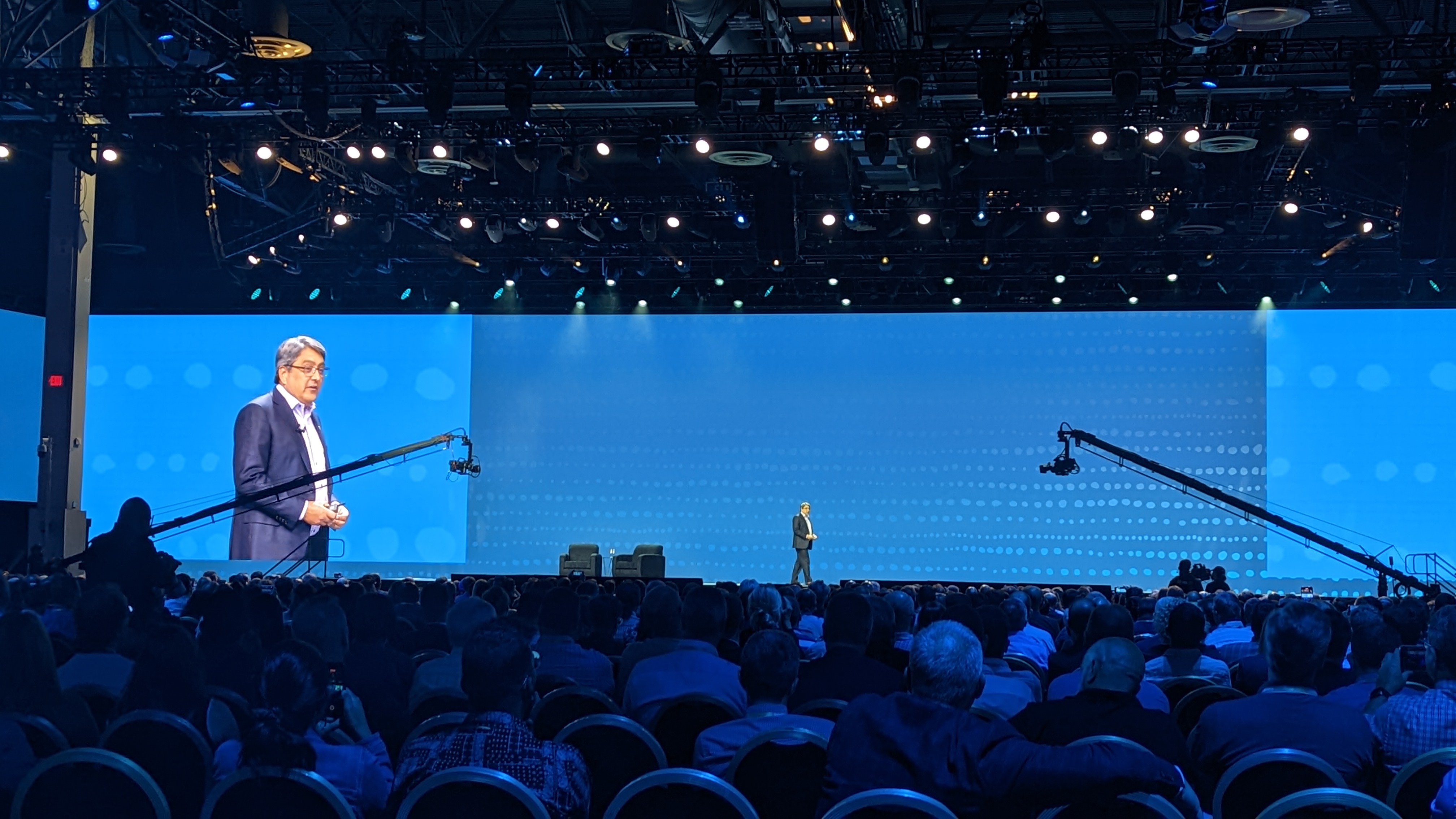 Miranda takes to the stage, and promises a packed agenda.
First up is a run-through of the company's position right now. Navigating an uncertain world is tricky for all companies, he notes, with Oracle pivoting and changing to address new needs and demands.
"The companies and individuals that embraced change came out better," he says.
There are plenty of issues affecting the world today, Miranda notes - but also plenty of opportunities offered by technology.
"There's one thing for certain - things will change, and the speed of change is only going to get faster and faster," he says.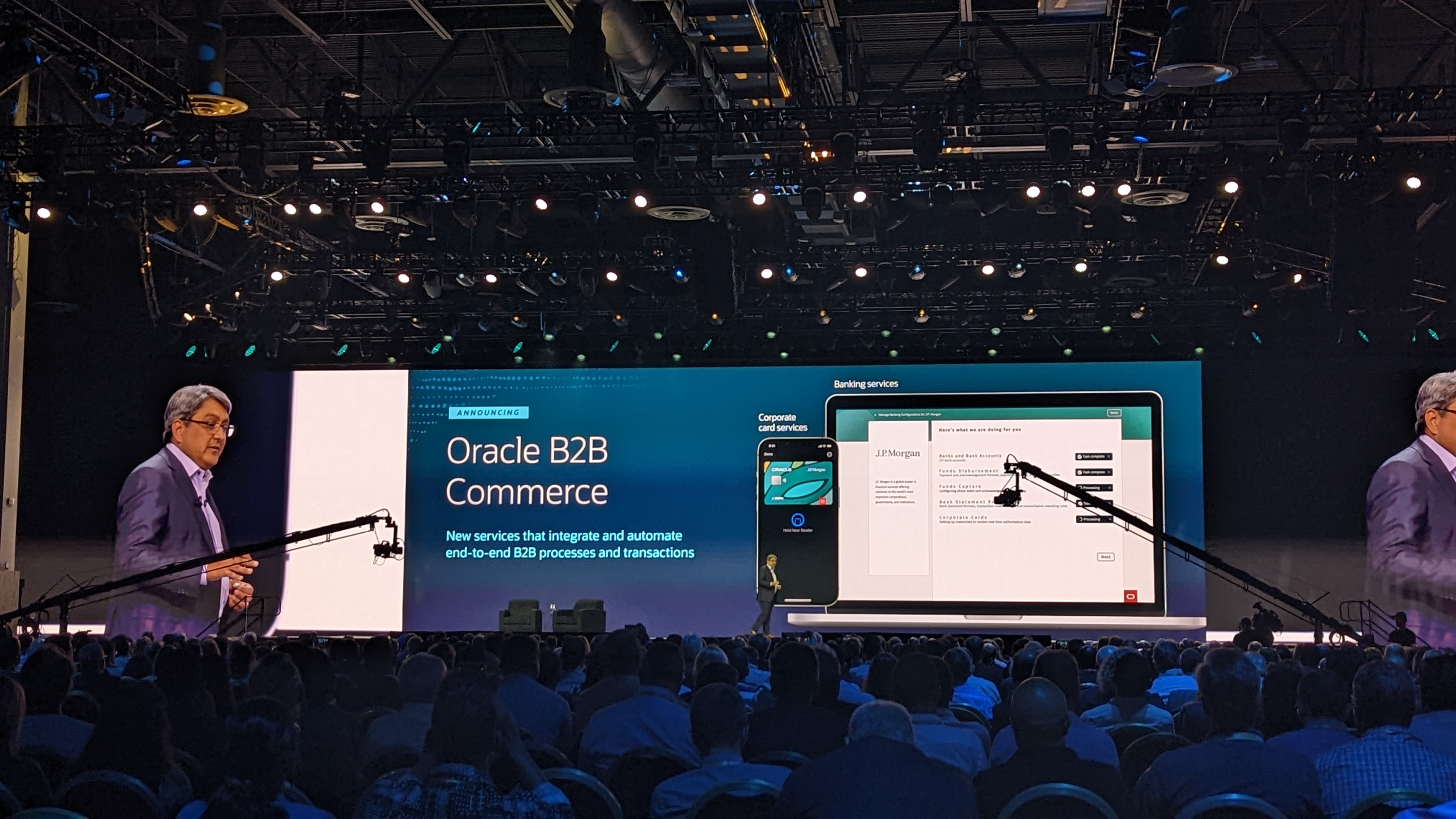 One tool to help with this is a new launch, Oracle B2B Commerce, launched in partnership with JP Morgan.
B2B commerce today is rather outdated, Miranda says, requiring too many steps and processes to complete.
"We're going to change how all that works," he says.
Over 40,000 buyers, sellers and service providers are set to benefit from this new launch, Miranda reveals, showing that the changes can be done quicker and more easily than before.
JP Morgan will be provided integrated payment systems, with FedEx offering integrated logistics services.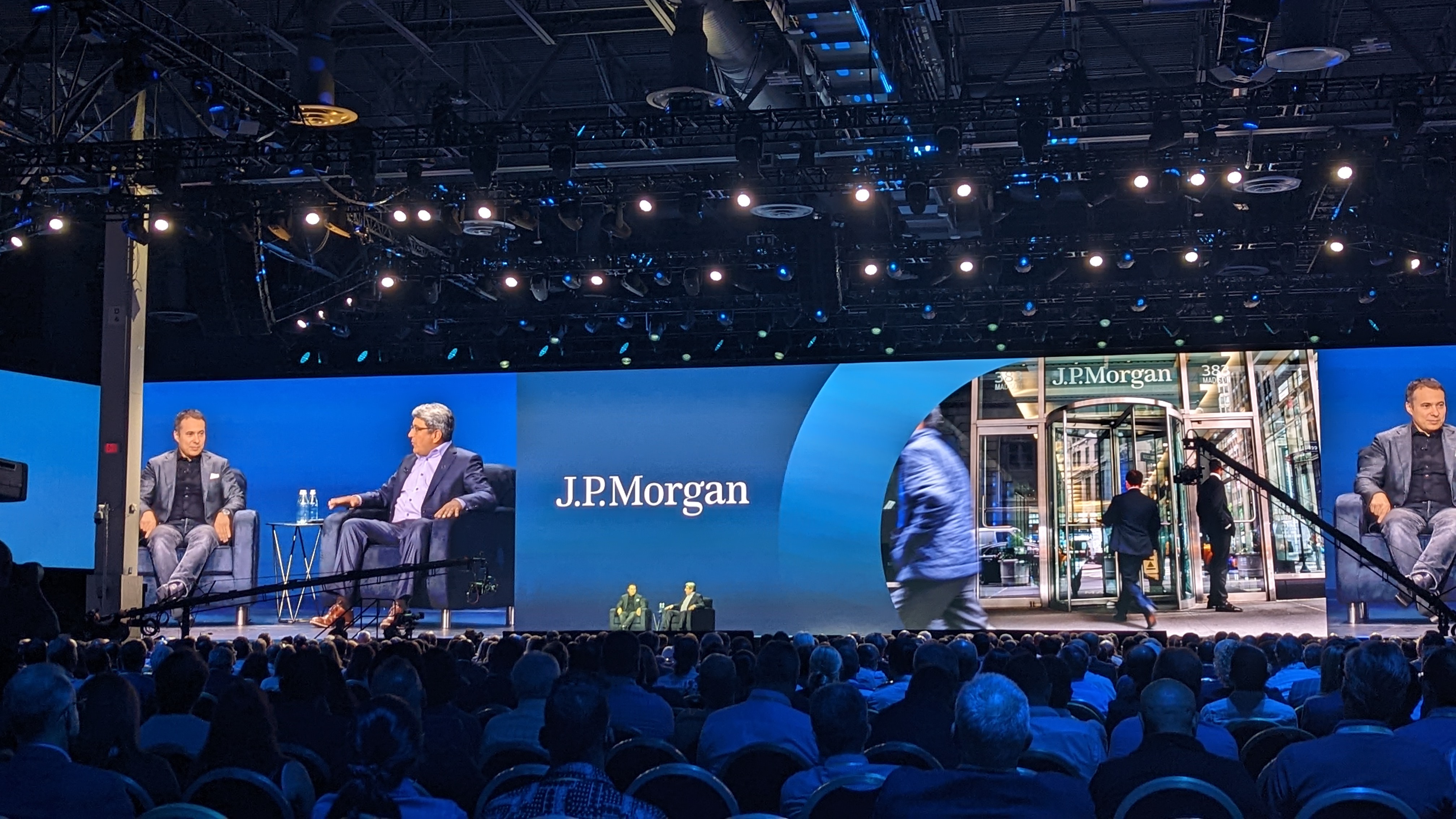 To talk us through the new offering, Miranda introduces Takis Georgakopoulos, global head of payments at JP Morgan on stage.
"We're always looking for ways to make our customer's lives easier", Georgakopoulos notes. "This is a big space for innovation, but we know we can't do it on our own...which is why we're excited to be working with Oracle."
Miranda explains that the new service will cut down on the complexity and time it takes to make payments of all kinds.
Georgakopoulos adds that interoperability is key, and he wants having your company move its payment processes to be as simple as updating to the latest iPhone.
Business travellers will appreciate the new expense filing policies, Georgakopoulos says, which make sorting and filing receipts easier than ever.
But enterprise-level transactions should also be much more straightforward, removing the complexity of deals and payments that previously required reams of forms or files.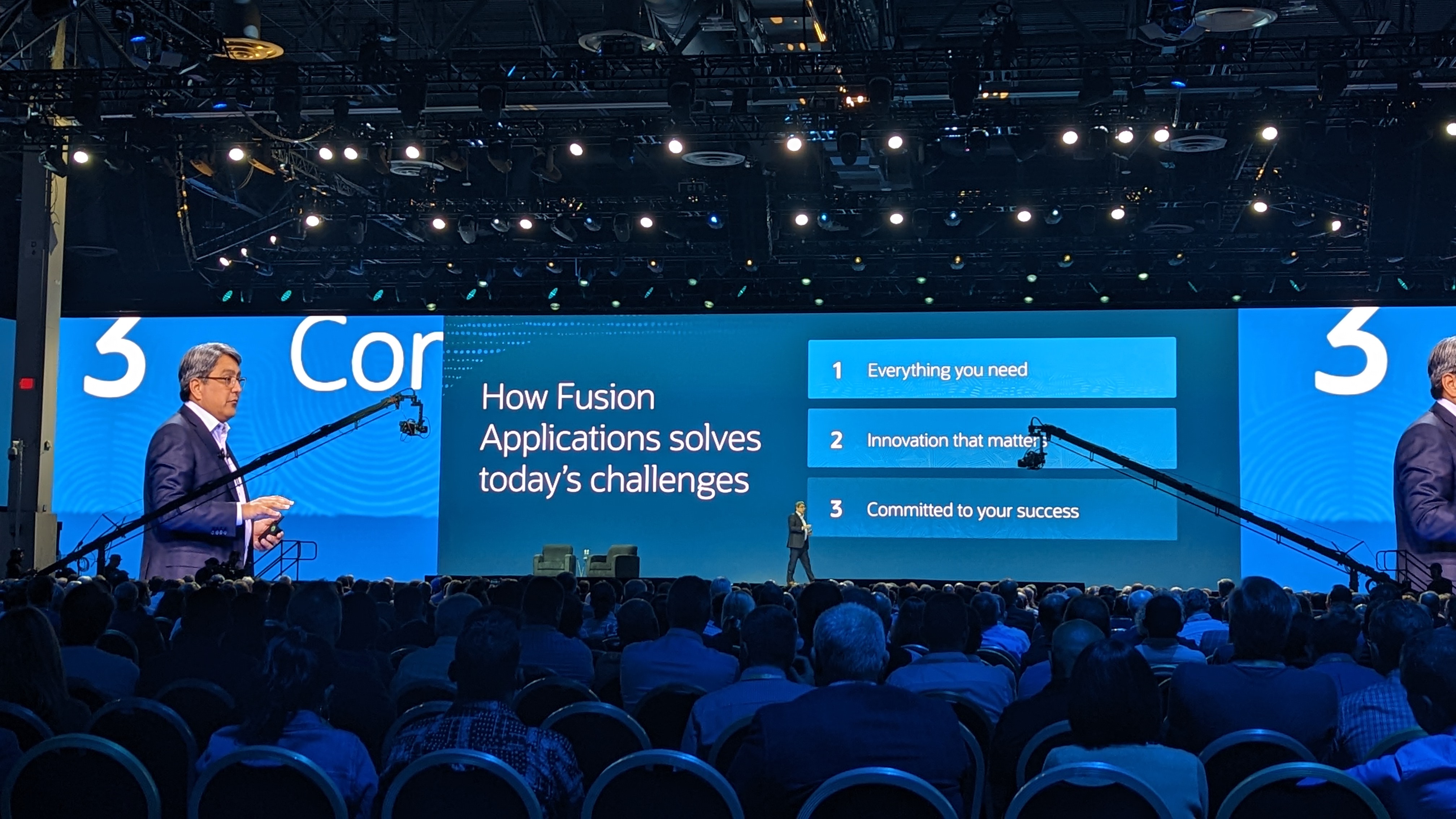 Next up, Miranda wants to look at how Fusion Applications can solve other challenges facing businesses today.
"We're quite proud to offer nearly everything that your business might need today," he notes, "we're 100% focused on your success".
"We believe we have the most complete portfolio of applications and infrastructure around."
Oracle's brand-new Redwood user interface looks to offer customers around the world a much simpler and more straightforward approach, again removing complexity and increasing efficiency.
"It's looking great," Miranda says admiringly.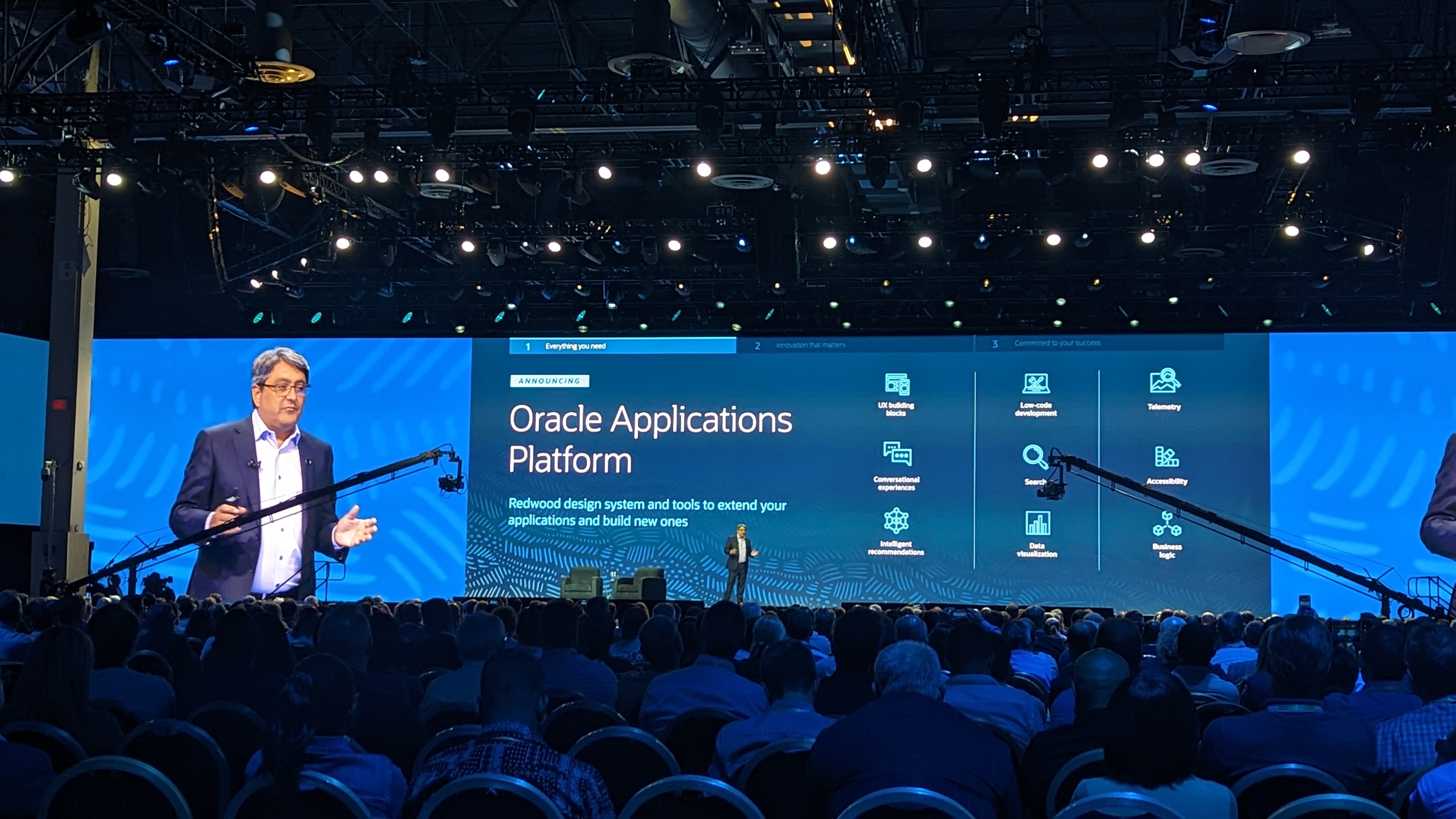 For those companies that still want to innovate and develop their own approach, Miranda reveals the new Oracle Applications Platform, which lets users extend their applications and build new ones, to make them look and feel how you want.
"It's the most complete suite, and everything you need," he says.
Oracle has already signed up a huge number of customers for the new platform, including healthcare firms, financial services and digital economy customers.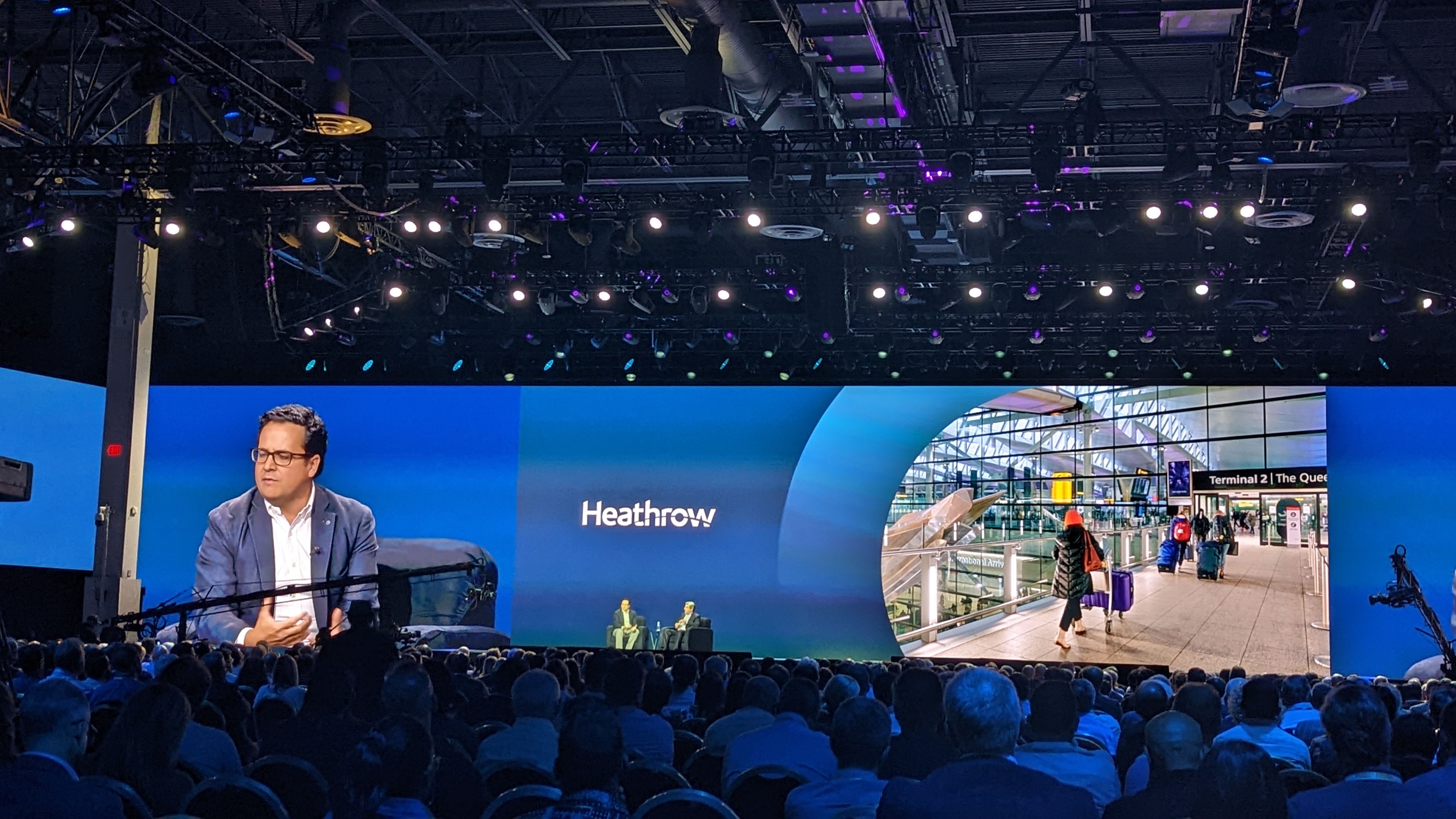 To tell us more, Javier Echave, CFO at London's Heathrow Airport, comes on stage to join Miranda.
Partnering with 80 airlines and working with around 400 companies, the airport is effectively a small city, Echave notes, requiring technology systems that are malleable and resilient.
Echave likens Spider-man's iconic quote of "with great power comes great responsibility" to the concerns that Heathrow has - and luckily Oracle is able to help, offering the tools and support the airport needs.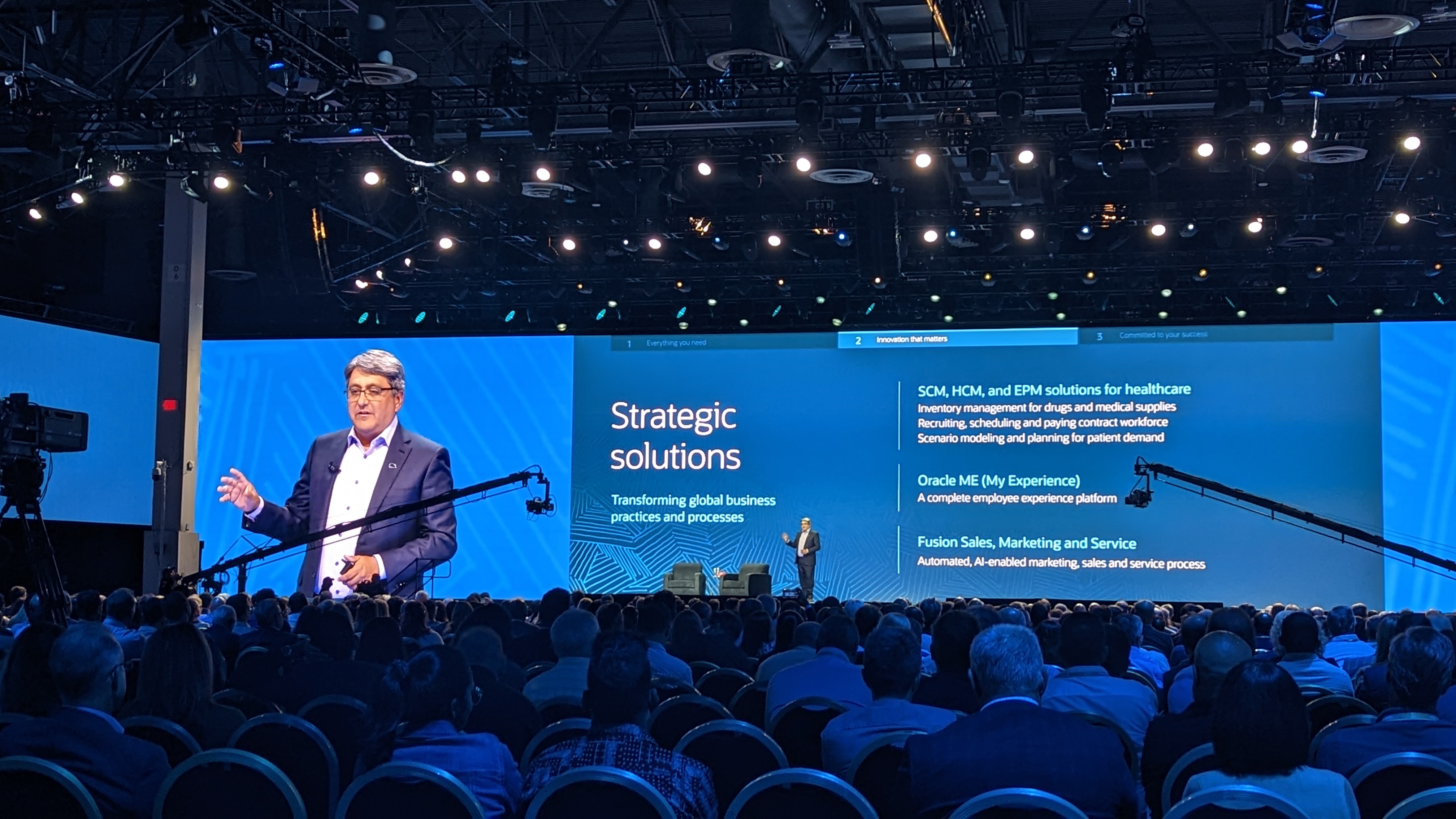 Next up, Miranda is looking at the strategic solutions Oracle has launched in orer to help businesses and customers across the world.
This includes Cerner healthcare applications, where Fusion is helping with supply chain management, including planning, procurement and inventory management.
The company is also helping with employee management, making sure businesses have the workers they need to be productive, and scenario modeling and planning to help with patient demand.
Finally (for this section at least) Miranda highlights some of the work Oracle does across education, health provisions, sustainability and more.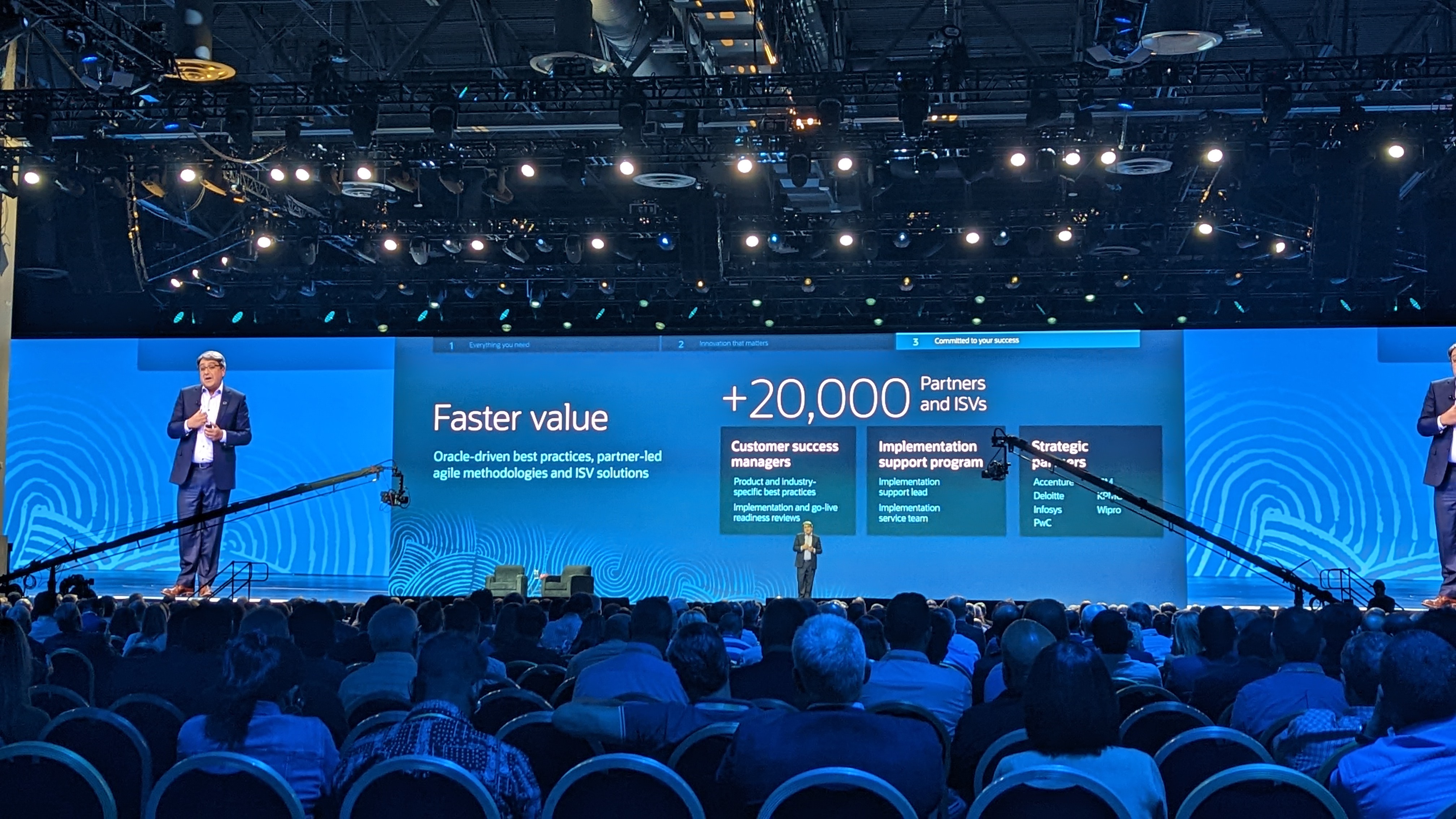 Miranda now moves on to the section he says he's most proud of - focusing on how Oracle is focused on helping its customers succeed.
He says the company has over 20,000 partners and ISVs, helping your business get up to speed fast. Its Oracle Cloud Customer Connect platform also boasts nearly 350,000 members, offering help and best practices, as well as the opportunity to provide feedback or offer suggestions.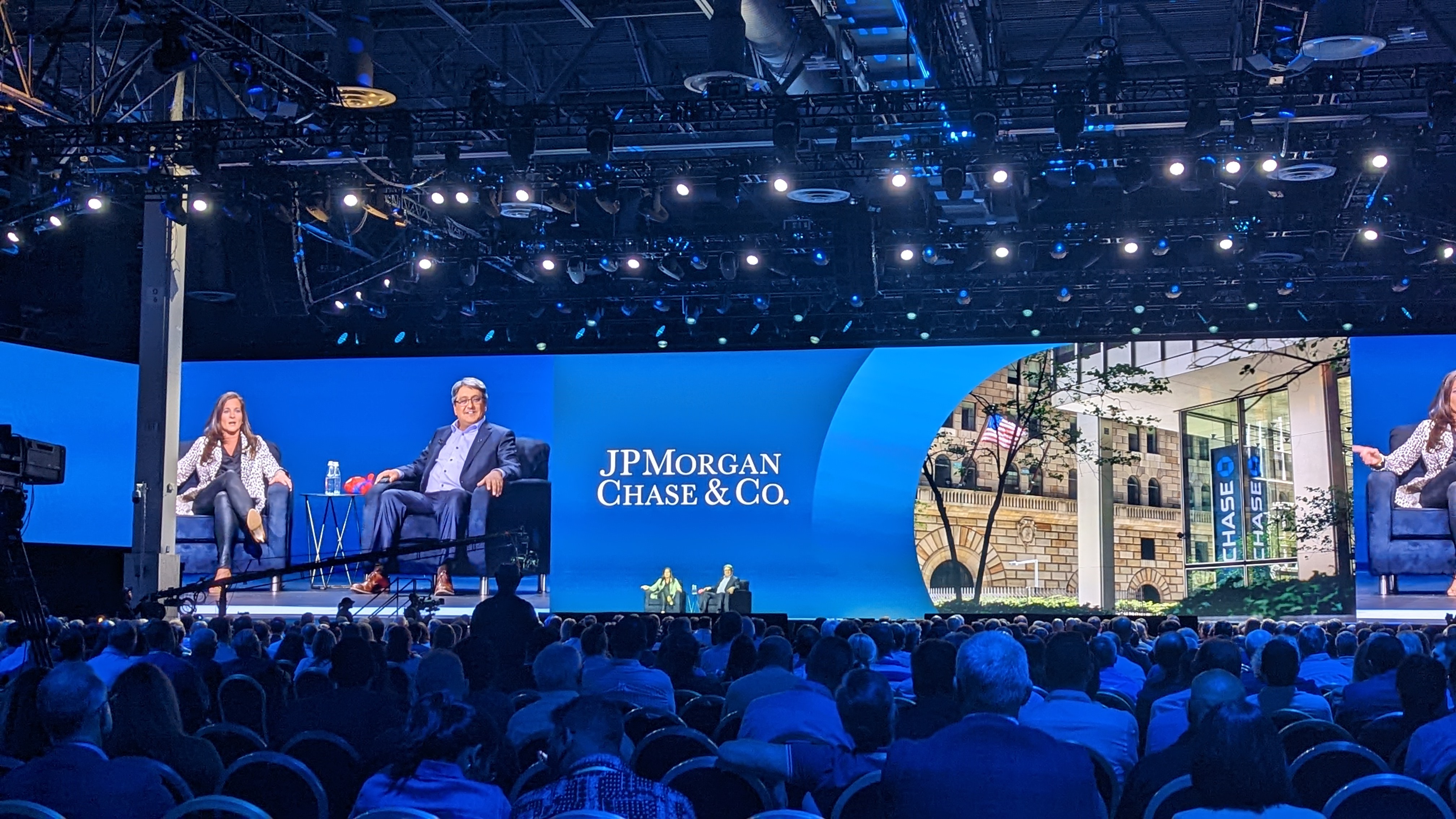 Mirandas' last customer is Jeanine Carlucci, head of employee digital & service experience at JP Morgan Chase & Co, who wants to highlight the work it does with helping its 300,000-odd workers across 70 countries excel.
This includes bringing 60 different platforms down to just one, using a whole range of Oracle services.
Wrapping up, Miranda thanks us all for coming along, and hopes Oracle can be the key to help all its customers succeed.
And with that, it's a wrap here at Oracle Cloud World 2022! Thank you so much for staying with TechRadar Pro through what has been an action and news-packed few days. Stay tuned for further write-ups from the show, and of course, all the latest B2B and B2C tech news you need.
Sign up to receive daily breaking news, reviews, opinion, analysis, deals and more from the world of tech.
Thank you for signing up to TechRadar. You will receive a verification email shortly.
There was a problem. Please refresh the page and try again.