Intel Vision 2022 live: New Alder Lake CPUs, data center GPUs, AI accelerators and more
All the news and updates from Intel Vision 2022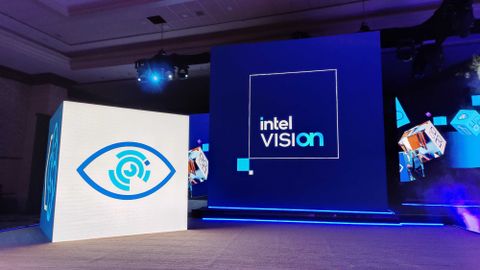 (Image: © Future)
TechRadar Pro was on the ground in Dallas for the inaugural Intel Vision 2022, the latest in the company's ON series of events.
There were keynote addresses led by CEO Pat Gelsinger and CTO Greg Lavender, featuring a supporting cast of executives, and a varity of Q&As and panel sessions covering the latest developments across client computing, the datacenter and more.
The show wasn't incredibly news-heavy, but there were a few key announcements you'll want to be aware of. For more details, check out the full liveblog and our additional coverage below:
Refresh
What to expect
Intel has kept its cards relatively close to its chest, but we do know we'll be hearing from spokespeople across the company's Client Computing, Accelerated Computing and Data Center business groups.
Essentially, there should be something here for everyone to get excited about, with product and service updates spanning the processors powering your devices, to the chips propping up the cloud.
In the meantime, here's some reading on the latest news to come out of Intel:
Good morning from Dallas
Intel Vision begins today and TechRadar Pro will be here with all the latest announcements.
First up is a keynote from CEO Pat Gelsinger, followed by more tightly focused sessions with the Client Computing and Data Center and AI business groups.
Rounding out the day is a roundtable session with Raja Koduri and Jeff McVeigh, during which we should hear more about the companies efforts in the graphics space, both from a device and data center perspective.
Keynote time
We're waiting now for Intel CEO Pat Gelsinger to take the stage for his keynote address. He should appear in roughly 20 minutes' time.
We expect new product and service announcements, and maybe an update on the progress of the company's IDM 2.0 manufacturting strategy, announced last year.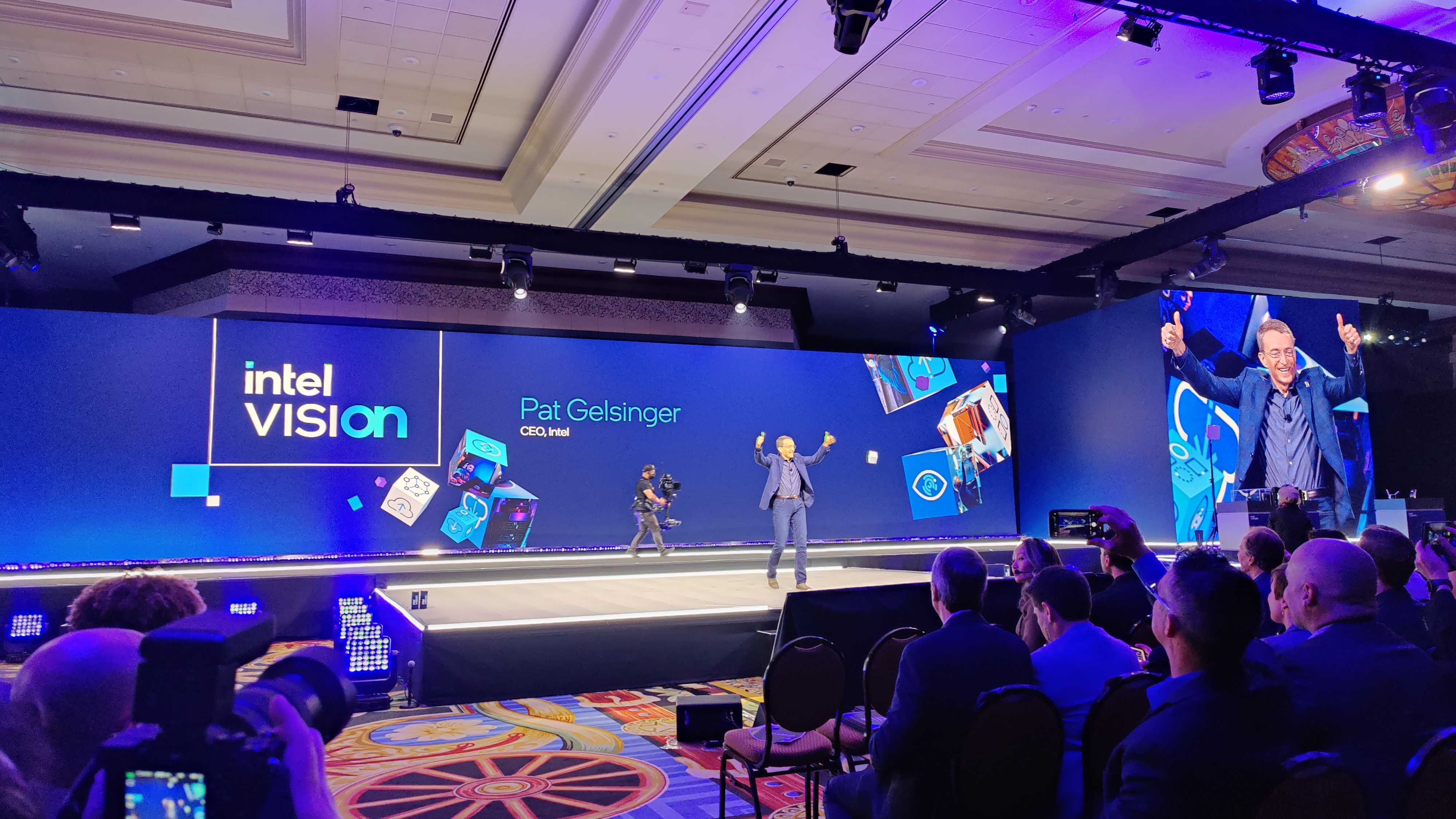 Hi there, Pat
The Intel CEO takes to the stage to welcome the audience back to the first major in-person event the company has put on since the start of the pandemic (and since his return to Intel).
"Today, the pace of technology is the fastest of your life, but the slowest of the rest of your life," he says. "We're sitting at the precipice of a digital rennaissance."
Four superpowers
There are four superpowers driving forward innovation, says Gelsinger: pervasive connectivity, ubiquitous compute, artificial intelligence and cloud-to-edge infrastructure.
"Each of these superpowers is impressive on its own, but when they come together, that's magic."
"If you're not applying AI to every one of your business processes, you're falling behind. We're seeing this across every industry."
An inflection point
"The world is at a strategic inflection point, a moment in time where things can go incredibly well, or incredibly poorly," Gelsinger adds.
"Transformation is inevitable, it applies to all. Every business is becoming a technology business."
IDM 2.0 and supply chain
Gelsinger takes a moment to nod towards the company's IDM 2.0 strategy, the objective of which is to position Intel at the forefront of chip manufacturing during a period of unprecedented demand.
"We will build leading edge capacity in the US, to support the demand for these four superpowers," he pledged.
"We're just getting started delivering that geographically balanced supply chain capacity."
The company has already sunk billions into new fabrication facilities across the US and Europe this year, but the implicit suggestion here is that there's more to come.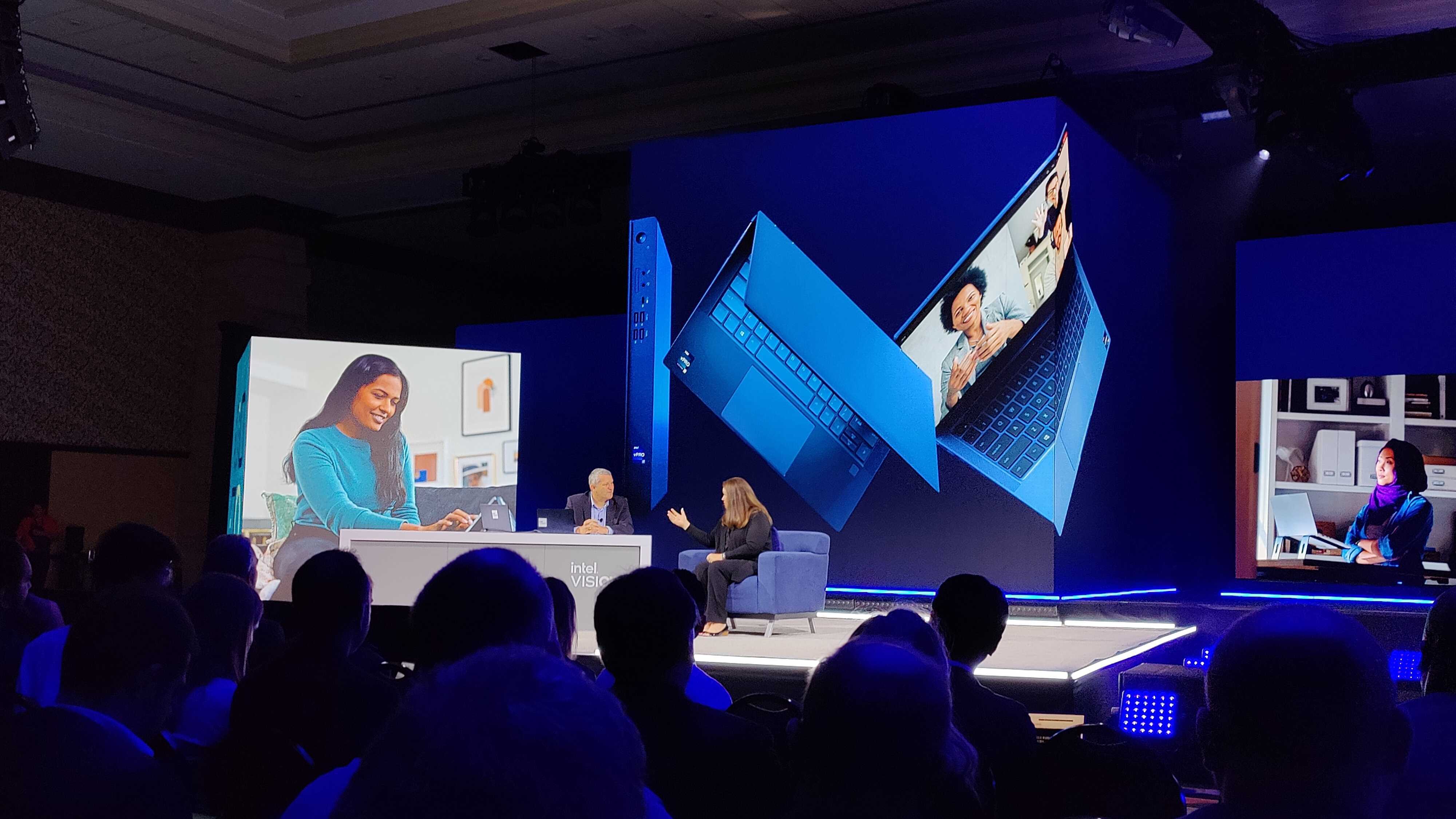 It's all about the PC
Pat Gelsinger exits stage right, replaced by Michelle Johnston-Holthouse (EVP and GM of Client Computing), who's here to talk about the humble PC.
"The PC is the human touchpoint we rely on to focus, create, connect and drive forward our business. I truly believe it's here to say," she says.
"I'd encourage you to imagine what the last two years would have been like if you'd had to work from your phone. The PC enables the workforce of the future."
There's ove 140 million commercial PCs that are four years or older, and this is holding business users back, adds Johnston-Holthaus.
ANNOUNCEMENT: 12th Gen Intel Core mobile workstation processor
Some news! Intel announces the launch of the 12th Gen Intel Core-HX mobile workstation processor, the final product in family.
The new chip delivers up to 16 cores, up to 5Ghz clock speeds and "unrivalled performance", we're told.
ANNOUNCEMENT: IPU roadmap
Sandra Rivera, head of data center and AI, takes to the stage to deliver an update on Intel's data center business line.
Rivera announces an extension of the company's infrastructure processing unit (IPU) roadmap, all the way out to 2026.
The company plans to deliver three new generations of infrastructure processing units (IPUs) within the next four years, we're told. The first new products - Oak Springs Canyon FPGAs and Mount Evans ASICs - will land by the end of the year.
We'll have more details on this later.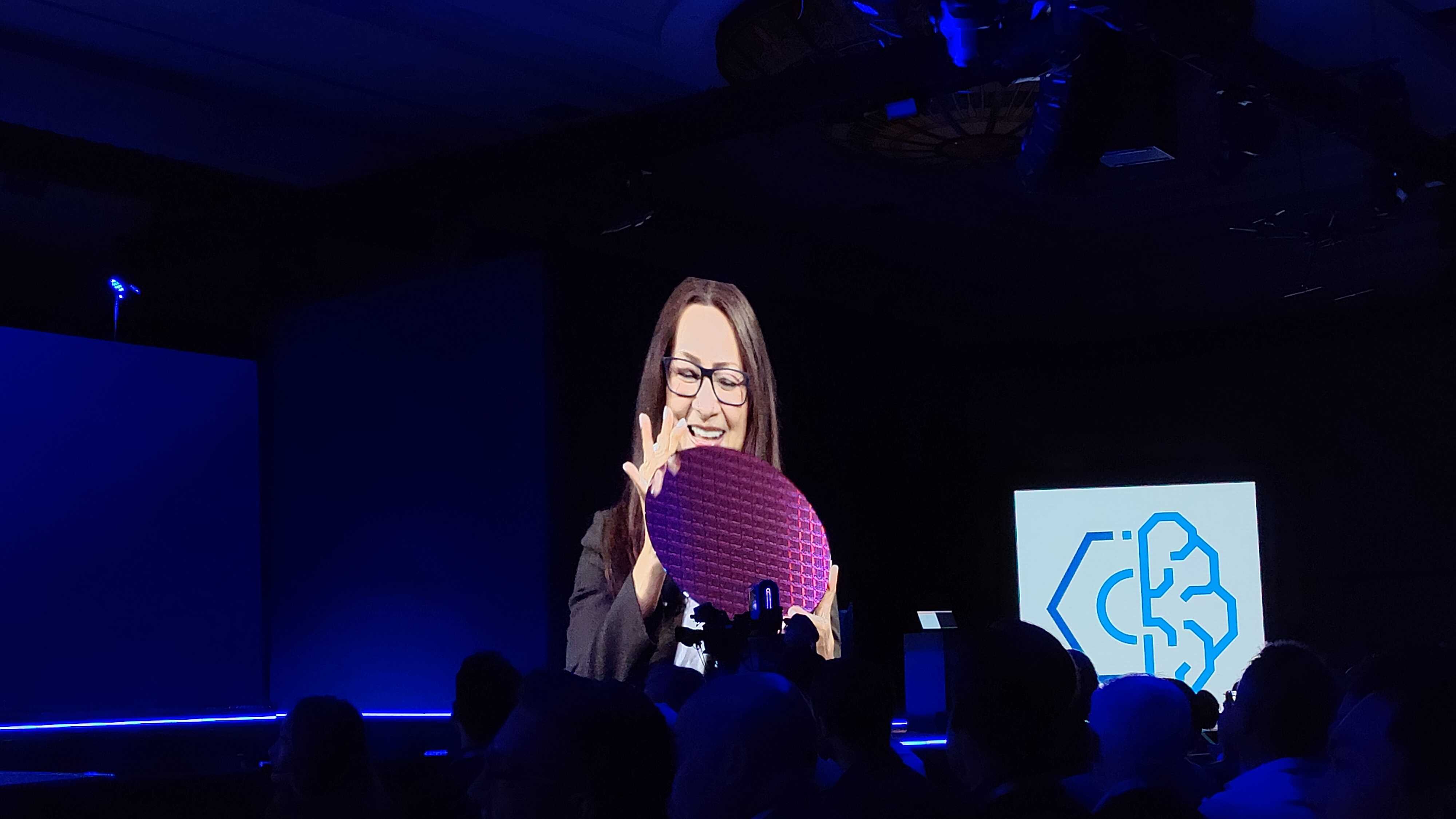 Sapphire Rapids
Rivera holds aloft a Xeon Sapphire Rapids wafer. Very shiny.
The company is already providing customers with 4th generation Xeon SKUs, but there's still no news as to when we can expect wide availability.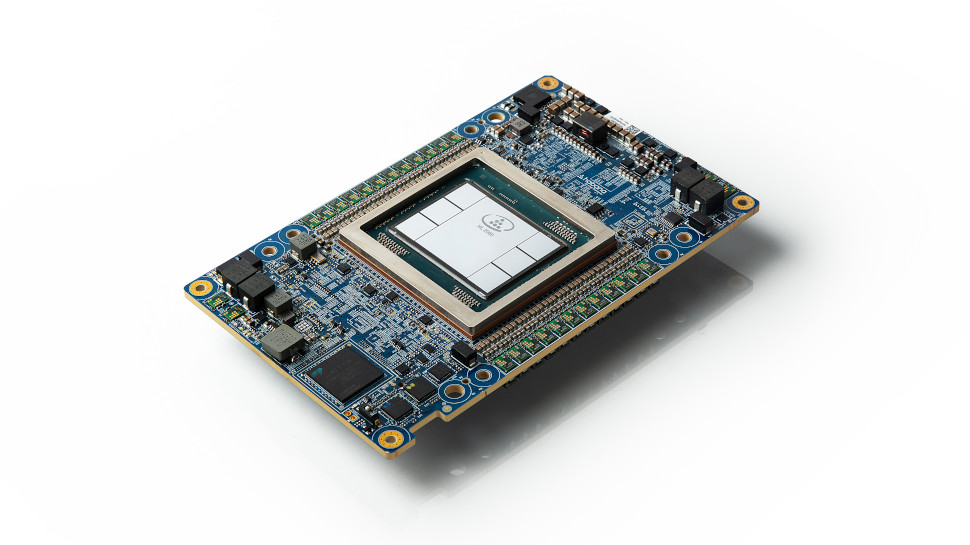 ANNOUNCEMENT: New AI accerators from Intel's Habana Labs
Intel has lifted the lid on a second generation of Gaudi accelerators that could reduce the time it takes to train large-scale AI models significantly.
The Gaudi 2 processors are built on a 7nm process, feature 24 integrated 100GbE RoCE ports and boast the largest quantity of memory of any accelerator on the market (96GB HBM2e).
The new processors are a product of Israel-based Habana Labs, which was absorbed by Intel back in 2019, and are designed for servers dedicated to deep learning workloads.
Read our full write-up here.
Zettascale computing
Raja Koduri, head of Accelerated Computing and Graphics (AXG), hits the stage to talk about what's next in the high-performance computing space for Intel. It's a space Intel dominates, but AMD has been gaining ground in recent years.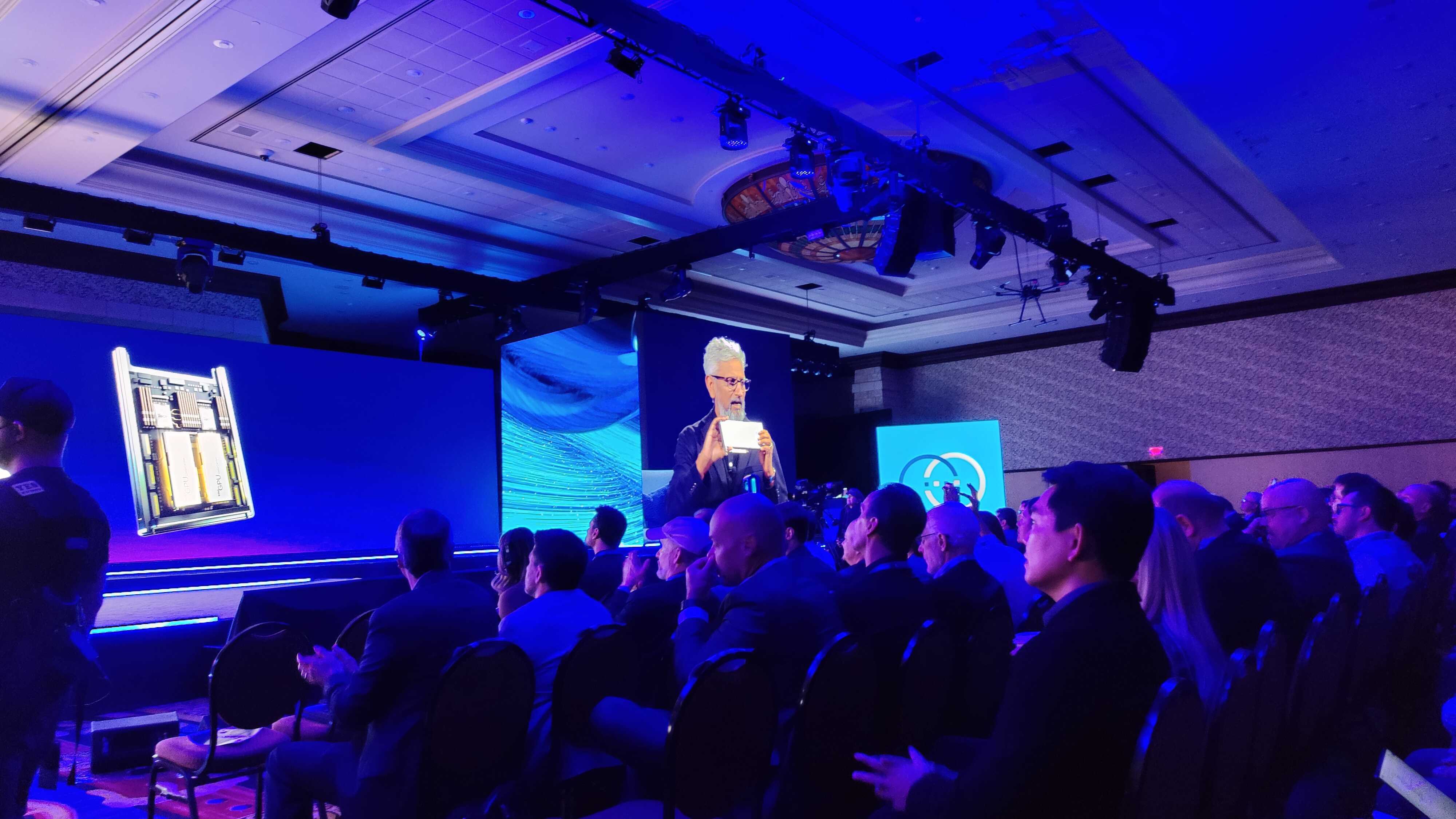 Intel Arctic Sound-M GPUs
Koduri holds aloft Intel's new data center GPU, Arctic Sound-M, first announced earlier this year.
Artic Sound-M GPUs feature up to 4x Xe media engines and up to 32x Xe cores and ray tracing units, and can apparently support up 40+ HD gaming streams and 30+ HD video streams at once. "It's a media supercomputer on a single chip," says Koduri.
Arctic Sound-M will be available to customers next quarter.
Aurora Supercomputer
Koduri invites to the stage Rick Stevens, Associate Director of Argonne National Labs, home to the Aurora supercomputer, which is currently under development.
Aurora is made of a large number of compute blades, each featuring 2x Sapphire Rapids CPUs and 6x Intel Ponte Vecchio GPUs, and each connected with thousands of other blades. When it goes live, the supercomputer will be among the most powerful in the world.
Announcement: Argonne will now invite academics to submit requests for time with Aurora while it's still under development.
Gaudi 2 accelerator demo
The COO of Habana Labs is on stage to deliver a demonstration of the deep learning training performance advantages of the new Gaudi 2 accelerators, mentioned earlier in the blog.
In comparison to Nvidia's A100 GPU, the Gaudi 2 delivers 2x the training throughput for both ResNet-50 and BERT, the most popular vision and NLP models, respectively.
"The higher the throughput, the faster the training, and the faster customers can achieve their goals," says Eitan Medina, Habana COO.
That's a wrap
To close out the keynote session, Pat Gelsinger is back on stage.
"There's so much that is simply not possible, yet. But we are setting a torrid pace, with our purpose at the center, to create world-changing technologies that improve the lives of everyone on the planet," he says.
"Today's rennaisance will set the stage for tomorrow."
Comments from the press Q&A
Pat Gelsinger, CEO, on ramping up manufacturing capacity:
"We're on or ahead of schedule for all of our building an expansion projects, but it's super important for the US House and Senate to finish the CHIPS act. Get this frickin' thing done, because we need it to accelerate the industry."
Sandra Rivera, CVP and GM, Datacenter and AI, on hyperscalers building their own custom silicon:
"Hyperscalers are some of our big volume drivers, and they are counting on us to deliver sustainable, durable capability for their data centers. For their large-scale deployments, they still rely on Xeon."
"But they also want durable innovation. We can deliver some of that with Xeon, and there is also the opportunity with our foundry business to enable hyperscalers to innovate on unique IP."
Gelsinger, on the importance of software:
"I have more software engineers working for me now than I did at VMware. The role of software has become dramatically more important and we don't believe that will change."
"We're going to do a lot more SaaS, and a lot more SaaS acquisitions, pulling silicon differentiation through SaaS services. Silicon plus SaaS equals solutions, and you're going to see us doing a lot more of that solutioning."
Intel CEO on CHIPS Act: 'Get that frickin' thing done'
Intel CEO Pat Gelsinger has once again called for the US House and Senate to reach an agreement over the CHIPS Act as a matter of urgency.
The CHIPS Act is a piece of US legislation designed to facilitate the onshoring of a larger proportion of the semiconductor supply chain in the face of rising tensions with China.
Once passed, the act will unlock tens of billions of dollars in federal funding for semiconductor research and manufacturing, much of which will land in Intel's pocket. The US House and Senate agree on the need for the legislation, but have been slow to iron out the specifics.
At Intel Vision 2022, Gelsinger explained the company's current fab building and expansion projects are "either on track or ahead of schedule". However, he also warned that the CHIPS Act is necessary to "accelerate the industry".
Read our full report here.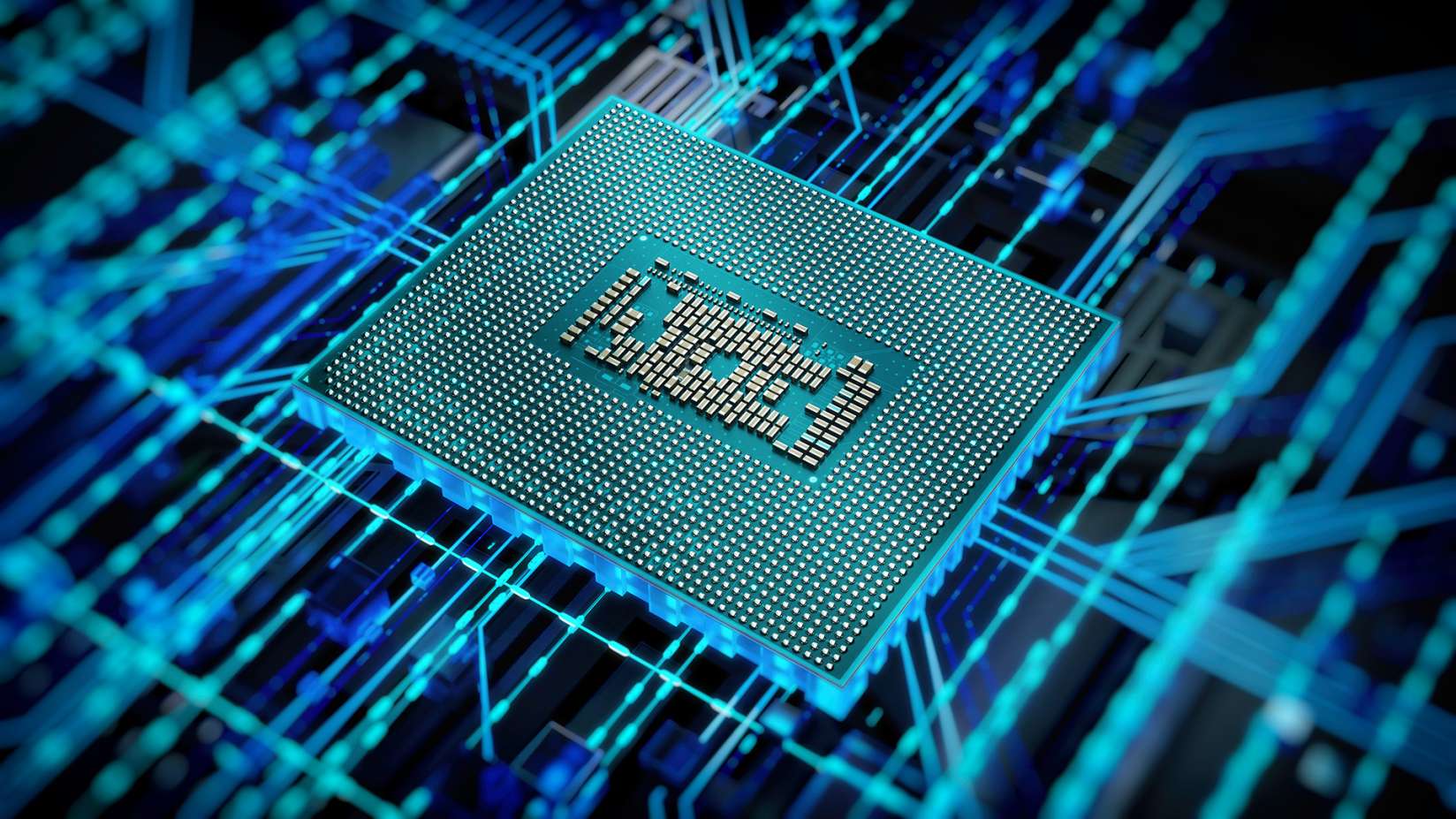 Intel announces its most powerful mobile CPU ever: a 16-core Alder Lake monster
Intel has announced its most powerful mobile CPU to date, the new 12th-gen Alder Lake Core HX-series.
The Core i5, i7, and i9 HX-series chips will be unlocked, meaning overclockers will be able to push a mobile chip even farther than they could before; Intel promises desktop-caliber performance in mobile laptops and workstations.
That may seem like a tall order, but the new chips will feature as many as 16-cores/24-threads, PCIe 5.0 x16 and up to 128GB DDR5 RAM support, as well as 55W of base power to the silicon.
Read our full report here.
Hot wafer action
Intel is displaying a number of its wafers on the exhibition floor here at Vision. Alder Lake and Sapphire Rapids wafers are on display (left-most), but also Meteor Lake, Intel 20A and Intel 18A.
The photo doesn't do them justice; they're even prettier in-person.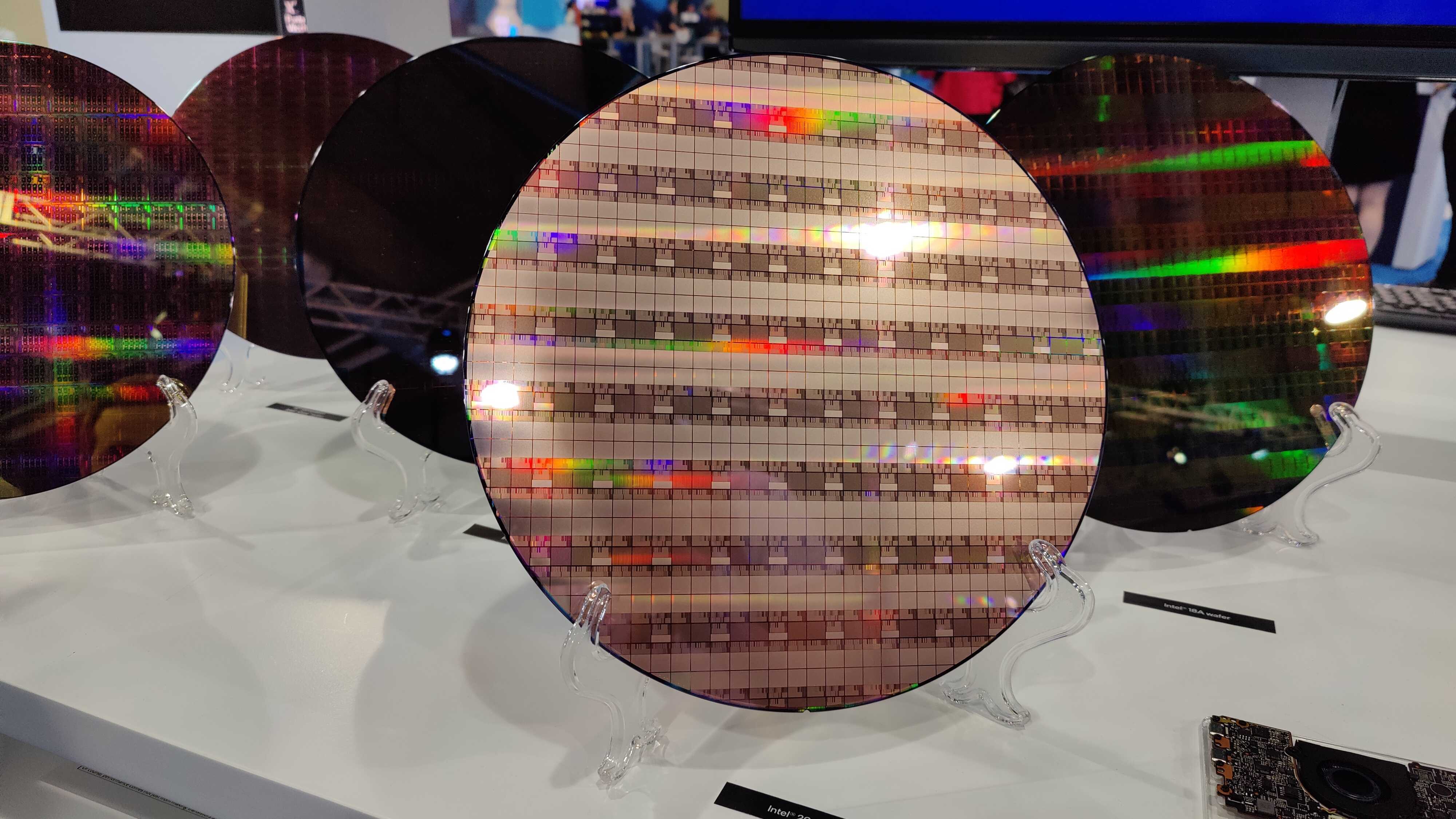 And that's it for day one of Intel Vision 2022. Make sure to come back tomorrow for more Intel fun.
Welcome back for day two
We're back for the final day of Intel Visions 2022, which kicks off with a keynote from Greg Lavender, Intel CTO. We expect this morning's presentation to focus on the company's efforts in the software space, which is of increasing strategic importance.
Yesterday, CEO Pat Gelsinger offered a sneak peek of what may be to come:
"I have more software engineers working for me now than I did at VMware. The role of software has become dramatically more important and we don't believe that will change."
"We're going to do a lot more SaaS, and a lot more SaaS acquisitions, pulling silicon differentiation through SaaS services. We believe silicon plus SaaS equals solutions, and you're going to see us doing a lot more of that solutioning."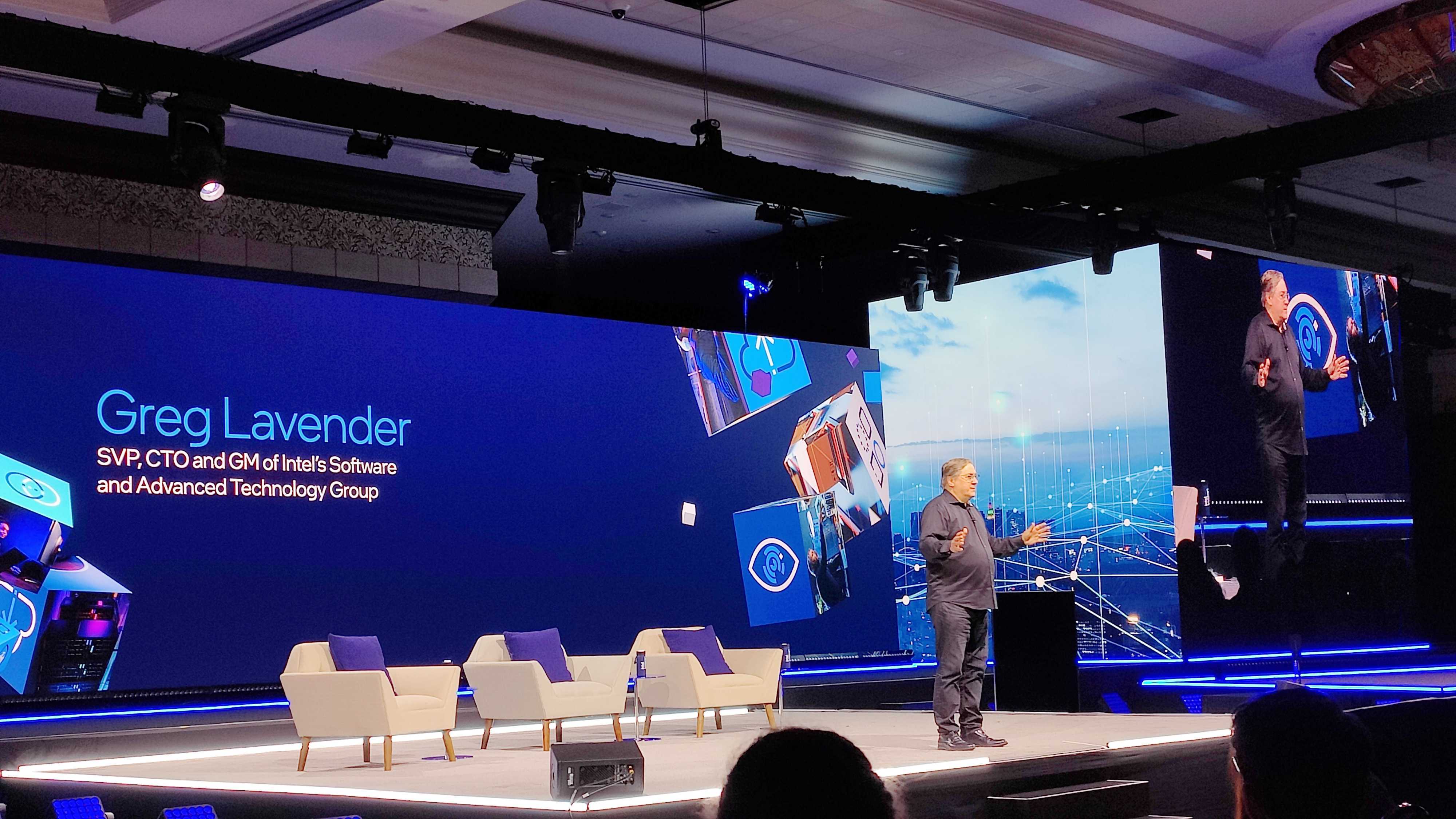 Day two keynote
Greg Lavender is on stage to kick off the day two keynote. The first topic on the docket: cybersecurity.
Cybersecurity
"We understand businesses have more technology than ever to manage. Intel has the same challenges," says Lavendar.
"Technology solutions need to protect data not only at rest and in transit, but also in-use in RAM. And while security needs to meet the needs of today, it needs to meet the needs of tomorrow as well."
With this in mind, Lavender says he'll touch on three topics today: confidential computing, secure and responsible AI, and preparing digital environments in anticipation of the quantum computing era.
Confidential computing
Lavender highlights the need to protect sensitive data in use - a practice know as confidential computing. Intel Xeon CPUs support confidential computing across a number of use cases, but furhter improvements are coming, says Lavender.
ANNOUNCEMENT: Project Amber
At the heart of confidential computing is a process known as attestation, whereby the trustworthiness of an evironment is verified.
Intel is announcing a new SaaS offering, codenamed Project Amber, which Lavender describes as a cloud-agnostic Trust-as-a-Service (TaaS) solution that decouples attestation authority from the infrastructure provider.
"This decoupling helps provide objectivity and independence to enhance trust assurance to users and application developers," he explains.
"Project Amber's initial offering will be a cloud agnostic, multi-cloud, federated service with provable integrity of its verification processes."
The service will pilot with customers later this year.
Securing AI
Lavender highlights the cost of developing AI models, which means protecting IP is absolutely vital. The convergence of AI and security is also central to developing responsible AI, he says.
Although not the service's primary pupose, Intel says its OpenVINO platform can be used as a useful tool for shielding AI against malicious actors.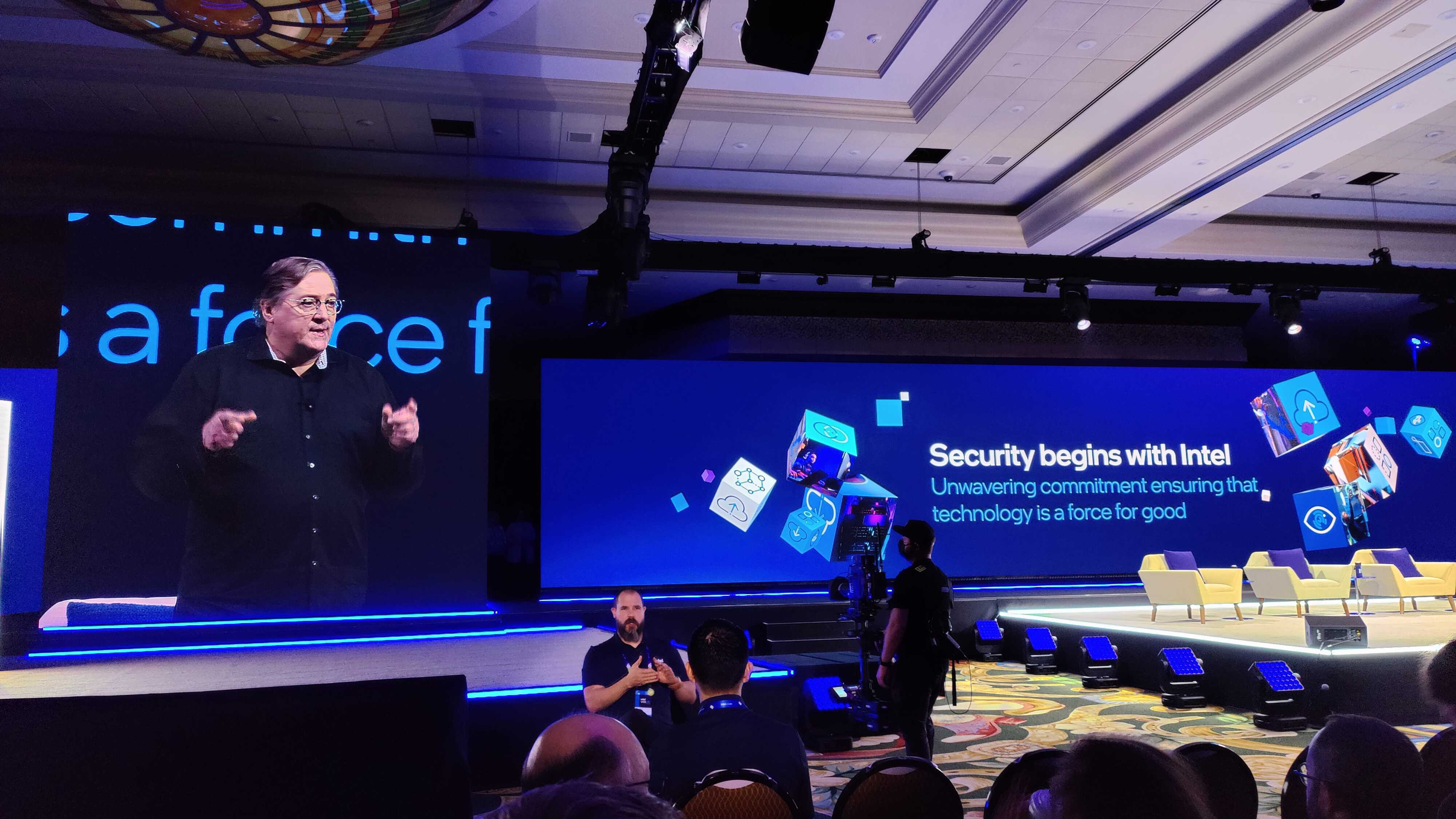 Quantum-powered attacks
A hot topic in recent years: the potential for powerful quantum computers to render modern encryption techniques redundant. The broad consensus is that machines powerful enough to break encryption will land within the next decade; "the time to prepare is now," says Lavender.
"Intel is actively working to protect against the threats posed by quantum computers, but we have more work to do."
"We have a shared responsibility to protect critical infrastructure from quantum adversaries."
Intel has a three-step approach to shielding against quantum attacks by 2030:
Increasing key sizes by replacing AES-128 algorithms with AES-256
Increasing the robustness of code with quantum-resilient algorithms
Replacing public key algorithms with post-quantum crypto algorithms
Panel discussion time
Lavender wlecomes Mike Russinovich (Microsoft Azure CTO) and Jamie Thomas (IBM's GM for Strategy and Development) to the stage to discuss some of the strides the security industry has made over the last through years and is poised to make over the next decade.
Thomas highlights the unprecedented scale and sophistication of attacks during the pandemic, gesturing towards the SolarWinds, Kaseya and Log4j incidents.
The group discuss the importance of enhancing patch management processes, the potential to eliminate phishing attack vectors in a passwordless future and more. Lavender says Intel is working on a service that allows patches to be rolled out without rebooting machines, which would be a boon for organizations that cannot abide significant downtime.
And that's it from the keynote. After a rather abrupt end, Lavender exits the stage with a wave.
We were expecting more announcements, to be frank, but it appears the Project Amber news will effectively round out the show.
New Intel service tackles a fundamental cybersecurity problem
Intel has announced a new SaaS product, codenamed Project Amber, that promises to solve a fundamental cybersecurity challenge for businesses.
Unveiled by Greg Lavender, Intel CTO, during his keynote address, Project Amber is described as a Trust-as-a-Service (TaaS) offering that provides remote verification of trustworthiness across cloud, edge and on-prem environments.
The service is slated to enter pilot before the end of the year, and will also be integrated into products from third-party software vendors further down the line.
For more details, check out our full report.
Intel dishes new details on its Arctic Sound-M GPUs
Intel has offered up fresh details on its new line of datacenter GPUs, codenamed Arctic Sound-M (ATS-M), first announced in February.
At Intel Vision, the company revealed there will be two ATS-M variants; one 150W card for peak performance, and a 75W card for maximum density.
Based on Intel's Xe-HPG microarchitecture (the same that underpins the firm's Arc chips), the new server GPUs boast 4 Xe Media Engines, up to 32 Xe cores and a built-in AI accelerator. The company remains tight-lipped about the rest of the specification.
For more, read out full report.
That's a wrap
And that's your lot for Intel Vision 2022. Thanks for sticking with us here on TechRadar Pro.
Sign up to receive daily breaking news, reviews, opinion, analysis, deals and more from the world of tech.
Thank you for signing up to TechRadar. You will receive a verification email shortly.
There was a problem. Please refresh the page and try again.