AWS re:Invent 2021: All the news, announcements and more from this year's event
Our wrap-up of all the latest news and announcements from the three AWS re:Invent 2021 keynotes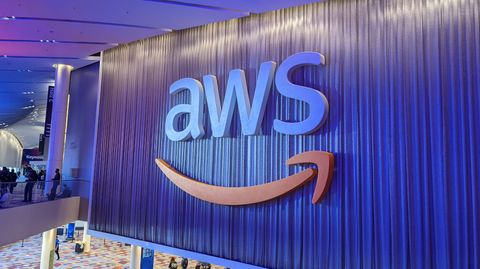 (Image: © Future / Mike Moore)
We've been on the ground in Las Vegas for AWS re:Invent 2021 this week reporting on all the latest news, announcements, partner showcases and more from Amazon Web Services' annual event.
Amongst the highlights was the launch of Graviton3, the most powerful CPU ever launched by AWS, the announcement of a new 5G product to encourage businesses to roll out private networks, and a look by the CEO of AWS at what the future looks like from the business.
The highlight of Day 2 was the launch of a $10m scholarship program to improve ML diversity and perhaps, find that elusive killer app for ML, similar to what Visicalc was 30 years ago for the IBM-PC.
Day 3's keynote saw Amazon.com CTO Werner Vogels take us on a road trip though AWS' cloud computing history, with news announcements including the launch of new local zones and a major commitment to renewable energy.
AWS re:Invent is now done for another year, but thanks for tuning in to our live blog, and stay with TechRadar Pro for all the latest tech news and updates your business needs to know!
Refresh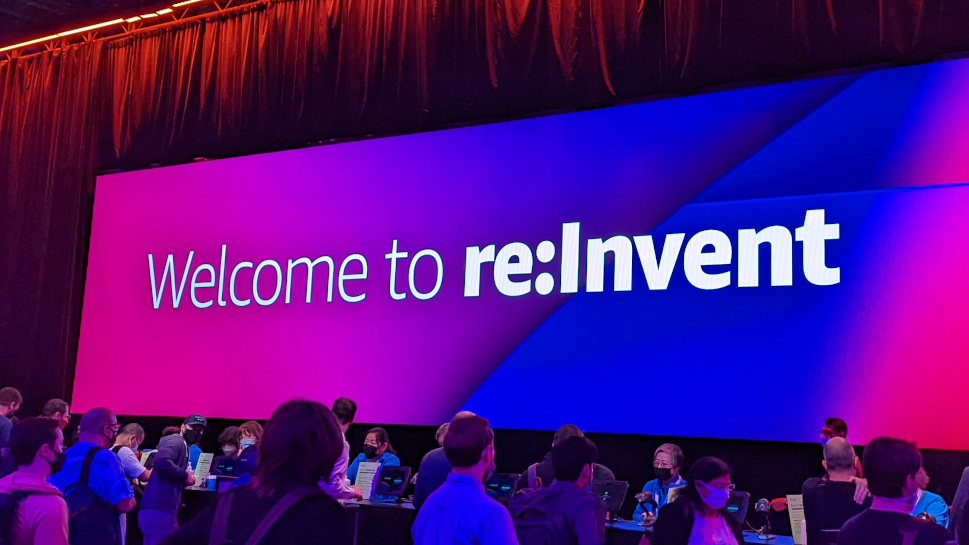 This is of course the first in-person AWS re:Invent since 2019, and thousands of attendees, customers and AWS employees have flocked to the Venetian Conference Centre in Las Vegas. Initial estimates are around 28,000 attendees, all jabbed and masked up, are in attendance - and with this being the first in-person event for some time, spirits are high!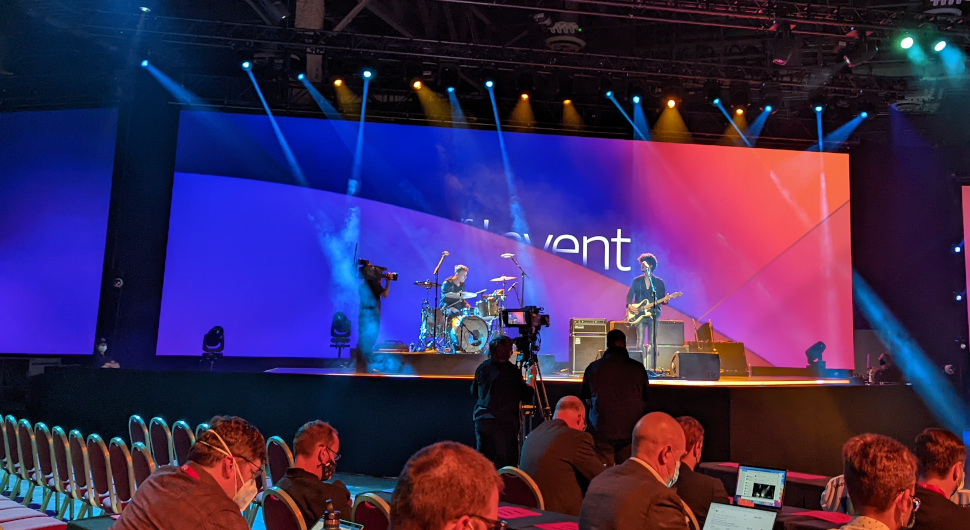 It wouldn't really be a tech keynote without some deafening 8am rock and roll, would it?
Music time over - now for some keynote!
First up we've got a run-through of AWS' growth and successes over the past few years - it's fair to say it's come a long way since launching in 2006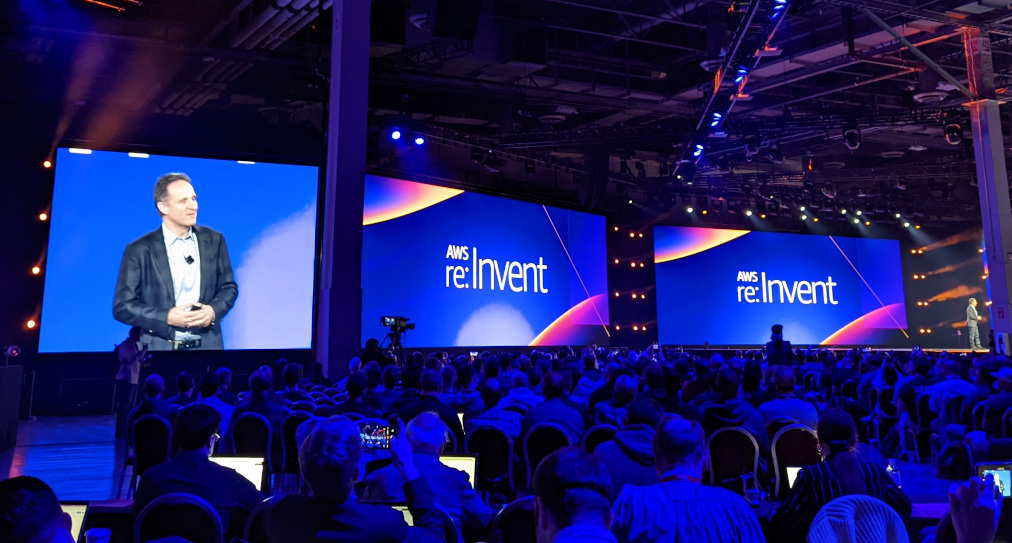 AWS CEO Adam Selipsky is on stage, to the tune of "Sweet Child O'Mine" - it's the 10th anniversary of AWS re:Invent, and the 15th anniversary of AWS.
Selipsky notes how tough the last few years have been, and how the company is partnering with charitable organizations around the world.
"It's hard to believe that when we first started, the concept of cloud computing barely existed," he notes. "It was slow, it was complicated, it stopped innovation...we knew there had to be a better path forward."
S3 stores more than 3 trillion objects, AWS offers over 200 ully-featured services, with millions of customers around the world, the CEO says.
"We're going to keep innovating to keep offeering the broadest suite of services, Selipsky notes"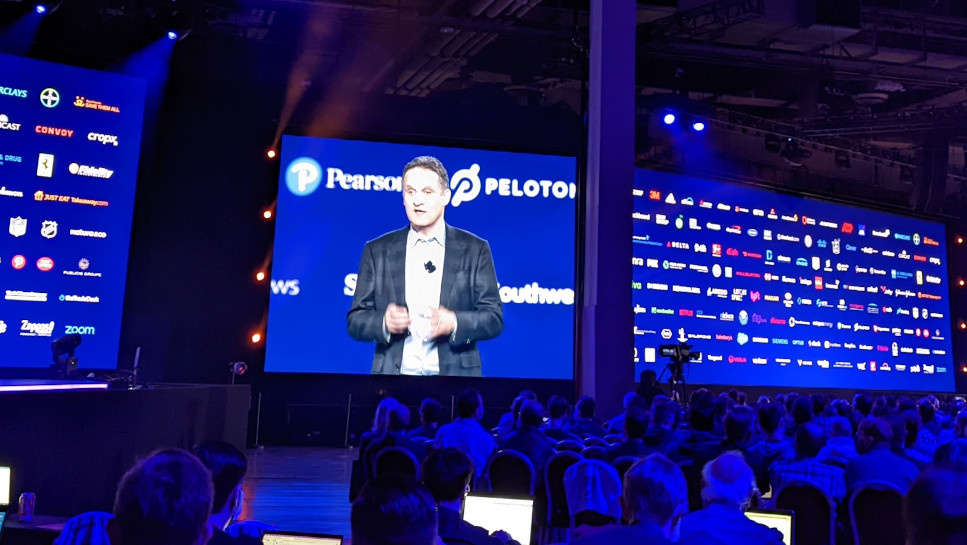 Of those customers, Netflix, NASA and NTT DoCoMo are highlighted as some of the most innovative use cases for AWS.
Such customers are "pathfinders", Selipsky notes - "they're doing something unique"
"In the last 15 years, cloud has become not just another tech revolution, but a shift in how businesses actually function," Selipsky notes. "There's no business that can't be radically disrupted."
"And we're just getting started," he adds, noting that only 5-15% of spending has moved to the cloud, so there's a big opportunity to come, with 5G and IoT becoming super important too.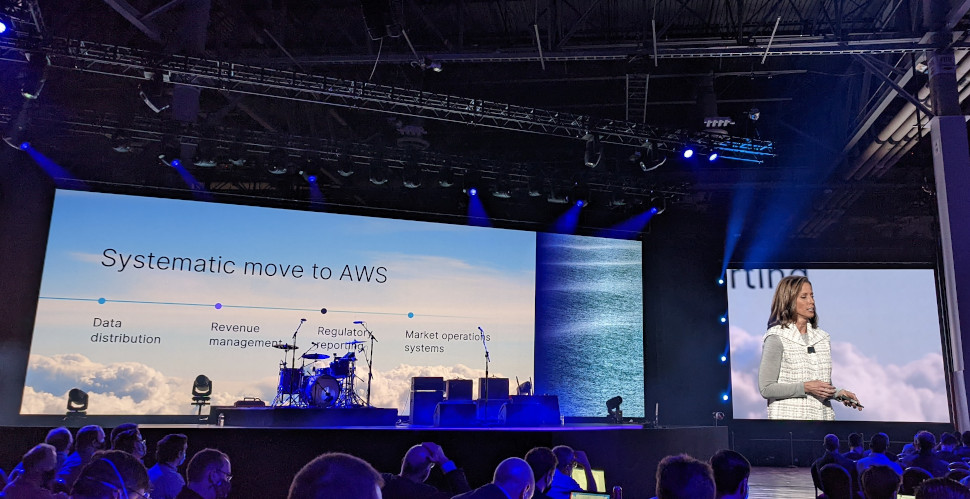 NASDAQ CEO Adena Freidman is the first customer use case on stage today, explaining how the organization is using AWS to help offer a huge range of services for its users across the world to help "redefine the global capital markets".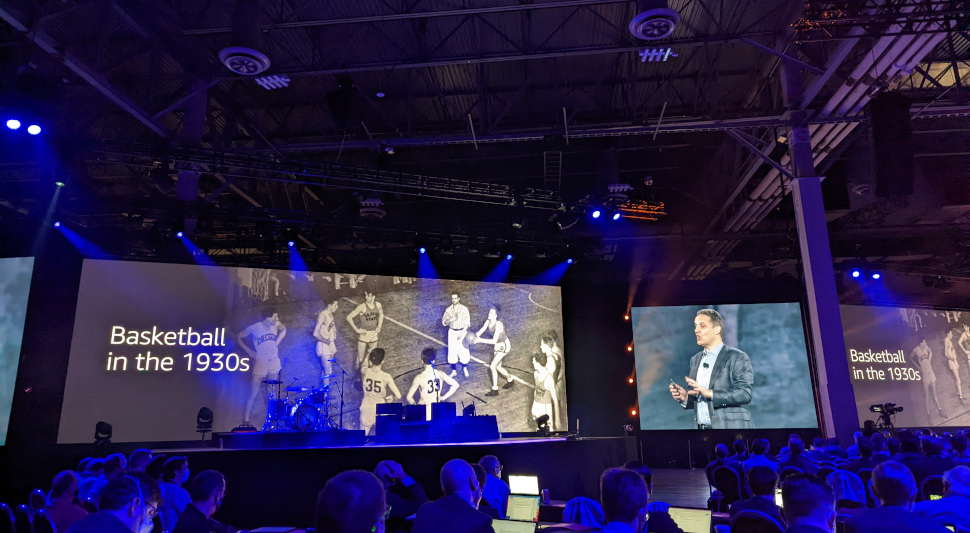 Selipsky is now looking at another gamechanger - 1930's basketball revolutionary Hank Lucetti - "the most disruptive basketball player of all time" who came up with the running shoot technique.
"When you get pathfinding right - it's transformative," Selipsky notes.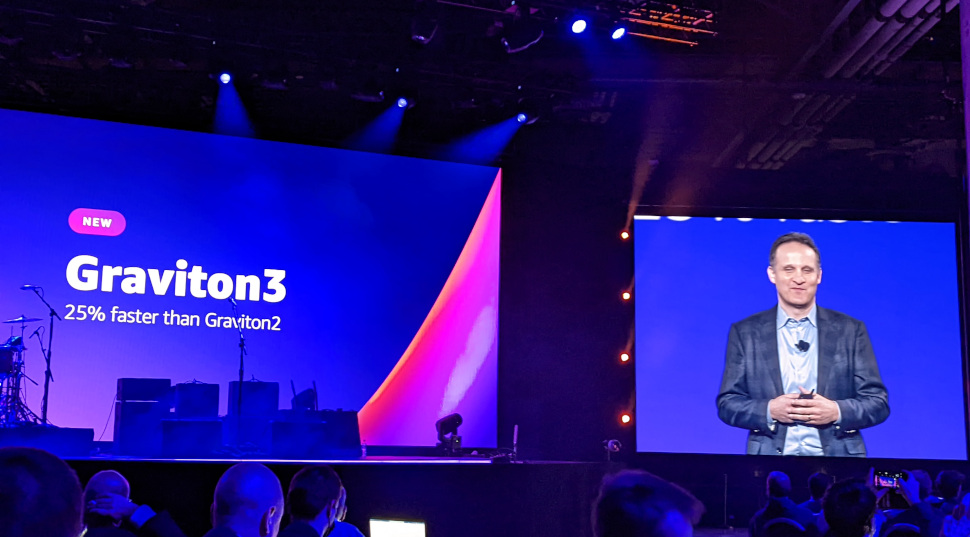 Time for EC2 - Selipsky runs through the wide range of systems on offer, as customers ask for more and more.
There's now more than 475 different instance types available, he notes, for virtually every workload.
But AWS is now going deeper, down to the silicon, Selipsky says - noting how big a success Graviton has been.
And here's the first big announcement of today - Graviton3 - "the next generation". Offering 25% faster speeds, boosted performance for science, cryptographic and ML workloads, the G3 also uses up to 60% less energy.
There's also a new C7g Instance for EC2 - the first available for Graviton3.
For ML workloads, there's also new Trn 1 and Inf1 instances "for every workload", Selipsky notes, as machine learning plays a bigger role for many organizations.
"We know we'll never be done innovating in compute," he says.
Another new launch - AWS Mainframe Modernization - which Selipsky says will help companies migrate, modernize and run mainframe workloads on AWS at a much lower costs than ever before.
AWS has been building bridges to your data centres, and wants to keep this trend going - "we'll continue to build those bridges", he notes.
Many companies might want to run some apps in data centres - and want some actual AWS in there to use the same API, hardware and tools, fully managed and supported by AWS. The company launched AWS Outposts two years ago, and is now pushing the edge of the cloud further with the general launch of the service today, across use cases from hospitals to oil rigs.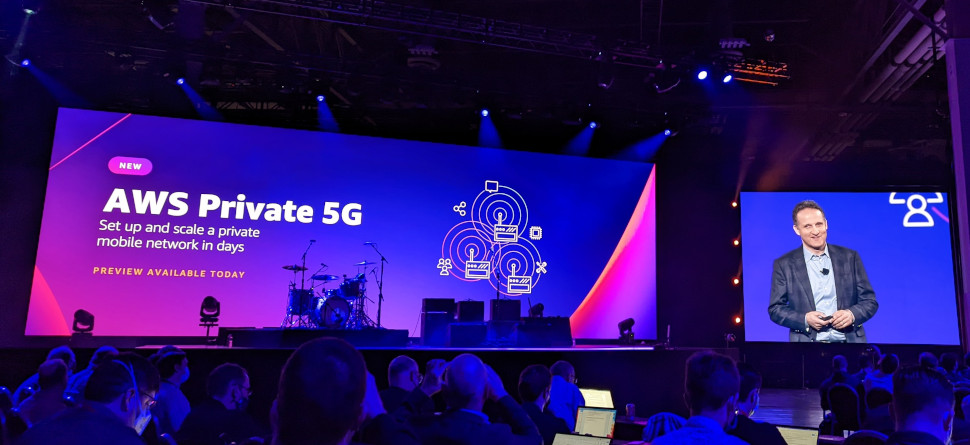 How do we connect all the new devices a modern company uses to stay online, Selipsky asks. 5G offers a lot of promise, with low latency and high bandwidth, but developing can be complicated.
Luckily AWS is now launching AWS Private 5G - a new way to set up and scale a private mobile network in a few days rather than months.
"It's shockingly easy", notes Selipsky - AWS sends everything you need, from hardware to software to SIM cards. Automatic configuration makes it ideal for factories and workplaces, and you can ask for as many devices to be connected as you need.
"There's nothing like AWS Private 5G network out there," notes Selipsky.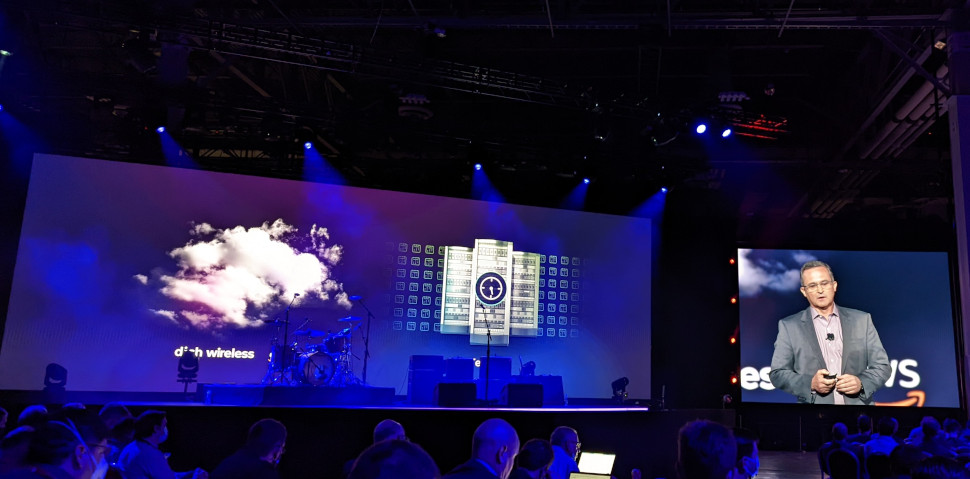 Dish Chief Network Officer Mark Rouanne is up next, to talk about the company's work in offering cutting-edge mobile networks with the help of AWS.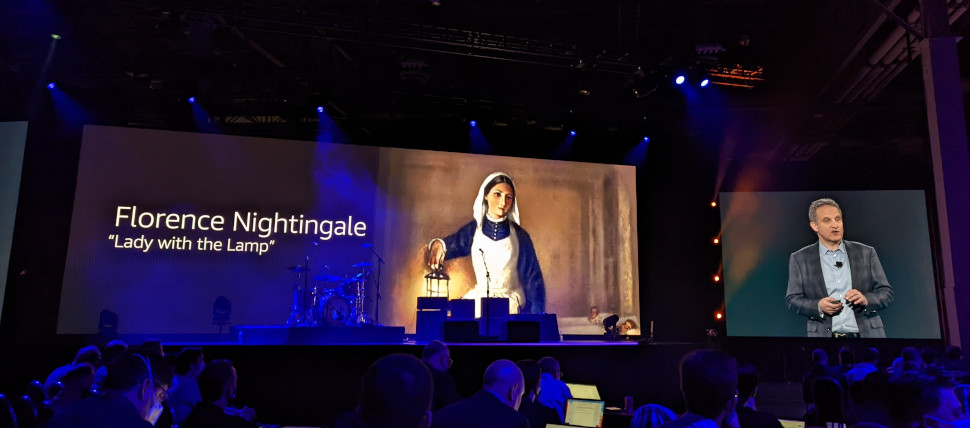 Our next superstar "pathfinder" is Florence Nightingale. The famous "lady with the lamp" was actually a pioneering big data geek, Selipsky says, having noted the link between hygiene and diseases, spotting patterns by collecting data into infections and deaths.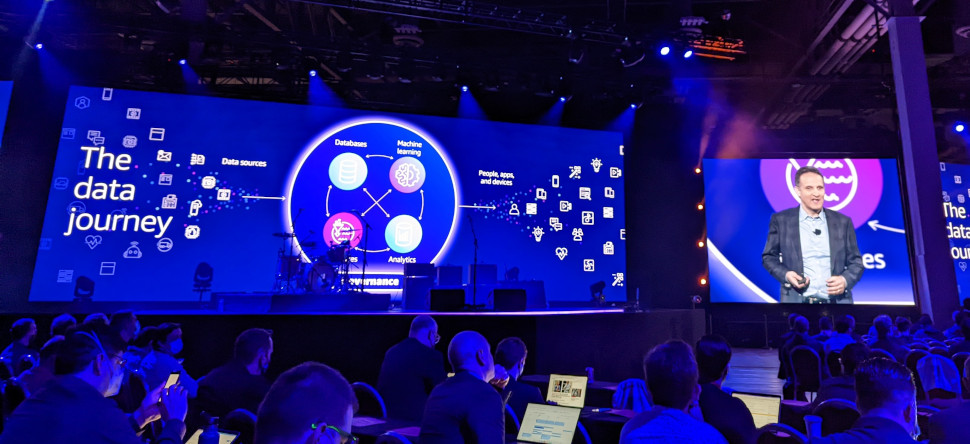 Today though, we have a lot more time for collecting data and spotting patterns trends in the mountains of information we see every day, Selipsky notes.
"If we can revolutionise how we spot patterns....data will change all of our lives," he says, "working with data is tricky, it's not static, and every organization has different needs."
"A modern data strategy knows data is dynamic...handling only a few stops on the data journey just isn't enough."
AI and ML increasingly part of the data journey, Selipsky adds - as is security, making this an increasingly complex journey for data.
"AWS knows how important this is to every customer...and that's why we're focused on building out all the critical needs for each step"
Our next launch and update is for AWS Lake Foundation. Selipsky announces the general availability of row and cell-level security for Lake Foundation - giving the chance to restrict access to specific rows and columns, and automatically filter and reveal data only to authorized users - a hugely important security boost.
There's also the general availability of transactions for governed tables in Lake Formation, which automatically manages conflicts and erros, ensuring a consistent view for users, and eliminating need for custom error handling code or batching updates.
Next we have AWS' raft of analytics tools - digging through all your data to help you spot trends and more.
AWS knows that this is still a pretty tough deal for many people, and has today announced new serverless and on-demand analytics for Amazon Redshift, EMR, MSK and Kinesis.
Taking infrastructure out of the way, you no longer have to get down and dirty with the services, Selipsky says - and you pay only when the service is in use.
"This is big," he says.
Our next customer talk is from United Airlines chief digital officer Linda Jojo, who outlines how the company has had to make the most of recovering from the pandemic.
United has just signed a deal to work with AWS when the pandemic hit, knocking a huge hole in its development, as its platforms were unable to scale down, as well as up.
It used a range of AWS tools, including Amazon S3, to build a new platform for the new way of travelling, automating COVID test validations and more.
Selipsky is back now to talk more about machine learning.
"We want more customers to unlock the power of ML," he says, noting that AWS provides the broadest and most complete set of ML capabilities around.
Tens of thousands of customers are using AWS Sagemaker, with developers flocking to AI services such as chatbots, vision and speech, NLP and more.
"We know your data is on a journey - and all the stops on this journey matter," he notes.
Data governance is the next stop for us, as Selipsky runs through AWS' range of tools and services that allow you to control where your data resides.
Amazon S3 offers the most advanced and secure ways to ensure your data stays secure, he notes.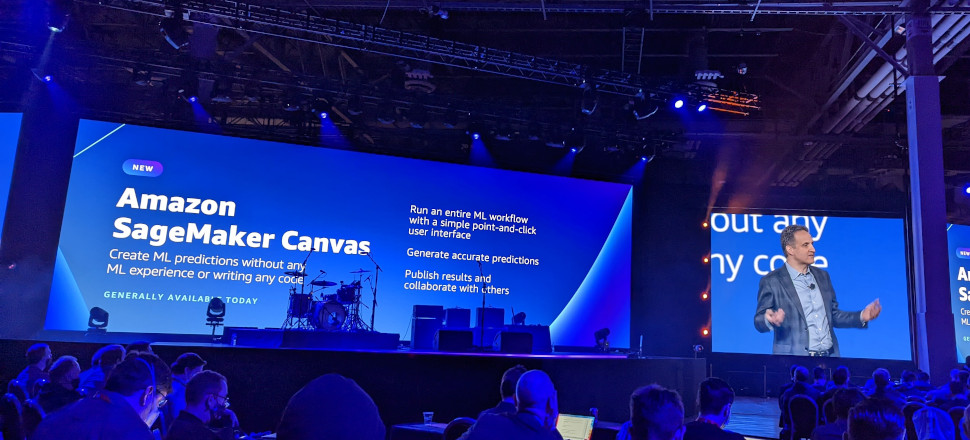 But how does AWS help people in your company access all the data they need?
Selipsky explains how Amazon QuickSight offers dashboards to display data in a useful way, with QuickSight Q providing an easy way to get answers speedily and without hassle.
This is all part of the company's push to democratize machine learning, he notes - something AWS is hoping to solve with SageMaker - but there is still more to be done.
The new Amazon SageMaker Canvas will let users create ML predictions even if they don't have any ML experience, and with no need to write any code. This should let more users than ever before get the most out of ML, no matter what level of experience they have.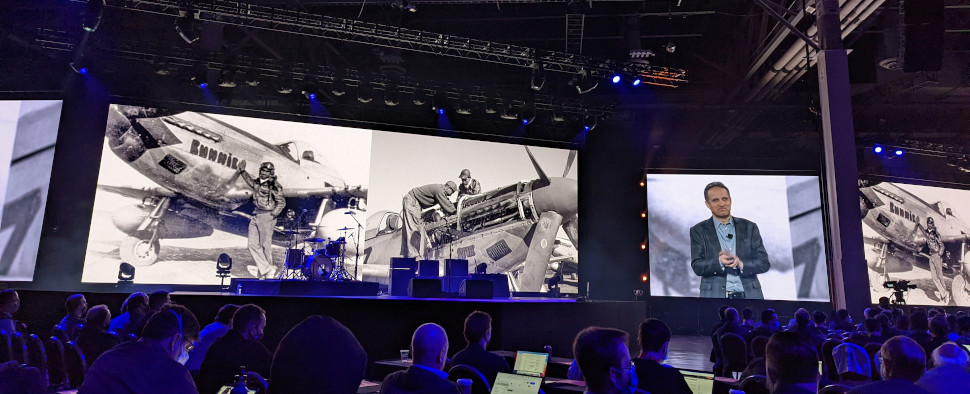 Our next pathfinder is Roscoe Brown, one of the Tuskegee Airmen and a pioneering African-American pilot, who overcame racial discrimination to found landmark organizations and community.
AWS is doing its bit for training, Selipsky notes, looking to train 29 million workers in cloud skills by 2025 to deal with the explosion in cloud work.
The company has launched digital program AWS Skill Builder, and making learning cloud skills available on Amazon.com, as well as the AWS re/Start program to help those starting at the very beginning of their cloud journey.
Next up is a new partnership between Goldman Sachs and AWS, looking to offer GS customers quicker access to financial data to analyze and manage.
Our next customer story comes from sticky-note and scotch-tape giants 3M, with Shaun Braun, SVP of digital transformation, explaining how the company is using AWS to make the most of innovation and become a digital-first organization.
One final launch - AWS IoT TwinMaker, to make it easier for companies to create and use digital twins of real-world systems. It includes nifty tools such as pre-built conenctors to data sources, automatically-built knowledge graphs, and 3D visualizations and real-time updates.
There's also quick mention of connected cars, with a new AWS IoT FleetWise platform allowing manufacturers to colelct data from millions of vehicles and make it easy to analyze in the cloud.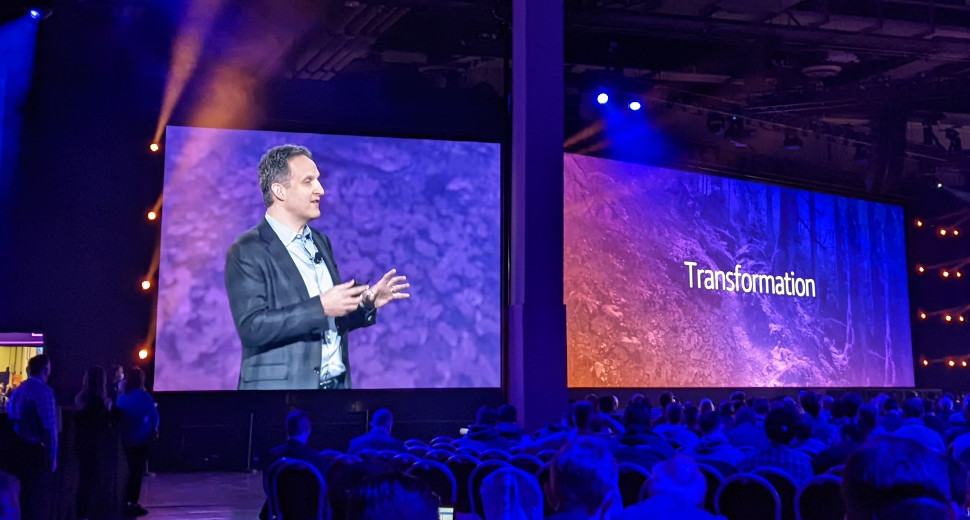 Selipsky is back to wrap up this epic keynote with a final few thoughts.
"Ultimately what the cloud and AWS offer is the ability to transform," he says, echoing the theme of transformation that's run throughout the keynote.
"The cloud is an opportuntiy to reimagine everything - it provides a pathway to real transformation."
And that's a wrap! Selipsky leaves the stage to more Guns N Roses, and we're all done for the morning here.
Thanks for following along our keynote, and stay tuned to TechRadar Pro for all the other news and updates coming out of AWS re:Invent 2021!
Désiré Athow here, Managing Editor at TechRadar Pro, stepping in until Mike Moore comes back online later today. Our sister publication, ITPro, also looked at the new RoboRunner IoT platform launched at AWS Re:Invent, one that allows you to, err, manage a fleet of robots.
In other AWS announcements yesterday
8 new Compute instances were announced including the fastest Intel Xeon scalable processor in the cloud
5 new storage products including the lowest cost storage with millisecond retrieval, Glacier Instant.
4 IoT-elated services with Twinmaker, where you can create digital twins of real world systems, the one that was caught our eyes
Hello AWS fans, we're back and reporting from the Day 2 keynote at AWS re:Invent 2021.
After a heavy news day yesterday, today it's the turn of Swami Sivasubramanian, Vice President of AI/ML, AWS to tell us all about how the company is using the technology.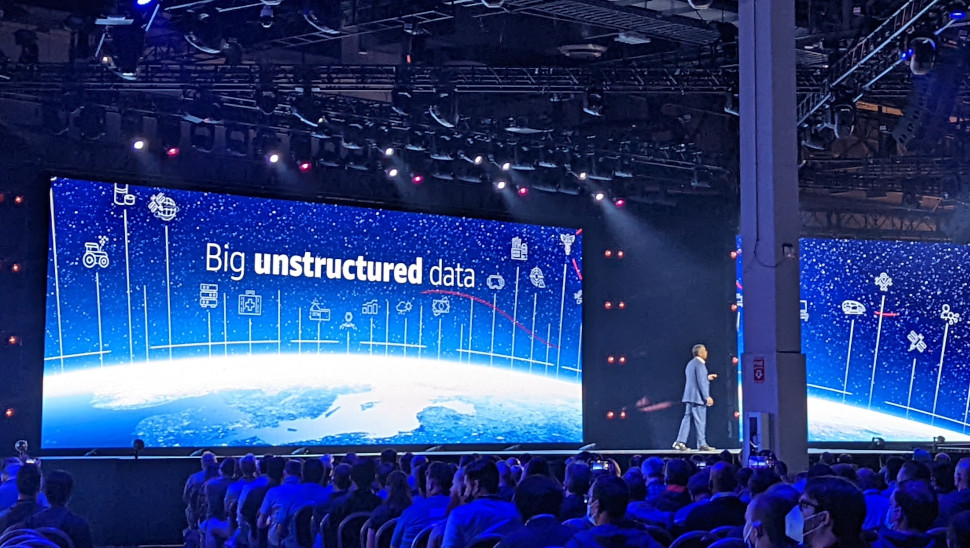 Here he is - ready to share the AI and ML knowledge.
"Data is the underlying force that fuels the insights that help you do better business," Sivasubramanian notes, showing some examples of using big data as diverse as Swimming Australia and NASDAQ.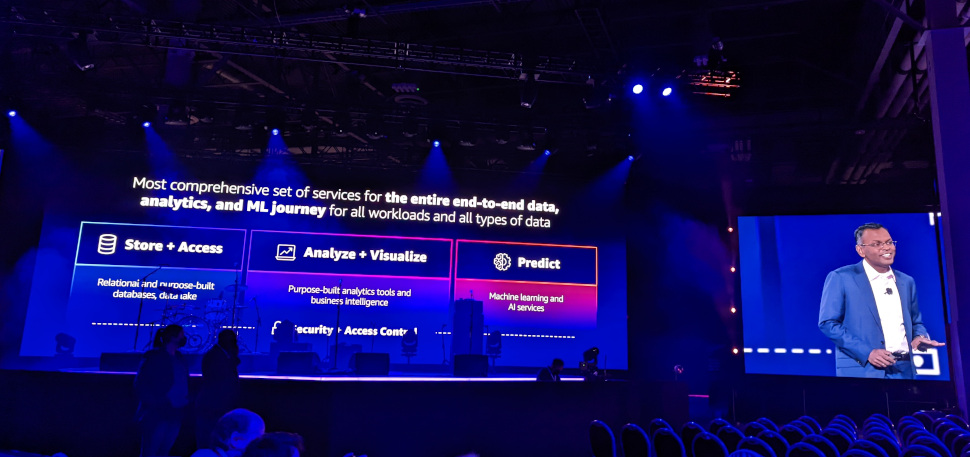 "AWS provides the most comprehensive set of services for the entire end-to-end data, analytics, and ML jpurney for all workloads and all types of data", he notes, giving an overview of AWS' existing tools and services available today.
There are three elements to forming a modern end-to-end data strategy, Sivasubramanian notes:
- Modernize data structure - AWS has "unmatched maturity and experience"
- Unify your data - connect everything together into a coherent system that is secure and well-governed
- Innovate with your data - use AI and ML to come up with new approaches!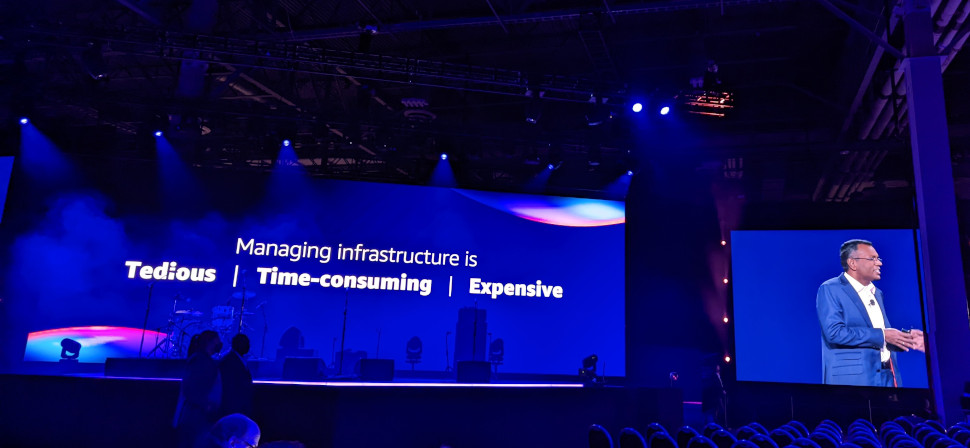 So true...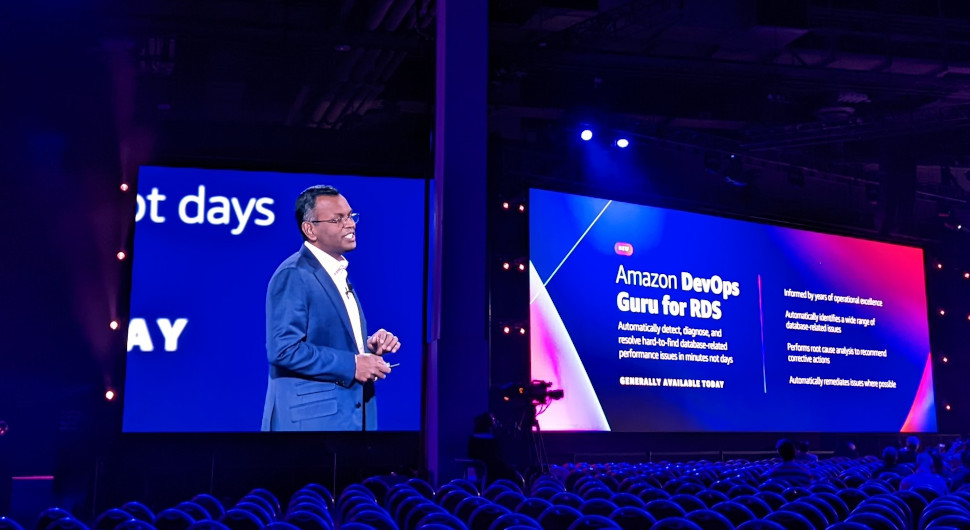 We have a new announcement! Sivasubramanian mentions how customers want help diagnosing data performance issues - AWS wants to help provide alerts to fix it, helping identify performance and operational issues at scale.
To do that, the new Amazon DevOps Guru for RDS will automatically detect, diagnose, and resolve hard-to-find database-related performance issues in minutes, not days.
Sivasubramanian turns now to databases - often the unheralded workhorses of many businesses.
AWS offering broadest portfolio of purpose-built databases, he says, outlining customer uses from Netflix to the German Bundesliga football league.
It's clear that moving to a managed database system can provide incredible savings in time, money and effort, he notes.
Over 500,000 databases have been migrated to AWS already, he adds - but building a migration plan can be challenging. So the company is launching AWS Database Migration Service Fleet Advisor, which it says can help accelerate database migration with automated inventory and migration recommendations.
This can do in hours what used to take weeks, Sivasubramanian says.
"This is going to make it a lot easier for you to modernize your data," he adds.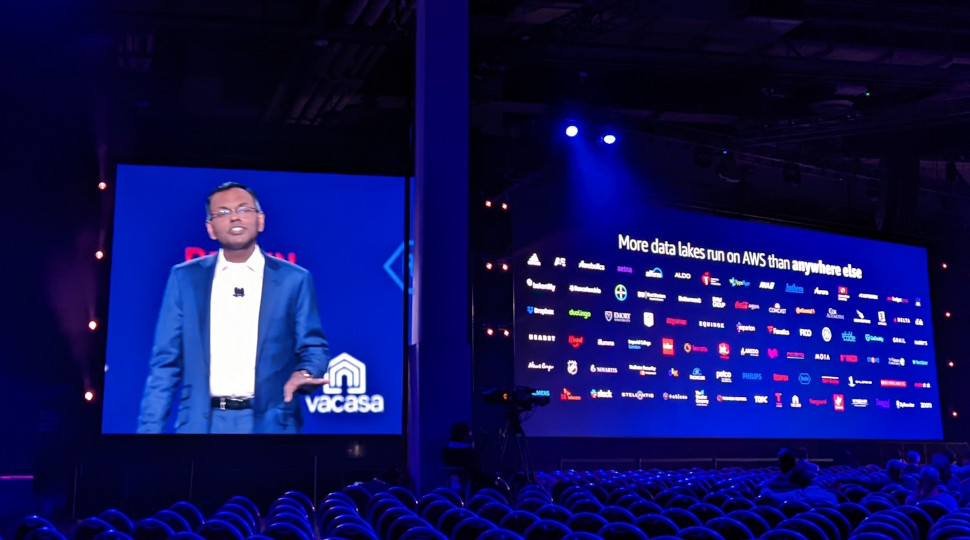 Now we're on to unifying your data.
Breaking down your mountains of data can be vital to cracking the insights your business needs, Sivasubramanian notes.
Many companies are doing this via data lakes, enabling them to collect, store and analyze data from a range of siloes - and more data lakes run on AWS then anywhere else.
Building a data lake on Amazon S3 offers unmatched durability, availability and scalability, as well as great security and analytics tools.
Using the newly-announced AWS Data Lake Formation tool gives a quick way to build a data lake that works for you, and Amazon Athena gives a useful way to analyze all the data to get the insights you need, he adds.
Sivasubramanian is now taking a thorough look at Amazon Redshift, and the various innovations it has brought to customers over the years.
Amazon QuickSight is here too, with the new QuickSight Q tool allowing customers to get answers quickly and easily, makign BI accessible to all users without training, he adds.
There's a cool example of how the NFL is using Amazon QuickSight Q to share stats with broadcasters, writers and everyday fans in an engaging and interesting way.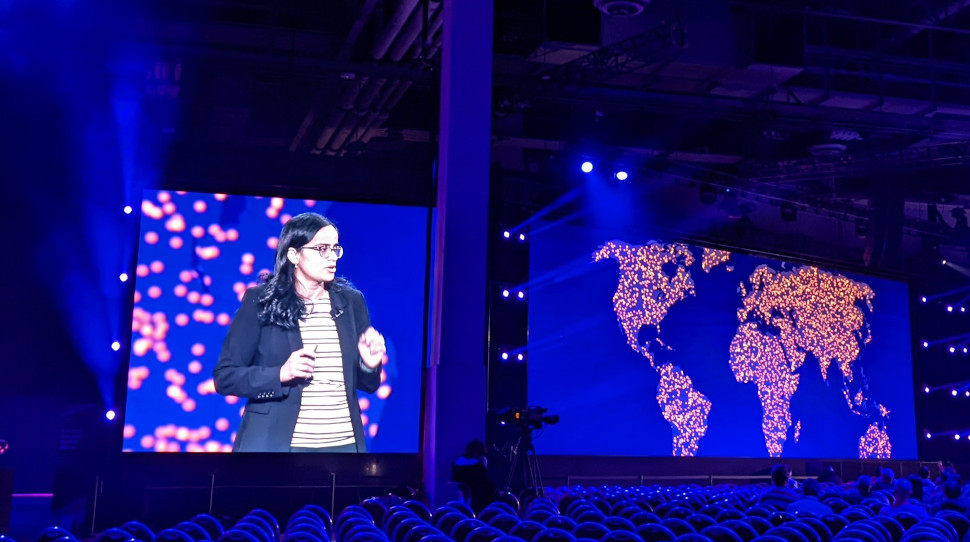 First product demo of the day is looking at how AWS Redshift serverless and QuickSight Q can allow companies such as gaming developers to get real-time feedback and data to scale up their services without delays.
Sivasubramanian is back, and talking about technology and culture, and how the two can interact. Having a data-driven organization means treating data like an organizational asset, but also encouraging data literacy and championing data-driven decision-making, he says.
He brings on ADP, a customer in the HR software and services industry, to talk about helping people improve their lives through the power of data.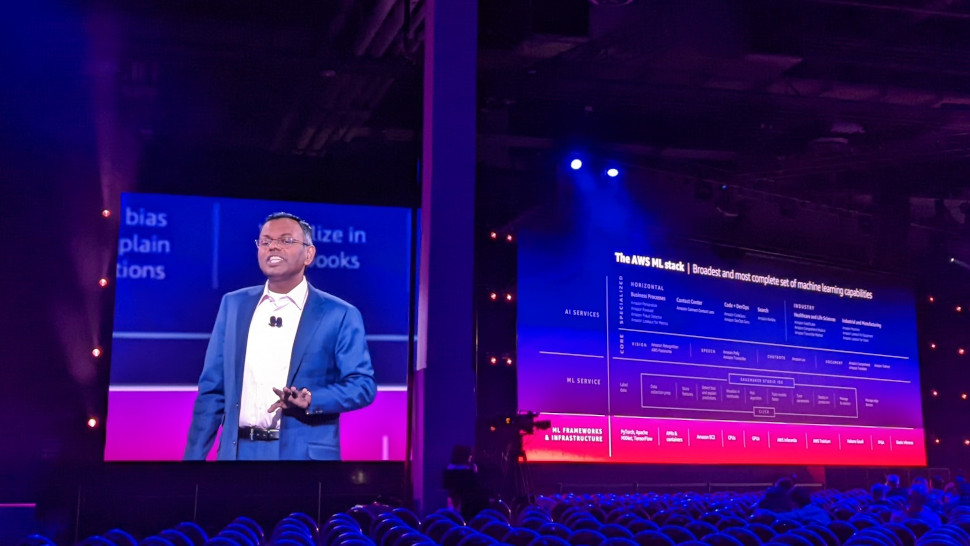 After a quick video message from Slack, another major AWS customer that has boomed during the pandemic using the likes of AWS Chime, Transcribe and AWS data analytics platforms, Sivasubramanian returns to discuss innovation - starting with Machine Learning.
"Machine Learning is one of the most innovation technologies we will encounter in our generation...having the right data strategy is vital to this transformation," he notes.
More than 100,000 customers are currently using AWS for machine learning, more than any other provider, he adds, offering the broadest set of technologies around today.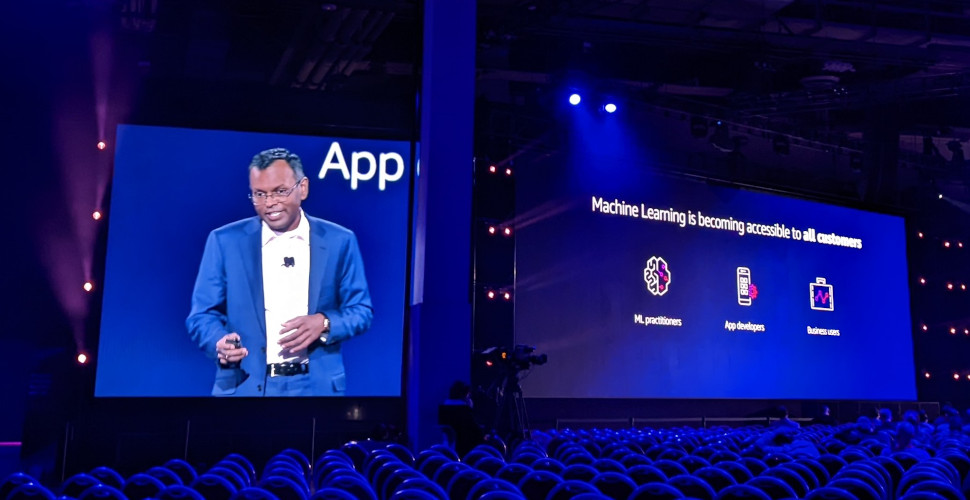 AWS' new instances can provide the bedrock for all your ML needs, Sivasubramanian says.
But in order for ML to truly scale, it needs to get a lot easier to adopt. It's only in the last few years that accessibility have improved enough for ML technology to become more mainstream.
Tools like Amazon SageMaker can play a vital role, providing every developer and data scientist with the tools they need to build and deploy ML models at the lowest cost, he says.
He brings on Aurora co-founder and CEO Chris Urmson to explain how it is using ML technology to help develop the next generation of smart, driverless vehicles.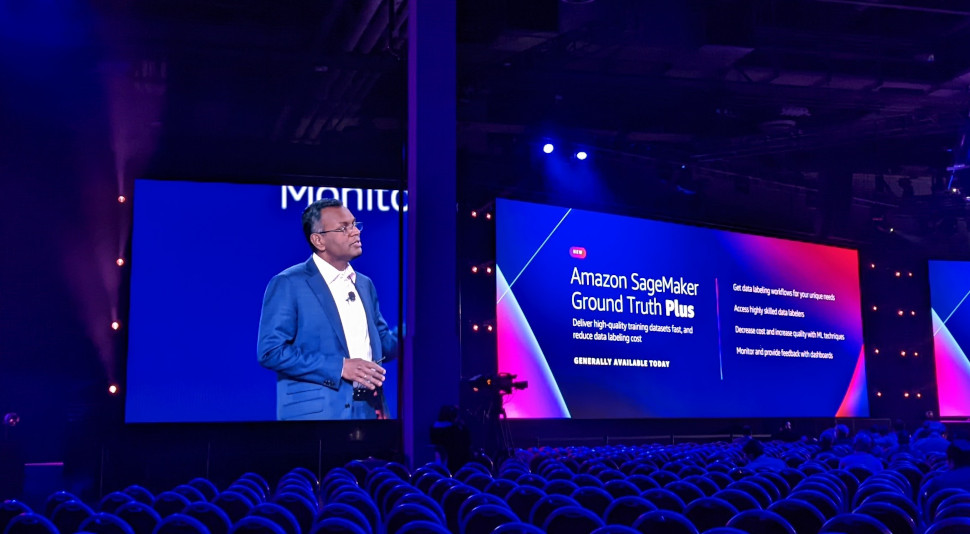 Swami is back, and ready to talk about structured vs unstructured data.
"Data is the fuel for machine learning," he says, but adds that even with the right strategy in place, preparing data can be the most infuriating part of building ML technology.
Amazon SageMaker Ground Truth goes a long way to help with this, offering pre-built workflows, templates and multiple workforce options for customers such as the NFL.
But that's not enough, and the company is now launching Amazon SageMaker Ground Truth Plus, which lets users deliver high-quality training databases fast, without writing a single line of code.
There's also a new SageMaker Studio Notebook, allowing users to access a wide range of data sources, and perform data engineering, analytics and ML workflows in one notebook.
That's not all for Amazon SageMaker though, as the platform is getting three new innvations:
- Training Compiler, which lets you accelerate model training by 50%
- Inference Recommender, which can reduce the time to deploy from weeks to hours
- Serverless Inference, which lowers cost of ownership with pay-per-use pricing
"All of these new innovations are going to make it a lot easier for you to scale machine learning in your organization," Sivasubramanian notes.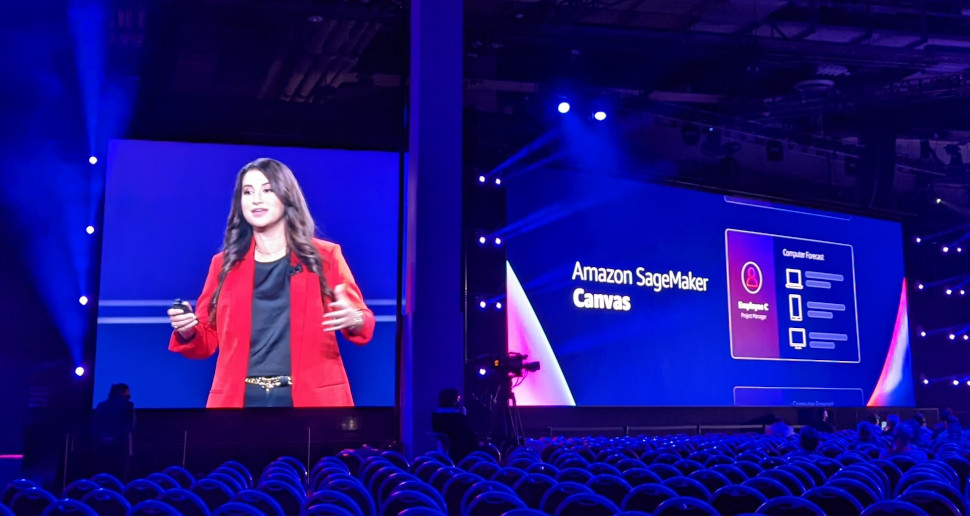 Now it's time for a deeper look at SageMaker Canvas, which was announced yesterday by AWS CEO Adam Selipsky, and offers analysts a better way to get more out of mountains of data.
Providing more useful forecasts and analytics can help save businesses of all sizes and all industries, AWS reckons, providing a theoretical example of a company looking to accurately estimate how many computing devices it would need for an increasingly remote workforce.
Swami is back once again, noting how end-to-end solutions are critical to solving business problems, hence AWS' major investment in a range of such tools.
End-to-end AI solutions can be crucial for businesses to solve some of their most pressing issues, he notes, with optimization, customization and personalization all welcome boosts.
Search experiences can be a big part of this, he notes, and to enable this, there's a new Amazon Kendra Experience Builder tool to deploy intelligent search applications in just a few clicks.
"This will make it a whole lot easier for IT department to build in-site search", Sivasubramanian says.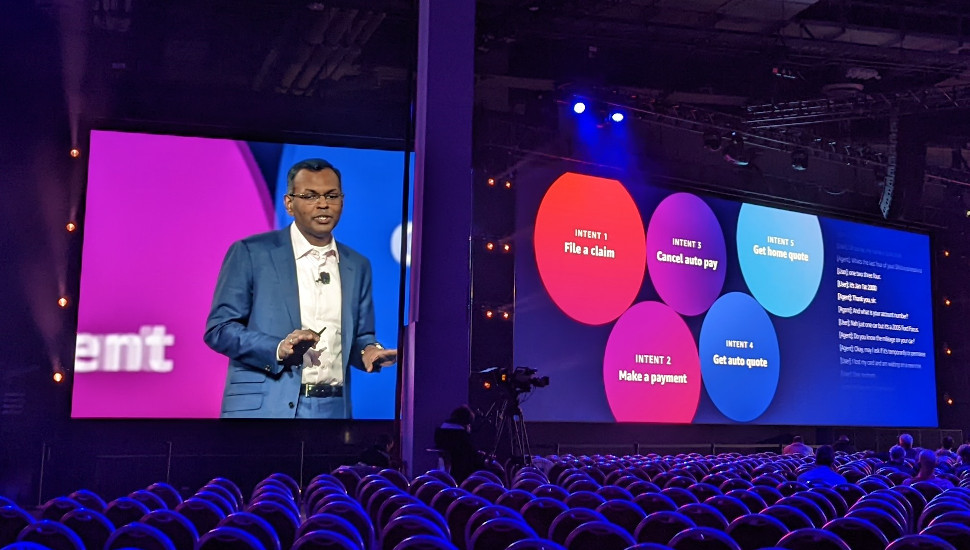 Chatbots are another useful instance, notes Sivasubramanian as he pivots to talking about contact centers.
What seperates a bad chatbot from a good one? AI, apparently, with conversational design a vital new technology - but one that is very much still in its infancy.
Luckily, AWS is launching Amazon Lex Automated Chatbot Designer, a new capability that reduces bot design from weeks to hours, simplifying design with adavanced natural language understanding.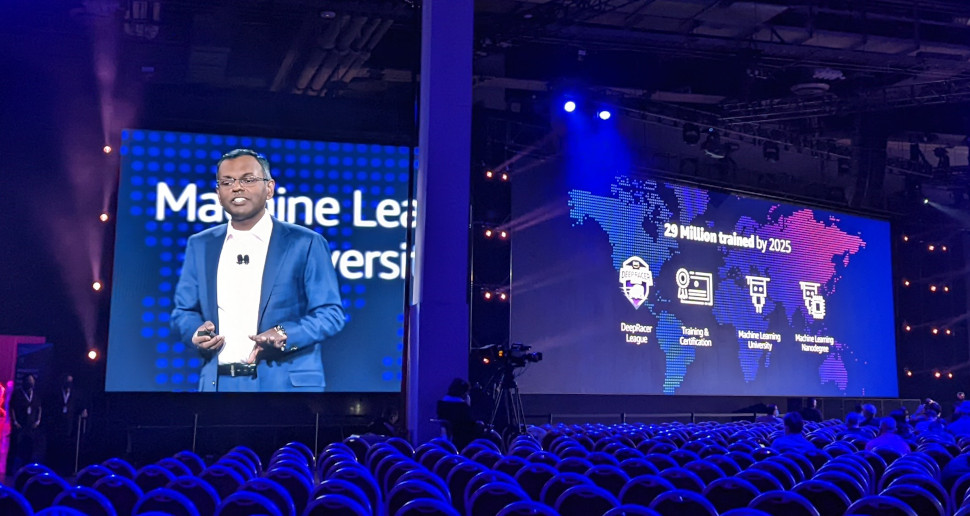 Looking to the future now - developing the next gen of ML developers, lowering the bar and making it more accessible is a major challenge for AWS.
Current tools are either too complex or too simplistic, Sivasubramanian notes, but AWS is now launching Amazon SageMaker Studio Lab - a free platform that lets users sign up to get access to AI and ML tools, letting you start in a way that suits you.
Amazon wants to help train 29 million new people, including AI and ML developers by 2025, and hopes its new tools can help do just that, Sivasubramanian says.
The company is also investing heavily is diversity and equal opportunity programs, lowering the barriers of entry to people all over the world.
There's also a new AWS AI & ML Scholarship Program, offering $10m a year for students looking to undertake courses in these fields.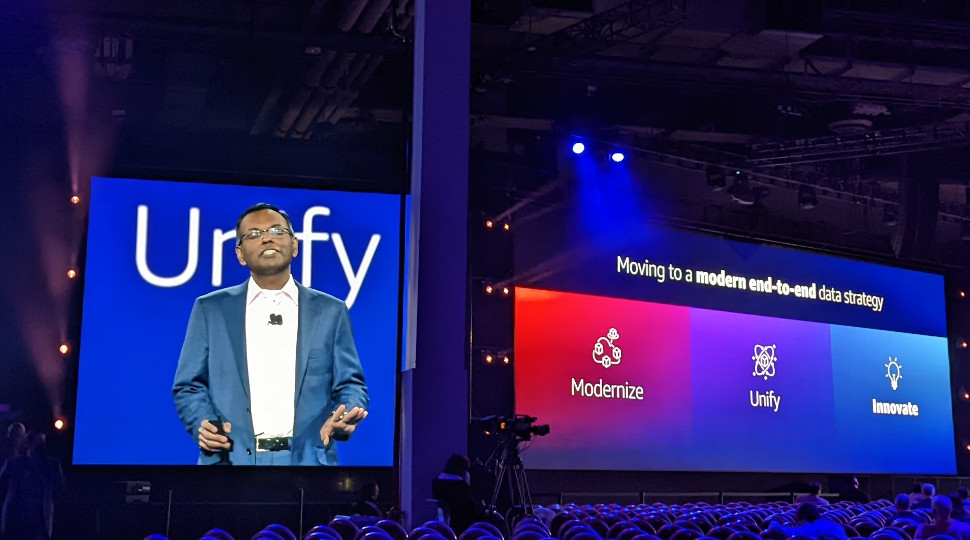 And that's a wrap for today. Sivasubramanian leaves us with the tought that beign a data-driven organization is "imperative for the future...it's the difference between those that thrive, and those that will survive."
Thanks for joining us today, and stay tuned to TechRadar Pro for all the latest updates and more from re:Invent 2021 over the final two days.
Good morning, AWS crowd. Thousands of you have been following us over the past 72 hours and we thank you for that. Although many of the big announcements have already been made, we've still got another keynote, this morning from Amazon.com CTO Werner Vogels.
A staggering 27 announcements were made yesterday, the day before, on the 30th of November, another 36 and on the first day of AWS re:Invent and even more the penultimate day of November (38). In fact, AWS database has a record of more than 10,000 announcements, going all the way to 2004.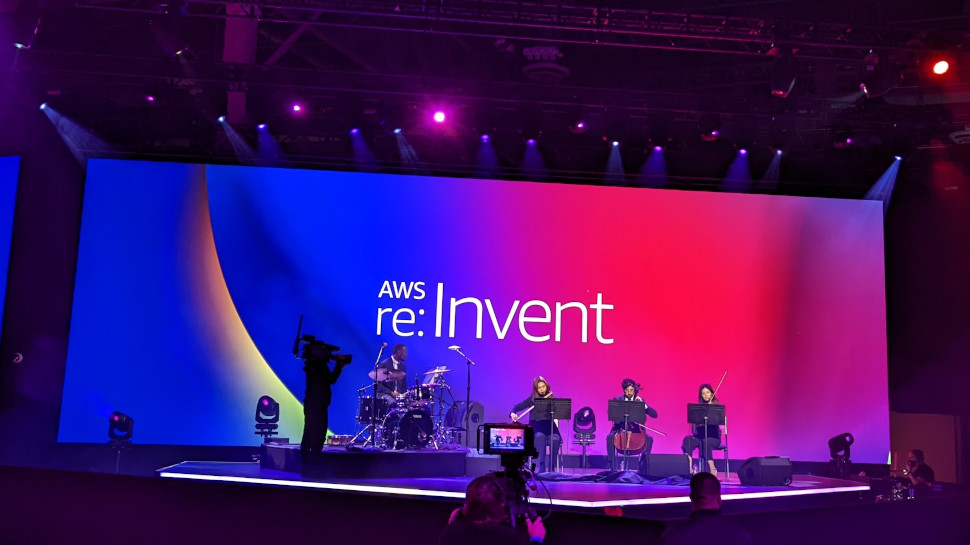 We're in and seated for Dr. Vogels keynote, set to begin in about 15 minutes.
After Tuesday's rock band and yesterday's techno DJ, today's pre-keynote entertainment is a string quarter (with an added drummer) playing versions of all your favorite Hot 100 hits - Pharrell Williams anyone?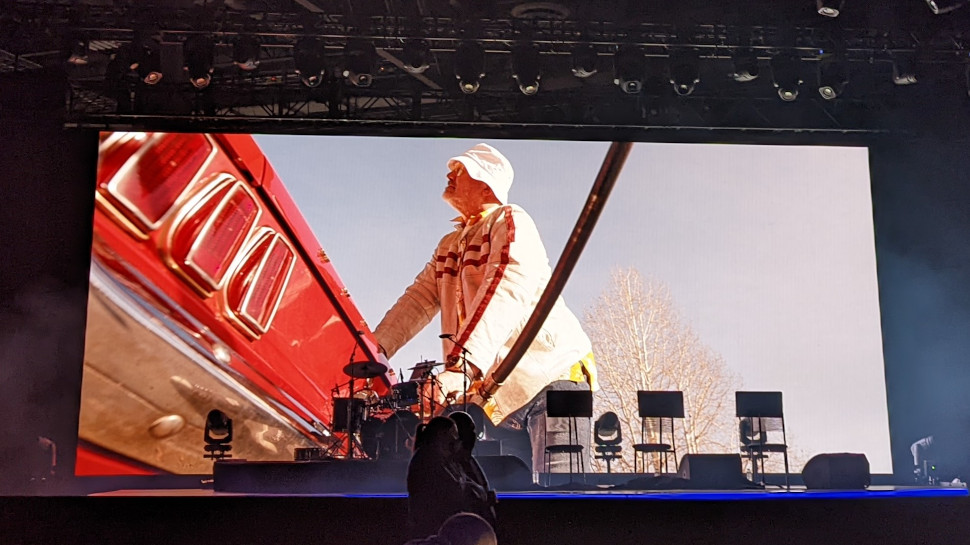 Dr Vogels is here! With an entrance befitting a rock star, the Amazon.com CTO is introduced with a VT showing him on a road trip across the US (complete with Fear and Loathing references), encountering some of the biggest AWS tech releases of the last ten years.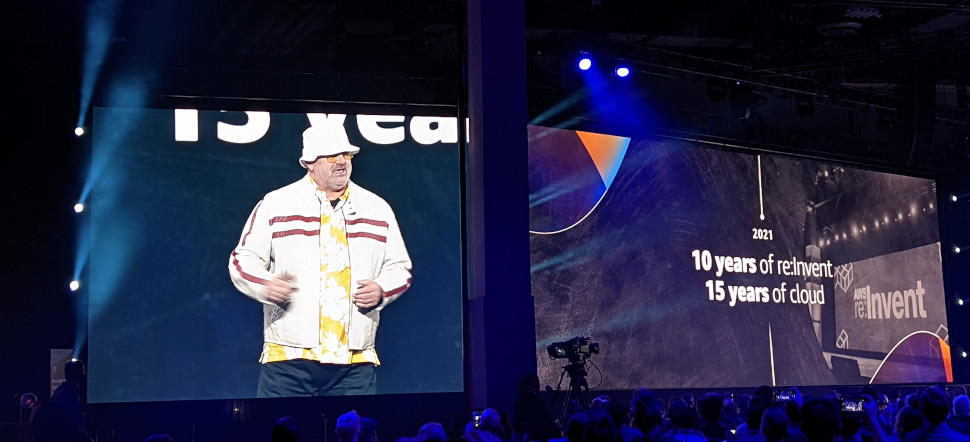 "It may have been 15 years, but I'm still wearing a t-shirt", Vogels quips, stripping off his F&L outfit to reveal a t-shirt of iconic UK indie icons The Stranglers.
We're set for a trip down memory lane, but first a look at some new releases....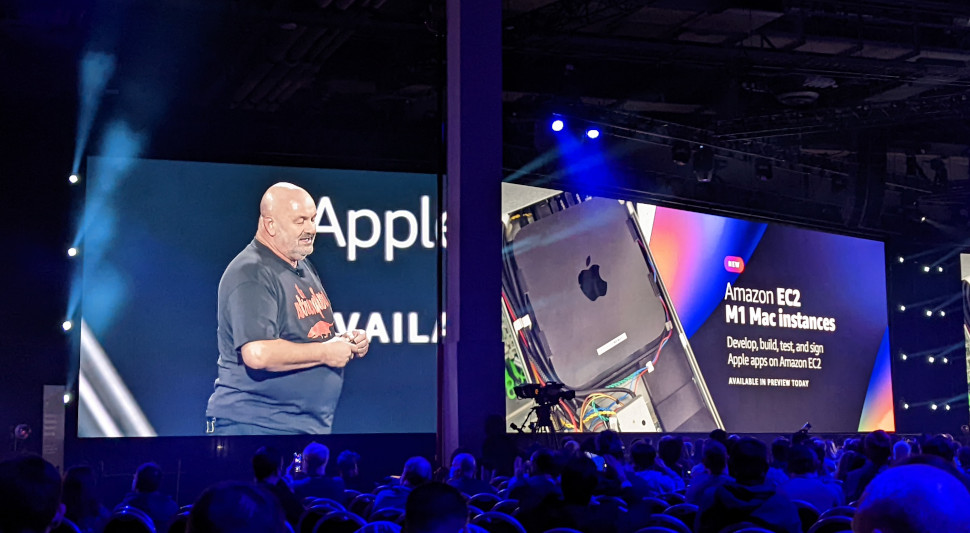 Looking at the success Graviton has had, Vogels notes that Apple has recently followed AWS in builidng its own M1 silicon.
Today, AWS is launch new Amazon EC2 M1 Mac instances - develop, build, test and sign Apple apps on Amazon EC2. Promising up to 60% power savings and efficiency, Vogels notes this is a launch that will go down well across the world.
After an overview of just how global AWS' reach is, and announcing the launch of 30 new AWS local zones in 2022 (including one in his home city of Amsterdam), Vogels takes a look at some customer stories.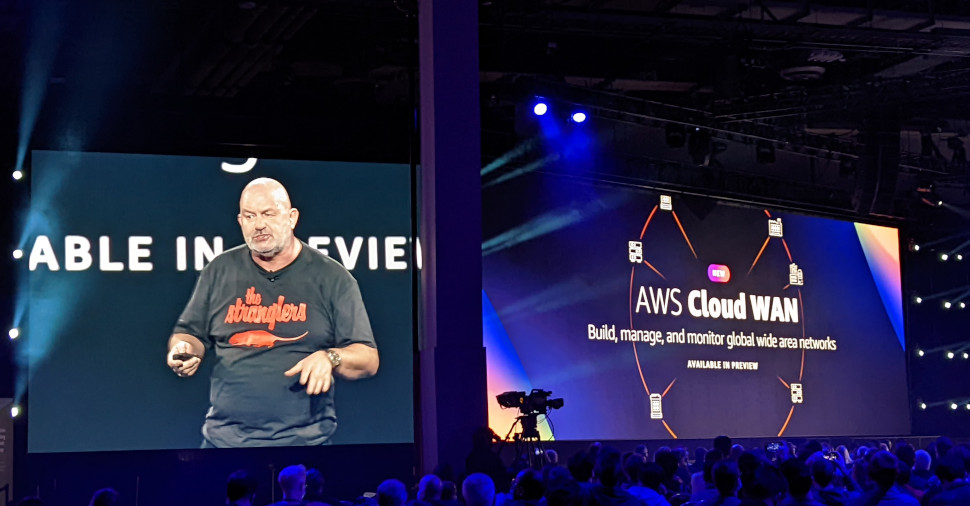 Next up is another new launch - AWS Cloud WAN - which lets build, manage, and monitor global wide area networks.
Vogels says it can give you highly reliable and defineable wide area networks, all linked to the AWS apps your business relies on. All your network activity can be managed via a central dashboard, with AWS signing up the likes of Verizon and Swisscom as initial telecom partners.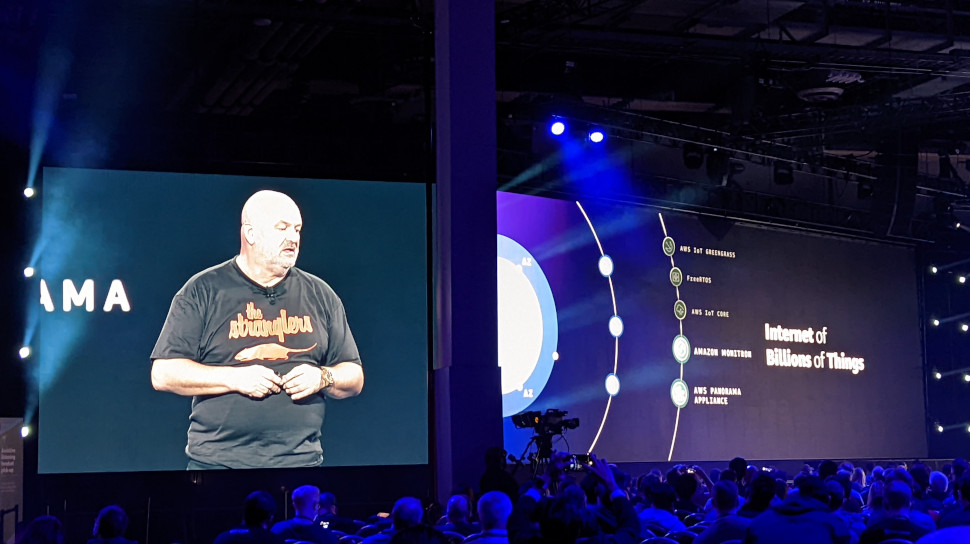 Now it's on to how the cloud can connect up what Vogels calls "The Internet of Billions of Things". AWS IoT Core and Greengrass do a strong job of keeping customers online, but many connected devices are pretty dated, he notes - with manufacturing devices having an average age of 27 years.
Amazon Monitron can help, especially with items such as cameras and video generating devices.
Compliant, rugged and remote devices are becoming more important than ever as the edge expands, Vogels says. AWS is already in Antarctica - but can it go even further?
But what is the next frontier. Vogels asks? Seems like AWS is off to space, with its AWS Ground Station offering helping power data transfer from satellites back to Earth quicker than ever before. The company is already helping the UAE space center to power a probe to Mars, and Vogels invites space whizzes Cappella on stage to talk about its data work.
Vogels is back, and we're still looking at the heavens, with the AWS Space Accelator, which looks to boost companies using AWS cloud to get to space.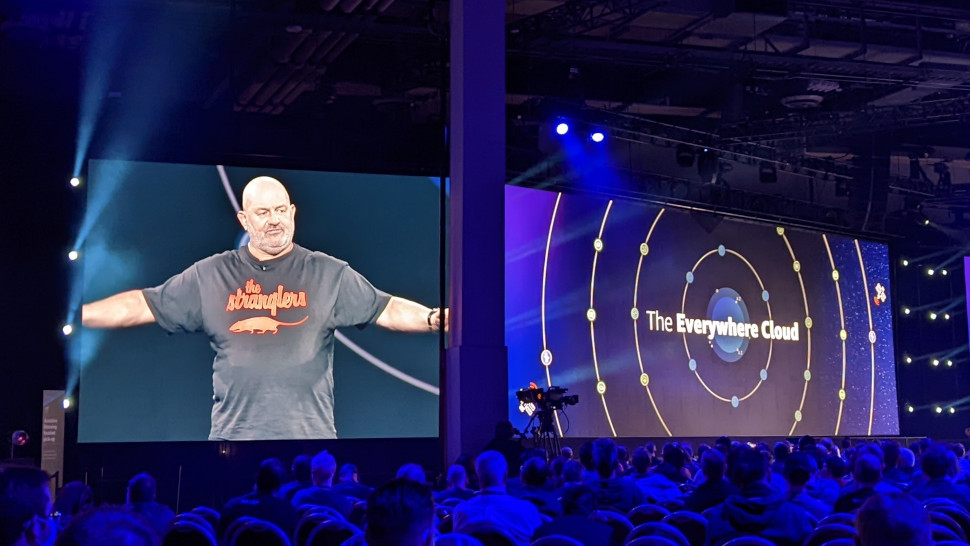 Vogels says this all builds into what he calls "The Everywhere Cloud" where AWS tools create a massively distributed, but not decentralized network.
Tools such as IAM play a vital role, as millions of businesses around the world use AWS' services to stay secure, but also keep the ability to scale when needed.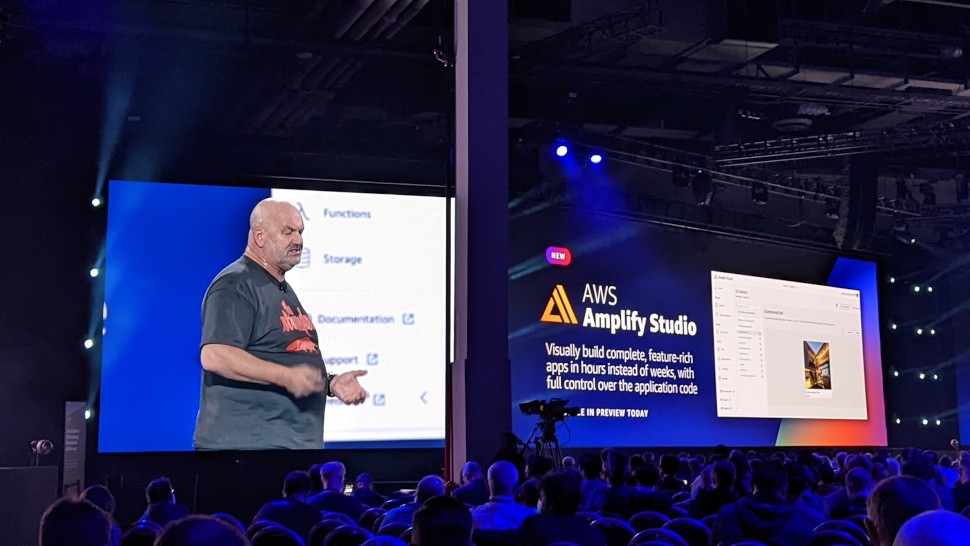 After a pretty exhaustive look at IAM and security frameworks, Vogels is now focusing on how user feedback has helped AWS build and develop some of its most popular tools.
AWS Amplify is looking to forward this by offering purpose-built tools for front-end developers everywhere.
And to offer even more flexibility, the company is launching AWS Amplify Studio, a new launch which allows devs to visually build complete, feature-rich apps in hours instead of weeks, with full control over the application code.
AWS values innovation over co-ordination, Vogels notes, as the company always looks at how it can move as fast as possible to deal with customer needs, working backwards to work these out before they're even identified.
This has led to some inconsistencies across AWS apps and services, with the likes of Lambda and Kinesis called out.
Vogels says it's time for a new way of working to get around this, with the AWS CloudControl giving you a better way of solving API around calls.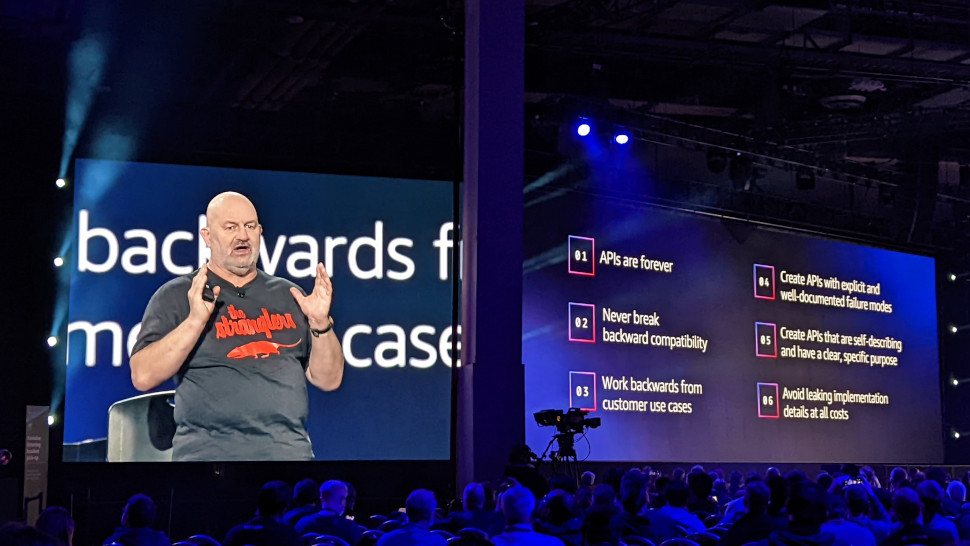 AWS has created a lot of APIs across 15 years, Vogels notes, with six key learnings identified (which you can see in the picture above).
Chief of these though is that APIs are forever (we feel a song coming on...)
Keeping APIs simple and intuitive is vital, Vogels notes, with backwards compatability and customer needs also absolutely paramount.
Swift, Kotlin and Rust are all getting AWS SDKs, Vogels adds, giving developers more options in their programming language choices.
There's also a new AWS Cloud Development Kit V2, which Vogels says fixes a lot of the issues seen in V1. It'll offer one package for all stable AWS CDK libraries, and changes to how you handle experimental classes, methods and properties.
That's not all - there's also a new Construct Hub that let devs find and use open-source CDK libraries.
After a colorful customer mention from Liberty Mutual (and a spontaneous award for the company's Matt Coulter), Vogels returns for the last half hour of his keynote.
Now it's time to focus on how AWS is helping build a sustainable future. Vogels says AWS wants everyone to be aware of how much energy they are using, pushing efficiency and lowering carbon footprints.
AWS can provide a green alternative to running apps and services in-house, he says, as the company can engineer for self-sufficiency.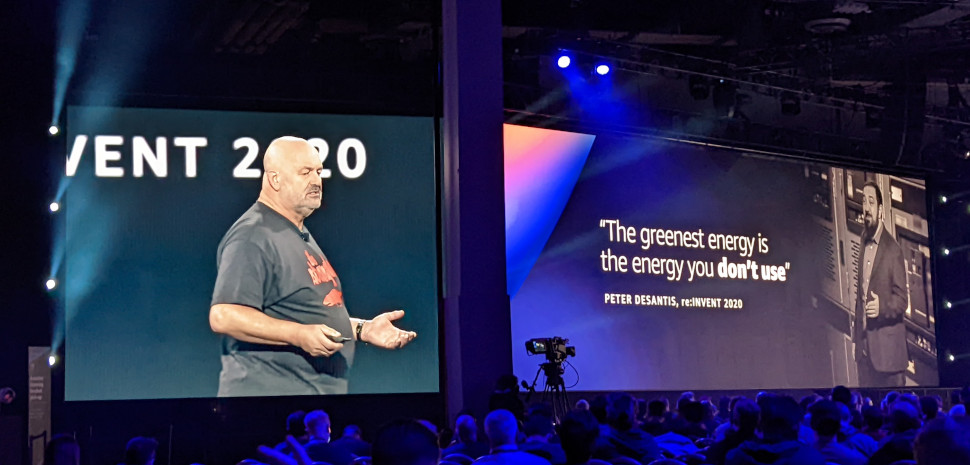 AWS has built a shared sustainability model, he says, but customers are also responsible for sustainability in the cloud - such as going serverless to move the responsibility to AWS.
AWS can provide insights on carbon footprints, with the company launching a new AWS Customer Carbon Footprint tool to give customers a look at exactly what they are using.
"Every resource you are not using is the greenest resource you can think of," he notes - even small steps such as using lower-res images on your websites can make a difference.
There's a new AWS re:Post resource launching, a new community-driven site where users can ask messages about any AWS builds they are thinking about, or are actively using.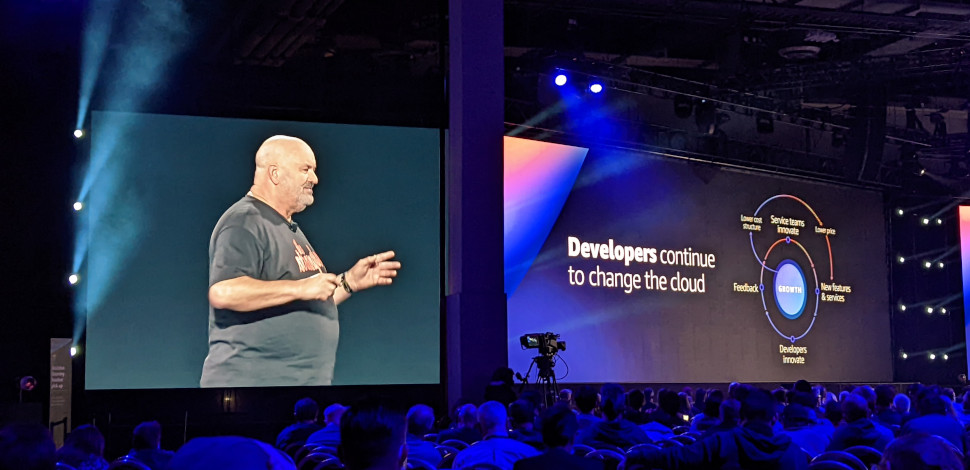 "The cloud continues to change development," Vogels notes, "we want to work with you to build the tools you need...to build the applications of the future."
"You change the way the cloud works."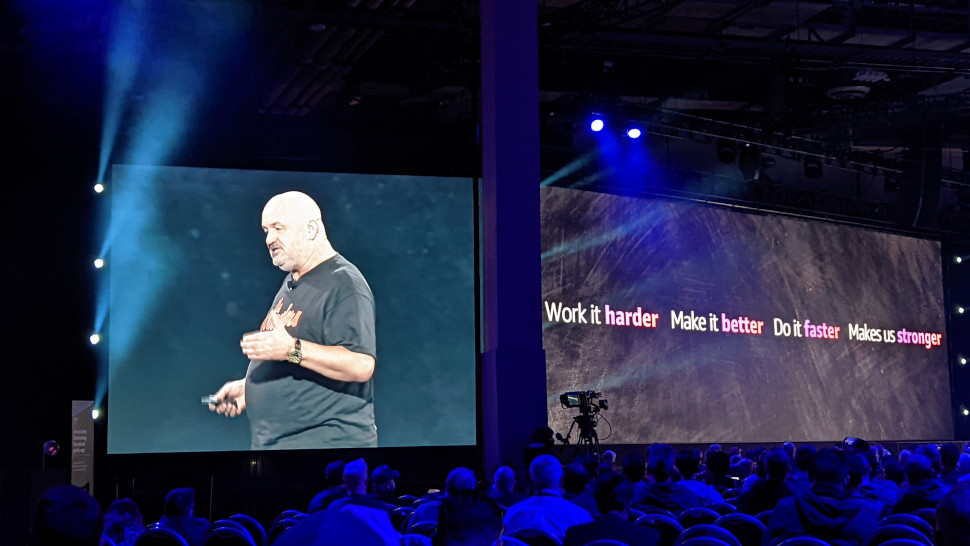 Looking to the future now, Vogels quotes Daft Punk, but also asks how you can build something completely new.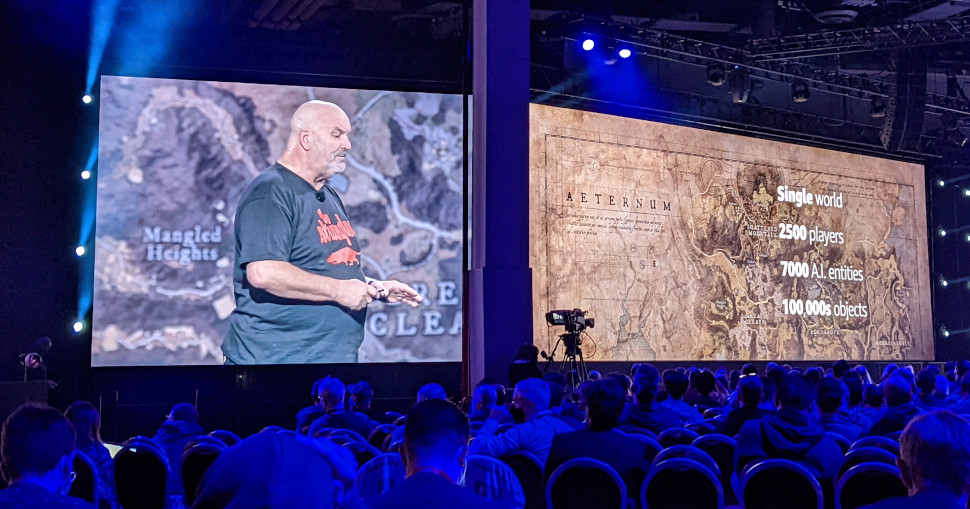 That "something new" is Amazon's hit MMORPG New World, which Vogels says he sess as not just a game, but also as a massively distributed system.
There's been a generational shift in gaming, he notes, outlining some of the incredibly complex and powerful systems that are powering New World for millions of online players, including the ability to update a player's movement 30 times a second.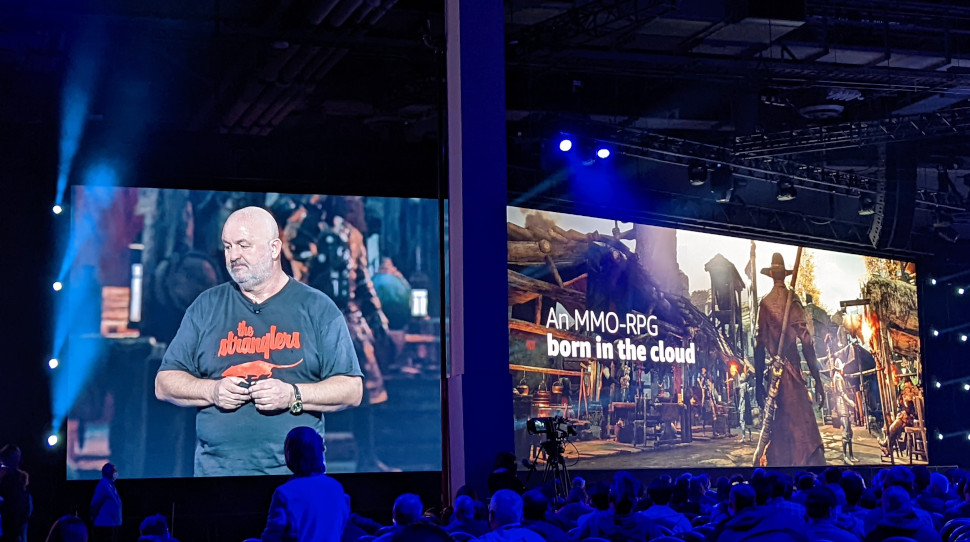 AWS lets you build systems the way you want to, Vogels notes - what he calls "21st century architecture."
And with a cry of "now go build!", Dr Vogels brings his keynote to a close! It's been a packed morning, and a packed three days of AWS re:Invent, and thanks for sharing it with us here on TechRadar Pro. Stay tuned for more news, interviews and features from the event!
Sign up to receive daily breaking news, reviews, opinion, analysis, deals and more from the world of tech.
Thank you for signing up to TechRadar. You will receive a verification email shortly.
There was a problem. Please refresh the page and try again.