Adobe Summit 2023 live: all the news and announcements from Day Two
Adobe Summit 2023 EMEA is a go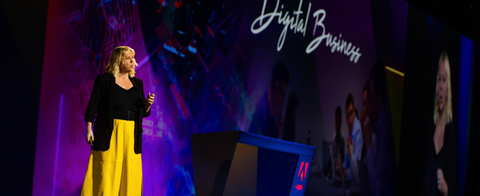 (Image: © Adobe)
Welcome to our live coverage of Adobe Summit 2023 (June 8 - 9).
After a big day yesterday, we're back on the floor at ExCel London to see what's new from Adobe. Expect plenty of focus on productivity, personalization, creativity, and, of course, AI.
The Day Two keynote has ended, but it's not quite over for Summit 2023. We'll be continuing to cover all the top news, announcements, updates, and interviews.
Refresh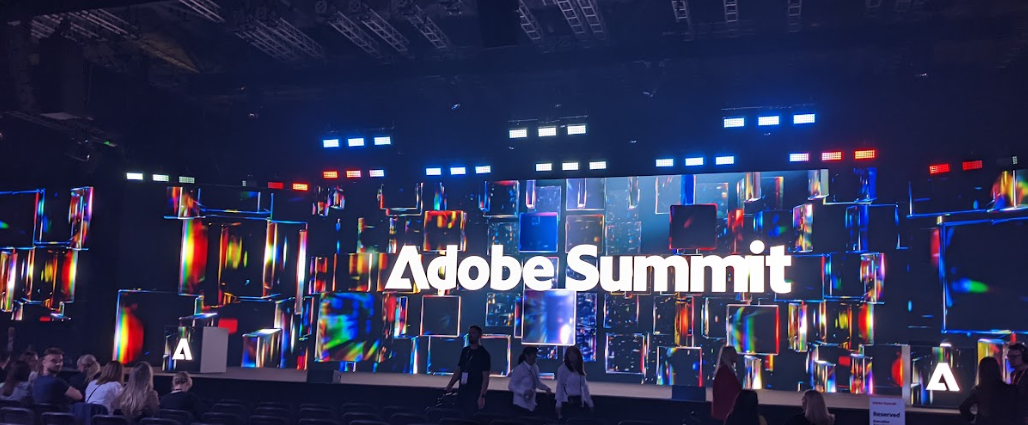 This is London calling. We've arrived at the Excel for Adobe Summit 2023. It's warm, it's bright, and we're already two coffees in - so it should be a great day.
Centered around creating modern digital experiences, Adobe Summit is a must for anyone in marketing, eCommerce, CX, data analytics, and more. And we'll be here bringing you all the latest news and updates as they happen. We're expecting to see announcements across a range of products, including Adobe Firefly and Adobe Express.
The morning begins with Adobe boss Shantanu Narayen taking to the stage for the opening keynote. He'll be joined by President of Digital Experience Business Anil Chakravarthy, President of Digital Media David Wadhwani, and business leaders from other organizations.
Not long to go now.
The lights dim, the music cranks up. It's about to start....
President of Digital Experience Business Anil Chakravarthy hits the stage to welcome everyone.
First mention of generative AI - and we're only three minutes in. Expect many, many more...

"Digital markets and digital products are converging," says Chakravarthy. And it's up to businesses to connect and personalize experiences.
He calls it "experience-led growth".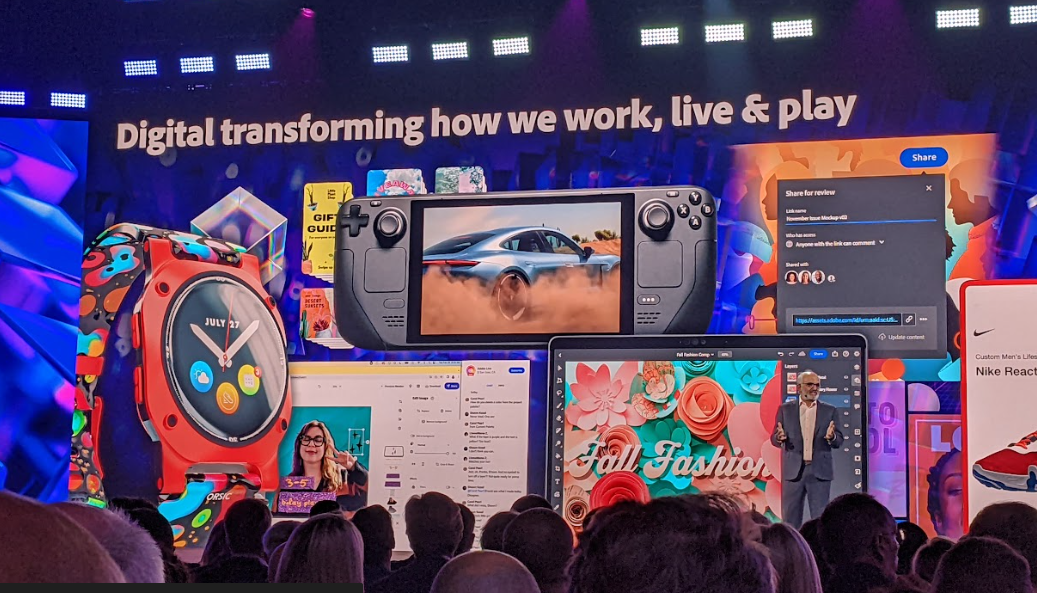 Shantanu Narayen, CEO, comes to the stage. The focus is on the revolutionary nature of everything digital - he likens it to the radical impact of mobile.
"Creators need tools with power and precision" to get the right message to the right people at the right time.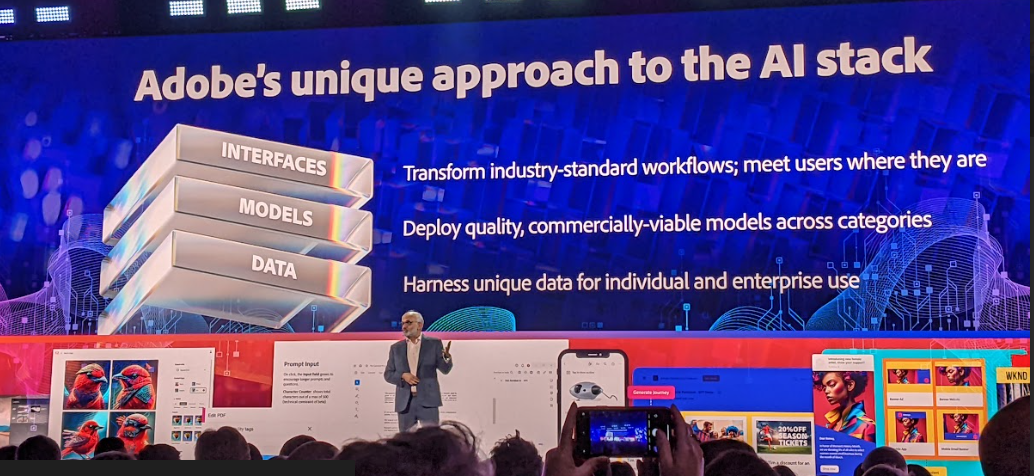 Narayen highlights the decades-long investment in AI, and Adobe's approach to the new technology, which can loosely be described as "responsible".
He explains that content will be tagged to increase transparency, provenance, and authorship.
President of Digital Media David Wadhwani bounds to center-stage. He tells the audience, "marketing happens in real-time. It's as fast as social."
Building on Narayen's comments, Wadhwani says AI-generated content from Adobe is safe for commercial use since it tracks all the data from start to finish.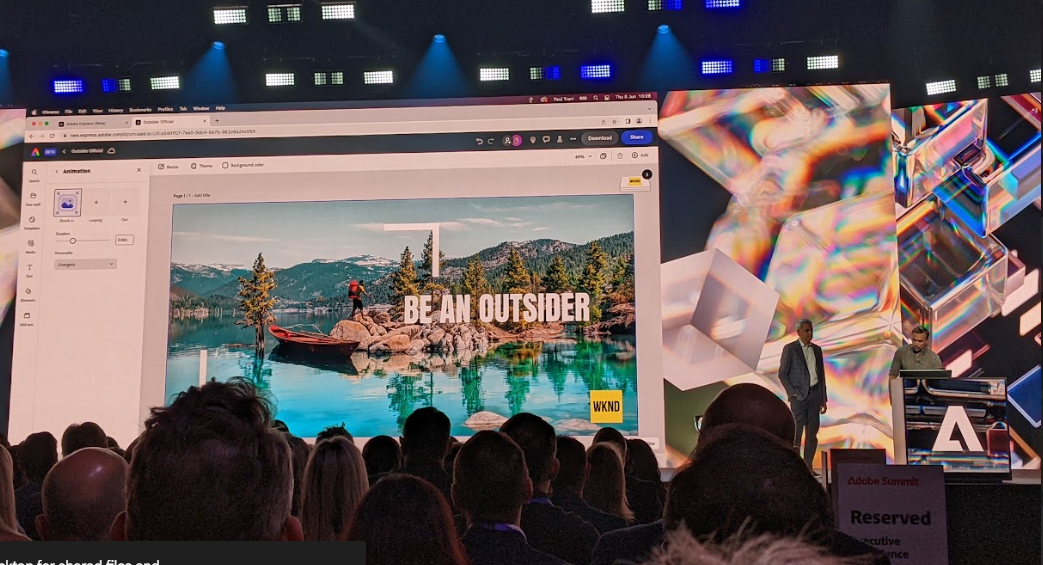 "Adobe magic," Wadhwani says after a display of Adobe Firefly working inside Photoshop.
But now the focus is on Express, with creative teams and marketers brought together with the tool.
The company's showing some major love to the online graphic design app. Better integration with other Adobe products, more stock imagery, and built in gen AI. Ever wanted to create unique font textures through artificial intelligence? That's a thing now.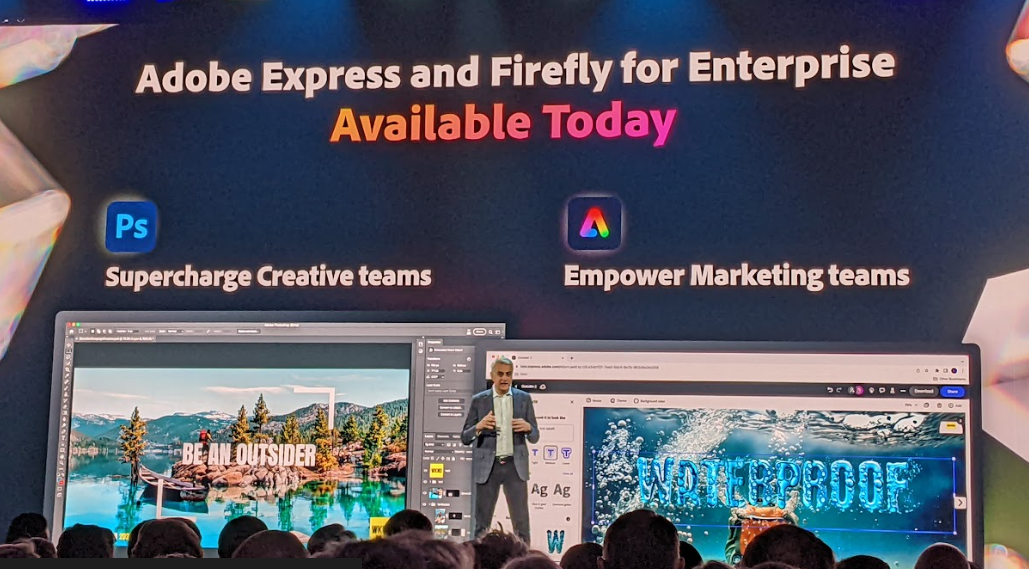 It's official: Adobe Express and Firefly for Enterprise is now available.
Chakravarthy returns to talk marketing, marketing teams, and marketing tools. Adobe Mix Modeller and Adobe Product Analytics are getting a whole lot of love, and we're promised a demo later during the keynote.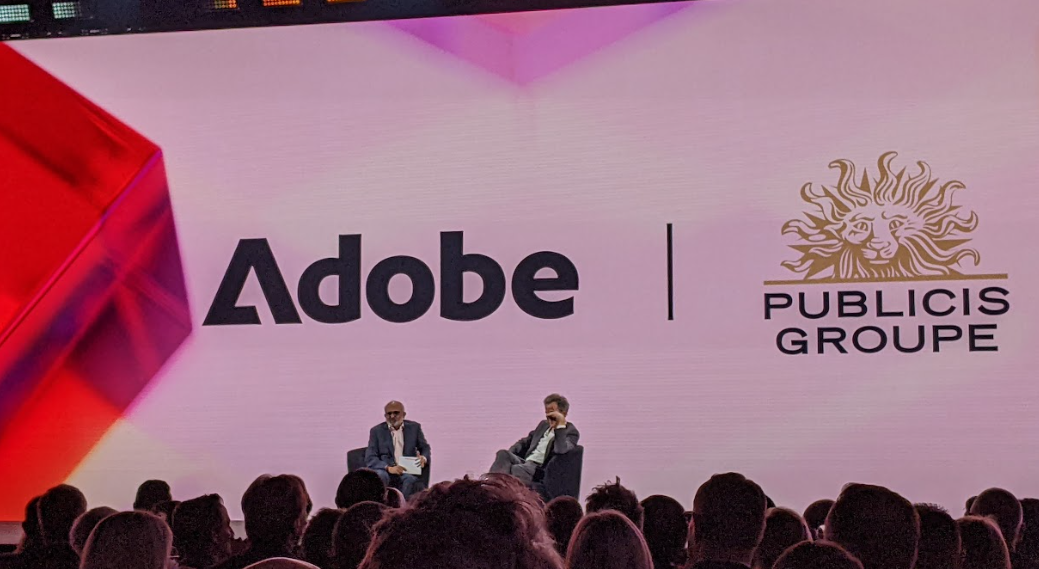 After that interlude, Narayen is back on stage for a fireside chat with CEO of Publicis Group Arthur Sadoun. They've set up a table and two chairs. No actual fire, though.
What's new in the constant world of marketing? Sadoun says there businesses are keen now to engage directly with customers (and their data). It's a shift from third-party to first-party engagement. It's all about that 'experience-led growth.'
Sadoun says what he likes about AI, which his firm have gone all in on, is how it helps make us better.
Too much content. The wrong content. These are issues faced by many businesses today. Sadoun notes serious challenges with the content supply chain.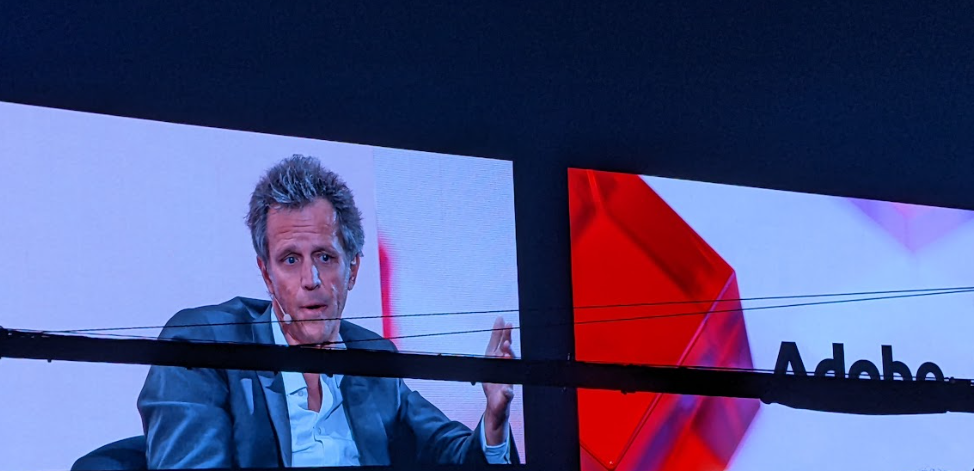 Invoking The Grateful Dead's Jerry Garcia, Sadoun tells us he often thinks it's not important to be the best at what you do. It's important to be the only one doing it.
To end, Narayen lightens the mood with a word association game - "Polo?" he asks. "Youth," Sadoun replies.
And we're back with Chakravarthy. He explains that integration is one of the most important factors for a true digital experience. He says businesses can go from receiving a customer signal to taking action and gathering insights without pause. It's effectively possible with Adobe.
Sonali Patel now takes the stage. We're shown a demo on the AI-infused Adobe Experience Platform that empowers businesses throughout the customer journey. New ways to engage, new ways to activate advertising.
"Fasten your seatbelts," she said. "Let's take a ride."
Content, content, content. We're back with Chakravarthy to learn how Adobe is rethinking the content supply chains - from planning and production, up to delivery, and analysis.
New campaign planning and visualizations are coming.
"it's past time to modernize," he says - aiming his words at businesses still running on spreadsheets.
Here's an interesting one: Through the power of Sensei, you'll be able to analyze a piece of campaign content from color to copy. It'll let users really drill down into their audiences.
So, marketing metrics don't have to be a superficial, top-line numbers game - always a tricky thing to quantify for creative work.
Another fireside chat (no, there's still no fire). This time, it's a conversation between reps from Adobe and Covento.
But my word, someone's left a mic too close to the electrics. It's squealing through the main hall.
Luc Dammann, Adobe's President of EMEA, finishes his chat and turns attention to those in the hall.
"Trust is the imperative," he says, noting that customers want to be seen, understood. Experiences need to be "personalized but also a human way. Establishing a connection is so important. Easier said than done. You know this."
And that's a wrap. We'll be back for tomorrow's keynote with Emma Thompson (yes, that Emma Thompson).
Good morning! We're back for Day Two of Adobe Summit 2023 here in London.
Yesterday's EMEA leg of the tour was a whirlwind of announcements and demos and creative inspiration. That's fitting, because today we're getting ready for the Inspiration Keynote with actress Emma Thompson.
The keynote kicks off at 9:30am - and we'll be bringing you the news and updates as they happen.
Until then, fill a cup with your favorite liquid and check out the latest Adobe Express - Firefly generative AI integration.
And it starts. Luc Dammann is up first, and confirms he's "still buzzing" from the events of day one.
Adobe Firefly gets another outing - to nobody's surprise. This time, we're shown how the generative AI tool works within Photoshop.
That VT is followed by Scott Belsky, Chief Strategy Officer. He's talking about 5 major waves of transformation
And one lingering question. He does like to tease us so.
1. Creativity is the new productivity - we stand out with our ideas and ability to express them.
Belsky speaks of workflows simply becoming flows - easier, faster...
2. Creative confidence is growing
Belsky likens this to being 5 years old and having your drawings pinned to the fridge... then you grow up, discover there are people better at drawing (not to mention critics). It causes us to lose confidence in our creativity.
With tools like Adobe Express, we're all 5 years old again, with faith in what we create.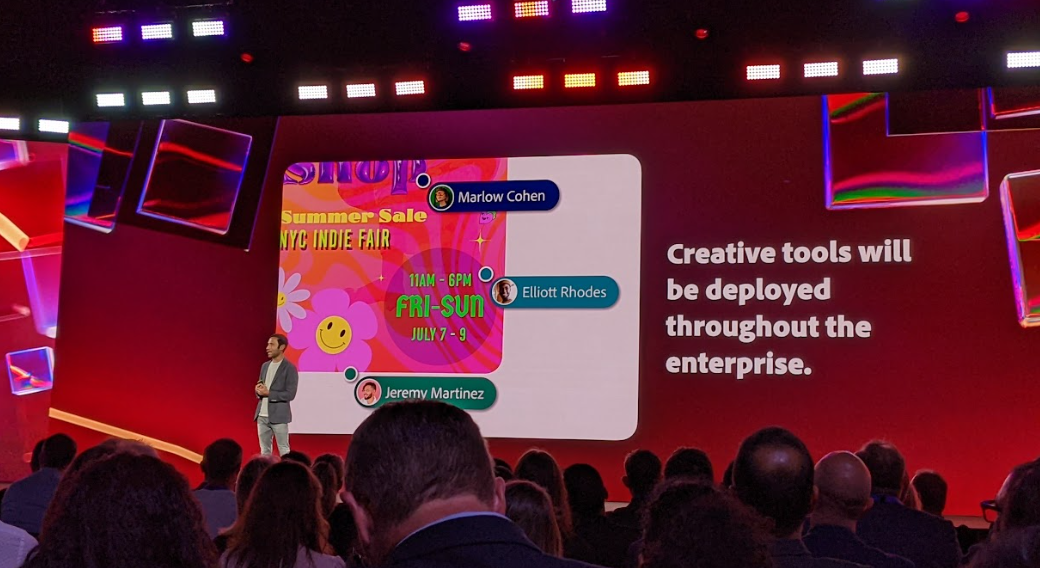 3. The opportunity for creative exploration is expanding
Creatives have a lot more ways to discover new ways, new mediums, new messages.
4. The future of every digital experience will be personalized
Personalization isn't new - but with advances in AI and heaps of data, consumers can expect businesses to really 'know' them.
Belsky calls this "hyper-personalization" with brands meeting consumers wherever the consumers are, wherever that may be. Then he explains dramatic changes, like recommendations replacing favorites, and personal AI agents that know everything about you.
Don't worry, that's not terrifying at all.
5. We will all crave story, craft, and meaning more than ever
Consumers will be more engaged with even more content.
I'm not sure this is true - I suspect our human craving for story, craft, and meaning is eternal and unchanging. It's just expressed differently today.
And that one lingering question...
Are we replacing humans or unlocking uniquely human potential?
No prizes for guessing which side of the question Belsky falls down on. But it's all about finding new ways for humans to work.
What do you think?
That's it from Belsky - for now. Now Stacey Martinet, VP of Marketing Strategy & Communications.
"Today all marketing, including content, needs to be optimized daily," she tells us. "And for brands to respond."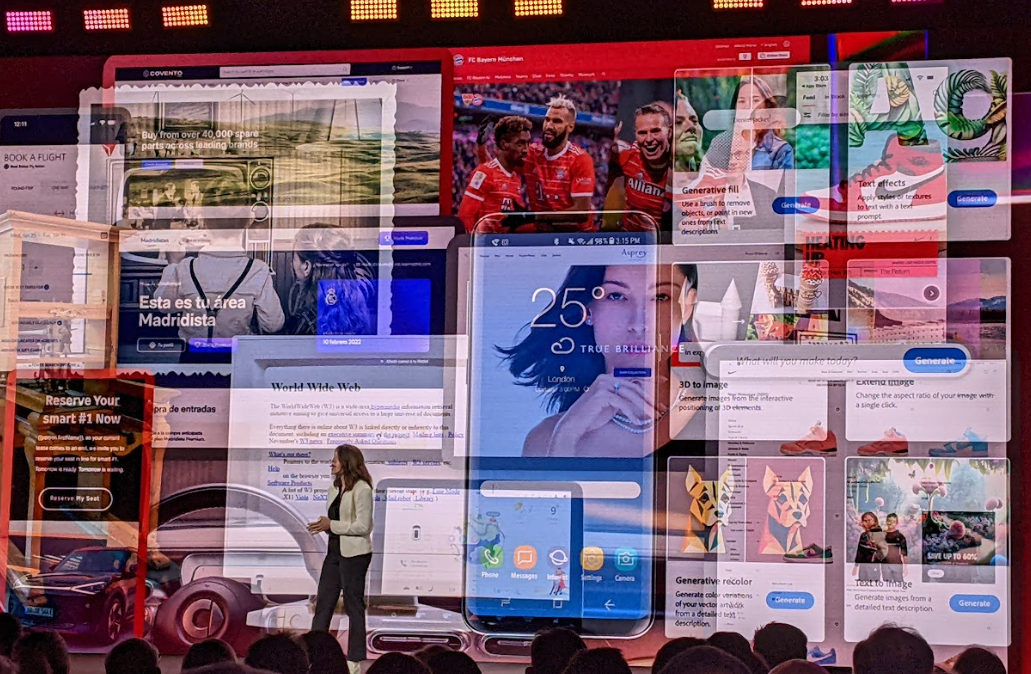 Story-led marketing and social-first marketing are both changing, Martinet says.
It's not enough to just publish content or tell broad stories that appeal to many. It's about personalizing both of these marketing channels.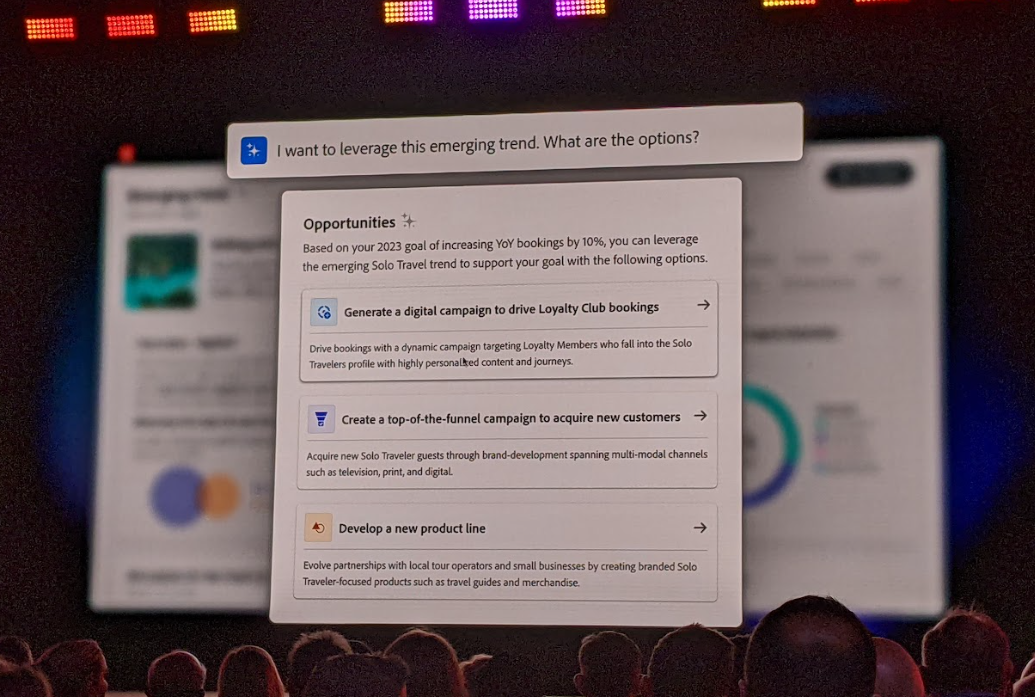 Brands need to work in real-time - that's a big takeaway here from Martinet.
And 'how?' you cry. AI, of course.
To show us how, Eva Bruchez gives us a demo of using Sensei AI in the experience platform. We're shown how AI can generate insights, full campaigns, and data breakdowns for better market segmentation (the smallest segment, of course, is the individual - which demands, you guessed it, hyper-personalization).
Bruchez calls Sensei AI "a game-changer" that delivers campaigns at hyper-speed. "How powerful is this?" she asks, to applause.
Creatives aren't forgotten here either. Bruchez continues the demo showing us how Sensei GenAI can create reams of unique content that's likely to appeal to the target market.
It's all connected, of course, with performance insights that let users continually optimize, optimize, optimize.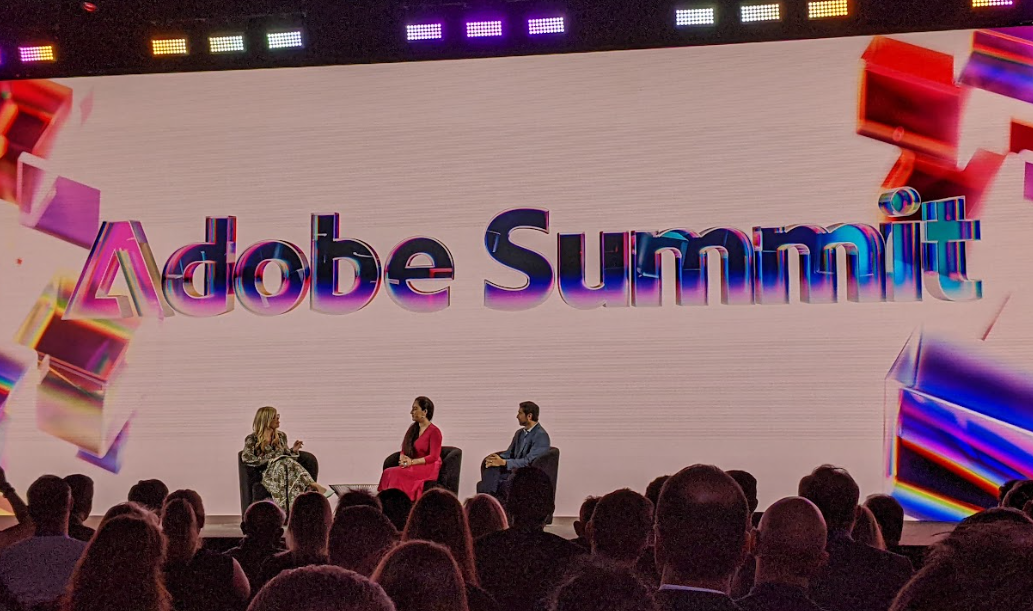 Dammann returns to introduce broadcaster Emma Barnett talking to genAI expert Nina Schick and Amit Ahuja, Senior Vice President of Experience Cloud.
Schick says "AI, AI, AI" has been the soundtrack to our lives for months - but the real-world applications and utility, particularly for businesses, risk getting lost.
Ahuja concurs, saying companies are still asking "how can you use this in a responsible way?"
"This is a revolution that's more transformative than the cloud, the internet, the mobile phone," Schick says on the topic of AI.
Ahuja says when he hears people talk about AI, many are thinking about chatGPT - but businesses need to look at what are the use-cases using generative AI. Marketing and content is an obvious starting point.
On the same point, Schick talks of an architect who used AI tools to branch out to creating other design work, like furniture.
"It's that powerful a tool to augment our output."
"The machine's going to do it all for you - I don't think that's what people want," Ahuja agrees, saying businesses are looking at using AI as a co-pilot, not a replacement.
Barnett asks what it will look like when we're not all thinking of one thing when we think of AI. In other words, when we see AI as more than a bot to chat to.
"This technology is going to transform the world," Schick says, telling the audience to beware doom-mongering headlines. To an extent, at least.
Barnett then brings up the notion of Chief Electrical Officers, back when electricity was a novel idea. We're in a similar space today with AI.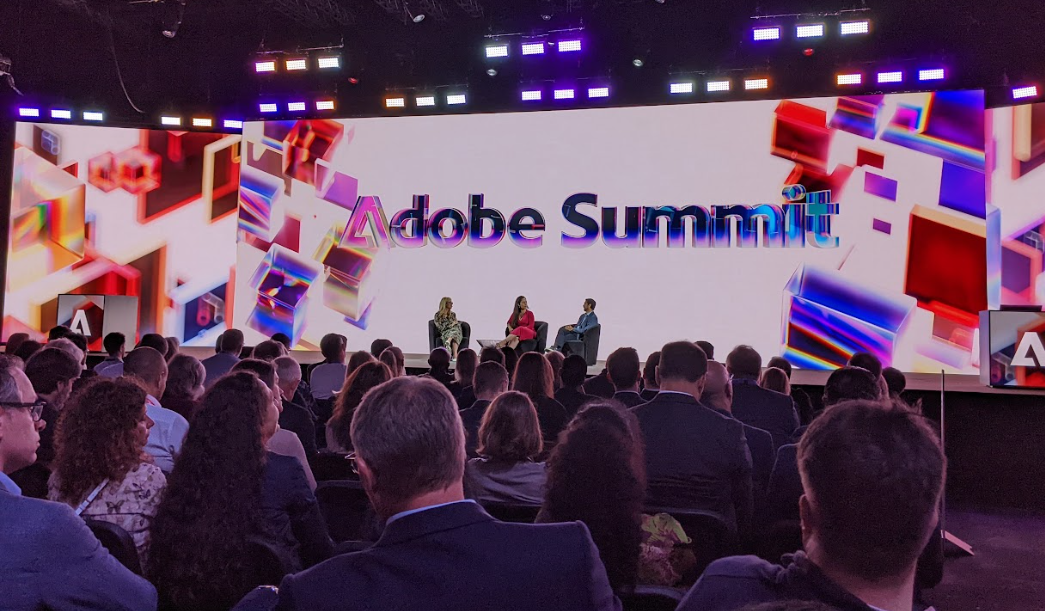 Ahuja confirms he's been with Adobe for 19 years.
"How long has AI been part of the conversation?" Barnett asks.
10 years, Ahuja confirms (well, AI ML, anyway). Schick says it's been part of our lives for a lot longer than we think.
And that concludes the chat.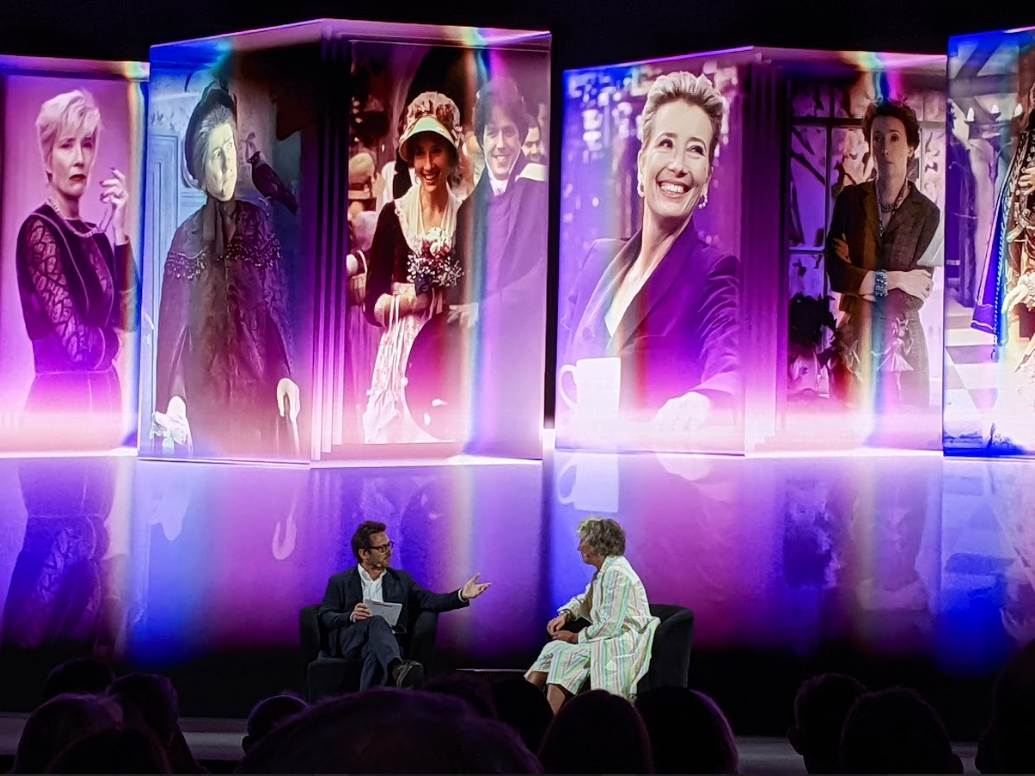 After a brief clip from her most famous film (Matilda, of course, what were you thinking?) Emma Thompson hits the stage. Mass applause. A sea of cameraphones.
She's in good spirits.
"Ever since I was very young, the question of how you market yourself, how you present yourself to the public is hugely important."
She muses on how different her career might be if she had the tools and tech we have today.
"I'm the most analog person in the room," Thompson admits, calling herself "adigital." Good job she's not part of a conversation at a technology conference then.
But the focus here is on making connections - with yourself and with others. You can't do the latter without the former.
Dammann asks her what makes a story great (and not average). "Story is structure," Thompson says, decrying scripts that are all themes and dialog with no story whatsoever.
"If you want to make money, don't get into movies," says the multi-millionaire actress.
"Our time is up," says Dammann. The crowd cheers and whoops as Thompson strides off the stage.
It's a tough act to follow, but one that Claire Darley, Senior VP of Digital Media GTM & Sales at Adobe, handles ably to discuss football.
Welcomed to the stage are Laura Georges, secretary general of the French Football Federation, and Bex Smith, CEO and founder of Crux Sports.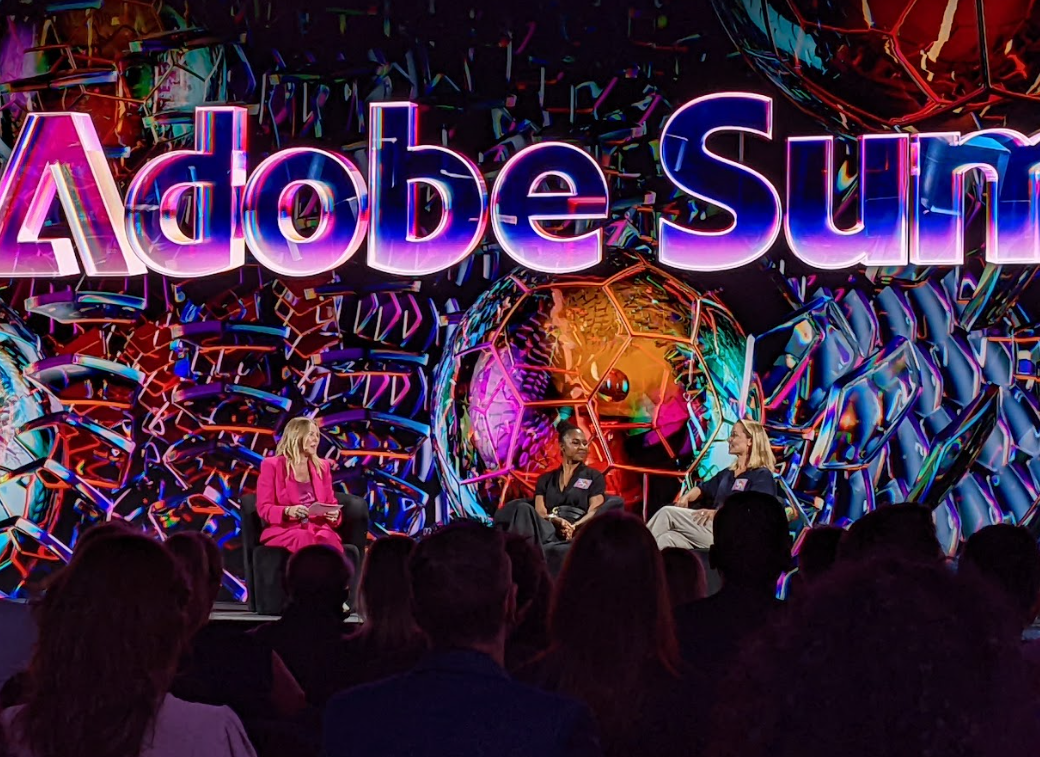 Surprisingly, little to no mention of Adobe so far.
But we have heard about how critics (of which Georges says there are many) help drive them both to be better.
And - after some slight technical (read: internet) hitches - that's a wrap for the day two keynote. Stay tuned to TechRadar Pro for more news, announcements, and interviews from Adobe Summit 2023 EMEA.
Sign up to receive daily breaking news, reviews, opinion, analysis, deals and more from the world of tech.
Thank you for signing up to TechRadar. You will receive a verification email shortly.
There was a problem. Please refresh the page and try again.