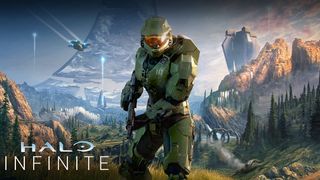 (Image credit: Microsoft)
Halo: Infinite on Xbox Series X|S, Xbox One and Windows PC is the latest, greatest and most ambitious Halo yet, with a gripping Campaign mode, intense multiplayer and a brand new free-to-play experience.
For those who have already spent many happy Halo hours in Halo: Infinite, and it reminds them of the original game: while taking full advantage of the Xbox Series X|S's power to deliver incredible visuals, genuinely dangerous opponents and incredible experiences, at the core is the same intense gaming joy that made the very first Halo such a great and gripping game.
Whether you're playing the most expansive Master Chief campaign yet or the ground-breaking, free-to-play multiplayer experience, Halo: Infinite is the most Halo-y Halo yet.
And with the right load-out, it's even better. At Currys, you'll find exclusive gaming gear worthy of a Spartan.
Be an unstoppable force
If you're playing Halo: Infinite on PC, Razer's BlackWidow V3 is a weapon as potent as Master Chief's battle rifle.
Whether you're destroying heavily guarded installations or searching for the nefarious war chief Escharum, the responsiveness and resilience of this incredible mechanical keyboard brings firepower to every fight.
With its ultra-durable Razer Mechanical Switches that are good for up to 80 million keystrokes, the Razer BlackWidow V3 is as tough as the Master Chief's Mjolnir armour – and it grants you the bonus in-game reward of the Deathly Poison Weapon Coating.
Join forces with a gaming legend
We're not going to share any spoilers but put it this way: in Halo: Infinite, the Master Chief faces the fastest, toughest and most brutal enemies he's ever encountered.
The Razer DeathAdder V2 gives his armour superpowers by augmenting the speed, reflexes, and accuracy of the Master Chief in every arena.
That means you can track down and eliminate enemies on Installation 07 with unrivalled speed and precision, neutralising them at the speed of light.
And thanks to an ergonomic design that's every bit as legendary as the Master Chief himself, you'll be at peak performance no matter how huge the Halo level is. Once again you also get an in-game reward: the sought-after Fangs Emblem.
An ever-evolving Halo experience
The tagline for the original Halo was Combat Evolved, and Halo: Infinite will evolve too: there will be seasonal updates and new challenges, unique events, new modes and maps, and community-focused content.
And you have complete control over the personalisation of your Spartan, with Battle Pass unlocking new abilities and powers.
Halo Credits can be used to purchase player customisation items, boosts, and other consumables as well as unique seasonal Battle Passes that never expire.
Game Pass: the best way to play
Halo: Infinite was available on day one to every single subscriber of Game Pass, Microsoft's game service: for a single low monthly fee you get access to over 100 top-quality games for Xbox Series X|S, Xbox One and Windows PC including many triple-A titles on the day of release.
It's exceptionally good value for money, and with your Razer accessories, you'll be able to get the best experience on every single game.
Sign up to receive daily breaking news, reviews, opinion, analysis, deals and more from the world of tech.