Pokémon Go, the world's first augmented reality app to become a household name, is still going strong almost six years after its initial release. Niantic's mobile AR game, which merges the world of Pokémon with our own, remains fresh thanks to a constant drip of events and updates keeping budding trainers glued to their phones and pounding the streets.
While it hasn't managed to top the peak of its popularity in 2016, developer Niantic continues to find plenty of new ways to improve its player experience, introducing new features and pokémon, and overhauling pre-existing ones, plus much more.
In fact, it can be hard to keep up with the ever-evolving world of Pokémon Go, so we're here to help. Below, we've rounded up the latest Pokémon Go news, rumors and updates as well as details on confirmed events and Community days.
Want to know more? Read on for all the latest Pokémon Go news and updates.
Pokémon Go: cut to the chase
What is it? An augmented reality Pokémon mobile game
Release date: July 16, 2016
What can I play it on? Android, iOS and iPadOS
Pokémon Go latest news and updates
What's new? Boosting your fully-evolved Pokémon just got a lot easier
Pokémon Go's Mega Evolution feature, which temporarily changes a pokémon's appearance and increases its strength, has received a major overhaul that makes it easier and more rewarding to evolve your pokémon into the ultimate versions of themselves.
First teased in a recent Pokémon Go datamine, Niantic officially announced the overhaul in a blog post on the official Pokémon Go site, which explained that the update means Mega Evolutions are now a one time cost, meaning that after you Mega Evolve your pokémon once, you can do so again for free after a cooldown period. If you can't wait, then there will be the option to reduce the rest period by spending more Mega Energy. That means you only need to collect the Mega Energy required to evolve your Pokémon once, rather than every time.
The update is live now for players in Australia and New Zealand and is expected to roll out to the rest of the globe "soon".
In addition, Mega Levels have been introduced which see your pokémon gaining experience towards a Mega Level each time it Mega Evolves. When it reaches a new level, it will receive bonus rewards, like a reduction to the aforementioned rest period. What's more, using Mega Evolved pokémon to catch other pokémon of the same Type gives you a higher chance of earning Candy XL and higher XP rewards.
Most Mega Raids – the multiplayer battles you must complete to get your hands on Mega Energy – have also been made easier, requiring fewer people to take them on and therefore making it a bit easier to acquire Mega Energy. e.
Niantic says the pokémon you have Mega Evolved before this update will also feature bonus visual effects to commemorate your achievement.
Pokémon Go updates: what's next?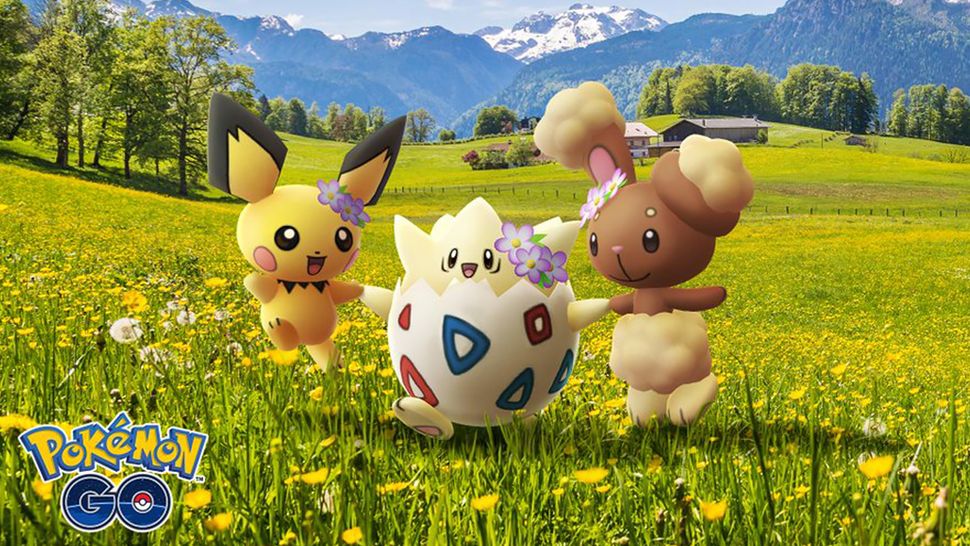 At the moment, we're not sure what's next for the game aside from, naturally, new Pokémon being added. We'll update here when the roadmap becomes more clear.
What's the next Pokémon Go Event?
What is the next Pokémon Go event? Pokémon Go Safari Zone: Seville
What date is the next Pokémon Go event? May 13 - May 15
Pokémon Go Safari Zone: Seville is the first major Safari Zone event of the year and is taking place from May 13 to May 15 in Seville, Spain.
Details on the event are thin on the ground right now, but Niantic has hinted that attendees may encounter Shiny Corphish for the first time in Pokémon Go. Unfortunately, there is no global component for this event as it's in-person only. You can grab tickets here.
When's the next Pokémon Go Community Day?
What date is the next Community Day? May 21, 2022
Who's the starring Pokémon? Alolan Geodude
Niantic has confirmed that the next Pokémon Go Community Day will take place on May 21, from 11am to 2pm local time, and will feature Rock pokémon Alolan Geodude. That means Alolan Geodude will appear more frequently in the wild and you may even have the chance of catching a shiny one.
If you evolve Alolan Graveler (Geodude's Evolution) during the event (or up to two hours after it ends) then you can get an Alolan Golem that knows the Fast Attack Rollout. Fast Attack makes its Pokémon Go debut with this Community Day and generates energy quickly.
Here are the event bonuses:
3× Stardust for catching Pokémon
2× Candy for catching Pokémon
2× chance to receive Geodude XL Candy from catching Alolan Geodude
Incense activated during the event will last for three hours
Lure Modules activated during the event will last for three hours
Take a few snapshots during Community Day for a surprise
One additional special trade can be made during the event and up to two hours afterward for a maximum of two for the day
Trades made during the event and up to two hours afterward will require 50% less Stardust
You can also earn a group bonus. If enough pokémon are caught with help from a single Lure Module, any Trainers near the Lured Pokéstop will get a 4x Catch Stardust bonus for 30 minutes (as opposed to a 3x bonus).
In addition, for $1 (or the equivalent pricing tier in your local currency), you'll be able to access the Alolan Geodude Community Day–exclusive Special Research story, A Rocky Road.
When's Pokémon Go Fest 2022?
When's Pokémon Go Fest 2022? June through August
Pokémon Go Fest 2022 kicks off this June and will see the annual community gathering holding in-person events for the first time since 2019.
According to a post on the Pokémon website, announcing this year's global Pokémon Go event, developer Niantic has scheduled Pokémon Go Fest events from June through August. But while there are a few global events on the cards, there are also three in-person events scheduled: in Berlin, Seattle and Sapporo.
Details on timings and tickets haven't been revealed yet, but we expect Niantic will share more in the coming months. Until then, check out the (loose) schedule below:
June 4 - June 5: global event
July 1 - July 3: in-person event in Berlin, Germany
July 22 - July 24: in-person event in Seattle, Washington
August 5 - August 7: in-person event in Sapporo, Japan
August 27 - global event
What is the best Pokémon in Pokémon Go?
Sure, you can catch 'em all but what if you only want to catch the very best? Well, when it comes to Pokémon in Pokémon Go getting the best really depends on what you want to do with your Pokémon, whether that's PvP battling, raiding or defending a Gym.
One of the simplest (and therefore not foolproof) ways to look for a strong Pokémon is by determining its max CP. The Combat Power figure is determined through a combination of a Pokémon's Attack, Defense, and Stamina numbers but it isn't everything and a Pokémon's moves, stat distribution and type ought to be considered too . However, if you're just looking to know which Pokémon has the highest potential max CP then according to Gameinfo that's Slaking.
If you're looking for a Pokémon that can be a bit of a punchbag and therefore a solid defender, then it's hard to go wrong with Blissey — it has the highest HP and Stamina stats at the moment.
For attacking, it's worth considering Mewtwo—not only is its max CP second to Slaking, it has good stats across the board and a particularly high attack stat.
These are far from definitive picks (it can get pretty complicated when you get down into the numbers in Pokémon Go) but should at least give you a place to start.
Pokémon Go guides
Below, we've collated all our Pokémon Go guides to help you to catch them all: