Introduction
Where social networking is concerned there's one site that has been the daddy of them all for some time – Facebook (opens in new tab). What comes with having hundreds of millions of users is a huge amount of data centre usage and making that more efficient creates a better balance sheet at the end of it. With that in mind, a small team of engineers at the company set about changing the way data centres are treated to bring about a more energy efficient and lower cost situation.
Two years ago this became the Open Compute Project (opens in new tab) (OCP) that created a data centre which consumed a lot less energy without losing any power, and all-in-all saved Facebook almost a quarter compared to its regular data centres.
OCP has grown from there to become an industry-wide standard that many other firms have jumped at the chance to use. It's not only of help for huge multi-nationals though, and in this article, we'll take a closer look at how Facebook's OCP can help many different types of firms.
Where it all started
Thumbing through the history of the Open Compute Project (OCP) site shows that it has been Facebook (opens in new tab)'s baby from the outset and started life in a basement electronics lab in Palo Alto. On the OCP's website it explains that a small team of Facebook engineers spent two years taking on the challenge of scaling computing infrastructure in the most efficient way possible.
They were able to design a data centre (opens in new tab) from the ground up consisting of completely customised servers, power supplies, server racks and backup systems. This meant four things could be achieved:
A 480-volt electrical distribution system used to reduce energy loss
Anything not contributing to efficiency was removed
Hot aisle air could be reused in the winter to heat the office, and the outside air flowing into the data centre
Eliminate the need for a central uninterruptible power supply
The resulting data centre in Prineville, Oregon used 38% less energy to perform the same tasks as Facebook's existing facility, and cost 24% less, and after they completed the data centre the specifications were released for anyone to use.
The end goal of the Open Compute Project is to encourage a collaborative dialogue about how computing infrastructure can be made as efficient as possible.
Sharing is caring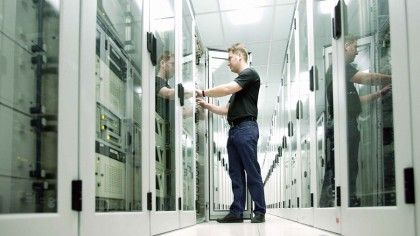 The beauty of Facebook's plan for the future of the data centre is that any company, or person for that matter, can use the specifications to create cheaper components and ultimately drive down the cost for their company wherever they are in the world. The Open Compute Project mission statement reads thus:
"The Open Compute Project Foundation is a rapidly growing community of engineers around the world whose mission is to design and enable the delivery of the most efficient server, storage and data centre hardware designs for scalable computing. We believe that openly sharing ideas, specifications and other intellectual property is the key to maximising innovation and reducing operational complexity in the scalable computing space. The Open Compute Project Foundation provides a structure in which individuals and organisations can share their intellectual property with Open Compute Projects."
Furthermore, it explains that any designs which are contributed should be improved by the collaboration of all involved, and illustrates just how crucial sharing is to the whole concept.
The companies on the board are...
The Open Compute Project is primarily made up of three different classes of technology: server, storage and data centre. Within this there are various other pieces of tech related to networking, server design, hardware management, power supply, chassis, battery cabinets, and all manner of other components.
Firms have agreed to offer up these components free of charge and there is a Foundation Board that sits above this to oversee the whole project. This includes dignitaries from Intel (opens in new tab), Rackspace, Microsoft (opens in new tab), Arista Networks, Goldman Sachs and Facebook.
How it saves power
Many companies will be wary about forking out the initial money to set up Open Compute Project (OCP) servers in their data centres, yet they shouldn't be as the savings you can make over time are such that it makes absolute sense. What are those savings, though?
The largest saving of all occurs in the power consumption department. Talking to VentureBeat (opens in new tab), Chris Yetman from Vantage Data Centres explained that the designs of data centres under the OCP have a lot to do with this drop in consumption. Stripping them down to become as minimal as possible might not look good, but the resulting savings sure look beautiful on a balance sheet come the end of the year.
The OCP goes further than that, however, and changes the entire power supply so that power is shared from a small number of larger supplies to the whole rack. This differs to the two power supplies per server situation pre-OCP that ensured a backup power supply in place should a disaster occur. The OCP design also puts the batteries in the rack, and uninterruptible power supplies that are the size of the data centre are a thing of the past with the batteries able to be controlled by software.
SMBs can make some big savings
Most of those companies looking at Open Compute with eager eyes are among the largest companies on the planet, yet the future could prove even better for small and medium-sized businesses (opens in new tab) that are in line to draw a huge number of benefits from the OCP.
Chief among all the advantages that SMBs can draw on is the fact they will be able to benefit from the buying power of large internet service providers like Facebook and Rackspace by leveraging the products on offer. By using the 'open' concepts on offer elsewhere they will be able to cut down on capital expenditure on large-scale equipment rollouts, as well as operating costs without the quality of service being diminished.
The open concepts themselves can also help firms in that when they are hiring new members of staff externally, it won't take anywhere near as long for them to get on board with the inner workings of the firm's IT infrastructure.
Companies like Microsoft contributing the designs for the cloud hardware that runs inside its own infrastructure ensures that firms can take the designs and produce cheaper versions of hardware for the betterment of SMBs and smaller outfits.