10 ways Microsoft can improve Windows 10
Which areas of Windows 10 need working on?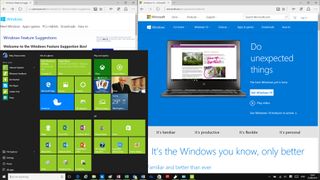 (Image credit: Future)
Introduction
So what does Microsoft need to do in order to make Windows 10 a better product? That's the question we're pondering in this feature, and we've come up with 10 ways in which Redmond could improve its new operating system.
For starters, Microsoft can bring all those promised missing features to the new Edge web browser in short order. We'd also like to see the company tighten up the new Start menu, and indeed Windows Update for that matter.
Read on for our full wish-list…
Bring Edge up to scratch
The new Edge browser in Windows 10 is fast and has a rendering engine that copes with sites written for Chrome and PC that often don't work in Internet Explorer. But it's lacking a lot of features as a browser – it doesn't sync favourites or open tabs to other devices, it doesn't yet have extensions and you can't drag files into web pages to upload them.
Those capabilities are all expected for future updates, but another missing feature hasn't yet been confirmed. Because the Edge browser is a universal app (for security as well as ease of updating), you can pin the Edge app to the taskbar but not any secondary windows. And that means you can't pin specific sites to the taskbar and there isn't an easy way for Microsoft to add that option, even though it's a popular request.
OneDrive placeholders and browsing
Windows 10 drops the Windows 8.1 deep OneDrive integration, where you could use File Explorer to navigate your whole OneDrive even if you didn't have enough disk space to sync it all to your PC, using placeholders to show you the files you weren't syncing – even when you weren't online.
Like Windows 7, Windows 10 only shows you the files and folders you've chosen to sync. So if you have thousands of photos or audio tracks in the cloud that don't fit on your computer, you can only look at them in the browser. And if you want to add a document to a folder you're not syncing, you can't do that straight from the application where you create the document.
Microsoft can't just bring back placeholders the way they were because they use too much space on small tablets, and it hasn't yet given any details of the promised replacement. You can get some of the placeholder features back with Odrive, but that doesn't give you image thumbnails so it's not a complete replacement.
Better ways to arrange windows
You can use virtual desktops to arrange specific applications together, but Windows 10 doesn't remember the position or size of different windows very well – every time you restart to apply an update, you have to restart your apps by hand (Windows 8.1 would restart Explorer and other apps for you) and then resize all your apps and windows. It would save a lot of time to be able to save specific sizes, positions and arrangements of windows.
It would also be useful to be able to snap something beyond two horizontal windows or four in a grid; how about three vertical windows? Or how about being able to resize two windows at once, so you make one bigger and one smaller at the same time, even when you're not in tablet mode?
Smarter Start menu
Happy to have the Start menu rather than the Windows 8.1 Start screen? Make sure you don't add more than 512 entries or you won't see all your Start menu items. Not only would we like Microsoft to fix this bug, but we'd like far more options for choosing how the All Apps menu works. No matter how big you make the Start menu, the list of installed apps stays in a narrow column, with program groups collapsed, and with only a tiny icon to show that PowerPoint is hiding in the Microsoft Office group.
Take a hint from the many Start screen replacements that offer far more customisation and give people more ways to organise apps.
Bring back Store features
Now that the Windows and Windows Phone Stores have been fully unified, it's time for more of the Store features to come back – especially on the web. For a start, we'd like the Store to be far more reliable – it's the app most likely to have connectivity problems, and there have been numerous bugs where app updates don't download automatically.
But we also miss the ability to send apps to another device; you used to be able to browse the Windows Phone Store on the web and send apps to your phone automatically. Now if you see an interesting phone app when you're on your PC, you have to remember to pick up your phone and look for it.
Given how common mobile web browsing is, being able to send apps to your PC from your phone would get a lot more Windows Store apps installed – and that's what Microsoft needs to get developers interested.
Put everything in Windows Update
Windows as a Service means that more people use Windows Update; on Windows 10 Home you don't get the option. We'd like to see Microsoft push OEMs like Dell, HP, Samsung and Lenovo to put all their essential drivers and updates in Windows Update so users don't have to run two update tools.
Even if you buy a PC from the Microsoft Store with the Signature version of Windows that doesn't include crapware, you're going to have to use the vendor update process to get driver and firmware updates that Microsoft's own Surface PCs get from Windows Update.
That would also make it less likely that PC makers will try to disable Windows Update the way Samsung did, or push updates that sneakily install software you haven't asked for the way Lenovo has done, or that cause security problems (again, we're looking at you, Lenovo).
Fix audio management
Right-click on the volume icon in the taskbar and you can open the Volume Mixer to set the volume for different desktop apps, or mute them altogether – but it doesn't control the volume for Store apps, which means it doesn't control Edge but it does control IE.
Edge will show you which tab is playing audio with an icon you can use to mute it. Why can't Microsoft put it all together and give us volume controls and mute buttons for every tab and every app and program on the system?
One Windows interface
Microsoft has said that eventually, the Settings app will have all the settings and controls from Control Panel, though we don't know how long it will be before you stop jumping between the two of them.
We'd like to see all the Windows interface pieces get the same makeover so they look like they belong in the same operating system. At the moment, the menu you see when you right-click on the taskbar looks very different from the menus you see when you right-click icons in the taskbar, which look different from the context menus for items in the system tray…
There are lots of places where there are out of date interface styles in Windows.
Notification history and sync
The new Action Center in Windows 10 shows you alerts from a mix of system tools and installed apps – including Outlook 2013 as well as Store apps. But you can't collapse a group of notifications, you can only delete them – and when they're gone, they're gone for good. If it's useful to put all your notifications in the same place, a history of old notifications all in one place would be just as useful.
And when you have multiple devices – whether that's a desktop and a tablet or a notebook and a Windows smartphone, wouldn't it be much more useful if dismissing the alerts from Twitter on your phone cleared them on your PC as well?
A visible backlog
Microsoft is giving users much less detail about what bugs have been fixed in Windows, unless they're security problems where you can still dig into the details. Unless you plan to pick and choose updates – something Microsoft isn't encouraging – it's not necessarily useful to know what's fixed in enormous detail, although it's nice to know when a problem you've had is supposed to be fixed, in case it still doesn't work.
But we also have no idea what's coming or when, unless it's a web standard that the Edge browser could use – in which case you can see exactly what Microsoft is going to implement and how high a priority that has. The Uservoice site for Edge web developers has over a dozen items marked as in development, whereas the Uservoice site for Edge users has only two suggestions with an official status and one of them is no.
The Insider Hub tells you how much feedback you've submitted, but not whether Microsoft is working on any of it. The Windows team has a list of items they're working on for Windows. Some of them have to stay as surprises for competitive reasons, but when they're bug fixes and requested features, people would be much happier to apply all those updates if they knew something they wanted was on the way.
Are you a pro? Subscribe to our newsletter
Sign up to the TechRadar Pro newsletter to get all the top news, opinion, features and guidance your business needs to succeed!
Contributor
Mary (Twitter, Google+, website) started her career at Future Publishing, saw the AOL meltdown first hand the first time around when she ran the AOL UK computing channel, and she's been a freelance tech writer for over a decade. She's used every version of Windows and Office released, and every smartphone too, but she's still looking for the perfect tablet. Yes, she really does have USB earrings.