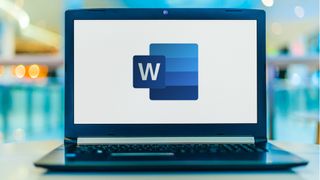 (Image credit: Shutterstock / monticello)
When it comes to word processing, Microsoft Word continues to reign supreme over alternatives like Google Docs and Adobe Acrobat. Although these alternatives are getting better and better, making the market more competitive for Microsoft, Word still shines above the rest because it is user-friendly, feature-packed, and allows you to work with documents quickly and effectively.
In our review of Microsoft Word, we're clear that this application is completely indispensable because of its features, support, and intuitive interface. As mentioned in that article, Word's current capabilities extend far beyond text formatting, to encompass features like web page formatting, instant translation, and 3D model insertion.
When it comes to Microsoft, Word (along with the whole Microsoft 365 suite) offers everything you could possibly want when it comes to productivity, communication, and collaboration. The Microsoft 365 suite, which includes Word, Excel, PowerPoint, Outlook, OneDrive, and Teams, provides you with a comprehensive set of tools to help you stay productive, connected, and organized.
With the suite of apps, you can create documents, spreadsheets, presentations, manage contacts and emails, store and share files, and collaborate with colleagues in real time. Microsoft 365 also includes a variety of security features to help keep your data safe and secure. With Microsoft Word and the Microsoft 365 suite, you have everything you need to stay on track.
However, the cost is a major deterrent for most people to take advantage of what it has to offer. Even without the entire Microsoft 365 suite, Word on its own is fantastic, having very little to leave you frustrated.
The most upsetting thing about Word is that it's been hidden behind a paywall for most of the past 30 years. This has left the door open for Google Docs and other word processors and document editors to offer their subpar services for free, which is an extremely compelling offer considering Word and Docs are somewhat similar on the surface.
As previously mentioned, Microsoft Word has more competition than ever, especially beyond the paywall. Alternative applications, like Google Docs, are on the scene, forcing Microsoft to offer Word for free just to compete.
While it's true that you're more limited in scope and some features aren't available, on the whole, the free version of Microsoft Word will get the job done sufficiently for most people. You can still create professional documents, edit and format text, and insert images and tables.
Additionally, there's no longer any requirement to buy a copy or sign up for Microsoft 365 to use Microsoft Word, which is a huge relief if you're on a budget. However, if you decide you'd like to make the purchase, the best Microsoft Office and Microsoft 365 deals will ensure you get the lowest price possible, especially if you are trying to avoid a hefty price tag.
If you're currently shopping for the best MacBook and Macs and feel like that's going to be enough of a financial outlay for now, or you already have a laptop and just can't justify any extra expenses at the moment, the straightforward step-by-step instructions below will help you download and use Microsoft Word for free.
Best Microsoft 365 and Office deals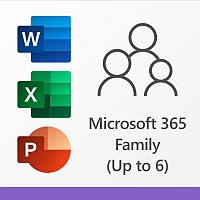 1. Microsoft 365 Family $84.99 at Walmart US
Microsoft 365 Family is the best way to join Office. For as little as $0.04 per day, up to six people can enjoy premium apps such as Word, Excel, Powerpoint, Outlook and OneNote with up to 6TB cloud storage to back up files and photos.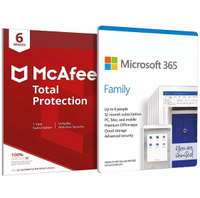 How to use Microsoft Word for free on Windows 10, Mac, Chrome OS, and Linux
The easiest way to download and use Microsoft Word for free is right in your web browser. Whether you're on Windows 10, Mac, Chrome OS, or Linux, using Google Chrome, Microsoft Edge, Safari, or any other major browser, you can access a free-to-use version of Microsoft Word.
All you need is a Microsoft account and a data connection to access the free version of Word. Open the official Microsoft Office website in your browser of choice to gain access to Word, Excel, Powerpoint, and other Microsoft products.
Using Microsoft Word online is a lot like Google Docs in that you have automatic cloud backups of your work with OneDrive. You also have the ability to collaborate with other people in real time. This isn't the full version of Microsoft Word, but it has the same interface, is just as safe, and has all the basic suite of features that the majority of people will need access to.
How to use Microsoft Word for free on iOS and Android
More advanced features are available to users with a Microsoft 365 subscription, but if all you're looking for is basic access to Microsoft Word on your smartphone or tablet, this will do the job very well. You can download and use Microsoft Word for free from either the Apple App Store or Google Play Store.
Using Microsoft Word on a smartphone or a tablet might not be your first choice because of how small and difficult phones can be to deal with and type on, but it is free. Previously, Microsoft had a standalone Word app for both iOS and Android, but it has now merged Word with Excel and Powerpoint on mobile in a single Microsoft Office application.
This allows for better access to any Excel spreadsheets or Powerpoint presentations that you might need while using Word, as all three are integrated into this one application.
To use it, you only need to log in with a Microsoft account for free access to basic features, as well as online collaboration, backup to OneDrive, and the ability to create PDF files from your documents.
Summary
Not only is there no requirement to pay to use Microsoft Word anymore, but there's also no requirement to even install it if you're using it on a PC. The development of the browser-based application for Windows 10, Mac, Linux, and Chrome OS users makes it easy and convenient to work solo or in collaboration.
The mobile application also provides free on-the-go access to basic editing features from your pocket, and all of this only requires a Microsoft account to keep everything in sync.
Microsoft Word is great because it is an easy-to-use word-processing program that allows users to create and edit documents quickly and effectively. It has a wide range of features, such as a spell-checker, grammar checker, table creation, and text formatting. Additionally, Word is compatible with a variety of other Microsoft Office programs, making it a great tool for collaboration, allowing you to stay on target with all of your projects and tasks.
Are you a pro? Subscribe to our newsletter
Sign up to the TechRadar Pro newsletter to get all the top news, opinion, features and guidance your business needs to succeed!
Ray is a Staff Writer for TechRadar, having previously contributed numerous pieces to other technology websites such as Makeuseof and Thesweetbits. He has been writing about a multitude of topics within the tech industry for years, and now lends his experience to variable content on TechRadar. In his free time, you'll likely find Ray riding trails in the Sierra Nevada Mountains on his mountain bike.