Did you know that you can download and use Microsoft Word for free? It's true! When it comes to word processing, Microsoft Word continues to reign supreme and let's be honest, for those of us who are staunch Apple fans, it's probably the one loss that brings tears to our eyes.
In our Microsoft Word review, we're clear that it's extensive range of features and intuitive design makes this little beauty completely indispensable. Since its launch in 1983 it has been a staple of homes and offices around the world and there's not another word processing application on the planet that can come close to doing what this one can.
When it comes to Microsoft, Word (along with the whole Microsoft 365 suite) offers everything you could possibly want when it comes to productivity, communication and collaboration. But perhaps the most frustrating thing about it is that it's been hidden behind a paywall for most of the past 3+ decades.
Thankfully, that's all changing. With applications like Google Docs now on the scene, gone are the days when you have to hand over your hard-earned cash and invest in the entire Microsoft suite just to get your hands on Word. And in fact, Google Docs proved so popular that a few years ago Microsoft decided to jump on the bandwagon and finally offer you the option of using Word for free - hurrah!
Yes, it's true that you're more limited in scope and some features aren't available, but on the whole, the free version of Microsoft Word will get the job done nicely for most people. There's no longer any requirement to buy a copy or sign up for Microsoft 365 to use Microsoft Word, which is a huge relief if you're on a budget, but if you do decide you'd like to invest, our guide to the best Microsoft Office and Microsoft 365 deals will ensure you get the lowest price possible.
If you're currently shopping the best MacBook and Macs and feel like that's going to be enough of a financial outlay for now or you already have a laptop and just can't justify any extra expenses at the moment, the easy step-by-step instructions below will help you download and use Microsoft Word for free.
Best Microsoft 365 and Office deals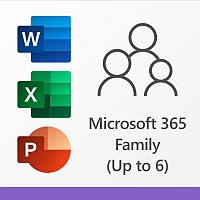 (opens in new tab)
1. Microsoft 365 Family $84.99 at Walmart US (opens in new tab)
Microsoft 365 Family is the best way to join Office. For as little as $0.04 per day, up to six people can enjoy premium apps such as Word, Excel, Powerpoint, Outlook and OneNote with up to 6TB cloud storage to back up files and photos.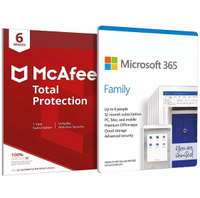 (opens in new tab)
2. (opens in new tab)Microsoft 365 Family + McAfee Total Protection $89.99 at Argos UK (opens in new tab)
Not available anywhere else is a barely believable offer. Get the power of Office plus McAfee Total Protection security suite for under £90, a 50% discount off the suggested retail price. Total Protection comes with free VPN, password manager and lots more.
How to use Microsoft Word for free on Windows 10, Mac, Chrome OS, and Linux
The easiest way to download and use Microsoft Word for free is right in your web browser. Whether you're on Windows 10, Mac, Chrome OS, or Linux, using Google Chrome, Microsoft Edge, Safari, or any other major browser, you can access a free-to-use version of Microsoft Word.
All you need is a Microsoft account and a data connection. Head to 'the official Office website (opens in new tab) in your browser of choice, enter your login credentials and choose 'Microsoft Word'. Office Online offers more than just Microsoft Word, too, with Excel, Powerpoint, and much more also available for free.
Using Microsoft Word online is a lot like Google Docs, in that you have automatic cloud backups of your work with OneDrive. You also have the ability to collaborate with other people in real-time. This isn't the full version of Microsoft Word, but it looks the same and has all the basic suite of features that the majority of people will need access to.
How to use Microsoft Word for free on iOS and Android
More advanced features are available to users with a Microsoft 365 subscription, but if all you're looking for is basic access to Microsoft Word on your smartphone or tablet, this will do the job very well. You can download and use Microsoft Word for free from either the Apple App Store (opens in new tab) or Google Play Store (opens in new tab).
Using Microsoft Word on a smartphone or a tablet might not be your first choice, but it's possible and it's also free. Previously, Microsoft had a standalone Word app for both iOS and Android, but it has now merged Word with Excel and Powerpoint on mobile in the single Microsoft Office application.
Again, to use it you only need to log in with a Microsoft account for free access to basic features, as well as online collaboration, backup to OneDrive, and the ability to create PDF files from your documents.
Summary
Not only is there no requirement to pay to use Microsoft Word anymore, but there's also no requirement to even install it if you're using it on a PC. The development of the browser-based application for Windows 10, Mac, Linux, and Chrome OS users makes it easy and convenient to work solo or in collaboration.
The mobile application also provides free access to basic editing features from your pocket, and all of this only requires a Microsoft account to keep everything in sync. So, what are you waiting for? Download and use Microsoft Word for free today!