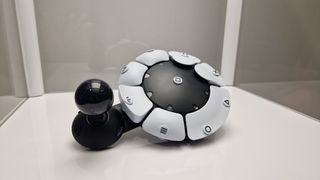 (Image credit: Future/Rob Dwiar)
Sony's PlayStation Access controller represents five years' worth of work and research. And it already looks like a hugely impactful means that the gaming behemoth can make its games, hardware, and experiences more inclusive and, well, accessible. Recently, TRG went hands-on with the controller and had the chance to speak to some of those involved in its development, and found that the Access controller is capable of so much, a lot of which could be revolutionary for many fans.
For context, I am part of the Access controller's target audience myself. As I briefly mentioned when looking at the upcoming PlayStation Portal from an accessibility point of view I was born with quite different hands that are small and required surgery as a toddler. All my fingers and thumbs are squat and have far fewer knuckle joints than 'normal' digits, but I also only have stubs for index fingers, a tiny bump for one middle finger, and a bent ring finger that has very limited mobility. While I have been able to use (only symmetrical) controllers over the years, I've always felt that I've had to adapt to them rather than use them as they were 'best' intended. As a result, I have been paying close attention to the Access controller since it was announced in January.
Setting it up
Sony's mantra of 'play has no limits' is often interpreted as just being about the games. However, the term is also increasingly concerned with inclusivity. We've seen this in games already with first-party Sony titles like God of War Ragnarok now featuring market-leading accessibility options, and The Last of Us Part 2 won multiple awards for accessibility (it can be played and finished by someone who is blind), but, until now, no specific accessibility-focused hardware solution. The Access controller, beginning life in 2018 as Project Leonardo, is the physical manifestation of this focus on accessibility, and the change in meaning of the mantra.
Identifying three main areas of interaction that needed to be addressed was the starting point. These were: holding and using a controller, accurate pressing of buttons, and using thumbsticks effectively. The Access controller addresses all these points and several more: it has no preferred orientation and can lay however you wish, and its buttons are all on one plane or axis. It can be reconfigured at will and has clicky, responsive buttons with short actuation and travel distances that take inspiration from mechanical keyboards. The thumbstick, while there is only one, has three options for shape and size, and can have the dead zones and sensitivity levels altered to cater to a range of motions. It can also be teamed with other controllers through 'collaborative use' (more on that later); and, there are four industry-standard 3.5mm expansion ports into which other devices such as joysticks can be slotted, allowing an expanded and multi-faceted setup.
Despite hitting all these beats, though, the only major caveat with such an accessibility controller, as product lead Alvin Daniel puts it, is that it, unfortunately, can't be a silver bullet: "No two people's needs are the exact same, no two people's disabilities are the exact same," he explained. As a result, the testing phase, consulting with organizations like Special Effect and Able Gamers, needed to be incredibly thorough and consisted of "tons of revisions" claimed Daniel, adding, "I think we set an internal record in terms of player testing because it was very important that we get as wide a spectrum of players with disabilities."
Honestly, hearing the amount of thought, research, and deliberation that's gone into the Access controller was quite moving, personally. But this effort transcends the device itself: the box and packaging have been designed with accessibility in mind with it being possible to open, unpack, and use all the bits of the kit inside with just one hand - something I also got to experience as I sat down to get to grips with the controller.
Getting used to it
The Access controller is smaller than you think, comes in the sleek PS5 aesthetic, and looks a bit like a fighting pad joystick grafted onto a Bop It! However, every part of it is impressive in its design and has a wonderfully tactile feel coupled with an immediate sense of easy interactivity. The buttons are clicky, the labels you can attach to each are pleasantly grippy, the stick feels excellent, and the whole controller is steady and stable.
What's also striking is that the Access controller is very much a kit rather than a pre-made unit that's designed to only be used in one or a couple of ways. The emphasis is on players being able to build and change it to cater to their preferences and needs right from the off. The controller comes with a range of button types and shapes, rubber labels, and different stick attachment types and sizes. All of these are designed to be easy to attach, and tough to accidentally remove, through simple magnets and small catches. The difference that each button shape or type offers was something that instantly changed the whole feel of the controller too.
In Gran Turismo 7 the Access controller instantly provides intuitive action. The stick feels so good in particular, and relying on two large buttons to engage accelerating and braking feels easy. It shows the Access controller thriving in offering easy-to-interact-with buttons to play a game simply.
The real fun of getting to know the Access controller is when you approach more complicated games or play games in more complex ways and engage in the collaborative use function with a DualSense or a second Access controller. For example, factoring in all the controls required in The Last of Us Part 1, like aiming, shooting, crafting, healing, and swapping weapons, takes things up a notch somewhat.
Putting a DualSense in my left hand as normal, I programmed the Access to have all the controls that would be on the right side of the DualSense. Juggling the stick, but exploring and working with all the other buttons my remaining digits could reach while trying to maintain fluidity was a brilliant experience. I learned that whatever the controller needed me to do, it could do it, replacing buttons I might normally struggle with. This highlighted all that the Access controller might need to do - but also what it can do.
The controller really comes to life when it's teamed with a second one, and when you learn to dual-wield two Access controllers. This unlocks a new level of flexibility, and layer of capability, and truly unleashes the Access controller's 'Swiss army knife' feel - the options doubling and the possibilities feeling endless. Setting up two controllers, orienting them in opposite directions (the software ensures the controller reacts accordingly), using my pinkies on both sticks while planning and mapping out all the buttons in between, while labor intensive, was a satisfying game in itself and revealed how many solutions there can be. There's a distinct cycle: try the game, add a control, play a bit more, reconfigure, repeat.
The PS5's software plays a big part too. The UI of the on-screen controller management is clear and walks you through assigning controls and making profiles step by step. It was here, too, that more momentous features were revealed. For example, a toggle function can get the system to 'hold a button down for you' - simple sounding but groundbreaking when only one button press would have Aloy perma-aiming her bow; and you can have one button complete two button functions at once, with Kratos' Spartan Rage in God of War Ragnarok able to be engaged with a single press, instead of the usual need to hold down L3 and R3.
You can also totally disable buttons, or make multiple buttons carry out the same function. While creating a profile takes a while - something that will have to be repeated for different game types given controls and demands - the Access controller can store three profiles on board, and the PS5 can store 30 so there's plenty of wiggle room.
Time is a factor more generally too, as the Access controller will take about 7-14 days to fully adapt to (varying from person to person). During my short preview, I bumped other buttons, had to disengage my hand totally from one control to use another, or found myself reaching for a second stick that wasn't there, but the experience was wonderfully positive, illuminating, and truly moving. I was soon mentally mapping out control assignments and noting down the ways it could be enhanced further or deployed better for my own use.
Breaking it down
Sony's Access controller is looking like something that's going to have far-reaching success in the community. It's not designed to replace a DualSense wholesale - "It's not a one-for-one" admitted Daniel - but it already feels like an incredibly impactful controller that will open a lot of doors and expand gaming interactions and experiences. And even at this early stage, what's extra comforting, and exciting, is hearing that, now the Access controller is in the PS5 ecosystem, Daniel has "every expectation that we'll continue [and get] version two of this. We'll get community feedback, [and] make adjustments; it's part of the family."
From the big features of replacing whole parts of a DualSense, to the collaborative use function, down to those more subtle changes it can offer - even the range of distances that the stick can be moved within from the main pad can be game-changing - means it's got a huge range of applications. It's shaping up to be not only a wonderful controller in its own right, but also a superb addition to existing setups, and it really comes to life when teamed with another Access controller.
If my small experience with my different hands is anything to go by, then the ripples it makes in the accessibility pond when it launches on December 6 could be huge. I can't wait to see what the community does with it.
The Access controller is available to pre-order now, but if you want to see how it compares to the current crop of options then read up on the best PS5 controllers.
Get daily insight, inspiration and deals in your inbox
Get the hottest deals available in your inbox plus news, reviews, opinion, analysis and more from the TechRadar team.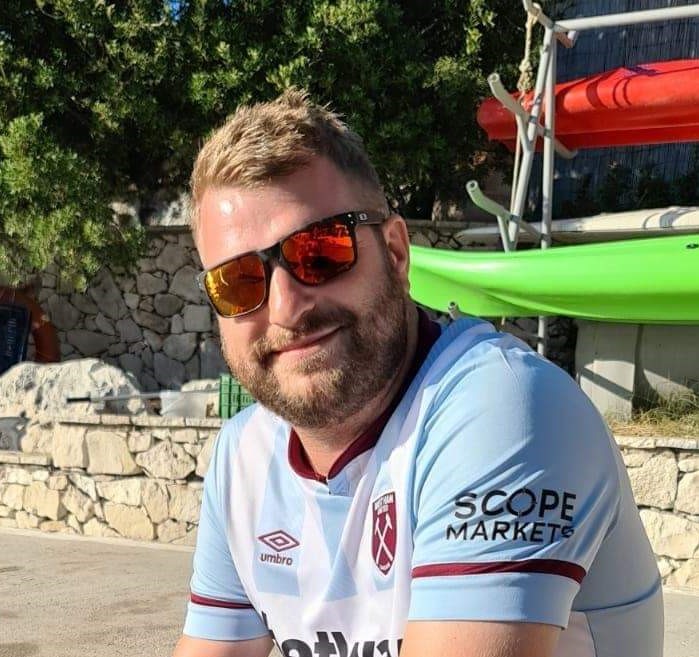 Deputy Editor, TechRadar Gaming
Rob is Deputy Editor of TechRadar Gaming, a video games journalist, critic, editor, and writer, and has years of experience gained from multiple publications. Prior to being TechRadar Gaming's Deputy Editor, he was a longstanding member of GamesRadar+, being the Commissioning Editor for Hardware there for years, while also squeezing in a short stint as Gaming Editor at WePC before joining TechRadar Gaming. He is also a freelance writer on tech, gaming hardware, video games, gardens, and landscapes and is crowdfunding a book on video game landscapes that you can back and pre-order now too.