Early Verdict
First announced in 2022, the Lenovo Legion Glasses have shown up again at IFA 2023 with some nice upgrades. It sports an improved design and performance as well as better options for glasses wearers.
Pros
+

Great visuals

+

Excellent sound quality

+

Much improved design

+

More options for glasses' wearers
Cons
-

A bit pricey

-

Image can blur around edges
Why you can trust TechRadar We spend hours testing every product or service we review, so you can be sure you're buying the best. Find out more about how we test.
Back in 2022, I covered Lenovo's break into the AR glasses market during its Tech Life | IFA event, which were then called the Lenovo Glasses T1. Fast forward a year later and I'm able to try out the updated version called the Lenovo Legion Glasses, announced (again) at IFA 2023. Originally they were meant to compete with the Apple Glasses, but a report released in January suggested that Apple might have delayed its production "indefinitely" - and since then Apple has been focusing on its Vision Pro AR headset.
I was surprised to see how much the Legion Glasses have changed in terms of both design and functionality, with one tweak in particular that makes them far more appealing to me. This is an especially impressive feat, considering that my interest in AR glasses tech is fleeting at best.
There's only one other major product on the market, the Xreal Air AR glasses, and unlike the Legion Glasses, its main use is with smartphones. Meanwhile, the Lenovo Legion Glasses can connect to many other devices like PCs and gaming handhelds, which gives it more range.
Lenovo Legion Glasses: Price and availability
The Lenovo Legion Glasses are set to launch on October 2023, at a starting price of $329 (around £260 / AU$515). For what they offer, the pricing isn't bad at all, though it's still far from being a budget accessory.
And unfortunately, we don't have any info on availability for regions outside the US, including the UK and Australia. But considering the kind of product it is, hopefully Lenovo will eventually launch it in a variety of regions. Then again, because it's a more niche product, the US market might be a solid way to test out popularity before committing to other countries.
Lenovo Legion Glasses: Design
Swipe to scroll horizontally
Lenovo Legion Glasses specs

| Component | Spec |
| --- | --- |
| Price | $329 (around £261 / AU$513) |
| Display | Micro OLED |
| Resolution per eye | 1920 x 1080 |
| Framerate | 60Hz |
| Connection | USB Type-C |
| Compatibility | Windows, Android, MacOS, iOS |
Image 1 of 3
Compared to the 2022 Lenovo Glasses T1, the updated Lenovo Legion Glasses have a more premium design. They feel sturdier, with better quality frames and lens material. Looking between images of the old and new models showcases how much more advanced the latter is. While testing them out, I had to verify with Lenovo that these were indeed the same product.
The tech a year ago was impressive, though there was a huge issue with them that prevented me from truly appreciating it - the simple fact that these glasses were clearly not designed for glasses-wearers (like me) in mind. While Lenovo did have the option to replace the default lens with one tailor-made to a prescription, requiring a buyer to purchase that on top of the price of the AR glasses themselves is quite the financial burden.
But the inclusion with the new model of special nose guards that fit over and secure the bridges of regular glasses allowed me to actually see the screens instead of being forced to remove my glasses to test them. Of course the fit isn't perfect, even Lenovo admitting that some glasses types don't mold well to the nose guard, but they worked well for mine and I have thick plastic frames.
The other feature, that you can outfit the lenses with your prescription, will continue to be available to those who need it, as it's a great alternative. However, as it currently stands, I can't see many people being able to afford both the glasses and the prescription lens.
But considering that the only other major option in terms of AR glasses, the Xreal Air AR glasses, only offers the prescription lens substitute option but not the switchable nose guards, the Legion Glasses are a step up already in usability and affordability.
Lenovo Legion Glasses: Performance
Image 1 of 3
Unlike the first time I tried Lenovo's AR glasses, I was able to test out how well the Lenovo Legion Glasses pair with a gaming device. I tested out the glasses with the newly-announced Legion Go using two PC games, HiFi Rush and PowerWash Simulator, and they worked well for the most part.
I was able to see a clear single image as if staring at a monitor, and its refresh rate, (despite being on the lower side) was still smooth and stutter-free, and the resolution was sharp enough to be nothing short of HD. The colors were clear and vibrant as well – surprisingly so.
Using the noseguard made to fit over glasses worked well, though there were times I had to readjust them to better see the entire display. And even then the edges tended to blur a bit, making the UI harder to read. Not enough to truly impact my gaming experience but still an annoyance.
One aspect that's truly exceptional is the sound quality, thanks to the built-in speakers on each side of the lenses. They were so high-quality, in fact, that I literally forgot the sound was coming from them and not from the Legion Go in my hands. It made the gaming experience that much more immersive.
Another caveat is that I do wish the Legion Glasses had more connection options other than just USB Type-C. Though USB Type-C is common enough in the wild to be compatible with most other devices, having more options available would be ideal.
Lenovo Legion Glasses: Early verdict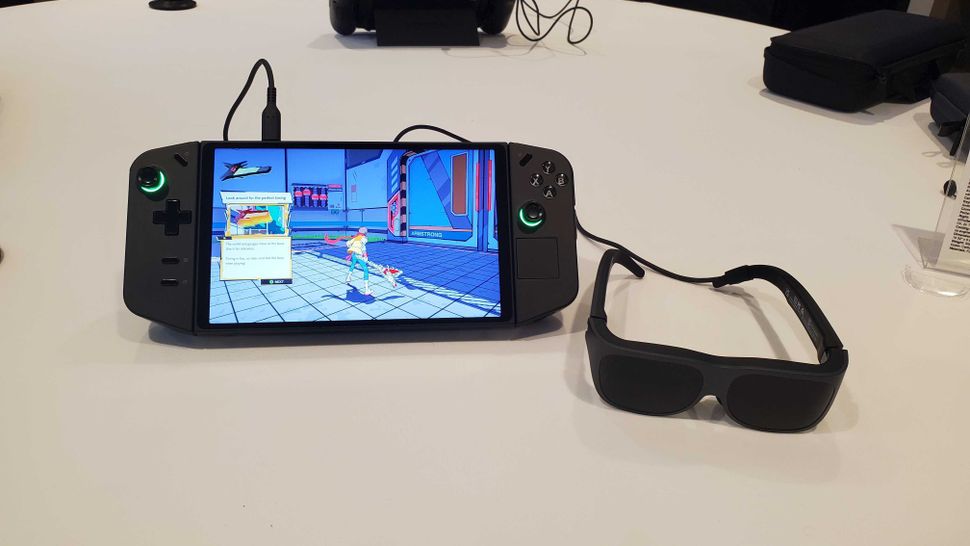 My opinion of the Lenovo Legion Glasses has significantly increased since I first demoed them in 2022, as the technology has improved since then. Not only is the design and build quality much better, but the quality of the AR tech is superior as well.
The addition of the swappable nose guard for glasses wearers is a brilliant alternative to the prescription lenses you can outfit the Legion Glasses with. It doesn't require shelling out more money or finding a place that can even customize them in the first place.
The image isn't perfect, as it can blur on the edges, but it's still very high-quality and clear. The sound quality is even better and serves to truly immerse you in the gaming experience.
All in all, I look forward to the Legion Glasses' launch and how much more Lenovo can refine this technology even further, considering that Apple may have already dropped from the AR glasses race.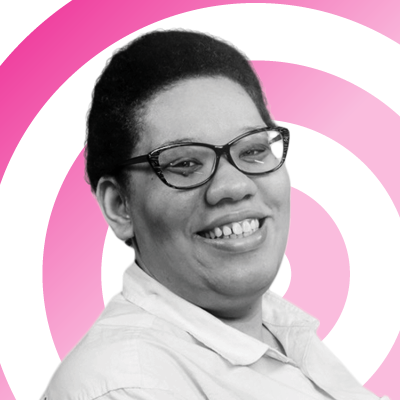 Named by the CTA as a CES 2023 Media Trailblazer, Allisa is a Computing Staff Writer who covers breaking news and rumors in the computing industry, as well as reviews, hands-on previews, featured articles, and the latest deals and trends. In her spare time you can find her chatting it up on her two podcasts, Megaten Marathon and Combo Chain, as well as playing any JRPGs she can get her hands on.
What is a hands on review?
Hands on reviews' are a journalist's first impressions of a piece of kit based on spending some time with it. It may be just a few moments, or a few hours. The important thing is we have been able to play with it ourselves and can give you some sense of what it's like to use, even if it's only an embryonic view. For more information, see TechRadar's Reviews Guarantee.