Blizzard has banned 250,000 Overwatch 2 cheaters since launch
Blizzard has seen its disruptive voice chat detection "correct negative behavior immediately"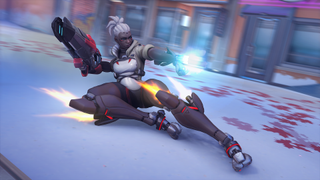 (Image credit: Activision Blizzard)
Blizzard Entertainment has revealed that it has banned 250,000 Overwatch 2 players for cheating since the game launched last year.
In a recent community update the developer discussed its Defense Matrix, an initiative aimed at dispelling cheating from its multiplayer shooter. Blizzard explained that since October, it's been able to remove a quarter of a million players as part of its "zero-tolerance" anti-cheat policy and outlined what its next steps are in improving its system.
"We've been taking big steps to help discourage and remove disruptive behavior and cheating and wanted to share more details with you," Blizzard said. "Defense Matrix is the name for our collection of efforts to quell the cheating, disruptive chat, and griefing issues that negatively impact many multiplayer video games, including Overwatch 2."
Blizzard explained that it's the anti-cheat team's goal to refine the detection and prevention systems to "strengthen the game against cheating and botting". It said: "Your reports help us identify new cheat programs as well as cheating players, so please keep reporting!"
The team went on to reveal that it's making improvements to its text chat by removing Unfiltered chat entirely, saying "it's never acceptable for anyone to direct disruptive chat toward other players, no matter what language is used" and that the chat "allowed harmful language and phrases that have no place in our community".
Unfiltered has no restrictions on what can be said in chat, so it's moved all players on that option to Mature, which allows certain swear words.
The post also touches on the system's disruptive voice chat AI detection, which Blizzard will be expanding. It's currently running in most regions, but will be rolled out worldwide soon.
"We've seen this technology correct negative behavior immediately, with many players improving their disruptive behavior after their first warning," the developer noted.
However, Blizzard is asking players to continue to report disruptive communication and player behavior as it "increases the likelihood that the disruptive voice chat is captured, transcribed, confirmed, and appropriately actioned".
Overwatch 2 just launched its free single-player Hero Mastery mode, which allows players to experience courses with specific heroes like Reinhardt, Mercy, and Tracer.
For more, check our list of the best FPS games, as well as the best PC games of the year.
Sign up to receive daily breaking news, reviews, opinion, analysis, deals and more from the world of tech.