Supported
How to install Cisco VPN client on Windows 11
It's easier than ever to get up and running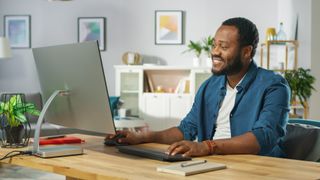 (Image credit: Gorodenkoff / Shutterstock)
The original Cisco VPN client was discontinued back in 2011 and not supported by Windows 10 either. While there are plenty of the best VPN options to use instead, there is a way of using the Cisco Anyconnect VPN instead, if you're now using Windows 11 and like the way this Virtual Private Network ticks.
Cisco Anyconnect is a VPN client, which offers quick and easy access to a private network via the internet, with a setup process that allows it to be tweaked to suit a variety of users. This latest iteration of the Cisco VPN client is a free download too, although it is perhaps not quite as user friendly as the paid-for options offered by the likes of ExpressVPN, NordVPN, Surfshark and the other premium VPN brands out there.
So, while you'll need to have your configuration gloves on, in order to make the necessary tweaks to get Cisco Anyconnect running properly, you'll also want to be in possession of a Cisco Anyconnect VPN account, along with a relevant and valid service contract. With those in place, you'll be ready to pick through the following steps so that you can successfully install Cisco VPN client on Windows 11.
If you're a small or medium business the Cisco Anyconnect VPN is a useful option if you're looking to sure up your network and protect any sensitive data. Though compatibility issues and configuration challenges may make it less appealing than one of the easier options outlined above.
Download Cisco Anyconnect
Launch your web browser and head to the Cisco Anyconnect VPN download area. Note that AnyConnect 4.10 is available to customers with active AnyConnect Apex, Plus or VPN Only term/contracts. As is always the case, try to ensure that you're using the latest version of any software, as there have been some issues with users trying to install older incarnations that aren't compatible with Windows 11. You might also want to avoid having another VPN on your machines too, which could cause a clash, so this is best disabled before you start.
You'll want to ensure the Windows executable you retrieve is the latest version of the 64-bit client or it might not work as anticipated. After that, download the Cisco VPN client itself from Dropbox, although we couldn't get a download to initiate from the latter (perhaps you'll have more luck).
If you opt for the Dropbox route, make sure you select 'Direct download' rather than 'Save to my Dropbox'. Note that you don't have to sign up for a Dropbox account to access this file despite the web client prompting you to. In fact, you can continue to download the Windows executable installer without signing up for a new account or logging into an existing one.
With the EXE file downloaded, you're going to have to make some changes before you can actually perform an installation of the Cisco VPN client. First off, you're probably going to run into an error claiming that the file isn't supported by your version of Windows.
To bypass this, unzip the file using file compression software like WinZip or 7-Zip and extract it to some place memorable like your desktop. Then, if you're like us, you'll encounter another issue: the freshly unzipped file will be an unopenable MST file, which luckily we have a stupidly easy fix for. Right click and change the MST portion of the file name to MSI – it's that simple.
From there, double-click the newly converted vpnclient_setup.msi to finally begin the install wizardry. Click Next until you're finished, then, as instructed, click Finish.
Editing the registry
The Cisco VPN client should now work as expected in Windows 11. However, if you're continuing to run into trouble, we have a few extra steps you can take in the section below dedicated to troubleshooting.
Once you've made your way through the Cisco VPN client install wizard, it's time to break out everyone's favorite registry editor, namely Regedit. In Windows 11, you can access Regedit by typing it into the search bar (to the right of the Start button) or by using the shortcut Win + R and typing Regedit there. Whatever your preference, open Regedit.
Next – you guessed it – you're going to make a quick registry edit. At one time, this step was optional, but since the Creators Update arrived, it's pretty much mandatory in most cases.
With Regedit open, locate the registry key HKEY_LOCAL_MACHINE and click the drop-down icon. Then do this again for System, CurrentControlSet, Services, and finally, CVirtA.
From there, double-click DisplayName and change the value data to "Cisco Systems VPN Adapter for 64-bit Windows" (without quotes) for the 64-bit version.
For reference, the original value data entry should look like this:
64-bit (x64): @oem8.ifn,%CVirtA_Desc%;Cisco Systems VPN Adapter for 64-bit Windows
Once you've made the appropriate changes to your registry, restart Windows and you're done.
Troubleshooting and post-installation
First, run Command Prompt with administrative privileges by right-clicking it in the search bar and selecting "Run as administrator." Then type "netcfg -d" (without quotes). Press enter. Reboot. That's all there is to it.
If you're still having trouble installing, running or using the Cisco VPN client with Windows 11, our best advice is to backtrack.
Most commonly, users will neglect to install the SonicWall client first, resulting in Error 433 when they try to connect. If this is happening to you, go back and install SonicWall prior to the Cisco VPN client, so that you have a DNE Lightweight filter ingrained in your system.
Once you've gone through and installed both programs – unzipping and renaming the Cisco VPN client installer in the process – edited the registry and rebooted your machine, you can go ahead and remove SonicWall in Settings > Add or remove programs, or in Control Panel > Programs > Programs and Features. Restart your computer again and the Cisco VPN client should still work.
If you've done everything in this guide (and in your power) to get the Cisco VPN client up and running in Windows 11 with no success, as a last resort you can reset all networking in Windows 11. This can be accomplished rather effortlessly.
Are you a pro? Subscribe to our newsletter
Sign up to the TechRadar Pro newsletter to get all the top news, opinion, features and guidance your business needs to succeed!
Gabe has been writing about video games and technology since he was 16 years old. Currently serving as a Contributing Editor & Producer for TechRadar, where he keeps articles fresh and up to date on the reg, you may recognize his byline from Digital Trends, TechSpot and Kotaku UK. He can't tell if his adoration of Sonic the Hedgehog is genuine or ironic anymore.