Alan Wake 2: how Remedy tells a story better than anyone else in gaming
The Helsinki studio is the antidote to bland triple-A narratives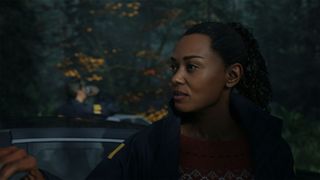 (Image credit: Remedy)
For Remedy, it's never been about plot arc. The tragically broken lives of Max Payne, Alan Wake and Jesse Faden (Control) make for compelling narratives in their respective games, but it's not the plotting of these stories themselves that discerns Remedy from the pack. And after Alan Wake 2's extended reveal at Summer Games Fest 2023, I don't think it'll be the events of its story that we remember it for. Instead, as always with Remedy, we'll remember the offbeat, esoteric and masterful methods through which it's told.
Let's take Max Payne as an example. Its plotting works really well to motor along a revenge story and motivates you to keep shooting your way through tenements full of Joe Pesci-alikes. NYPD cop turned DEA agent Max Payne sees his wife and kid killed by armed drug addicts looking for their fix of the fictional drug Valkyr, infiltrates the crime syndicate supplying the drug, is then framed for murder and left without any friends on either side of the law. Left with nothing to lose, he hunts down underbosses, brokers deals with rival crims, and eventually tracks down the mob boss who ruined his life, learning along the way that Valkyr was actually part of a military testing program.
Except, I don't remember much of that. I had to Google it. What I remember is entering a room and finding a TV playing some creepy show where the main character meets his clone, and that clone tells him that 'mirrors are more fun than television'. I remember the fantastically evocative graphic novel panels and voiceover, which were in fact a cost-saving measure because Remedy didn't have the budget for fancy FMV sequences. And for better or worse, which is a polite way of saying 'definitely for worse', I remember the blood mazes in Max's nightmare sequences.
I remember them, because they were all narrative delivery methods that games just weren't doing in 2001. It was a melange of Twin Peaks' surrealism, often with direct nods to David Lynch like the fact the aforementioned twin spoke backwards like Michael J. Anderson's character in Twin Peaks, and hard-boiled action movie, with occasional non-sequiturs into dark comedy. If Max Payne hadn't been so well endowed with tone, atmosphere, and character, we probably wouldn't remember its plot.
Wake up
The same's broadly true about the first Alan Wake, a story there are a thousand ways to tell badly and just one alchemy of Remedy sensibilities that tells it properly. You don't have to look too hard to see lesser efforts on a similar theme. Alone in the Dark's 2008 remake. Even the universally revered Spec Ops: The Line doesn't do unreliable narration as well as Alan Wake.
So, then: the sequel. It's a buddy movie now, with FBI agent Saga Anderson investigating all the grisly events that took place in Bright Falls during the first game, and where Alan's been in captivity for 13 years. He's got a lifeline, though. Saga discovers the story he's been writing, and through it, he hopes he can be rescued from supernatural limbo. Both Saga and Alan are playable characters here, although the very beginning must be played as Saga and the end as Alan. Except for those constraints, you can choose to tackle the game in either order.
Were this a lesser studio with a more conventional sensibility for storytelling, I'd be picturing Resident Evil 2 with more flashlights. But we know what Sam Lake's lot are like, don't we? Two protagonists means two separate perspectives, and in a series that's already famous for warping your perspective and breaking the fourth wall that seems like especially fertile ground.
An ongoing Saga
Saga's 'mind place' is a real standout from what we've seen of Alan Wake 2 so far. At any point during the game, you can retreat to a particularly stylish wood-paneled office within her imagination, where all the clues you've gathered can be laid out and connected. You're organizing your thoughts in a very literal, visual manner, making sense of the events you've witnessed as a game mechanic writ large. A good way to make the player feel like an FBI agent.
But the best insight into Alan Wake 2's storytelling chops comes from a subtler cue: the appearance of Max Payne in the trailer.
Except, he's not quite Max Payne. Although he's voiced by James McCaffrey and has Sam Lake's face, the agent that we see talking to Saga in the trailer is actually Alex Casey, one of the characters in Alan Wake's bestselling crime novel.
Rockstar owns the rights to Max Payne, but Remedy's games all happen in the same connected universe so the team needed some way of bringing him back. So they leaned into a metanarrative moment from the first Max Payne, when he's been drugged with Valkyr, walking nightmare mazes in his own mind and losing his grip on reality. During this sequence, we see a notorious comic panel that reads:
"I was in a graphic novel. Funny as hell, it was the most horrible thing I could think of."
Having long ago established that Max isn't quite real nor fictional, existing somewhere in a metaphysical borderland, Remedy had a mandate to bring him back as a character in one of Alan Wake's books, changing his name to comply with Rockstar's rights to the Max Payne name.
That's a hell of a lot of thought and care for the sake of a cameo. What might have simply been an awkward legal situation with a clumsy fix ends up enriching the Remedy universe.
Back to the lake
There are links to Remedy's other games in Alan Wake 2's gameplay tease, too. Eagle-eyed beer aficionados will note Ahma beers in a fridge of the general store where Saga investigates, the same brand that Ahti the janitor drinks in Control. An appearance from Ahti always signaled that you were in for some truly head-wrecking exposition in Control, so we can only hope the enigmatic custodian makes some kind of return here.
Perhaps it's too early to evaluate the game itself, but based on where Remedy's put the focus on the footage it's shown so far, it does look like storytelling's right at center stage and mechanical interaction's a bit more of a support act. Of course, the two combine nicely in Saga's mind space, but there's a rich tradition now of the combat feeling solid and safe in Remedy games while the narrative takes all the risks. And so far I'm not convinced that shining a flashlight in enemies' eyes is going to completely demolish that tradition.
And if it doesn't, that'll be absolutely fine. Better than fine. Because we'll be back in the shared universe of one of the medium's most innovative and daring storytellers, back in a place we thought we knew 13 years ago, and in both Alan Wake and Remedy's lead writer Sam Lake, we have writers who have the power to play with our perceptions, blur the lines, and get deep into our heads.
Alan Wake 2 is releasing on PlayStation 5, Windows and Xbox Series
X|S on 17 October 2023.
Sign up for Black Friday email alerts!
Get the hottest deals available in your inbox plus news, reviews, opinion, analysis and more from the TechRadar team.