Restoro (opens in new tab) is a system optimization software (opens in new tab) program developed by an eponymous company (Restoro Ltd) based in the Isle of Man. It has various built-in tools that help protect your computer from malware (opens in new tab) and viruses and improve its performance. It's only compatible with the Windows operating system.
We'll review Restoro based on specific criteria, including features, customer support, ease of use, pricing, etc.
Plans and pricing
First off, there's a free version of Restoro you can download, but it's limited to just scanning your PC for problems and not fixing them. Hence, you need to pay for the premium version to unlock all the helpful features.
There are three distinct Restoro premium plans;
Basic (opens in new tab) - $29.95 (one-time)
This tier grants access to the full features for one-time use, and that's all.
Premium (opens in new tab) - $39.95 per year
This tier gives access to the full features for a year, with a license for just one PC.
Extended (opens in new tab) - $59.95 per year
The same as the Premium tier, but with a license for 3 PCs.
You can take advantage of a free trial period and Restoro also offers a 60-day money-back guarantee.
Features
PC Scan and Assessment
Restoro lets you scan your computer extensively and generates reports on its health and performance. A typical scan will check for;
Hardware - Scans the hardware connected to your motherboard for any issues. It also checks your CPU's power and temperature.
PC Security - Identifies any malicious files present on your PC.
PC Stability - Identifies any software programs prone to frequent crashing.
Restoro's scan is extensive, going into the deep ends of your PC to search for any flaws. It's a practical tool to monitor your computer's health continually.
Virus detection and removal
Viruses are sneaky. They could be hiding in plain sight where you can't easily find them. Restoro comes to the rescue by scanning your PC's four corners for viruses and removing them where applicable.
Restoro uses a custom virus protection engine with extensive safelists and denylists to detect viruses.
Repair virus damage
For system files on your PC that a virus has already damaged, Restoro can replace them from its repository containing over 25 million Windows files.
Junk file deletion
Restoro helps you find and delete junk files taking up valuable space in your system.
Replacing or restoring DLL files
Restoro replaces missing or damaged Dynamic Link Library (DLL) files with updated ones.
Registry Optimizer
Restoro tries to fix or delete corrupted files from your Windows Registry to eliminate errors and crashes.
Interface and in use
Downloading, installing, and using Restoro is a straightforward process with few obstacles. Start by heading to Restoro's official website, where you'll download the setup file onto your PC. Then, run the setup file, and installation takes just a few minutes. You can start using Restoro immediately after you install it.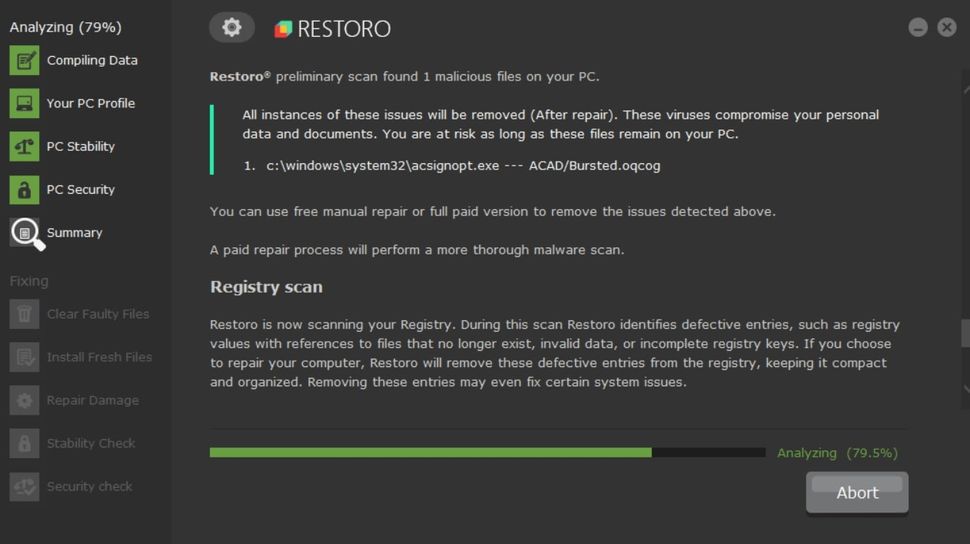 The first thing Restoro will do when you launch it is to run an extensive scan of your computer and report any flaws it finds. You can then fix these flaws selectively or in one stretch.
Restoro has an intuitive dashboard with features spread across seven main toolbars. It's easy to navigate through.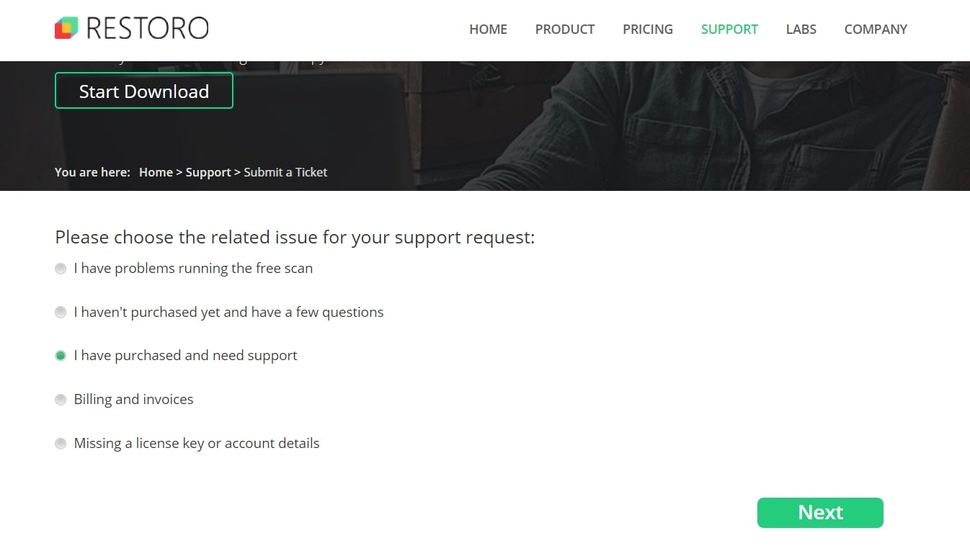 Support
Restoro offers direct customer support only through email. There's no live chat or telephone option. The company's support is mainly from FAQs, PC maintenance tips, and a troubleshooter wizard available online.
The competition
Restoro has many competitors, such as Nero TuneItUp Pro (opens in new tab), AVG TuneUp (opens in new tab), and Piriform CCleaner (opens in new tab). Restoro has a similar feature set and is priced comparably with these rivals.
Final verdict
Restoro is a suitable tool to protect your system from malware and make it perform as efficiently as possible. It's a convenient and versatile tool for professional PC users, though not without drawbacks like limited customer support and limited customization.
We've also featured the best system utilities and repair software (opens in new tab)