Lenovo G25-10: two minute review
The Lenovo G25-10 gaming monitor has a lot going for it. Budget gaming monitors that balance solid performance at a reasonable price aren't too hard to come by nowadays, and the Lenovo G25-10 certainly delivers, but it's not without its faults.
On the positive side, the G25-10 features a 24.5-inch full HD display with quick refresh and snappy pixel response while remaining agnostic toward GPU video output, so both Nvidia G-Sync and AMD FreeSync are supported.
Lenovo G25-10 Key Specs
Panel size: 24.5 inch
Panel type: TN
Resolution: 1920 x 1080
Brightness: 400 nits
Contrast: 1000:1
Pixel response: 1ms
Refresh rate: 144Hz
Inputs: 1 x HDMI 1.4, 1 x DP 1.2, 1 x Audio Out (3.5mm)
For long gaming sessions, the anti-glare equipped G25-10 features eye-care technology and the TN panel type allows games to look as great as they perform regardless of viewing angle.
There are some visual drawbacks, though, including the lack of any real HDR, and while general non-gaming usage on the G25-10 is fine, the lack of integrated speakers could be an issue. There's also the lack of USB ports on the monitor, something competing gaming monitors around the same price may feature.
For buyers looking for something a bit more feature heavy like better HDR implementation, USB ports, and built-in speakers, either look to other similarly priced monitors or save up a bit more to get something further up the product stack.
The Lenovo G25-10 is available in the US for $249 on Lenovo's site, is available for as low as $189 at other major retailers like Best Buy (opens in new tab). That comes out to about £195 or AU$350, but for the moment the monitor is only available in the US, with the closest model in the UK being the slightly smaller Lenovo G24-10 (opens in new tab) for £149.
Australia, meanwhile, has some rather slim pickings for Lenovo gaming monitors unfortunately. The only model currently available on the company's site is the Lenovo G27c-10 FHD WLED curved gaming monitor (opens in new tab), which is available for AU$449.
As for the monitor's features, it has some things going for it.
For long gaming sessions, the anti-glare equipped G25-10 features eye-care technology, which should definitely help prevent eye-strain. The TN panel type makes games look as great as they perform regardless of viewing angle. Just be mindful that there are some visual drawbacks including the lack of any real HDR.
General non-gaming usage on the G25-10 is a fine experience but the lack of external speakers could be seen as an issue. There's also a lack of USB ports on the monitor which could be a problem compared to the gaming monitors around the same price.
This includes similarly priced gaming monitors like the Acer Nitro VG271, and we noted the inclusion of integrated speakers in our BenQ EX2510 review (though the bass could have been better) and it also features HDR and a 144Hz refresh rate. More of a no-frills package, the G25-10, on the other hand, doesn't have as many features but makes up for what it lacks with respectable visuals and performance.
Setting up the G25-10 is a simple affair with a base that connects to the stand through a connected screw. No need for a screwdriver as the screw has a handle that's easy to tighten. The stand connects to the monitor through a locking mechanism as well, so you just need to snap it in place.
The simplicity in the design translate to the number of ports available including a singular Display and HDMI port in addition to a 3.5 mm jack for audio. For good measure, there's a clip at the stand's bottom to help with proper cable management. Users can reposition the monitor by adjusting the height of the screen as well as using forward and back tilt.
The overall design of the G25-10 is thoughtful, with an all-black design, ergonomic approach, and it never feels intrusive. At around 11lbs, it's not hard to lug around either, if necessary.
On the lower right of the display itself are five operational buttons for controlling various in-display options like color saturation customization, brightness and more beyond the standard power button. The controls aren't very intuitive, though, and can lead to misplaced prompts - especially in the dark.
Though creatives and possibly general desktop users may get some mileage out of the G25-10, this was clearly buit for PC gamers on a budget. By default, the visual quality is more than adequate for its price point and can handle high refresh rates without any flickering.
During matches of Halo Infinite, it was easy to keep up with everything happening on screen as colors looked vivid enough for clarity purposes. Other more graphically intensive titles like Cyberpunk 2077, Foriza Horizon 5, and Red Dead Redemption 2 generally looked good.
Contrast of colors are well implemented due to a 1000:1 ratio. Meanwhile, color accuracy is solid as well which makes using Adobe Creative Clouds apps a pleasant experience.
Just be mindful to stay away from HDR on the G25-10. Though it does support HDR, it has some serious problems. The biggest is that you can't use HDR and adaptive sync at the same time. This shouldn't matter much anyway, as the G25-10 doesn't feature local dimming or dynamic contrast, but it's something to know.
When using HDR, the video quality doesn't see much of an improvement so it's best just to ignore it during gaming sessions. Buyers who aren't into high refresh rates or not worried about flickering when they're editing on Photoshop or watching YouTube videos won't have any issues on that front.
Even then, don't expect a night/day difference in visual quality with HDR on. Simply put, there are better gaming monitors at the price with far better HDR implementation.
In the end, at less than $250, the Lenovo G25-10 is a solid display that any gamer in need of a budget monitor can appreciate, just go into it knowing what you're getting.
Should you buy a Lenovo G25-10?
The Lenovo G25-10 has a number of things going for it, though it's not perfect and it definitely isn't for everybody. It might be affordable, but that won't matter much if it doesn't do what you need it to do.
Buy it if...
You need a good but affordable gaming monitor
The G25-10 looks and plays decently in motion thanks to its 144Hz refresh and it doesn't cost a whole lot.
You want an easy set up
Hooking up the base to the stand and the stand to the monitor is pretty simple.
You want a graphics card-agnostic gaming monitor
This monitor supports both Nvidia G-Sync and AMD's FreeSync technology, so it will work with whatever card you have.
Don't buy if...
You need good HDR
The HDR offered on the G25-10 is nowhere near as good as what competitors are offering at similar prices.
You want better display controls
The in-display controls aren't the most intuitive and can lead to unintended changes that are difficult to correct.
You want something a bit more feature packed
Between the lack of a USB-port and speakers, the G25-10 may be too no-frills for some.
Also consider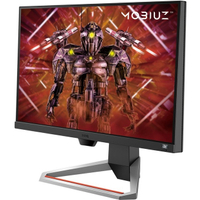 (opens in new tab)
BenQ EX2510
The EX2510 from BenQ has everything the Lenovo G25-10 has, including a 144Hz refresh, but also it also comes with better HDR implementation and integrated speakers. It's also more expensive, but you get what you pay for.
Read the full BenQ EX2510 review