JumpCloud is a cloud-based software solution to manage access to the Active Directory. We like features like the free trial, the annual discounts, and single sign-on (SSO), but we would take issue with the cost of the higher tiers of the plan and that there is an additional charge for premium support on all but the top plan.
Pros
+

Free tier

+

Free trial available

+

Annual discounts

+

Supports multi-factor authentication
Cons
-

No phone support

-

Premium support needed for a chat with an engineer

-

Some options are extra

-

Upper tiered packages get expensive
Why you can trust TechRadar We spend hours testing every product or service we review, so you can be sure you're buying the best. Find out more about how we test.
JumpCloud was founded in 2012 to provide an alternative to Microsoft Active Directory. However, through feedback from customers, they discovered a need for a comprehensive solution that could manage user access in Linux to Amazon Web Services (AWS) and serve as an alternative to AD for accessing cloud infrastructure, Mac, and Windows machines. As a result, JumpCloud has continued to innovate and expand its offerings, providing businesses with a secure and efficient way to manage their IT resources.
One of the key benefits of using JumpCloud is its ability to streamline user access. Whether you need to provision, de-provision, or modify user accounts, JumpCloud makes it easy to manage user access across all your resources, including cloud infrastructure and Mac and Windows machines. With JumpCloud, you can ensure your users have the access they need to do their jobs without compromising security.
Another advantage of JumpCloud is its focus on security. With JumpCloud, you can implement strong authentication and authorization policies that help keep your data and resources safe from unauthorized access. Plus, JumpCloud's cloud-based architecture means you always have the latest security updates and patches without needing manual intervention.
Finally, JumpCloud can help you simplify your IT infrastructure by consolidating your user management tools into a single, unified platform. This can save you time and money on IT management while also improving the overall efficiency of your organization.
If you're looking for a way to enhance security, streamline user access, and simplify your IT infrastructure, JumpCloud is an excellent choice. With its powerful tools and expertise, JumpCloud can help you achieve your goals and take your business to the next level.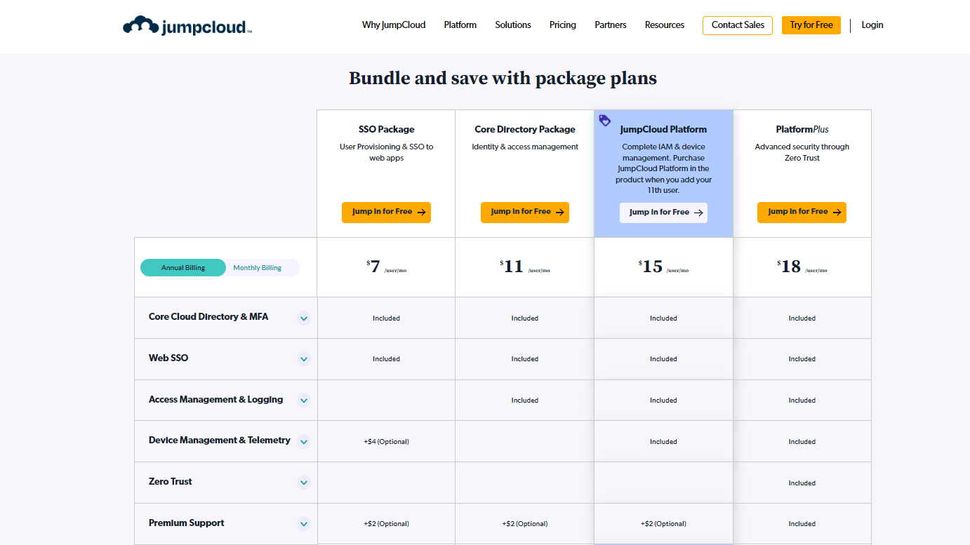 Plans and pricing
JumpCloud offers various tiers of plans, including a free option and the ability to customize a plan for your company's specific needs. While there is a free trial available for paid tiers, the duration is not specified.
Interestingly, JumpCloud Free includes "All Premium features" and the full platform at no cost with a company email. However, it can only be utilized by up to 10 users and 10 devices, and live chat support is only available for the first 10 days.
The SSO Package is the most affordable paid tier, costing $8.50 per user per month. If paid annually, the cost drops to $7 per user per month. It includes Core Cloud Directory, MFA, and Web SSO. There are also two optional extras: Device Management and Telemetry for $5 per user per month and Premium Support for $3 per user per month on a monthly basis.
The Core Directory Package costs $13 per user per month, or $11 per user per month when paid annually. It includes Access Management and Logging, which provides Directory Insights. However, Premium Support is an additional $3 per user per month.
Next is the JumpCloud Platform, which costs $17 per user per month or $15 per user per month when paid annually. It includes all of the features of the lower tiers, plus Device Management and Telemetry. Optional Premium Support is also available for an extra fee.
The top-tier option is PlatformPlus, which costs $20 per user per month or $18 per user per month when paid annually. It adds Zero Trust, Conditional Access Policies, and Device Trust to the feature set. Unlike the other tiers, it includes Premium Support, making it the better overall value.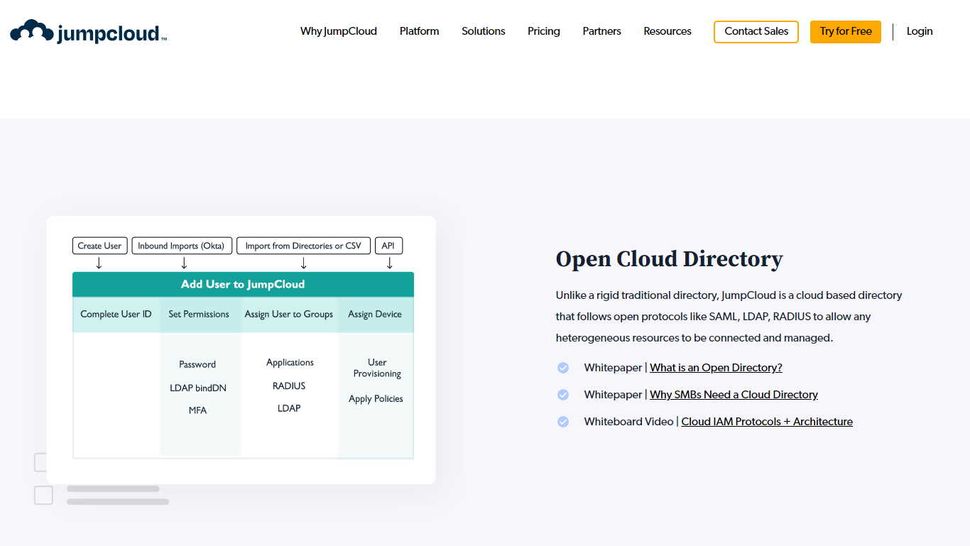 Features
JumpCloud is an excellent platform with many helpful features to support its service. With its basic features available on all tiers, including Cloud Directory, Multi-Factor Authentication (MFA), and the JumpCloud Protect Authenticator App, you can rest assured that your security needs are being met. What's more, JumpCloud also provides Single Sign-On (SSO) and User Lifecycle Management to complete the essentials.
But that's not all. Higher tiers offer even more advanced features to help you manage your devices and systems more efficiently. You can take your operations to the next level with options like Device Management, Mobile Device Management (MDM), System Insights, and Patch Management.
JumpCloud also offers services to help you easily migrate your data and minimize downtime during the transition. So whether you're a small business or a large enterprise, JumpCloud has the tools and expertise to help you succeed.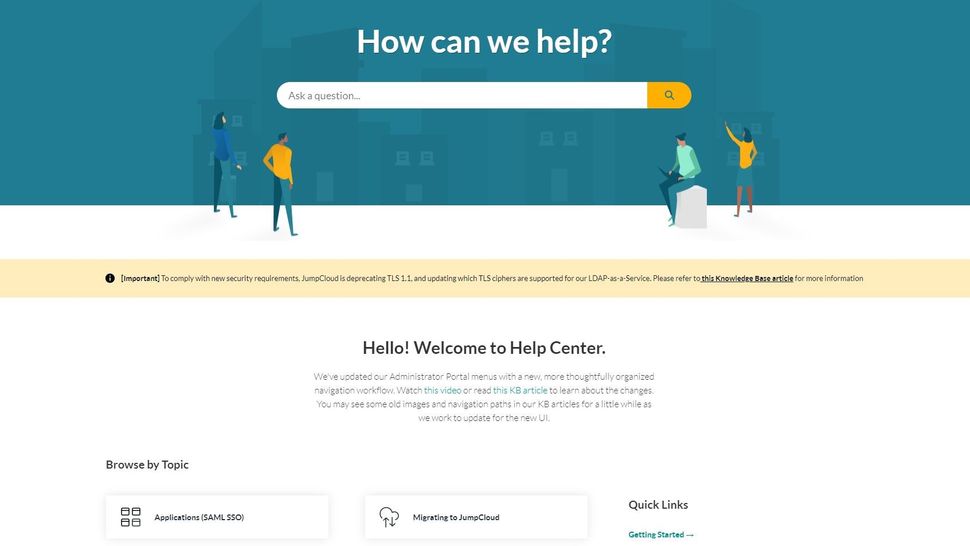 Support
If you need support, there are several ways to get it. Although there is a general phone number, it is not listed for support. However, there is a Help Center that offers many options to get support. Sometimes, a direct phone conversation can resolve the issue more quickly. Standard Support is included on all tiers.
The most direct method is via chat, but initially, you will chat with a chatbot. If you need to speak with a live support engineer, you will require Premium Support. There are also self-help options available, which are more comprehensive and better done than most. You can find articles grouped around topics such as "RADIUS-as-a-service" and "G Suite Integration," for example.
Final verdict
When it comes to cloud-based software solutions, JumpCloud's platform for a cloud directory is one that we find particularly powerful. Their solution offers several security features, including SSO, MDM, and MFA, all from a single platform. We appreciate the flexibility of their pricing plans, ranging from a free option to higher-tier programs that allow for custom configurations to meet specific needs and budgets. However, we do have some concerns to note.
For example, the cost per user can be pretty expensive for upper-tier plans. Additionally, it's worth remembering that premium support is only available with the top goal. Considering these factors, we recommend carefully considering the options available through JumpCloud to ensure you choose the plan that best aligns with your organization's needs.
Whether you're looking to secure your cloud directory or streamline your authentication processes, JumpCloud's platform offers a robust set of features that can help you achieve your goals.
Jonas P. DeMuro is a freelance reviewer covering wireless networking hardware.