JumpCloud (opens in new tab) started in 2012 out of the need for an alternative to the Microsoft Active Directory. Gathering feedback led them to realize that the market would benefit from a solution for managing user access in Linux to AWS, and also an AD alternative for accessing cloud infrastructure, and Mac and Windows machines as well.
With $400 million raised in capital to date, and twelve patents, JumpCloud from its five global offices serves over 150,000 organizations such as Cars.com, SimpliSafe, E*Trade and GoFundMe.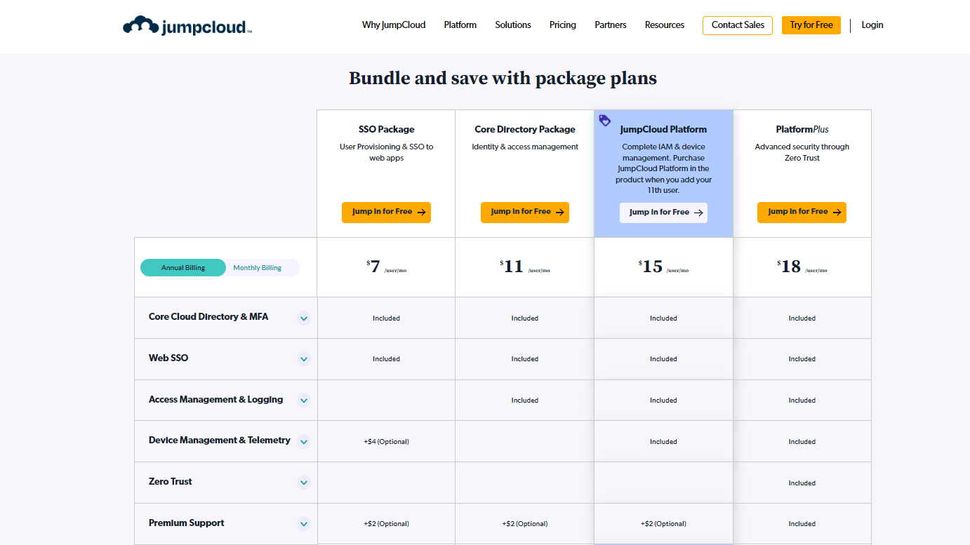 Plans and pricing
JumpCloud has a number of tiers of plans to choose from. In addition, it also has a free tier, along with an a la carte plan to custom configure the plan to truly suit your company's needs. There is also a free trial on the paid tiers, although the duration is not specified.
JumpCloud Free (opens in new tab) surprisingly has "All Premium features," along with the full platform, and yes it is free with a company email. The limitation is that it can only be used for up to 10 users and 10 devices, and the live chat (opens in new tab) support is only for the first 10 days.
The least expensive paid tier is the SSO Package (opens in new tab), at cost of $8.50/user/month, which drops to $7/user/month when paid annually at a discount. It includes the Core Cloud Directory and MFA, and Web SSO, but there are two optional extras: Device Management and Telemetry for $5/user/month, and Premium Support for $3/user/month when paid monthly.
Then there is the Core Directory Package (opens in new tab), which rises to $13/user/month, or $11/user/month when paid annually. It adds Access Management and Logging which includes Directory Insights, but even at this higher price point the Premium Support is $3/user/month additional.
Nest up is the JumpCloud Platform (opens in new tab) at a price of $17/user/month, or when paid annually at $15/user/month. This has all the features of the lower tiers, but adds Device Management and Telemetry, and also has the same optional fee for Premium Support.
Finally, at the top is PlatformPlus (opens in new tab), at a cost of $20/user/month, or $18/user/month when paid annually. It adds the Zero Trust feature to add Conditional Access Policies, and Device Trust to the feature set, and also, unlike in all of the lower tiers, includes the Premium Support, which makes this a better buy overall to our eye.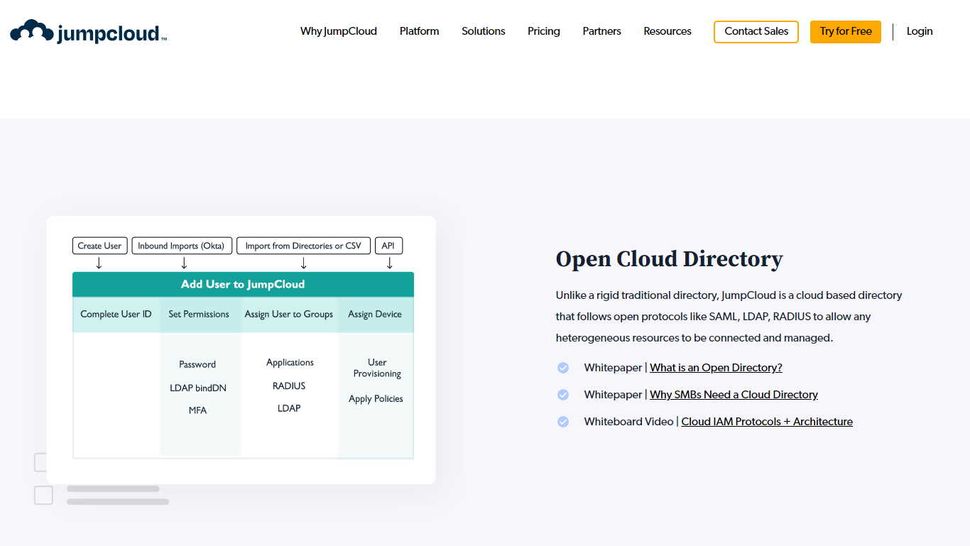 Features
JumpCloud has plenty of useful features to support its service. It starts with core features available on all tiers, such as the Cloud Directory, Multi-Factor Authentication (MFA), and also the JumpCloud Protect Authenticator App. There is also Single Sign-On (SSO (opens in new tab)), and User Lifecycle Management to round out the essentials.
Upper tiers bring even more advanced features into the mix, such as the Device Management, Mobile Device Management (MDM (opens in new tab)), System Insights, and Patch Management.
There are also services offered for a migration to JumpCloud to ease the transition, and also minimize downtime.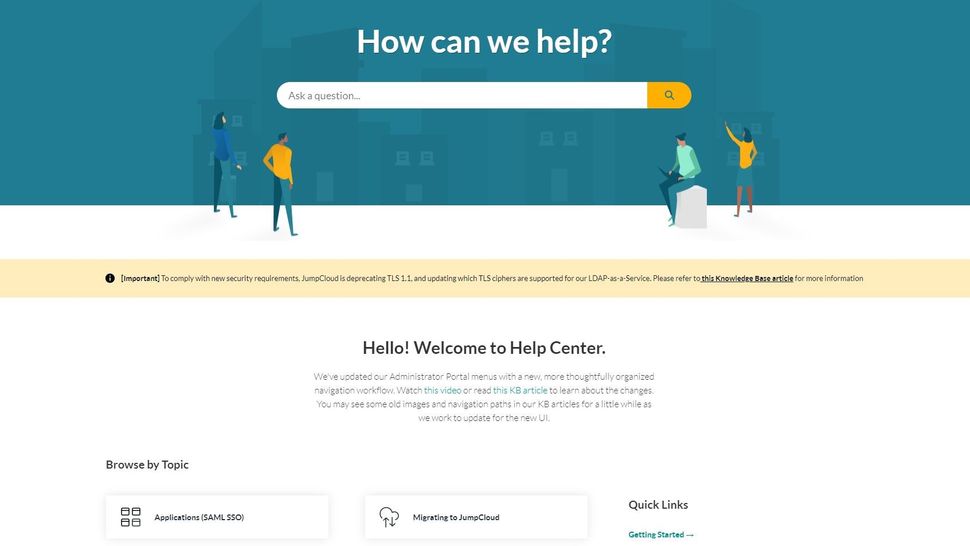 Support
There is support available from a number of methods, although while there is a general phone number, it does not get listed for support. There is a Help Center, and it has plenty of options to get support, but there are still times when a direct phone conversation can resolve the issue. Standard Support is included on all tiers.
The most direct method available is via chat, but the default is for a chatbot, as it indicates that chatting with a live support engineer requires Premium Support. Other than that, the rest is self help options, although they are more comprehensive, and better done than most. There are articles grouped around topics, such as "RADIUS-as-a-service," and "G Suite Integration," for example.
Final verdict
JumpCloud offers a cloud based, software approach to a cloud directory. We find it a powerful solution, that from a single platform can secure a SSO, an MDM, and MFA. We also like the choice of multiple plans with a free plan, with the option to custom configure for exact needs and budgets. However, we take issue that the cost per user is expensive for the upper plans, and also that the premium support gets included for only the top plan. JumpCloud is a more than capable solution, but keep in mind these details to choose a plan that makes sense for your organization.