How to design the optimal WFH space
Tips on creating positive productivity spaces from Mateusz Haberny, founder of Oakywood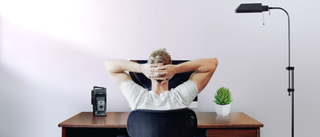 (Image credit: Unsplash / Jason Strull)
As remote work continues to gain popularity, the importance of a well-designed work-from-home space cannot be overstated. The right environment can significantly impact productivity, focus, and overall well-being. Conversely, the wrong surroundings can hinder productivity at best and harm the body at worst. When building a home office, it's vital to be deliberate about the environment you're constructing to not only help you do your best work but also stay healthy and comfortable.
In this article, I will explore key elements that can help you create the optimal work-from-home space. From an ergonomic office chair and a versatile standing desk to essential accessories like a standing desk mat and desk shelf, I will dive into each component to help you maximize productivity and create a comfortable workspace. With these elements, you can say goodbye to back pain and hello to efficiency.
Standing desk
A standing desk is an absolute game-changer when it comes to productivity and overall well-being. It allows you to switch between sitting and standing positions, promoting movement throughout the day. I consider my Oakywood Custom standing desk to be the centerpiece of my workspace, as it assists me in efficiently managing paperwork and daily tasks while also allowing me to change my position, keeping me engaged and active throughout the day.
Consider incorporating the Pomodoro technique, a time management method, to enhance focus and productivity while alternating between sitting and standing. The ability to adjust the desk height to your preference is crucial for maintaining proper ergonomics. Long hours sitting can be tough on the body, so a standing desk gives you a reprieve from stiffness and backaches. Pay attention to the customization and height specifications so that you're getting a desk that works best for you.
Ergonomic office chair
An ergonomic office chair is the foundation of a productive work-from-home space. As your most frequently-used item besides your desk and computer, it provides essential support for your back and promotes proper posture, reducing the risk of discomfort and musculoskeletal issues.
Look for a chair with adjustable features such as height, armrests, and lumbar support to customize it to your unique needs. Don't jump the gun on an office chair - try a few to see which one feels the best for you.
External monitor and laptop dock
To expand your workspace and improve your posture, an external business monitor is essential. A monitor offers a larger screen, reducing eye strain and enhancing productivity.
A laptop dock allows you to use your laptop in the clamshell mode with an external screen, creating a healthier, ergonomic setup and freeing up valuable desk space. Slouching necks are a thing of the past with the right external monitor.
Desk mat
A felt or cork standing desk mat is a small but impactful addition to your work-from-home space. It provides a soft and comfortable surface for your wrists while typing, reducing strain and fatigue.
Additionally, a desk mat can help define your workspace visually, separating it from the rest of your environment and adding a touch of personalization. Desk mats can also prevent any staining or scratching from desk materials so that you can keep your desk as pristine as the day you bought it.
Desk shelf
A desk shelf is an organizational powerhouse that elevates the functionality of your workspace. It allows you to declutter and keep essential items within reach, reducing distractions and creating a clean and organized environment. Utilize the desk shelf to store frequently used stationery, reference materials, or even personal mementos that inspire you.
It's especially helpful for workers who use an external monitor so that they have room for both a laptop and a second monitor for a dual set-up. My desk shelf is crucial for me as it enables me to expand and organize my desk space effectively. It keeps documents and accessories out of sight, reducing distractions and allowing me to focus on the most important tasks while still keeping everything I need within arm's reach.
A note about ergonomics
We hear this word thrown around a lot when it comes to home office setups, but what does it really mean for a product to be ergonomic? Ergonomic products are crafted with meticulous attention to detail, aiming to create a seamless and satisfying experience for those who use them. They prioritize safety features to minimize any potential risks or hazards associated with their use. Comfort is a key aspect, making sure that users can interact with the product for extended periods without discomfort or strain. Make sure to keep this definition in mind when designing a home office.
Materials are another consideration you should take into account when building your workspace. Cheaper options like plastic can be tempting, but tend to wear and break more easily, and can even be uncomfortable. Opt for warm and inviting options like wood, woolen felt, and cork. In addition to being durable and high-quality, these materials add coziness to your workspace and help create a more connected and productive atmosphere.
One thing to keep in mind when designing your home office and choosing these elements is the balance between functionality and aesthetics. Of course, you want a workspace that looks appealing so that you enjoy working in it, but it's important to make sure that your home office essentials are functional and high-quality in addition to being aesthetically pleasing. On the other hand, an office without any personal touches can feel barren and draining. The best work from home setups will have a mix of the decorative and the ergonomic. Additionally, maintaining a clutter-free desk is essential to ensure a productive and organized work environment. A messy desk can cause distraction and distress that keeps you from doing your best work. Keeping things tidy is a sure-fire way to make sure you stay on track during the day.
Creating positive WFH spaces
Designing an optimal work-from-home space involves careful consideration of key elements that enhance productivity and comfort. Remember that you'll be spending a lot of your time in this space, so you want it to be a space that you feel good about for your job and yourself.
If you find that your workspace environment isn't where you want it to be, you can always mix and match and try different products. By investing in an ergonomic office chair, a versatile standing desk, an external monitor with a laptop dock, as well as incorporating a desk mat and desk shelf, you can transform your workspace into a productivity temple.
Remember that a well-designed work environment can positively impact your focus, motivation, and overall well-being, ultimately leading to greater success in your remote work endeavors.
More from TechRadar Pro
Are you a pro? Subscribe to our newsletter
Sign up to the TechRadar Pro newsletter to get all the top news, opinion, features and guidance your business needs to succeed!
Mateusz Haberny is the founder of Oakywood