Home energy technology is the critical piece of the sustainability puzzle
Home Energy Management tech essential to achieve net zero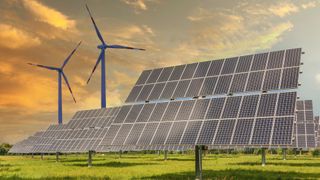 (Image credit: Shutterstock / Mr. Kosal)
When you think of sustainability, what immediately comes to mind? Many of us think of renewable energy, polluted oceans, fast fashion, or the move from petrol and diesel to electric vehicles. Yet, one of the world's biggest polluters is consistently left out of the sustainability conversation – and is found a little closer to home. Our homes. We need to use the power of technology to make our homes and buildings sustainable now and for the future.
We've heard of business pledges and ESG goals, but residential housing is left largely ignored. And when these buildings account for between 17-21% of global carbon emissions, it becomes the missing piece from the wider conversation around sustainability and energy efficiency.
According to IEA analysis, the world needs to double its progress on efficiency between now and 2030 to improve energy security and affordability and keep the goal of limiting global warming to 1.5°C within reach. The biggest energy efficiency challenge on the planet, that requires our attention now more than ever, is our homes. With soaring energy costs across Europe and an increasing public appetite around the world make positive changes to our environmental impact, homes present an opportunity for everyone to get involved in the climate fight – and save money along the way.
Michael Lotfy Gierges is President of Home & Distribution at Schneider Electric.
Why are homes mission critical?
Homes across Europe produce such high levels of emissions due to how they were constructed. Our homes were not designed to save energy and retain heat. Heating in fact is one of the biggest energy loads in our homes. For instance, 77% of homes in London were built pre-1983, with 66.4% of EU homes constructed before 1980, and 80% of buildings that will exist in 2050 have already been built. Construction aside, a third of European homes still use gas for heating and houses in highly developed countries lose as much as 3°C of heat over five hours, meaning that residents must use more energy to keep their homes warm.
The combination of old, poorly insulated, and energy-inefficient housing stock with the move to hybrid working and higher demand for electricity at home has created a perfect storm. As we continue to use more energy at home, emissions from housing will continue to soar. What's more, low-income households across Europe are missing out on crucial green renovations and are consistently the worst-performing homes for energy efficiency. Government funding is vital to close the gap in energy poverty, retrofit inefficient building stock, and drive demand-side solutions.
With demand-side technology, residents can see a return on investment in just two to three years, whereas the supply side brings a much slower return. Solar panels, for example, can take as long as ten years to recoup the initial investment. Measures such as switching to electrified appliances can prove to be a cost-effective way to boost efficiency.
From LED lighting to heat pumps, electrification and smarter home technology is growing in availability and falling in price. According to Schneider Electric research, over 70% of consumers have already changed their energy habits at home in response to the energy crisis, and it is important that this isn't just a short-term reaction. To make this a sustained lifestyle change, energy companies and governments must also support residents with the subsidies, pricing caps, as firms like Schneider Electric can provide the technology they need to futureproof their homes and the planet.
Using tech to empower homeowners
Electrifying and retrofitting homes is just half the battle. Many people feel helpless in the fight against climate change, but every homeowner and resident can play their part. To save energy, reduce bills, and minimize emissions, we need the tools to better manage our energy use at home. Technology already exists to help decarbonize homes – we just need to implement it.
People are accustomed to using smart devices to monitor their own health, track their activity, and make improvements. The same principle can be applied to home energy management systems that allow residents to monitor energy consumption and manage their properties' emissions output. When a resident can access a full view of their home's energy use, they can take steps to reduce consumption and look for new ways to improve their setup.
Few of us have the expertise, time, or desire to constantly check that we are maintaining good energy habits. Home energy management systems connect devices so users can glean insights on where and how energy is used, where renewable resources might be used and use AI to make instant improvements.
It is time that homes (and buildings) found their rightful place in the sustainability conversation. As one of the world's biggest sources of carbon emissions, it is vital that we make home energy efficiency a priority. Working to support residents with accessible retrofits, electrification, and home energy management systems will be crucial in the fight against climate change.
Are you a pro? Subscribe to our newsletter
Sign up to the TechRadar Pro newsletter to get all the top news, opinion, features and guidance your business needs to succeed!
Michael Lotfy Gierges is President of Home & Distribution at Schneider Electric. Gierges will lead Schneider Electric's drive to bring the Electricity 4.0 revolution to homes through enhanced electrification and digitalization.