It is an impressively engineered design that has many admirable features. However, it can easily be swamped by Windows 11, and the SATA SSD didn't help make the most of what the AX15 can offer. As a Chromebook, this hardware would make more sense.
Pros
+

Well-engineered case

+

Plenty of ports

+

Large and bright screen
Cons
-

Intel N95 processor

-

SATA storage

-

Windows 11 Pro
Why you can trust TechRadar We spend hours testing every product or service we review, so you can be sure you're buying the best. Find out more about how we test.
Acemagic AX15: 30-second review
Acemagic (or Acemagican) has a good reputation for Mini PC systems, but until the AX15 it has not previously ventured into the laptop market.
With just one product and SKU, the AX15 represents more of a recon-in-force rather than an assault on the laptop space. The interesting choice of specification firmly aims the AX15 at the casual surfer and educational users.
Built around Intel's 12th Generation N95 processor and sporting the old UHD Graphics GPU, the AX15 was never going to win any competition for processing power. But to keep things moving, Acemagic gave it 16GB of RAM and 512GB of SSD storage.
Regrettably, possibly due to the limited number of PCIe lanes on that platform, the SSD is only SATA, not NVMe, irrespective of what the website suggests.
In what might be an effort to create a better user experience, the AX15 comes with a version of Windows 11 Pro with all the bloatware removed, providing an interesting, if unexpectedly bare, experience.
The best aspects of this design are its decent build quality, sporting a metal skin to the case, and the colourful 15.6-inch IPS display. Where it could be better is in processing power, the aforementioned SATA SSD, and the lack of any USB ports with bandwidth greater than USB 3.1 Gen 1.
After using it for a while, the AX15 felt like a candidate to be a Chromebook rather than a Windows laptop, where the four cores can quickly become overloaded.
Acemagic AX15: Price and availability
How much does it cost? $299
When is it out? Available now
Where can you get it? You can get it directly from Acemagic and on Amazon
At the time of writing, Acemagic only offers a single version of the AX15 with 16GB of RAM and 512GB of storage. Direct from the maker, the price is $299, and shipping is free to US customers from the Acemagic US warehouse.
German customers pay €359.10 for the same SKU, and it isn't sold directly to any other locations.
Those wanting the machine quicker can get it from Amazon.com for $339.98, and a coupon deal is currently reducing that by $20.
Getting this hardware outside those two regions is challenging.
Acemagic AX15: Specifications
Swipe to scroll horizontally
| Item | Spec |
| --- | --- |
| Model: | Acemagic AX15 |
| CPU: | Intel N95 processor (4 cores, 4 threads) |
| GPU: | Intel UHD Graphics (EU 16) |
| RAM: | 16GB DDR4 (maximum) |
| Storage: | 512GB SATA M.2 2280 |
| Screen: | IPS 15.6-inch, FHD (1920 x 1080) |
| Ports | 1x USB 3.2 Gen 1 Type-C power delivery 1x USB 3.2 Gen 1 Type-C data only (no DP) 1x USB 2.0 2x USB 3.2 Gen 1 Type-A 1x HDMI 1.4 1x 3.5mm Combo Audio Jack 1x MicroSD Card slot |
| Networking: | WiFi 5, Bluetooth 5.0 |
| Camera: | 720p HD (no Windows Hello) |
| OS: | Windows 11 Pro (pre-installed) |
| Biometrics: | None |
| PSU: | Type-C 19V/2.1A |
| Dimensions: | 350 x 220 x 16 mm (13.78" x 8.66" x 0.63") |
| TPD Limit: | 15W |
| Battery: | 38WHrs, 3-cell Li-ion |
| Weight | 1.68kg (3.7lbs) |
Acemagic AX15: Design
Metal skin
Large keyboard
No 10Gbps USB ports
Picking up the X15 for the first time, this appears to be a slim and elegant laptop that might come with a hefty price tag. It features a large keyboard with a numeric pad, a large 130mm wide touchpad, and a thin-bordered 15.6-inch IPS screen.
The outer skin is metal, giving a slightly cold feeling that most people would associate with expensive hardware when touched.
According to Acemagic, the hinge is 180 degrees, but that's a slight oversell as ours wouldn't lay entirely flat. It's close, but the viewing angles on the IPS panel aren't enough to make using it almost flat useful.
All the external ports are on the sides, with four placed on each edge.
The right has two USB-A ports, one each of USB 3.2 Gen 1 and USB 2.0, a MicroSD card slot and a 3.5mm audio jack. The left has another USB 3.2 Gen 1 Type-A, a HDMI 1.4 output and two USB-C ports. One of the Type-C ports is USB 3.2 Gen 1 specification, and the other is exclusively allocated for charging.
That the charging port doesn't operate as USB is disappointing. And the one that will transfer data doesn't support DisplayPort over USB. All laptops should have at least one USB-C port that is rated for 10Gbps (USB 3.2 Gen 2), and this laptop has no ports that quick.
We should also mention that it doesn't have a Kensington lock or similar, which makes it possibly unsuitable for educational use.
Even with a few things missing and a slightly odd keyboard layout that relegated Prt Scr to a function and f-key combination, this is still an elegant and comfortable-to-carry laptop with enough ports to satisfy an ordinary user.
But where this machine starts to go slightly off the beaten path is with a less-than-optimal computing platform. Being blighted by the limitations of Intel's 12th Generation mobile platform at the lower performance spectrum.
Acemagic AX15: Features
Intel N95
Only 9 PCIe lanes
No biometrics
The Intel N95 is an entry-level mobile chip that appeared in early 2023. It's from the Alder Lake-N series using the Gracemont architecture.
We've seen it used on low-cost Mini PCs and Notepads, but nothing as grand as the X15.
Where other processors further up Intel's food chain have a combination of performance and efficiency cores, the N95 dumps the performance side of that equation. It offers only four efficiency cores, all without hyperthreading.
The best clock speed it can achieve is 3.4GHz, leaving it slower than the N200 and with fewer clocks than the i3-N300.
To further dampen its potential, the processor is limited to a baseline of 12W and a TDP of 15W. That's not much power, and along with a memory implementation that is single-channel DDR4-2666, this system wasn't made for speed. This lacklustre CPU is paired with the equally limited UHD Graphics GPU, a graphical sub-system clocked at only 1200MHz and sporting 16 execution units.
Low clock speeds and narrow memory bandwidth don't help the N95, but what undermines it in other ways is that it only supports 9 PCIe lanes. Four of those lanes are taken up by the M.2 PCIe 3.0 slot, forcing the rest of the system to scrabble for what's left.
The result of this internal bandwidth starvation is that there are no USB 10Gbps ports, the wireless networking is WiFi 5, no Ethernet port, no biometrics, and the streaming camera is only 720p (USB 2.0).
This system represents Intel's direction with mobile products through a lack of consistent development, culminating in a very lumpy technology transition from its 14nm to 10nm node.
The biggest issue with this machine is that while the N95 can be fine in an embedded context or even in a Mini PC used as a NAS, it's not well suited to the demands of Windows 11.
Acemagic AX15: Performance
Slow and staccato
Pruned Windows 11 Pro
Only a SATA SSD
Swipe to scroll horizontally
| Benchmark | Test | Score |
| --- | --- | --- |
| 3DMark: | WildLife: | 2639 |
| | Fire Strike: | 945 |
| | Time Spy: | 345 |
| Cinebench R23: | Single core: | 644 |
| | Multi core: | 2180 |
| | Ratio: | 3.39 |
| GeekBench 5: | Single core: | 945 |
| | Multi core: | 2408 |
| | OpenCL: | 3594 |
| CrystalDiskM.: | Sequential Read: | 562MB/s |
| | Sequential Write: | 514MB/s |
| PC Mark 10: | Office Test: | 3,628 |
| | Battery Test: | 5hr 53m |
| WEI: | Score: | 6.7 |
We're well-versed with powering up new laptops and then, after they connect to the network, having to leave them alone while Microsoft bombards them with updates and files that have been around for ages but aren't part of the OEM distribution.
On most PCs, it is possible to do some surfing or other minor investigations while it gets up to date, but not this one. When a download is installed, and another is downloaded, the system becomes so clock-cycle starved that apps stop reacting to the pointer completely.
These initial delays can be annoying, but if you leave the system with an automatic download and install set, it can happen anytime while trying to work.
One oddity with this system over what we see from branded makers was that the Windows 11 Pro installed had no bloatware pre-installed and very few apps. The assumption evidently was to make the user experience better initially since those apps won't need an update, but it made Windows 11 seem remarkably bare. We wish more makers threw out all the junk, but Windows without apps is a culture shock.
We weren't expecting anything dramatic here, and the performance on offer is generally slow, almost whatever the X15 is tasked with doing.
To quantify how slow, when directly compared with the ASUS BR1402F we recently reviewed, a machine that uses the Intel N305, the AX15 is about half the speed in most tests.
What doesn't help it do better in the generalised benchmarks and CrystalDiskMark is that the machine has a SATA SSD made by CYX, a brand we're unfamiliar with. On the Acemagic website, it claims that the AX15 has an NVMe SSD. But our hardware was not, so we'd clarify that point with the support staff before ordering.
That choice limits drive speeds to around 500MB/s and impacts the PCMark10 and WEI score. This machine's unspectacular performance might still work for some if it had extended battery life, but the 38Wh battery doesn't power this machine through a full working day.
The PCMark battery test ended at 5 hours and 53 minutes, and starting with a full charge, it can run for about 5 hours when displaying a live video stream.
The message of these results and our general experience of the AX15 is that it is only meant for light use, not prolonged battery periods.
Acemagic AX15: Verdict
The user experience of the AX15 isn't wonderful, and some of that has to do with the hardware and design, but it's not the whole story. A large part of the issue here is Windows 11 and the threads it runs that occupy at least two cores most of the time. It doesn't take much, like an unannounced patch downloading, to push this system over the processing edge, and apps stop being reactive.
The same system would probably run Windows 7 or 8 perfectly fine, but Microsoft keeps moving the requirement bar up each new release like they're doing hardware makers a favour.
The same hardware would probably also run Linux or ChomeOS cleanly without the performance issues that Windows 11 users will experience.
If you intend to buy this machine and convert it to run another OS, then the AX15 is a fine candidate, but as a Windows system, it's on the threshold of useability.
Should you buy a Acemagic AX15?
Swipe to scroll horizontally
| | | |
| --- | --- | --- |
| Value | A better-made machine than the price would infer. | 4 / 5 |
| Design | A metal-skinned chassis and a large keyboard make for a premium feel | 4 / 5 |
| Features | A four-core CPU with limited PCI lanes has undermined the port selection on this system. | 3.5 / 5 |
| Performance | Slow and susceptible to ignoring input | 2.5 / 5 |
| Overall | Poor performance and battery life combined with an OS that expects more power is not the best combinations | 3 / 5 |
Buy it if...
You have plenty of time spare
Not much happens on the X15 quickly, so it's ideal for those who aren't working to a deadline or with a challenging task. It could be made a little faster with an NVMe storage upgrade, but the 16GB of RAM is the most memory that this platform can have.
You don't intend to run Windows
It might not be ideal for Windows, but with a less demanding OS such as Linux or ChromeOS, it might be fine. We didn't test this out, but what performance this system has should go further when it isn't trying to muscle Windows 11 Pro around.
Don't buy it if...
Need raw performance
Compared to a Core-5 or Ryzen 5 system, this is about a quarter of the performance in most tests. While it can cope with web-based applications and surfing, it's not ideal for more demanding X86 applications.
You need to run mostly on battery
The battery life of the X15 hits the wall at around six hours, short of a working day. You might be able to get an extra hour by dimming the screen to a lower setting and using a battery-saving mode. If you want a much longer running time, then you probably don't want this PC.
Also consider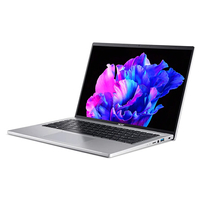 Acer Swift Go 14
Acer makes the Swift Go in both Intel and AMD-powered versions, but the best value model is the SFG14-41, which uses a Ryzen 5 processor. It's a lightweight laptop with a 14-inch display, 8GB of RAM, and 512GB of RAM, but it costs twice as much as the AX15.
For that extra outlay, you get much more performance from this system.
Read our Acer Swift Go 14 review for more information.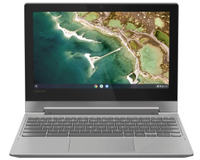 Lenovo IdeaPad Flex 3 Chromebook
As a similarly specified machine using the MediaTek MT8183 or Intel N100 Processors. But it only costs around £310 for a 2-in-1 design. This design can get away with even lower processing power by using ChromeOS and not Windows, but that limits it to web-based applications.
This is a highly affordable option for those who don't need to use Windows apps.
Check out our Lenovo IdeaPad Flex 3 Chromebook review.
For more educational laptop options check out our Best Student Laptops selection.
Mark is an expert on 3D printers, drones and phones. He also covers storage, including SSDs, NAS drives and portable hard drives. He started writing in 1986 and has contributed to MicroMart, PC Format, 3D World, among others.