You can now get ChatGPT on a Linux desktop
There's now a third-party Linux extension for ChatGPT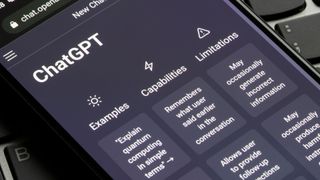 (Image credit: Shutterstock / Tada Images)
ChatGPT is now available as an extension for your Linux laptop or desktop, but it's early days and some things may not work as you might expect.
The AI tool capable of holding back-and-forth conversations and surfacing up information that may otherwise take a long time to find online was launched in preview format to the public in November 2022, and has seen an explosion in popularity.
It also already amassed millions of users, to the point where many have reported it being unavailable due to the service having reached capacity.
ChatGPT on Linux
TechRadar Pro needs you!
We want to build a better website for our readers, and we need your help! You can do your bit by filling out our survey and telling us your opinions and views about the tech industry in 2023. It will only take a few minutes and all your answers will be anonymous and confidential. Thank you again for helping us make TechRadar Pro even better.
D. Athow, Managing Editor
So long as you have an account, and ChatGPT isn't at full capacity, Linux users will now be able to use the tool straight from their desktop as an extension, making access to it even easier.
It's made possible thanks to a Gnome extension created by Rafal Mioduszewski, however its developer has also said that there may be a workaround for KDE users, too.
There are some caveats, though, because the extension is only working properly with Xorg, which leaves Wayland out of the question until a solution has been suggested.
Mioduszewski has also indicated that navigation using a mouse remains buggy, which leaves users having to navigate using the keyboard for a better experience, though this may not be too much of a problem for some Linux users who prefer this way.
The files to enable the extension are available on Mioduszewki's GitHub repository, and following the correct setup and a reboot, users will be able to access the powerful AI tool straight from their desktop.
As far as ChatGPT goes, while it remains free, OpenAI co-founder, Greg Brockman, has already suggested a professional version that may see users having to pay for the privilege.
Via Tom's Hardware
Are you a pro? Subscribe to our newsletter
Sign up to the TechRadar Pro newsletter to get all the top news, opinion, features and guidance your business needs to succeed!
With several years' experience freelancing in tech and automotive circles, Craig's specific interests lie in technology that is designed to better our lives, including AI and ML, productivity aids, and smart fitness. He is also passionate about cars and the decarbonisation of personal transportation. As an avid bargain-hunter, you can be sure that any deal Craig finds is top value!