This company claims to have built the most profitable crypto miners around
But calculating the profitability of crypto mining isn't straightforward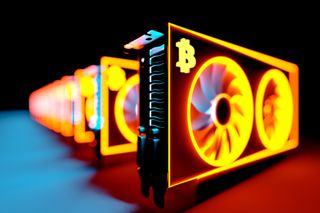 (Image credit: Shutterstock / GreenBelka)
Update:
A number of people have taken to social media to express concerns about the legitimacy of BitWats' claims where the performance of its hardware is concerned. Others claim payment was taken from their crypto wallet, but the item was not delivered.
When contacted by TechRadar, a company spokesperson said these claims were part of a negative PR campaign against it. Pressed for a response to the specific stories shared online, a BitWats spokesperson provided the following statement:
"We have done our research and none of those are our clients".
"We are working since 2018 to design and build this type of ASIC miners fallowed with a private bitstream, our competitiors are trying to put pressure on us to release tech data so they can copycat."
The spokesperson went on to state that customers will the receive products they have paid for, but could face customs delays.
Asked how the necessary components for the ASIC miners have been procured during the ongoing chip shortage, BitWats said the following:
"We are under contract/agreement with a specific company that deliver us 5nm ASIC Chip which we use to design and build our miners (cannot share the company name at the moment due to the conflict of interests).
Original story:
New York-based BitWats has released three new cryptocurrency mining rigs, which it claims will help users maximize their mining profits.
The miners are all built around 5nm application-specific integrated circuit (ASIC) chips, which supposedly gives them fast hash rates, while maximizing energy efficiency.
"BitWats designed its crypto miners with the goal of making crypto mining easy and profitable for all, including the newbies. Once these miners are delivered, anyone can start mining simply by connecting the unit to a power socket and accessing it through WiFi or cable, and entering the pool data," says the company in a release.
Profitable miners
BT is the entry-level miner, consuming 550W of power and offering hash rates of 360 TH/s for Bitcoin and 2 GH/s for Ether.
The mid-tier miner, DBT, more than doubles these hash rates to 750 TH/s and 5 GH/s for the respective cryptocurrencies, and consumes 900W of power.
The top-end miner, GBT, improves upon the performance of the mid-range model by a factor of three, with hash rates of 2250 TH/s and 15 GH/s, consuming 2200W of power.
Based on figures mentioned above, BitWats has also given an estimate on the monthly profit-making potential of the DBT and GBT miners.
According to its benchmarks, the DBT miner (costing $10,000) can bring in Bitcoin worth $7,500 and Ether worth $13,000 every month.
The $25,000 GBT miner, meanwhile, can supposedly mine Bitcoin worth $22,500 and Ether worth $37,000 on a monthly basis.
Note, however, that projecting the profitability of crypto mining is a complicated process, due to fluctuations in the value of digital currencies and various other factors. Furthermore, in addition to the cost of the miners, you'll also have to take into account the cost of their electricity consumption.
Considering the fact that the potential earnings of the miners is based on the assumption that they are running 24/7, the cost of electricity alone can quickly eat into earnings.
Ultimately, these are lofty claims from BitWats over what its hardware can do. We've contacted the firm for more clarification and will update this article when we receive a response.
---
TechRadar is supported by its audience. TechRadar does not endorse any specific cryptocurrencies or blockchain-based services and readers should not interpret TechRadar content as investment advice. Our reporters hold only small quantities of cryptocurrency (under $100 in value), as is necessary to perform wallet and exchange reviews, and do not hold shares in any publicly listed cryptocurrency companies.
Are you a pro? Subscribe to our newsletter
Sign up to the TechRadar Pro newsletter to get all the top news, opinion, features and guidance your business needs to succeed!
With almost two decades of writing and reporting on Linux, Mayank Sharma would like everyone to think he's TechRadar Pro's expert on the topic. Of course, he's just as interested in other computing topics, particularly cybersecurity, cloud, containers, and coding.