The battles in The Callisto Protocol will be a "balanced" mix of ranged and close combat
News
Contributions from
last updated
"Nearly half of the fights occur in hand-to-hand combat"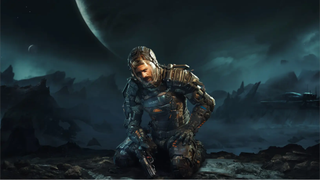 (Image credit: Sony)
In the upcoming sci-fi horror The Callisto Protocol not just your aim, but also your melee talents are requirements for survival.
In an interview Ben Walker, design director of The Callisto Protocol, mentioned more details about ingame fights talking with Game Informer. These are "more directed towards survival" and furthermore the "general tone" should refer to the fighting aspects. Therefore it is only logical that "almost half of the confrontations are fought in melee combat."
Of course, this is not to say that players won't be equipped with ammunition and appropriate ranged weapons. However, according to Walker "you have to use your bullets wisely. Furthermore we included melee combos pushing the enemies away once they are completed. That offers you the possibility to strike quickly and hit the enemy with a clean shot."
During the conversation, the design director moreover touched on the inclusion of the PS5's DualSense controller. "We're using everything to it's most," Walker said. "As satisfying as it is get visual and auditiv feedback, feeling it really adds an extra layer and the controller gives us the opportunity for that, so we're working our hardest to incorporate all those little nuances and make sure they really stand out along the controller usage."
As for detaily, Walker adds: "Since we have melee combat, we want to implement feedback on bone cracking for example. So that you can feel it using the controller, right? So when you perform the appropriate action, you can hear that little crack with the controller."
Same old comparision to Dead Space
While we were able to see more of the upcoming sci-fi horror in the recent past, there also was a rise in critics towards the similarities with Dead Space, whose remake will be released early next year.
This comes as little surprise to us - since apart from atmospheric similarity, the developer, Striking Distance Studios, also has some Dead Space veterans on board. Even including studio director, Glen Schoflied, who was previously the CEO of Dead Space developer studio Visceral Games.
However with the most recent details regarding fights, more and more unique features are presented. In an interview with PCGamesN, Striking Distance's Chief Creative Officer Chris Stone also commented towards the comparison and similarities.
Stone pointed out that the team has "grown and evolved as game creators and artists over the past 10 to 15 years, which we'll see once The Callisto Protocol drops." He also added that he believes the game will be able to carve out its own identity through the hybrid combat system, its story and graphics, setting it apart from similar titles.
"We've developed a deep combat system combining melee and ranged combat with a gravity gun called GRP ('Grip') that would allow players to seamlessly switch between weapons", Stone explained.
"Running low on ammo? Grab an enemy and pull them toward you for a devastating hit with the stun baton. Getting mobbed? Throw an enemy across the room or shoot his legs off to give yourself some air. And if you see other surrounding hazards, grab an enemy and throw him in to finish him off on the spot."
It appears that there won't be a lack of creative kill options in the upcoming game. The first gameplay during Summer Game Fest also already gave us a glance at what to expect - a very bloody, visceral one we might add. Therefore it seems rather unsurprising that the combat system further promotes that violent tone.
Last but not least the scary sci-fi spectacle isn't far off, as The Callisto Protocol is expected to be released later this year, on December 2nd, for PS4, PS5, Xbox One, Series X|S and PC.
Sign up to receive daily breaking news, reviews, opinion, analysis, deals and more from the world of tech.
Emma Boyle is TechRadar's ex-Gaming Editor, and is now a content developer and freelance journalist. She has written for magazines and websites including T3, Stuff and The Independent. Emma currently works as a Content Developer in Edinburgh.