The best free Windows 8.1 apps
Eight must-have apps to keep you entertained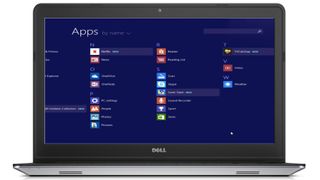 (Image credit: Future)
Introduction
Windows 10 may well be on the horizon but there are still a sizeable number of users that either won't bother or remember to upgrade from the current incarnation that owns a sizeable chunk of the active users.
The return of the start menu isn't the sole reason to get hold of a copy of Windows 8.1 and the lineup of apps available makes it a more than viable proposition for anyone looking to move up from Windows 7 before the arrival of Window 10. That in mind we've devised of list of eight must-have apps that should be at the top of the download list of anyone with a new Windows 8.1 PC or even an existing system.
1. Facebook
Social networking is made easier by the Windows 8.1 interface and even though there are plenty of beneficiaries of this move, Facebook is top of the pile. The whole experience mimics what you'd expect to find on a mobile device except on a larger screen. Everything from the toolbar on the left that brings up all options including groups, events, pages, photos and friends to the chat bar down the right and icons along the top are all present and correct. It all means you can Facebook-stalk your friends (or foes) to your heart's content!
2. Microsoft Solitaire Collection
Solitaire has been part of the fabric of the Windows OS ever since the early days and the next level of that popular game is this extensive reproduction. There are in fact five different card games that make up the Microsoft Solitaire Collection including Klondike (the traditional Solitaire you're used to), Spider, FreeCell, Pyramid and TriPeaks with every one taxing in its own right. Achievements can be automatically added to your Microsoft gamertag meaning that by playing Solitaire whilst at your work-desk you can then show off to your friends on the Xbox 360 or Xbox One when you log on to your console.
3. TVCatchup
Whilst it may suggest otherwise, TVCatchup is much more than a place to catch-up on TV shows and offers completely live TV free of charge to UK citizens. You can watch any of the five terrestrial channels as well as a handful digital-only offerings such as Al-Jazeera, BBC Alba and Viva with the exact same service you'd expect from a Freeview TV or set-top box, except that you don't need to leave Windows 8.1. It'll mean the next time you're finishing off that piece of work and don't want to miss the next episode of EastEnders then you can just take a quick break without leaving your PC.
4. Skype
It remains one of the best free voice and video chat utilities out there and now that it's under the Microsoft umbrella there's no need to even go to the effort to download Skype as it'll be there for you from the off. Skype in Windows 8.1 differs to what you would see on a Mac or even a mobile device with a clean and very easy to use interface that gives you a list of recent contacts expressed in nice big icons. This is in addition to the even bigger icons for any recent chats you have been involved in. Initiating a chat or call with a contact can be done by picking out a name from your friends and then typing in words or clicking the phone icon. All things told, the Skype app for Windows 8.1 makes it easier than ever to call and chat to friends at any time of the day.
5. Netflix
Watched the third series of House of Cards yet? Good news because one of the richest app experiences on Windows 8.1 is the only place you can watch Francis Underwood strut his stuff: Netflix. The app presents each title in the form of a DVD-box sized icon with the titles going from left to right instead of down the screen like they do in the browser, on other mobile devices and games consoles. Basically nyone that has used Netflix in the past knows the drill and the experience inside the app is so similar that you'll never be visiting the site from within a browser ever again.
6. Danger Road
Solitaire has the ability to get rather boring after a while and thankfully the Xbox link means there are plenty of games to get your teeth stuck in to. One such title is Danger Road's attempts to bring the retro action from Frogger onto Windows 8.1 and the developers do so in some style. At its bare bones the object of the game is to guide a small animal from the bottom of the screen to the top and dodge cars, trains, water and anything else that gets in your way. Even the first level is fiendishly hard and will have you posing the questions: why did I download this in the first place and why does it keep drawing me in for more?
7. uTube
Having to enter a browser every time you want to use YouTube is a thing of the past in Windows 8.1 thanks to the unimaginatively titled uTube. You can use uTube to watch any videos from the Google-owned video service and even sign into your account to see the same level of personalisation present when you usually sign in to YouTube via a web browser. There are also some added extras such as the ability to download and save any videos you like the look of, a real plus for anyone sick of the browser plug-ins that seem to be perennially slow at downloading the content. You can even choose the quality that it should be downloaded in and once uTube is on your PC, there's no way you'll ever bother with the web version again.
8. Kindle
Much as Windows is a byword for PC operating systems, Kindle is the go-to brand for eBooks and its app for Windows 8.1 means you now don't need a separate device to enjoy a good read. It's exactly the same as any of the mobile apps that have come to define the eBook genre and can be setup to sync with other devices so that you're always starting off from the point you finished at. The app plugs in to the Kindle Store so that you can make new purchases straight from Windows and avid readers will be warmed by its presence in the Windows Store.
Are you a pro? Subscribe to our newsletter
Sign up to the TechRadar Pro newsletter to get all the top news, opinion, features and guidance your business needs to succeed!