New Arm chip could give your SSD superpowers
Arm's Cortex-R82 is a 64-bit CPU for next-gen storage systems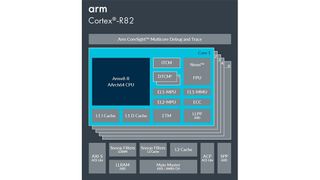 (Image credit: Arm Limited)
Arm has unveiled its new Cortex-R82 processor core designed for high-performance real-time applications that promises a two-times performance uplift when compared to its predecessor.
The new core will be primarily used for modern storage devices - including solid-state drives and hard disk drives - that require more computational performance and more onboard DRAM for data processing.
Arm's Cortex-R cores are used in various SoCs for communications and storage, including modems and HDD and SSD controllers. Arm's previous-generation Cortex-R8 is a 32-bit core that cannot address more than 4GB of DRAM, which is sometimes a limitation for modern high-capacity SSDs, all-flash arrays and in-storage processing.
Real-time Linux-capable core
The Arm Cortex-R82 is the company's first processor core for real-time applications that uses its 64-bit Armv8-R architecture. The key features of the product look as follows:
Two times higher performance when compared to the Cortex-R8;
Scalability up to eight cores per cluster at 1.80GHz;
Ability to address up to 1TB of DRAM;
Optional MMU capability for operating systems like Linux;
Optional Neon accelerators for machine learning (ML) and floating-point computations.
High performance and 40-bit memory addressing will make Arm's Cortex-R82 a core of choice for next-generation SSDs that will require better signal processing as 3D NAND memory gets more complex and drives get more capacious. But the new core will enable much more.
In-storage processing applications are gaining traction, but today they rely on SoCs powered by Arm's Cortex-A-series processor cores. Such SoCs offer high performance, but Cortex-A-series cores are not the most optimal choice for storage applications because of latencies.
Linux-capable Cortex-R82 can do general-purpose processing while offering consistent performance and low latencies expected from a real-time core, which somewhat changes rules of the game. Furthermore, the addition of Neon accelerators and up to 1TB of DRAM further expands applicability of in-storage processing for IoT as well as edge computing.
Meanwhile, one controller based on four Arm Cortex-R82 cores can now serve both classic SSD as well as computational storage applications, which will make developers like Marvell, Phison, and Silicon Motion happy.
Arm expects its Cortex-R82 cores to be implemented using 5nm process technologies, which is an overkill for client SSD controllers today. But for more advanced solid-state storage solutions that need to combine performance and low power, this might be what the doctor ordered.
Source: Arm Limited
Are you a pro? Subscribe to our newsletter
Sign up to the TechRadar Pro newsletter to get all the top news, opinion, features and guidance your business needs to succeed!
Anton Shilov is the News Editor at AnandTech, Inc. For more than four years, he has been writing for magazines and websites such as AnandTech, TechRadar, Tom's Guide, Kit Guru, EE Times, Tech & Learning, EE Times Asia, Design & Reuse.