Advertisement Feature
How CRM software can take your small business to the next level
Get ahead of the competition with Freshsales CRM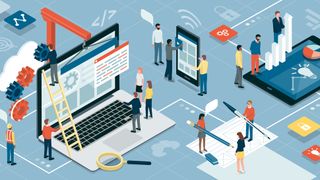 (Image credit: Shutterstock / elenabsl)
It's no secret that the last few months have been challenging for businesses of all sizes, but that's especially true for smaller firms, who have had to evolve and adapt quickly to a whole new way of working.
With a need for flexibility and adaptability paramount for SMBs across all sectors, getting that extra bit of advantage could make all the difference when it comes to business success.
Technology has long been a preferred option to get this advantage, and software in particular - but for something extra special to help get ahead, CRM software could well be the key, and FreshWorks might be the answer you're looking for.
Customer relationship management (CRM) software looks to offer your business a whole new way of connecting with your users, uniting customer communications, services, and sales, into a single centralised easy-to-manage platform.
In these challenging times, maintaining close relationships with customers could be the difference between success and losing vital accounts, and FreshWorks, and its Freshsales platform, might be the answer.
Freshsales offers you the chance to set up your CRM your way, designing a personalised account that reflects how you operate as a business. Once you've signed up, you're able to customise how the platform will appear to users, adding and editing fields across modules, renaming modules and even creating custom fields to focus on the details your business needs.
For those with global ambitions, Freshsales also offers you the ability to choose from multiple languages for employees based overseas, and select from over 150 currencies for your deals.
When it comes to communicating with your leads and potential customers, Freshsales looks to cut out the unnecessary steps and stress that all too often can clog up your day.
Freshsales comes with the Freshcaller comms platform built in, allowing you to call leads with just a click, as well as the ability to log calls, transfer and record those vital communications.
There's also the ability to talk online using the embedded Freshchat service, allowing reps to talk directly to the customer without leaving the Freshsales platform, meaning all the information you need can be quickly found.
And of course, there's always email, with Freshsales allowing you to integrate your email service into the platform, as well as customised folders, allowing you to track those leads from start to finish.
For marketing purposes, there's also Freshmarketer, the company's own end-to-end email marketing software, which allows you to design, craft and carry out marketing campaigns that will really connect with your customers.
All of this brings you closer to the customer, but what about working closer together as a team? Freshsales CRM looks to improve collaboration amongst your employees, making sure that all your key workers stay engaged and involved on projects large and small.
The platform allows you to organise employees into specific teams, meaning there's no unnecessary doubling up of emails through a shared Team Inbox. Teams can assign tasks, schedule appointments, and analyse campaigns quickly, making your workforce more streamlined and effective.
Team members can be quickly added or switched using Freshconnect, bringing new members or consultants up to speed on projects without delay, and use the Freshdesk platform to create and tackle support tickets directly through Freshsales.
CRM software such as Freshsales offers your business a huge realm of possibilities, bringing together multiple platforms and tools to allow your workers to forget the pain of endless admin, and freeing them up to do what matters - securing those deals.
Are you a pro? Subscribe to our newsletter
Sign up to the TechRadar Pro newsletter to get all the top news, opinion, features and guidance your business needs to succeed!