Sponsored
Free up space and earn cash by recycling your old Samsung phone
With Decluttr,you can get the most for your old devices and earn money that you can put towards this year's flagship phones.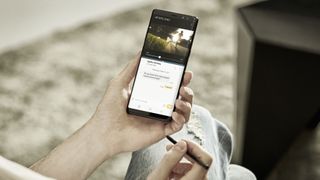 This feature has been brought to you by Decluttr.
Upgrading to the latest and most feature packed smartphone every year can get costly, especially when you go through your mobile phone carrier to do so. However, if you have to get your hands on Samsung's new Galaxy S8+ or the recently announced Note 8, then selling last year's flagship phone could earn you some money towards your next purchase.
Selling your smartphone online or at a store can get tedious rather quickly though. While carriers and manufacturers often offer to buy back your old smartphone for a discount on the latest model, you rarely get even a fraction of what you paid for it. Listing your device on an auction site such as eBay might earn you a little more but the added hassle that comes along with this can waste time, energy and there could even be complications from buyers. That's on top of having to pay fees too!
Decluttr makes it easy to sell your old smartphone at the best price thanks to the service's competitive pricing - the company pays 25 per cent more than the average market price. Why get less for your devices when you can sell them for more using Decluttr's app available on the Google Play Store?
Say goodbye to buy back schemes
To entice their users to upgrade to the latest smartphone, mobile carriers and even device manufacturers such as Samsung and Apple have begun to offer buy back services that,while convenient, fail to offer the best price for your used devices. Decluttr,on the other hand,pays 33 per cent more than mobile carriers and manufacturers to give you the best price for your old smartphones.
Selling a phone is simple with the service.All you have to do is search for your device, describe its condition and the company will give you a quote right then and there. Decluttr also offers a price promise guarantee; they will pay the initial price for your smartphone or return it free of charge.
Seller your old smartphone fast
After accepting your quote, all you have to do is pack up your smartphone and attach the shipping label from Decluttr. The company offers free insured shipping with every order so there is no need to worry about it getting lost or damaged in the mail.
Getting paid for your devices is also extremely simple and easy. Decluttr provides next day payments via check, direct deposit or even PayPal so you can have cash in hand fast to buy your next smartphone. The entire process will cost you nothing as the company does not include any hidden auction or seller fees in its transactions.
Why wait for this year's flagship?
Selling your old smartphones on Decluttr can really help bring down the cost of Samsung's flagship phones and because the process is so simple and easy you could repeat it next year to truly be on the cutting edge.
If having the latest smartphone means a lot to you or you just have some old devices collecting dust around your house, there has never been a better time to check out Decluttr for yourself and start earning money today.
Are you a pro? Subscribe to our newsletter
Sign up to the TechRadar Pro newsletter to get all the top news, opinion, features and guidance your business needs to succeed!