Brexit: 8 cities that might replace London as FinTech capital of Europe
Will tech and FinTech startups in the UK eye up EU cities?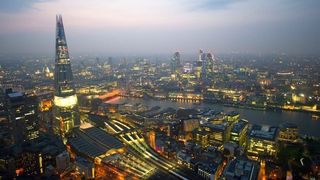 (Image credit: VisitBritain)
Introduction
Populism popped, an EU Leave vote became a political hot potato, and now the reality is setting in for tech industry; things will change. Until now the startup and financial capital of Europe, a post-Brexit London that lacks access to the European Digital Single Market, EU-funded research, or free movement of tech staff from across the continent (one in three staff in UK tech startups are from the EU) isn't necessarily the kind of place entrepreneurs will want to be.
If racist incidents continue, that goes double. If the major banks desert London and the new Mayor can't 'take back control', the city will likely lose its status as the top place in Europe for financial technology, or FinTech, which is rated to have brought in a staggering $5.4 billion (around £4.1 billion) of investment in the last six years.
Is a tech exodus on? It's not yet clear, but Plan B's are being formulated, and there are plenty of cities in countries committed to the EU already eyeing Brexit as a huge opportunity to attract more FinTech and other startups.
Amsterdam, The Netherlands
Once the financial capital of the world where the stock market was invented in 1602, Amsterdam is growing as a FinTech centre in Europe. Home to major banks like ING and Rabobank, the city's concentric canals are increasingly lined with payment technology.
Chief among them is global multichannel payment company Adyen, which works for Facebook, Uber, Airbnb, Netflix, Spotify, Dropbox, Evernote, and more – but Amsterdam is also known to be a Bitcoin and Ethereum centre, with Bitpay headquartered here and Holland FinTech active.
Stockholm, Sweden
The capital of Sweden – already known for birthing digital 'unicorns' like Skype, Spotify, King, Klarna and Minecraft – is becoming a major FinTech alternative, getting as much as 18% of FinTech investments in Europe as a whole.
Last year, 15 FinTech deals attracted $266 million (around £200 million) in investments, with cryptocurrency company KnCMiner doing particularly well. Other FinTech firms in Stockholm include BehavioSec, iZettle, Lendify and Zenconomy, while the city's Kista Science Park is a known hub for tech startups.
Berlin, Germany
Germany is the powerhouse of Europe, so it's no surprise that Berlin is a buzzing place for entrepreneurs and a hub for FinTech. Three such companies are Friendsurance, Lendico and Spotcap. Friendsurance is an online peer-to-peer insurance platform, while Lendico is a P2P platform that connects borrowers and investors, circumventing banks. It also coordinates all payment transactions.
Spotcap, founded in 2014 and headquartered in Berlin, has a system for paperless, transparent and fast business loans decided on real-time performance rather than historical financial data. However, there are a good deal more FinTech companies in Berlin. Frankfurt – surely first in line to inherit London's status as financial capital of Europe – will also fancy its chances at appealing to FinTech entrepreneurs.
Helsinki, Finland
This is FinTech with a capital Fin. With high incomes, plenty of investment funds, and excellent digital infrastructure, the Nordic countries are a prime area for FinTech. The capital of Finland is home to Holvi, a digital business banking service aimed at entrepreneurs and small businesses that was purchased in March 2016 by banking giant BBVA. It's also got a thriving FinTech community.
Prague, Czech Republic
It's not all baroque churches, strong beer and stag parties – the capital of Bohemia is also home to some disruptive startups in gaming, apps and network security, but there's a dollop of FinTech, too.
The tech startup scene is growing quickly, with established FinTech companies like SoNet and startups like Spire Payments (which just launched the industry's first in-branch customer digital authentication system) and online payment service provider Worldcore all based here. Who said no one uses Czechs anymore? Prague also rates highly as a place for 'digital nomads', with plenty of co-working spaces.
Copenhagen, Denmark
Aided by the collaboration and co-worker-friendly Copenhagen FinTech Hub as well as Copenhagen FinTech Innovation & Research (CFIR), Danish FinTech can so far count Pleo (which wants to replace the company credit card) and Tradeshift (an invoicing platform) among its FinTech successes.
This city of half a million people, which is linked to Malmo in southern Sweden by the Oresund Bridge, recently hosted FinTech event Money20/20. Greater Copenhagen is already home to over 12,000 IT companies, one of the largest concentrations in Europe.
Lisbon, Portugal
For southern Europe, the only hub in town is Lisbon, the capital of Portugal and home to an increasing cluster of payment tech startups. Equity crowdfunding company Seedrs, mobile apps company CardMobili and 'send money abroad' startup Moneytis are based in Lisbon, along with many others.
Not only does this fabulously attractive city have a suspension bridge reminiscent of the Golden Gate Bridge near the global tech hub of Silicon Valley, but Lisbon is also the new home to major tech conference and startup marketplace The Web Summit from November 2016. Zuckerberg, Musk and company are regular speakers.
London, England
Of course, what's to say that London can't continue to dominate the continent's FinTech scene? There are several reasons why FinTech may well stay centred on London. For one, Brexit may not happen at all, though more likely is that it won't be anywhere near as negative for the economy, for trade, or for FinTech, as is currently feared – and the big banks may stay put.
Much will depend on exactly how strict the EU is with Britain's terms of exit. For the moment, it's presumed that the 'divorce' terms will be very tough so as to dissuade other EU countries from jumping ship, though just as important will be the expected tighter controls on immigration, which could hamper FinTech startups' employment plans. Whether anyone wants to come and work in the UK anymore is another matter…
Are you a pro? Subscribe to our newsletter
Sign up to the TechRadar Pro newsletter to get all the top news, opinion, features and guidance your business needs to succeed!
Jamie is a freelance tech, travel and space journalist based in the UK. He's been writing regularly for Techradar since it was launched in 2008 and also writes regularly for Forbes, The Telegraph, the South China Morning Post, Sky & Telescope and the Sky At Night magazine as well as other Future titles T3, Digital Camera World, All About Space and Space.com. He also edits two of his own websites, TravGear.com and WhenIsTheNextEclipse.com that reflect his obsession with travel gear and solar eclipse travel. He is the author of A Stargazing Program For Beginners (Springer, 2015),