Boosting warehouse productivity with smart technologies
Growing pressure on supply chains is leading businesses to find new ways to innovate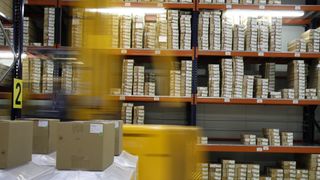 (Image credit: Image Credit: delphinmedia / Pixabay)
The death of high street retailers and the rise of e-commerce means more consumers are shopping online than ever before. Businesses have responded accordingly by revamping their online presence but what about the warehouses where those products are stored?
TechRadar Pro spoke with Zebra Technologies' Sales Engineer Manager Ugo Mastracchio to learn more about how the company's technology is being used to improve warehouse efficiency and productivity so that more orders can go out to consumers.
1. What are some of the biggest problems facing supply chains today?
It's estimated that global shipping has tripled over the past few years, while the cost has dropped. The pressure on supply chains to optimise every part of their business operations has never been so crucial, as budgets, legislation and man-power prove increasingly fluid.
Zebra's Future of Fulfillment Vision Study, a global body of research analyzing how manufacturers, transportation and logistics (T&L) firms, and retailers are preparing to meet the growing needs of the on-demand economy, revealed that 78 percent of logistics companies expect to provide same-day delivery by 2023 and 40 percent anticipate delivery within a two-hour window by 2028. In addition, 87 percent of survey respondents expect to use crowdsourced delivery or a network of drivers that choose to complete a specific order by 2028.
Meeting demands for cheaper and faster delivery from retailers coupled with increasing competition and the need to keep producing high quality products is stretching resources and personnel. Also, factoring in the increasing demand for end-to-end visibility in manufacturing and the supply chain and warehouse injuries and the industry is battling some of its biggest challenges to date.
2. Are warehouses adopting digitalisation? If so, how?
The proliferation of technology exists in every aspect of business. Those not adopting digital ways of working will, in no uncertain terms, not survive the competition. Never is this more true than in managing the extreme complexities of supply chain and warehousing.
Manufacturers are adopting industry 4.0 to rapidly make their factories smarter, with workers using a combination of RFID, wearables, automated systems and other emerging technologies to monitor the physical processes of the estate. The same organisations are also capitalising on industrial Internet of Things technologies to achieve real time visibility into their goods, assets, processes and places. One example of this is General Cavi, an Italian warehousing magnate that updated its warehouse fleet with the TC8000, Zebra Technologies' future-proof touch screen Android devices for swift, seamless transfer of devices while avoiding any downtime and lag in production.
3. How was your company's latest touch mobile computer able to improve efficiency and productivity at the warehouses of a large Italian business?
General Cavi has deployed the TC8000 in six of its warehouses to track finished goods from start to finish. The medium range scanner was selected with the SE4750 medium range omnidirectional 1D/2D imaging engine, perfect for managing from incoming products, internal stock movements and inventory, all the way through to picking and dispatch. Once any member of staff has scanned a barcode, the data is transferred via the warehouse's wireless network to and from General Cavi's systems, to ensure full end-product traceability, as well as enhancing quality control and enabling recalls along the supply chain.
The deployment increased efficiency and productivity by 10 to 15 percent, while also enhancing overall warehouse quality control. Because the TC8000 is designed to be more efficient at every point of contact – from scanning even damaged barcodes to easier typing and increased battery life – the device naturally drives down repetition of tasks and speeds up every aspect of use. This has helped General Cavi save around one hour per worker each day and reduced the number of devices needed in the six finished product warehouses owned by the client.
4. Can you tell us a bit about your company's SimulScan technology and how it works?
SimulScan is a set of productivity tools that can be integrated into native Android applications to elevate the process of automation. With its Multi-Barcode, workers can capture multiple barcodes on a label with a single scan. This allows workers to simultaneously scan up to 100 1D or 2D barcodes in just seconds with no more time wasted on repetitive scans. The Document Capture feature enables workers to capture contents on a structured form in a single scan, including bar codes, text fields, phone numbers, signatures and more.
5. How have your customers responded to the addition of voice integration in your products? Is voice integration widely used in warehouses today?
Our customers have responded very well to voice recognition in our products. To keep pace with the industry, manufacturers are looking to eliminate the need to store excessive inventory and voice technology is playing a huge part in this. It allows rapid data capture and sharing using cloud based inventory to give plant floor managers and suppliers visibility which heightens operational performance. Voice is only going to grow in importance in the future as according to Vision Statement 51 percent of companies are planning to expand the use of voice technology in the next five years.
6. Do you believe warehouses will be fully automated in the future or are there some tasks that will still require human workers?
Humans will always hold a place in the warehouse. The technology we create is designed to augment the human experience, rather than replace it.
Zebra's Future of Fulfillment Vision Study revealed that next generation supply chains will reflect connected, business-intelligence and automated solutions that will add newfound speed, precision and cost effectiveness to transportation and labor. Surveyed executives expect the most disruptive technologies to be drones (39 percent), driverless/autonomous vehicles (38 percent), wearable and mobile technology (37 percent) and robotics (37 percent).
In transport and logistics (T&L), AR/VR can be used to increase efficiencies by displaying visuals to aid the warehouse picking process or measure packages without the need to pull out a tape measure.
7. What advice would you give to businesses looking to boost productivity?
In this age rising costs, changing legislation and next day –soon to be next hour – delivery, there is an undeniable pressure on manufacturers to up their digital game. Luckily, there are plenty of clever devices out there to assist in the progression towards a technologically-savvy supply chain.
For business wanting to boost productivity the key has to be smart technologies. They need to invest in tech that will allow for the rapid capture and share of data, using a cloud-based data inventory to provide managers and suppliers with a single pane of glass view that increases operational performance. They will also need to deploy a portable warehousing solution to improve productivity.
As digitalization takes center stage, the world is getting more interconnected than ever before. Leveraging evolving technologies such as connected sensors, digital twins, 5G, AR/VR and blockchain, enterprises are empowering their edge, or the front-line, to gain enhanced visibility.
Ugo Mastracchio, Sales Engineer Manager at Zebra Technologies
Are you a pro? Subscribe to our newsletter
Sign up to the TechRadar Pro newsletter to get all the top news, opinion, features and guidance your business needs to succeed!
Ugo Mastracchio is a Sales Engineer Manager at Zebra Technologies.