Ban email at work: 6 of the best perpetual messaging platforms
Goodbye email, hello unified communications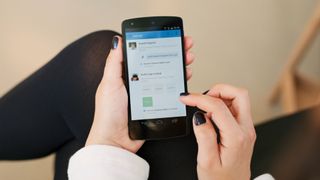 (Image credit: Future)
Introduction
Is email dead? For some younger, tech-savvy folk who exclusively use Twitter, SnapChat and WhatsApp, it probably is, but the 108.7 billion emails that are fired around offices are proof that email as a business tool is far from on its deathbed.
However, new cloud-powered platforms are emerging that seek to combine instant messaging, VoIP, Google Hangouts-style conference calls and more into one joined-up, cross-business collaboration playground. Is this perpetual messaging or should we call it unified communications?
Whatever the term, email-killing is big business – in April one of the leading platforms, Slack, raised a staggering $160 million (around £105 million, AU$205 million) as part of a deal that valued the company – a startup just two years ago – at a whopping $2.8 billion (around £1.85 billion, AU$3.6 billion).
Investors clearly think that we'll all soon be ditching email for an all-encompassing platform. However, the winner will need to cover all eventualities and seamlessly integrate IM, workflow, discussion, collaboration, content, phone, video, presence awareness and – yup – external email, too. It's the future of corporate communication, and it's nearer than you realise, but which platform is for you?
Head on into our slideshow to find out…
Slack
Be less busy. That's the intoxicating sell for the most well-known of all social messaging platforms, Slack. The New York Times uses it. So do Adobe, Lonely Planet, SoundCloud and Walmart. In total, about 750,000 people use Slack to share documents and IM with colleagues, though only Mac users get a downloadable app for desktops – Windows users must enter via a browser.
The brainchild of Stewart Butterfield, an ex-founder of Flickr, Slack is all about speed, collaboration and integration – users create a team, start a discussion or search an old one, share documents and generally centralise their communications from a private hub screen. Various channels are kept separate, so if you stray off-topic it's sensible to jump channels.
Unlike other such platforms, Slack isn't really about workflow, and nor does it include video calling and suchlike, but it knows this and integrates well with other platforms and apps, including Google Drive and Google+ Hangouts, Dropbox, Twitter, IFTTT, MailChimp and many others, though most tellingly, also rival platforms with a different focus, such as Trello, Zendesk and Asana.
Slack is available in various flavours, but Slack Lite is completely free. There's also an app for the Apple Watch that lets you know when you're messaged, mentioned or otherwise needed by Slack.
Podio
An entirely web-based project management software tool, but with iOS and Android apps as well, Podio by Citrix is highly thought of in the business world.
Podio creates a customisable workspace for teams to organise communications, projects and clients in one place. Projects can be tracked, responsibilities managed and deadlines flagged. Files can be shared and messages sent, with real-time one-to-one or group chat – the @mentions protocol works just like any social media platform, alerting someone if they're mentioned anywhere in a document or conversation on Podio.
"What we are seeing is similar to what happened on the social web a few years ago, where email helped people transition to using Facebook," says Jon Froda, co-founder and director of Podio brand strategy at Citrix. "After a while email was then replaced by private messages for many Facebook users."
As such, there's little room for email on platforms like Podio. "In business, this trend is driven by the growth of web-based and customisable project management tools such as Podio," says Froda. "Companies strip out communication inefficiencies and use tools that are bespoke to their businesses, reducing email to a notification system or a means to sign up in the first place."
Though it has various pricing plans, access to the online Podio platform is free for 10 users.
Convo
Convo could be quite convincingly described as 'Facebook for the office'. The average employee checks their email 1,440 times a week, according to the makers of this project management software that has communications at its heart.
Real-time messaging to colleagues and groups echoes all the niceties of social media, but Convo also includes private chat rooms and one-to-one IM, too. A great addition here is the ability to add clients from outside an organisation, and control exactly what they can see and do. There's document exchange, too, with visual annotations to documents built-in.
Convo is available as desktop software for Mac and Windows, but also as a Chrome extension, and iOS and Android apps. Various price plans are offered, but Convo is free for 50 users.
HipChat
This internal chat tool for teams comes from Aussie company Atlassian, whose HipChat platform claims to be used by 43,000 companies including DropCam, Expedia, Netflix and Dropbox.
An IM app that concentrates on custom chat rooms – including video chat and a minimum of 5GB file storage and sharing – HipChat offers Mac, Windows, iOS and Android apps.
As with Slack, HipChat – which suffered a data breach earlier this year – doesn't claim to be anything else but a supercharged chat app, and so offers integration with dozens of specific apps (MailChimp, WordPress, Twitter) and other task management apps including Asana, Trello, ZenDesk, Wunderlist and product road-mapping app Aha.
It's free for unlimited users (though video calling and screen-sharing costs $2 per user, per month), and HipChat users who buy an Apple Watch can get notifications of chat and messages, and can tap back a quick acknowledgment.
Trello
The only platform featured here without any kind of instant messaging – oh, the horror – Trello works as well for one person as it does for dozens of collaborators. Trello looks like Pinterest – it's a visual to-do list on a virtual pin-board where cards can be swapped, reordered, edited, tagged and assigned to someone else to deal with. In short, Trello is flexibility defined.
The most visual of all task management platforms, Trello is constructed around cards that can be dynamically rearranged and prioritised, much like in the writing software Scrivener, which this article was written using.
It integrates with other apps, though it's perhaps not far away enough from the myriad to-do apps (think Remember The Milk, Wunderlist, or Any.do) to justify being talked up as the future of the collaborative workplace. And, honestly, some IM might help it.
Designed to take the hassle out of to-do lists, task management software Trello is less about teamwork and more about, well, work. Trello is also embracing the Apple Watch; its app will allow cards to be added in-wrist, and will funnel notifications, too.
Asana
Managing tasks and workflow is what Asana is all about, but it also has an element of team communications. Projects and groups can be created, tasks assigned to various users, deadlines added, notes attached, and statuses logged. Tags are possible, and so are documents attachments. If everyone working on a project uses Asana, there's no need for email, though it is also possible to set up email notifications.
Asana is an incredibly simple tool to use, but it's a bit of a standalone affair – there's no way to schedule meetings, make calls within it, or integrate it with other apps, which does make it a bit of an island. Asana is free for 15 members.
Are you a pro? Subscribe to our newsletter
Sign up to the TechRadar Pro newsletter to get all the top news, opinion, features and guidance your business needs to succeed!
Jamie is a freelance tech, travel and space journalist based in the UK. He's been writing regularly for Techradar since it was launched in 2008 and also writes regularly for Forbes, The Telegraph, the South China Morning Post, Sky & Telescope and the Sky At Night magazine as well as other Future titles T3, Digital Camera World, All About Space and Space.com. He also edits two of his own websites, TravGear.com and WhenIsTheNextEclipse.com that reflect his obsession with travel gear and solar eclipse travel. He is the author of A Stargazing Program For Beginners (Springer, 2015),