5 reasons Surface Pro is a better tablet for businesses than iPad Pro
Where's Apple's OS X tablet?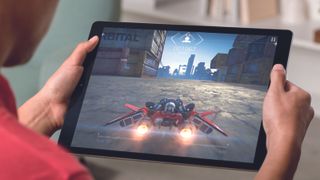 (Image credit: Future)
Introduction
After much hype, speculation and plenty of anticipation, Apple finally announced the iPad Pro. Yet, despite all of the slate's pro features, and the slew of software and accessories that were highlighted during the keynote, the iPad Pro fails to live up to its Pro moniker.
Instead, the tablet appears to be a super-sized and super-charged iPad Air that Apple is pushing into the enterprise. What Apple should have done is start from the ground up with an OS X-powered tablet that addresses the needs of mobile professionals, creative digital artists and power users everywhere.
As it stands, the iOS 9-powered iPad Pro lacks a truly powerful multitasking interface, requires users to create a new workflow, lacks ports for expansion, doesn't support mouse-based input and is an expensive additive to your existing laptop or desktop rather than a suitable PC replacement. Many of these concerns could have been addressed had Apple chosen to release a pro version of the iPad Pro with OS X instead.
1. Small fish competing against bigger fishes
An OS X-powered tablet is the stuff that unicorn dreams are made of, and despite years of endless hoping, Apple still has not delivered on this front. The lack of a high-powered, performance-packed slate opened the doors for Axiotron to retrofit existing Apple notebooks into tablets called the Modbook, but those devices are generally power-hungry and bulky.
With Intel's announcement of the sixth generation Skylake processor, Apple could have easily used a Core M processor and loaded a pro-targeted slate with OS X Yosemite. Apple has shown that it can use Intel's Core M chip in a thin, fanless design with the 2015 MacBook, a laptop that weighs just 2.03 pounds (0.92kg). The iPad Pro's 12.9-inch form factor weighs 1.57 pounds (0.71kg), a number that is obtainable if Apple sheds the keyboard portion of the MacBook.
A pro iPad Pro with OS X and an Intel Core M processor could deliver similar performance numbers as the A9X processor on the iPad Pro. Apple says that its processor delivers 80% of the processing power and up to 90% of the graphics power of today's PCs, and Intel claims that its newest Core M chips can deliver twice the computing performance of today's tablets, 80% of the power of discrete GPUs and a similar 10-hour long battery life. Even though the iPad Pro has a pixel-packed display, Skylake can drive up to three 4K displays simultaneously, each at 60 frames per second.
As it's priced, the iPad Pro starts at the same price as the Surface Pro 3 ($799, £510, AU$1,141), which comes with more storage to start, a more powerful processor and more expandability. Add in the Apple Pencil $99 (£64, AU$141) and the keyboard cover ($169, £110, AU$240) and the total cost of ownership (TCO) rises quickly, but the iPad Pro can't do everything that a laptop or Surface Pro can do.
Going with a Core M architecture would allow Apple to use OS X instead of iOS 9, and this opens the doors up to more robust computing gains.
2. A mouse trap
If the iPad Pro is the future of convertible computing, allowing users to switch between laptop and tablet form factors, then did Apple just kill the mouse?
The iPad Pro comes with better software keyboard support and has an optional keyboard cover. However, Apple made no mention of mouse support. In fact, the Apple-branded folio keyboard shown comes with a standard key arrangement, similar to third-party offerings available for the iPad Air 2 and iPad Mini 3 from partners like Zagg and Logitech, but no trackpad.
The irony here is that even the iPhone 6S comes with mouse-like support. The 3D Touch display on the smartphone brings controls that are similar to right-clicking on a desktop, but this display was not mentioned for the iPad Pro.
Without proper mouse support, users would have to reach out and touch the display, even while in laptop mode, or poke at the display with their pens. This makes it less ergonomic and more imprecise than having a mouse cursor. And without 3D Touch, you don't have additional menu commands that a right-click would bring.
3. Re-learning the basics
To highlight the productivity potential of the iPad Pro, Apple brought partner Adobe on stage to demonstrate new software that's designed specifically for iPad. The software demo is impressive, showing how you can touch up a photo, create a magazine layout and draw digital sketches.
Adobe Com is a simple design tool that allows users to layout a design for a magazine. By drawing simple shapes, users add placeholders for the various content, and then the copy and style can be edited and applied later. Adobe showed that you can multitask and send an image from Com to Adobe Photoshop Fix for retouching. Once the retouching is finished, it is sent back to Com. Artists can also add sketches and drawing from Adobe Sketch.
While these apps are powerful in their own right, creative professionals who work on the desktop are probably more familiar with Adobe InDesign, Adobe Photoshop and Adobe Illustrator, all sorely lacking on the iPad Pro. These software packages are available on desktop OSes, like OS X and Windows, and are available natively on the Surface Pro 3.
On the iPad, you'll need to readjust your workflow by finding comparable alternatives and suitable replacements to the familiar experiences you've grown accustomed to on your desktop or laptop.
4. A tablet that wants to grow up
If you buy an iPad Pro, you're trapped. Even though it has a powerful A9X brain to deliver faster compute and graphics capabilities, it doesn't address the needs of real-world computing. Without support for legacy ports, the iPad Pro's potential in the enterprise space is severely limited, unless IT administrators fully commit to Apple's ecosystem.
The iPad Pro lacks a USB port, which means you can't readily backup, transfer or share data via a USB flash drive. It also lacks a native DisplayPort, mini DisplayPort or HDMI port for video output, meaning you'll need an Apple TV and Wi-Fi to mirror your tablet's screen to a larger display to give presentations. And without a proper video output port, it also means you can't use it as a desktop replacement by connecting an even larger monitor to your tablet.
These are all basic capabilities that Microsoft has built into the Surface Pro 3.
Beyond just legacy connectivity, Apple didn't address enterprise security needs beyond the Touch ID fingerprint scanner, such as support for Smart Card readers or TPM.
The good news is that there is a POGO port built into the side of the iPad Pro to connect the keyboard folio. Apple revealed that the POGO port can accommodate power and data transfer, so likely we'll see some limited expansion capabilities, like a battery-powered cover. However, lacking a true file system, don't expect to plug in a USB flash drive or external hard drive.
5. Learning how to juggle
As part of my workflow, I have multiple browser windows, each with multiple tabs, and multiple apps open in cascading windows spread across my display. I use a laptop with a 12.5-inch screen, so my screen size is roughly comparable to the 12.9-inch display on the iPad Pro.
This isn't possible on the iPad Pro. Multitasking on iOS 9 would only allow me to open two windows side-by-side.
On the other hand, if Apple used OS X on the iPad Pro, I would be able to bring desktop-class multitasking to a tablet form factor. Because Apple is pitching the iPad Pro as a laptop alternative or replacement with the optional folio keyboard, it seems that that iOS 9's limitations cripple the productivity potential of the iPad Pro in its current state.
Microsoft delivers much better multitasking thanks to the new snap feature of Windows 10. With Windows 10, you can have a cluttered array of cascading windows, you can snap up to four windows together or you can have multiple desktops to help you keep focus. In this respect, the Surface Pro 3 still reigns king in productivity.
Lacking these capabilities, Apple's iPad Pro can't come close to being a tablet that can replace your old iPad, MacBook and iMac. On the other hand, Microsoft has built its Surface Pro franchise on this very capability. The Surface Pro, and similar Windows tablets, can replace a laptop with a keyboard dock, and if you add a desktop dock you can also replace your desktop.
Are you a pro? Subscribe to our newsletter
Sign up to the TechRadar Pro newsletter to get all the top news, opinion, features and guidance your business needs to succeed!