10 best Windows 10 eBooks to guide you though the next chapter of Windows
The best eBooks and books for the full lowdown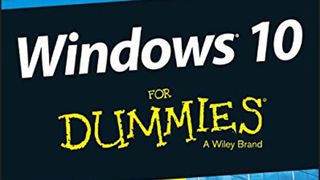 (Image credit: Future)
Introduction
With any new operating system there's always a learning curve to overcome. Although most of us will turn to the internet for advice, sometimes there's no substitute for having a book to refer to as you find your way around.
Whenever a new version of Windows launches you can be sure that publishers have been busy beforehand so that they have books ready to hit the market when or soon after the OS comes out. Here is our pick of the best Windows 10 books.
1. Windows 10: The Missing Manual
Author: David Pogue
Format: Paperback
ISBN: 978-1491947173
Price: £26.50
O'Reilly's missing manual series has long been a favourite among professionals and enthusiasts alike when it comes to providing the documentation that developers don't. Written by founder of Yahoo Tech, David Pogue, the book covers the changes in Windows 10 along with new features like the Edge web browser and Cortana personal assistant. While there's plenty of technical detail it's also easy-to-read and offers lots of useful information whether you're a beginner or an experienced network admin, and whether you're using a desktop PC or a tablet.
2. Windows 10: A Complete Beginner's Guide
Author: Matthew Fuller
Format: eBook
ASIN: B00SWBZQ1W
Price: £1.99
Living up to its title the book starts at the very beginning with creating a disc from a download and installing the operating system. Fuller has an easy-to-read style and there are screenshots to help guide you through getting to grips with the OS. If you already know your way around a previous version of Windows this is a bit too basic, but if you want an easy-to-follow guide, perhaps for a non-techie relative, you can do a lot worse than this one.
3. Windows 10 Primer
Author: Mike Halsey
Format: Paperback
ISBN: 978-1484210475
Price: £11.50
At only 100 pages this is a relatively slim volume but it provides a good introduction to Windows 10 and some of Microsoft's motivation for introducing the new operating system. It covers the background to the OS as well as the routes available to upgrade from other versions. This book also encompasses Windows 10 for phones and other devices as well as for PCs, and looks at the benefits it has for both individuals and businesses. Don't expect too much in-depth technical detail here but it does offer a useful overview.
4. Computer Training: Windows 10
Author: Kevin Wilson
Format: eBook
ASIN: B010MSYWIK
Price: £2.95
Starting with a look at what's new in Windows 10 and at the different versions, the book goes on to take a more detailed look at setting up, using and maintaining the operating system. There are lots of colour illustrations here – its best enjoyed on a tablet or PC rather than your Kindle Paperwhite – and it's good at walking you step-by-step through the features and various tasks. Whether you're a complete newcomer or have upgraded from a previous version of Windows there's a lot to like here.
5. Get Going with Windows 10 in Easy Steps
Author: Nick Vandome
Format: Paperback
ISBN: 978-1840786842
Price: £5.99
If you want a quick-start guide that you can have open on your desk while you set up or use the operating system this one is worth a look – it's compact and concise but has good full colour illustrations. It covers changes in operation like the return of the Start menu and new features like the Windows Edge browser, Cortana, voice searching, and changes to File Manager. As a handy guide to get you started with Windows 10 this one is a winner.
6. Windows 10 In Depth
Author: Brian Knittel & Paul McFedries
Format: Paperback
ISBN: 978-0789754745
Price: £30.99
You'll have to wait a little while for this one as it won't be available until the end of September. However, it promises to be a detailed look at the latest OS that takes you through the new features but also offers chapters that can be used as a technical reference when tricky problems arise in the future. It comes with a link to download ongoing updates so you can stay in touch with new developments and changes to Windows 10 as it evolves.
7. Windows 10: The Personal Trainer
Author: William Stanek
Format: eBook
ASIN: B00YPU4AH0
Price: £8.99
With the aim of offering practical, hands on advice for all versions of Windows 10, this is a comprehensive guide that's packed with useful information. It covers the basics from getting started and setting up accounts to customising the interface. This book includes advice on searching and managing files and applications, and more advanced material like optimising performance and power management, and resolving system problems. Stanek has written many Windows books and has a readable style whilst still getting across detailed technical information which makes this well worth a look.
8. Windows 10 for Dummies
Author: Andy Rathbone
Format: Paperback
ISBN: 978-1119049364
Price: £12.59
The popular Dummies series remains a mainstay of the computer books market. Written in an easy style with a dash of humour, they're accessible guides to day-to-day computing tasks. Windows 10 for Dummies is out now and looks at the features you'll use most often, like dealing with email and finding information on the web. It also covers all the new features in Windows 10 so you can quickly get up to speed with the latest OS.
9. Windows 10 Plain and Simple
Author: Nancy Muir Boysen
Format: Paperback
ISBN: 978-0735697942
Price: £14.88
If you prefer a visual approach to learning a new operating system it's worth waiting for the October release of this title. It's set out in simple steps with plenty of full colour screenshots and is written in an easy-to-read style. It takes you through how to use and get the best out of Windows 10 and provides a useful reference that you can jump into when you need a solution. This book is also scattered with handy 'Try This!' sections that let you put what you've learned to work.
10. Inside Windows 10: An early look
Author: Onuora Amobi
Format: eBook
ASIN: B00UKI0U4S
Price: £9.49
This book won't teach you how to use Windows 10, but what it does do is to provide an interesting look at the evolution of the new OS. If you're intrigued by how a company like Microsoft goes about creating an operating system, and want to get some idea of the size of the undertaking, then it makes for a fascinating read. There's lots of insight into the background as well as a look at the new features. It's not a long book but this tome provides a glimpse behind the Windows 10 curtain.
Are you a pro? Subscribe to our newsletter
Sign up to the TechRadar Pro newsletter to get all the top news, opinion, features and guidance your business needs to succeed!
Ian Barker worked in information technology before discovering that writing about computers was easier than fixing them. He has worked for a staff writer on a range of computer magazines including PC Extreme, was editor of PC Utilities, and has written for TechRadar, BetaNews, IT Pro Portal, and LatestGadgets.