Here's how games have influenced synth-pop pioneers Gunship
Their ace new album features members of Slayer, Bush, and Wargasm alongside a love letter to Quake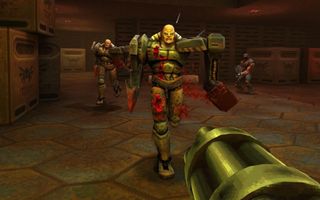 (Image credit: Blizzard)
As a teenager, Dan Haigh traveled down to the Bristol headquarters of PC Gamer magazine with a burnt CD-ROM copy of a Quake 2 add-on he'd made with Alex Gingell in his back pocket. After a playtest and a call to ID Software's John Carmack to discuss any potential legal issues, the Oblivion mission pack was given away with the Christmas 1999 issue. "That was the first time I realized we could just do things we really liked, and other people would care," Haigh says from his home studio.
The pair were eventually hired to work on the official port of Quake III for PlayStation before landing jobs as level designers at Valve and Gearbox. Around the same time, Haigh was invited by his old school friend Alex Westaway to join the post-hardcore band Fightstar, which also featured Busted's Charlie Simpson. Fightstar released three albums before going on hiatus in 2010, with Haigh, Westaway, and Gingell forming the band Gunship shortly after.
Their self-titled debut was released in 2015, with follow-up Dark All Day coming three years later. "I was into hard rock and metal as a kid but before I found that sense of belonging, cinema was the thing that I felt incredibly connected to. Movies in the 80s just had this magic to them," says Haigh. "It was all about the power of your own ideas and connecting with people over raw imagination. That was the driving force behind Gunship."
Doom and gloom
This week they release their long-awaited third album Unicorn. Still driven by cinematic synth-pop, the 14-track record also incorporates industrial metal, euphoric dance, and snarling alt-rock. There are collaborations with Milkie Way and nu-metal newcomers Wargasm and pioneering darksynth artist Carpenter Brut alongside appearances from Slayer's Dave Lombardo, Bush's Gavin Rossdale, their old bandmate Simpson and horror icon John Carpenter. "The whole project is about making things that we really love, but can't find elsewhere," says Haigh. "It's an extension of what we've done previously, but it also includes other things we loved growing up."
Sleek goth-banger DooM Dance pays homage to the band's long love of first-person shooters. Both Haigh and Gingell got into level-modding through Doom and the band regularly hosts Quake matches on their Discord. "I really thought I was going to rain down ungodly rocket launcher deaths but I get owned most of the time," admits Haigh. Unicorn takes influence from Sonic Mayhem's soundtrack for Quake II while Trent Reznor, in particular his work on Quake, is a "huge influence on everything" Gunship does.
Elsewhere, the visuals for Taste Like Venom are heavily inspired by Sega's iconic 1986 arcade game OutRun. "Playing it on the Amiga 500 blew my mind as a kid," says Haigh. "At the end of every stage, there was a short interaction between the two main characters and I was constantly wondering what else they got up to when they weren't driving the Ferrari." With Taste Like Venom channeling a buoyant escapism, the band felt it was only right the video followed suit. "The opportunity to take these iconic characters and extend their story in an interesting way was too alluring to leave alone," he continues. "We dip into nostalgia a little more with the visuals," adds Westaway.
True to their word, the band are also working on a music video to go alongside Unicorn's Tech Noir 2. A sequel to their 2015 track, the original Tech Noir came alongside a Lee Hardcastle-created Claymation video that celebrated the best of '80s cinema and featured narration from Carpenter. Both artists are on board for the sequel which is "more orientated around certain video game stars," but the band doesn't want to reveal too much.
Still, Unicorn is more than '80s nostalgia. "That was a very conscious decision after we got associated with that on the first record," says Haigh, with the band following the mantra "old tools, new ideas."
"We definitely don't want to retread old ground," adds Gingell. The eclectic range of collaborators only added to Unicorn's expansive sonic palate. "Working with other artists supercharges the fun of creativity," explains Haigh. "Exciting, chaotic, and unpredictable things happen that you probably never would have thought of if it was just the core band."
A virtual reality
It all feeds into Gunship's tagline for Unicorn; Imagination Is A Weapon. "We were at the tail end of lockdown when we were making this album and I could see how thin the veneer of society was," says Haigh. "It felt bleak and it was clear that things were, and still are, unstable. In recent years, the idea of dreamers being able to offer solutions is not being celebrated as hard as it could be," he continues. The whole band believes that ideas solve problems, and they named the record Unicorn after the icon of fantasy. "It's our way of championing imagination and creativity."
For as long as Gunship has been a band, there have been calls for them to create their own video game. They're currently working on the score for the VR action/adventure sandbox game LOW-FI which will see players fight crime, solve mysteries, or succumb to corruption in a film noir-inspired cyberpunk world. But they're also looking beyond that.
"We'd absolutely love to make a game," says Haigh. The band members have a shared document about game design that's "starting to get quite deep now. There's a lot of different ideas in there," he continues. "I'm 99 percent sure it will happen, It's just a question of what and when."
So what would a Gunship game involve? Well, the band regularly plays Warzone together but rather than get bogged down in genre, "the medium is secondary," says Gingell. "We make short films, music, and games to satisfy a creative itch and explore new ideas."
As he's gotten older, he's less interested in single-player games and is more drawn to the social aspect of gaming. "It's always an excuse to play with friends," he continues, sitting next to his custom-built rig for DCS World where he regularly takes part in 30-strong squadron exercises. "I'm really excited about the idea of creating games that bring people together and explores emergent gameplay," he says, comparing it to the sense of community they found in rock and cinema as teenagers. "Gunship are very focused on music at the moment and we have plans for the next few years but gaming is always percolating in the background."
The best VR games will transport you into a different world, while the best story games are great if you want a more immersive adventure.
Get daily insight, inspiration and deals in your inbox
Get the hottest deals available in your inbox plus news, reviews, opinion, analysis and more from the TechRadar team.