If you want an incredibly comfortable headset that makes communication in co-op play even easier, alongside some incredibly clear audio that will immerse you even deeper into the best games on the system, then the SteelSeries Arctis Pro 7P headset is bound to tick your boxes.
Pros
+

Comfortable for long sessions

+

Quality microphone
Cons
-

Control buttons could be laid out with more space to avoid misclicks

-

Limited to connecting only to PC and PlayStation
Why you can trust TechRadar We spend hours testing every product or service we review, so you can be sure you're buying the best. Find out more about how we test.
Although it might not cross your mind initially, having one of the best PS5 headsets will take your experience with the console to the next level. I spent a lot of time relying on the built-in speakers of my TV to enjoy what the PS5 has to offer, but now I've had a chance to use the SteelSeries Arctis Nova 7P during my gaming sessions, I don't think I will ever play without a headset again.
But even though the SteelSeries Arctis Nova 7P headset is designed to be paired with the PS5 primarily, anyone who also primarily uses PC as their platform of choice should consider this headset. It works seamlessly, providing the same quality audio as you can expect when in use on PS5 and only excluding the built-in compatibility with existing PS5 audio features.
Between its extensive audio profile covering every high to low note, its comfort, and its crystal clear microphone, there's a lot that goes into why the SteelSeries Arctis Nova 7P headset is well worth adding to your setup.
Price and availability
The SteelSeries Arctis Nova 7P is available for purchase right now for $179.99 / £174.99 (around AU$349) from a variety of retailers. US consumers will be able to buy the headset from SteelSeries, or retailers such as Amazon and Best Buy, whereas UK shoppers can also purchase via the manufacturer's site, or places such as Argos and Amazon.
In comparison to alternative premium gaming headsets such as Razer's Blackshark v2 Pro which is currently available for $199.99 / £179.99, the SteelSeries Arctis Nova 7P falls ever so slightly cheaper - despite not cutting corners on any of the quality. The Turtle Beach Stealth Pro headset is another great example that falls among a similar price range, setting you back a whopping $329 / £279 - but as we highlighted in our review, its quality dips within its microphone, which is something the Arctis Nova 7P excels in.
SteelSeries Arctis Nova 7P - design and features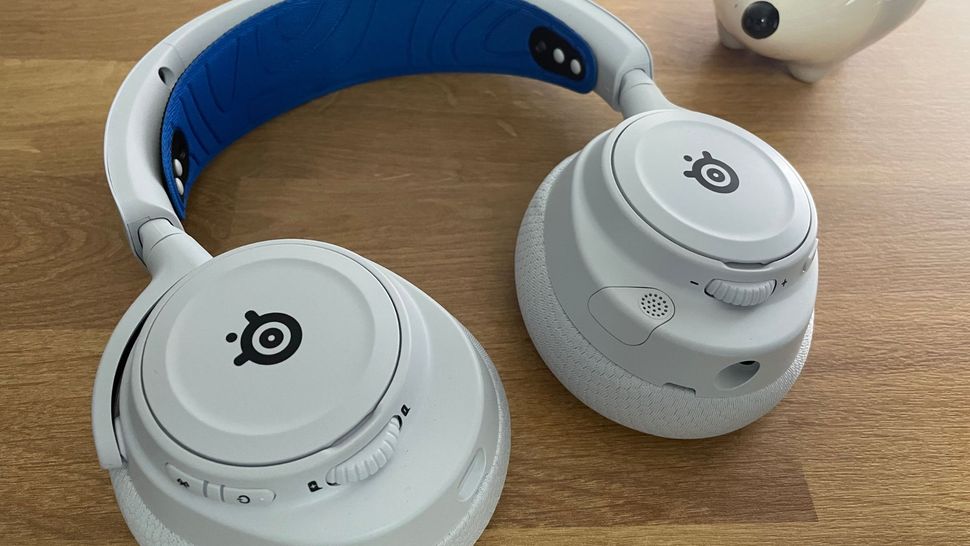 Out of the box, it's clear that the Arctis Nova 7P is a high-quality headset. Its build is incredibly strong, featuring a sturdy, metal form factor to help give it that premium feel. It's got a deep blue-hued headband across the top for enhanced comfort, and the ear cups are made of a pleasantly soft material. The entire product is white aside from its blue band to mimic the stylings of the PS5.
In terms of features, buttons are kept incredibly simple, with a power button on the right cup alongside the Bluetooth button you'll use to connect the headset to your device, and a mic mute button on the left cup alongside a volume wheel for quick adjustment while in-game. These buttons are, for the most part, easy to use and in comfortable positioning, making them easy to use when the headset is being worn.
One complaint I would have is how close the Bluetooth and Power buttons are, which sometimes results in me pressing the wrong thing when trying to turn the headset on and wondering why it's taking so long to connect. For a premium headset, it's a fairly basic setup, and it would've been nice to be able to access EQ presets on the device itself.
One notable feature regarding the design of the SteelSeries Arctis Nova Pro headset is its comfort during longer gaming sessions. I wear glasses when sitting in front of screens, and more often than not wearing a headset simultaneously will result in a dull ache or a feeling of abrasion behind my ears where the cups of the headset have been resting for too long, but the soft cups of the Arctis Nova 7P mean this problem is avoided entirely.
The microphone also neatly tucks away within the left cup of the headset, so when you're just playing games by yourself, you won't have to worry about a mic getting in the way. When you do need it though, it's incredibly simple to pull out and move to the position you need due to its flexible mic arm, rather than it being rigid and stuck in one place.
SteelSeries Arctis Nova 7P - performance and battery life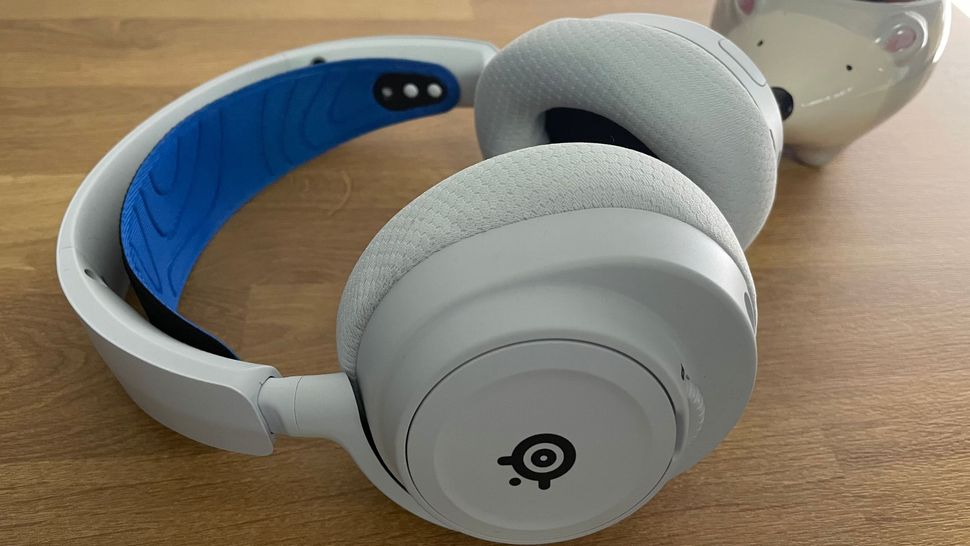 Being a higher-end SteelSeries headset, the performance is very impressive. It's simple to connect to both PC and PS5 with the included USB dongle. The sound profile is incredibly clear, and even at low volume levels, you are able to hear even the most subtle sound effects or noises within a game. It'll impress users who love a strong bass profile, too.
The headset features support for 360 spatial audio, which makes in-game listening far more immersive and captivating. The Arctis Nova 7P is also compatible with the PS5's Tempest 3D Audio.
The custom high-fidelity drivers within the headset offer an impressive range, so you'll be able to pick up on even the most subtle noises within games, or the lowest notes within songs. This is ideal for any titles like the best FPS games which require you to be on high alert for audio cues like player footsteps, or distant gunshots to signify where your opponent is hiding.
This high-quality performance is carried over to the microphone - which is ideal for anyone who wants to make the most of the best multiplayer games on PC. With AI-powered noise canceling, you'll be able to tailor performance to filter out background noises. Over voice channels and calls, the microphone consistently offers clear output so your teammates will always be able to hear you clearly. For titles like Fortnite, Apex Legends, and Overwatch 2 - it's a fantastic companion for a competitive or co-op-oriented gamer.
As claimed by the manufacturer, the SteelSeries Arctis Nova 7P is said to boast an impressive 38-hour battery life, but since taking it out of the box and using the headset for about three weeks on and off, I've only found myself charging it once - so I can confidently say that statement tracks.
Battery life is an essential consideration when it comes to the best wireless gaming headsets since you don't want to have to worry about charging mid-match, and you're free to use the headset for hours on end with no tether to a charging cable. As someone who is constantly forgetting to charge their tech, the battery life of the Arctis Nova 7P was a relief when I was jumping in and out of multiplayer games and Discord calls and simply not having to deal with a depleting battery light or audio signifier.
As a whole, my experience with the SteelSeries Arctis Nova 7P has opened my eyes to a whole new level of expectation when it comes to gaming headsets. Even though the product still has its flaws, such as the button placement, it's something that I would greatly recommend to anyone looking for a trustworthy headset that is a guaranteed gateway to more immersive gaming and clearly communication for co-op sessions.
Should I buy the SteelSeries Arctis Nova 7P wireless headset?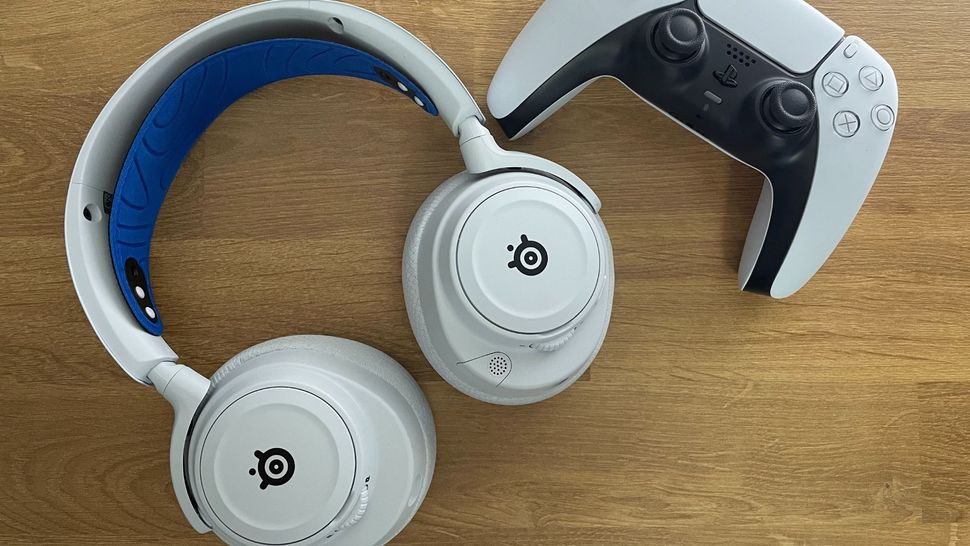 Buy it if...
You like your setup to look good
The sleek design of the SteelSeries Arctis Nova 7P perfectly mirrors the appearance of the PS5 and PlayStation branding, even down to the deep blue headband on the interior of the product. So, if you're someone who champions aesthetics alongside performance in your setup, this piece certainly looks and sounds the part.

You play a lot of online multiplayer games
With the high quality of its microphone, alongside its ranged audio profile to cover all bases in-game, this is a perfect companion for a competitive gamer.
Don't buy it if...
You're looking for a headset to cover all platforms
If you've got more than one console, you might want a multiplatform headset. Unfortunately, the Arctis Nova 7P isn't compatible with Xbox consoles.
How we tested the SteelSeries Arctis Nova 7P
I used the SteelSeries Arctis Nova 7P across PC and PS5 for around three weeks. During this time, I've played games such as Sea of Thieves, Wizard with a Gun, Lies of P, and The Mortuary Assistant, all of which have sounded incredibly crisp and clear and made use of the headset's fantastic audio profile. In particular, using the headset for horror games has helped me pick up on several audio cues like footsteps behind me or gentle whispers which I may have missed if I had played relying on speakers instead.
In addition, I've tested the headset during Discord calls to see how easy it was to connect and how clear the audio through its microphone sounded, and I've used it to listen to music which once again has made full use of the audio profile.
If you're specifically looking for a headset for your Xbox, we've got a list of the best Xbox Series X headsets. But, if you're looking for additional ways to make the most of your PS5, we've got a list of the best PS5 accessories too.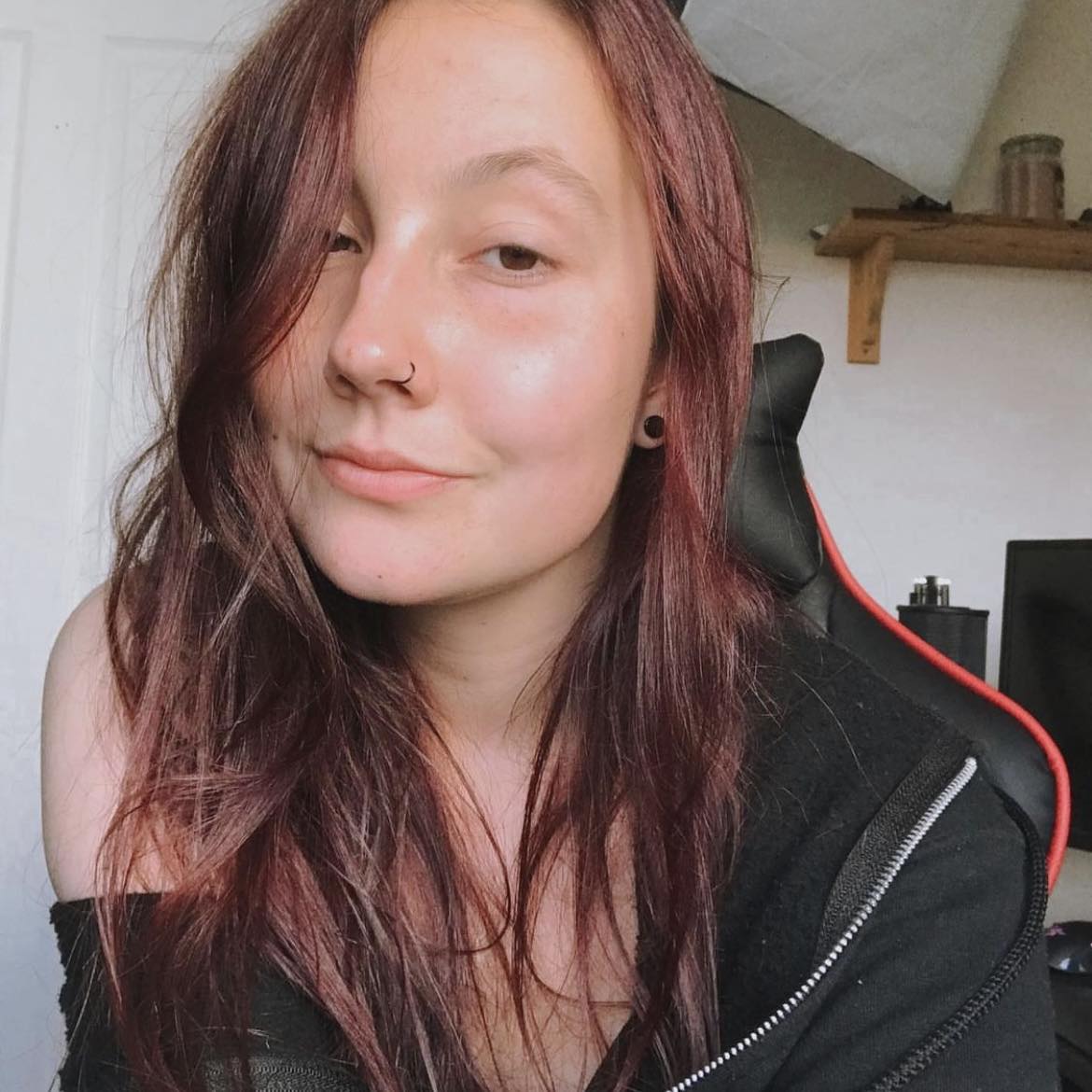 Kara is an Evergreen writer at TechRadar Gaming. With a degree in Journalism and a passion for the weird and wonderful, she's spent the last few years as a freelance video game journalist, with bylines at NintendoLife, Attack of the Fanboy, Prima Games, and sister publication, GamesRadar+. Outside of gaming, you'll find her re-watching Gilmore Girls or trying to cram yet another collectible onto a shelf that desperately needs some organizing.